I tried 'Tyrant Haba Seed, 3 Years Aged Habanero Kanzuri', which is a spicy finish of persimmon seeds using aged Habanero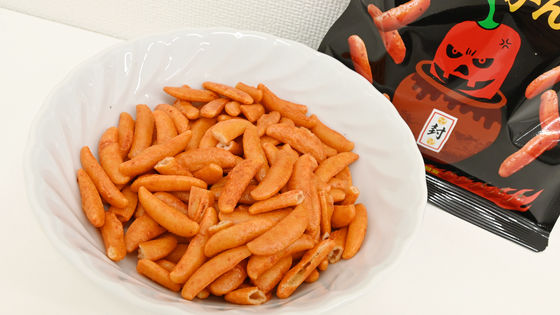 As one of the dry snack '
Tyrant Habanero
' series, the persimmon seed-based 'Tyrant Habanero Habanero Seed' was released in 2019, but this time, the spicy seasoning 'Habanero Kanzuri' was newly used. '
Tyrant Haba Seed, 3 Years Aged Habanero Kanzuri
' will be released, so I tried it before the release.
It's a mellow horse spicy persimmon seed! 'Tyrant Haba Seed, 3 Years Aged Habanero Kanzuri' New Release-News Release | Tohato
https://www.tohato.jp/news/news.php?data_number=1813
The package looks like this. The content is 38g, which is smaller than the normal 'Tyrant Habanero' (56g). The standard of spiciness is 5 peppers, which is the same as 'Tyrant Habanero'.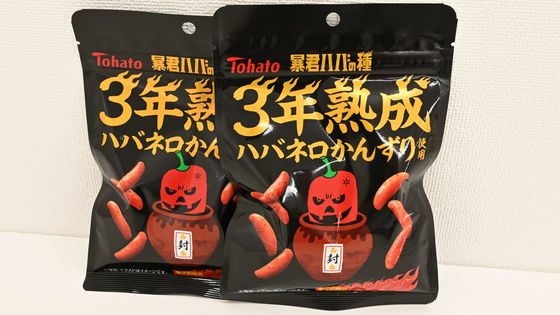 143 kcal per bag.



Since the base is kaki no tane, the raw materials are starch, rice flour, soy sauce-flavored seasonings, and other okaki-like ingredients, and in the second half, chili powder and habanero Kanzuri appear.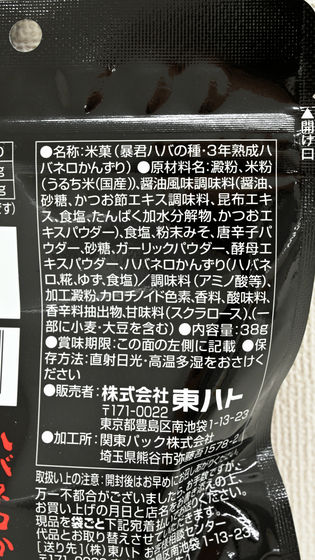 According to the tyrant, 'Habanero Kanzuri' is a spice seasoning made by mixing Habanero from Niigata prefecture with Koji, Yuzu and salt and fermenting it for more than 3 years. As a 'Tyrant Habanero' that uses Habanero Kanzuri, '
Tyrant Habanero / Juku Haba
' has been released in 2018.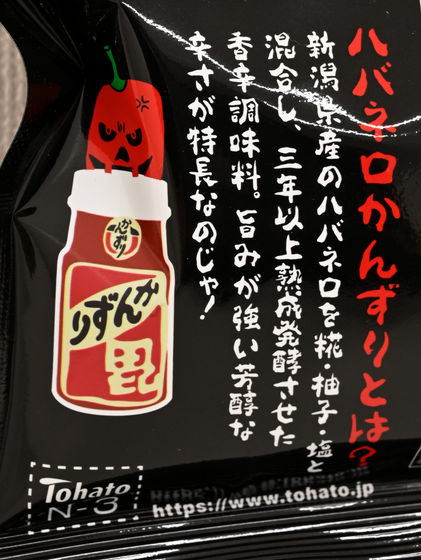 The contents are like this, 'slightly reddish persimmon seeds'.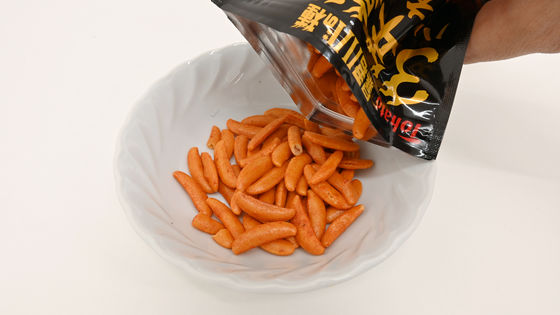 The scent is not something that comes to your nose, but a mixture of soy sauce and yuzu. However, when you eat it, the gorgeousness changes, and at the same time as the soy sauce taste, the stimulation to the front side of the tongue begins, and the wave of the stimulation flows to the top of the tongue. When you swallow the chewed persimmon seeds, the spiciness stimulates the left and right sides of the back of your throat, and the back of your tongue gradually warms up. I have the impression that the speed of drinking alcohol will increase if you use it as a drink.



'Tyrant Haba Seed, 3 Years Aged Habanero Kanzuri' will be released on May 10, 2021 ahead of convenience stores. The general route will be released on May 17, 2021. The reference retail price is 153 yen including tax.