Burger King tweeted 'Women are members of the kitchen' on International Women's Day and apologized in flames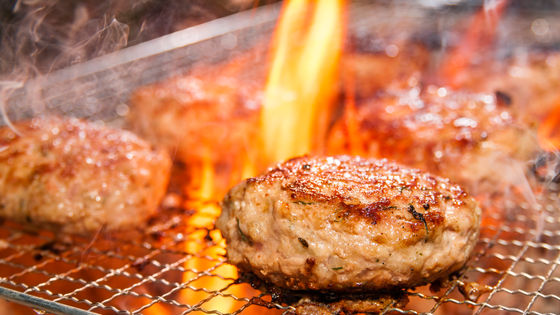 On
March 8th, 2021 International Women's Day
, Burger King
, a hamburger chain, posted on Twitter that 'women are part of the kitchen.' The tweet pointed out that women's advancement into the kitchen of the food service industry was delayed, but Burger King withdrew the tweet because it was pointed out that 'women can be despised' one after another. He apologized for being inappropriate.
Burger King gets grilled for'women belong in the kitchen' tweet --National | Globalnews.ca
https://globalnews.ca/news/7683800/burger-king-womens-day-kitchen-tweet/
Burger King gets roasted for its'Women belong in the kitchen' ad --The Washington Post
https://www.washingtonpost.com/food/2021/03/08/burger-king-women-ad/
Burger King apologises for a tweet that said'Women belong in the kitchen' on International Women's Day --ABC News
https://www.abc.net.au/news/2021-03-09/burger-king-says-women-belong-in-the-kitchen-on-iwd/13229022
Below is a screenshot of a tweet posted by Burger King's UK branch on March 8th. Burger King said in a tweet associated with International Women's Day, 'Women belong in the kitchen.'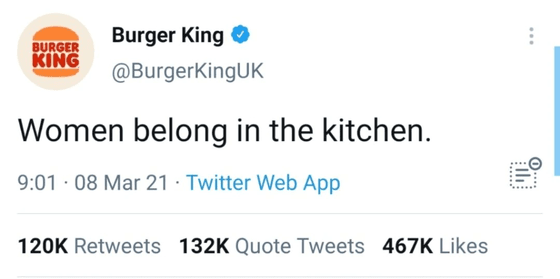 Burger King also posted a similar full-page ad on the New York Times on the same day.

see?

pic.twitter.com/ayo2InGEzb — Caira Conner (@CairaConner) March 8, 2021


The Washington Post commented on Burger King's tweet: 'This eye-catching message is a rendition of the ancient sexist maxim that'women's whereabouts are at home.'The direct origin is probably BC. In 467, the Greek poet Ice Cyrus said, 'I think it's a saying,'Women should stay at home and protect their homes.''

Burger King followed the tweet in question, saying, 'Of course, if a woman wants it. Only 20% of women chefs. We have the opportunity to pursue a career as a cook for female employees. Our mission is to change the gender ratio in the restaurant industry. "" We are proud to launch a new scholarship program to help female Burger King employees pursue their culinary dreams. I think. ' After pointing out that there are few women working in the UK food service industry, he announced that he had started his own women's support system, but the criticism is concentrated because only the first tweet was explosively spread. It was decided.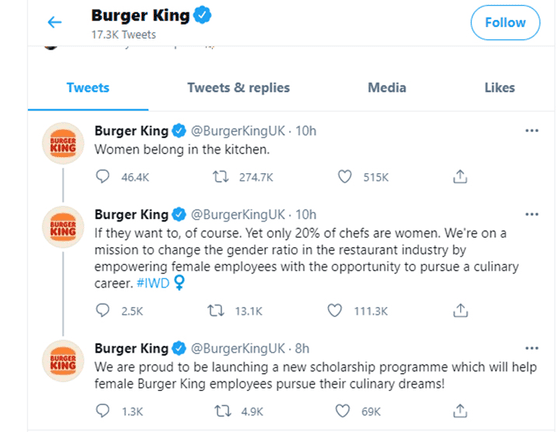 ABC News, a news site run by the Australian Broadcasting Corporation, said, 'Some Twitter users have accused them of being'insensitive'to posting such tweets on International Women's Day and vowed not to eat at Burger King anymore. I did. ' Linda Tuncay Zayer, a marketing professor at Loyola University's Quinnlan School of Business, told The Washington Post, 'It's okay to say humor, but to catch the eye, say something like misogyny. It's hard to say that it's cultural. '

Also, while the official Twitter account of KFC Gaming , the gaming division of rival Kentucky Fried Chicken, urged to delete the tweet in question, Burger King said, 'Women's leaders in our industry are very hard. It seems that the tweet that reopened as 'Why should I delete the tweet that pointed out that it is missing?' Also anointed the fire. Both KFC Gaming and Burger King tweets have been deleted.

In addition, some Twitter users pointed out that 'it should have fit in one tweet' and argued that they tweeted only one sentence that was easily misunderstood.

Proof this could have even fit in one tweet

Please don't use sexism as clickbait. The men in my mentions proves the damage you're causing by doing this. Pic.twitter.com/G0VKGgiZQp

— Becca (@BeccaBeckery) March 8, 2021


In response to growing problems, Burger King's UK branch said, 'I apologize for the wrong first tweet. Our aim is to have 20 female chefs out of the professional chefs working in the UK kitchen. Looking at the fact that there is only%, we helped change that situation by implementing a cooking scholarship program, and we'll make it more appropriate next time. '

We hear you. We got our initial tweet wrong and we're sorry. Our aim was to draw attention to the fact that only 20% of professional chefs in UK kitchens are women and to help change that by awarding culinary scholarships. We will do better next time.

— Burger King (@BurgerKingUK) March 8, 2021


Regarding deleting the tweet in question, 'I decided to delete the original tweet because it was pointed out that there was an abusive comment in the thread and I do not want to leave a place for it.' I explained.

We decided to delete the original tweet after our apology. It was brought to our attention that there were abusive comments in the thread and we don't want to leave the space open for that.

— Burger King (@BurgerKingUK) March 8, 2021


The Washington Post said of the case: 'Some people defend the attempt at humor, but Burger King has been roasted like an open-fired patty, especially by women. This turmoil is one example of how good intentions of a company have backfired. '