'Spicy Asari Udon' filled with clams and 'Spicy Tantan Udon' tasting review where you can enjoy plenty of spicy rich soup & meat miso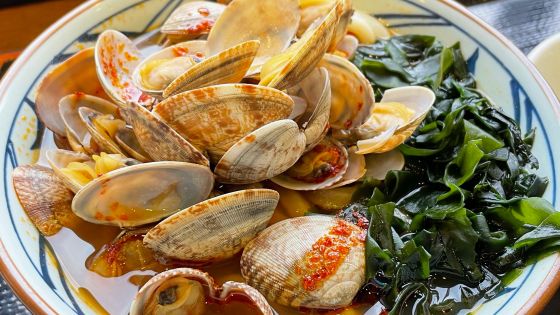 'Asari Udon
' with plenty of shelled clams
and 'Uma Spicy Tantan Udon
' spicy with meat miso and chili oil have appeared in Marugame Seimen for a limited time from March 2, 2021. Furthermore, in 2021,
'Spicy
Asari Udon
' and 'Spicy Tantan Udon' with spicy toppings will be introduced. I was wondering what kind of taste it changed with the addition of spicy taste, so I actually tried 'spicy clam udon' and 'spicy dandan udon'.
Udon Spicy Tantan Udon | Sanuki Kamaage Udon Marugame Seimen
https://www.marugame-seimen.com/menu/new/tantan2021/
Arrived at Marugame Seimen to eat 'spicy clam udon' and 'spicy tantan udon'.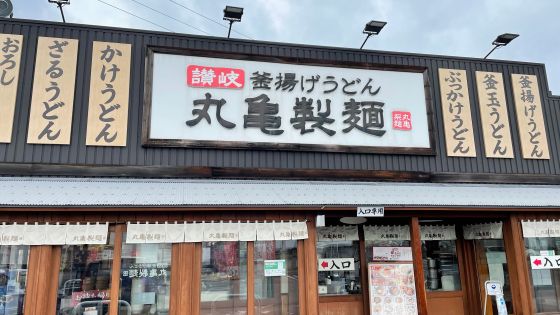 In the menu installed at the entrance, 'spicy clam udon' and 'spicy dandan udon' were appealing.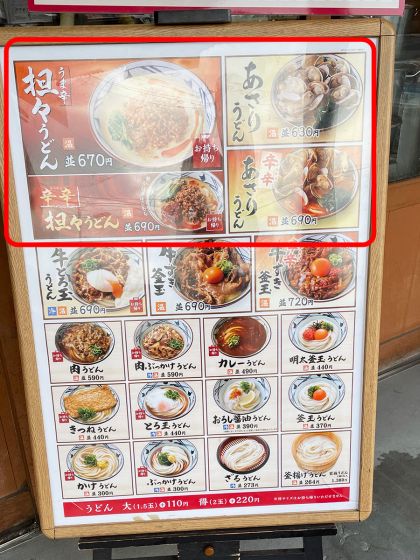 When I ordered 'Spicy Clam Udon', it was served with the clam shell case.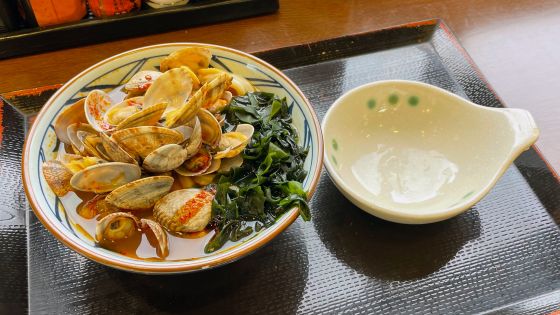 'Spicy clam udon' looks like this. It is topped with clams and wakame seaweed so that you can't see the udon noodles. Also, the clam shell is attached to the chili pepper, which is well dissolved in the soup.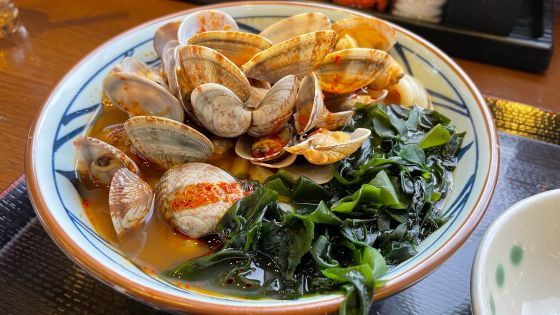 The red oil that floats in the soup is a special chili oil that combines chili pepper and flavored chili oil.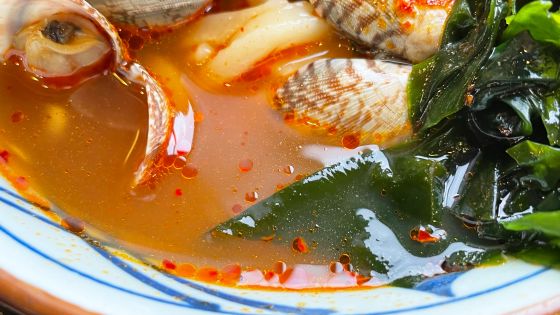 When I try to eat it, the soup with the umami of the clams and the pungent stimulus of the chili pepper are combined. The soup is entwined with the chewy noodles, and the mouth is filled with the flavors of chili and clams.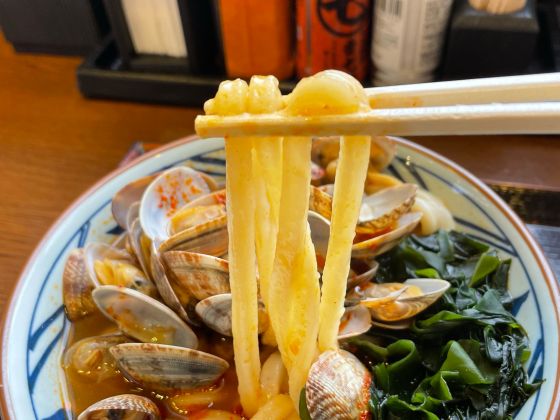 Each clam is large and can be easily removed from the shell. The spicy soup soaked into the big body, and I enjoyed the spicy flavor to my heart's content. However, the spiciness is strong, so those who are not good at spiciness need to be careful.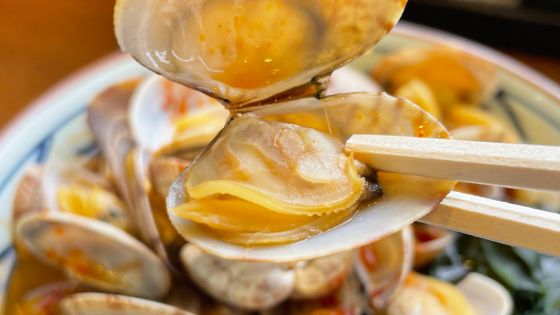 'Spicy Tantan Udon' was compatible with takeout, so I ordered it at takeout and brought it home.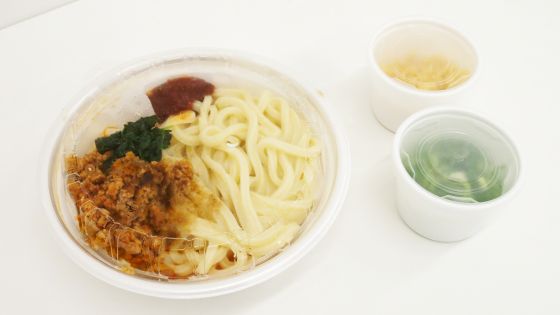 'Spicy Tantan Udon' is served in two layers, a container with noodles and ingredients and a container with soup.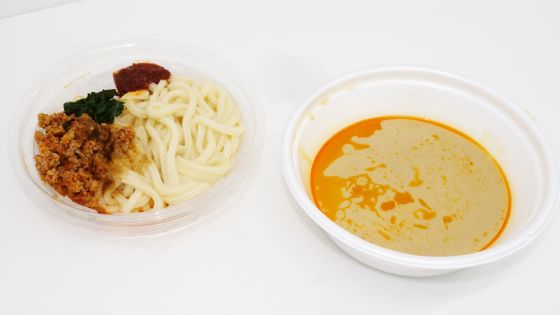 The ingredients of 'Spicy Tantan Udon' look like this. The meat miso is covered with bonito powder.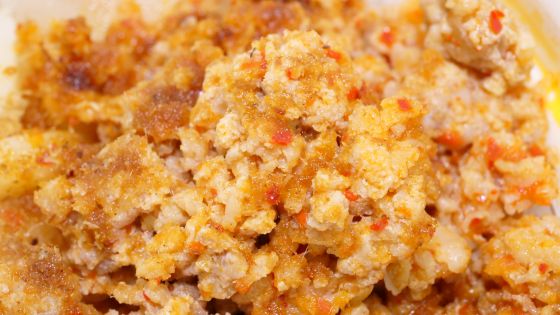 The red sauce is 'Spicy Jean' which is a blend of chili pepper, habanero chili and fried garlic.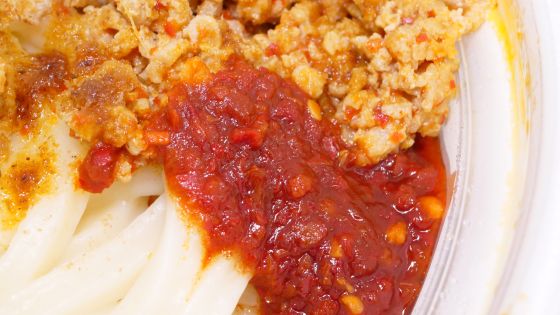 It also contains spinach.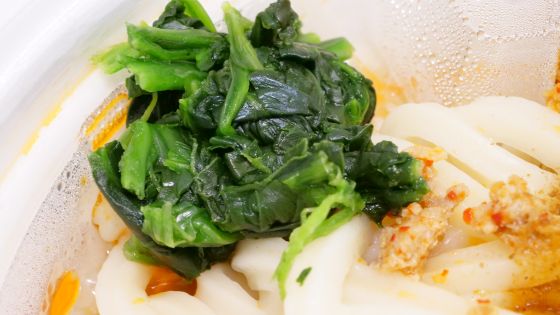 The soup has a slushy texture with red chili oil floating on the surface.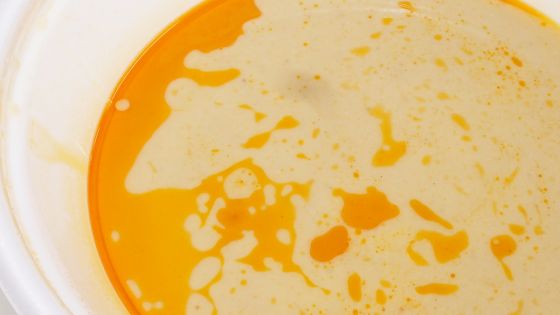 Cooking of 'Spicy Tantan Udon' is completed by simply adding the noodles and ingredients to the soup.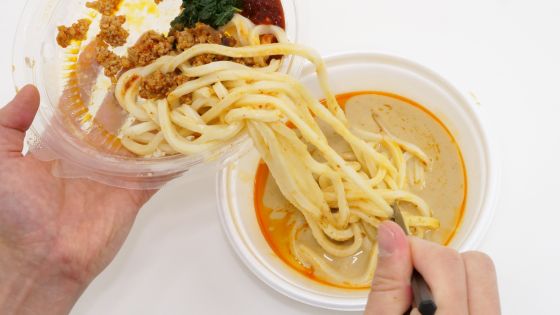 The finished 'Spicy Tantan Udon' looks like this. You can enjoy the change of taste while eating by adding spicy jean without melting.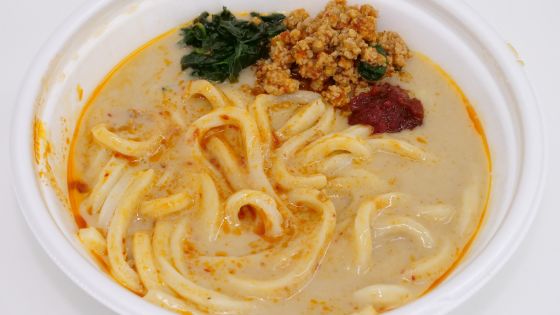 When I actually eat it, I feel a strong spiciness that makes my mouth hurt. However, the rich soup has a strong sesame flavor that overcomes the spiciness, and it tastes like authentic dandan noodles. Spicy jean and rich soup are entwined with the noodles, so if you are good at spicy foods, you can enjoy the combination of spiciness and sesame flavor.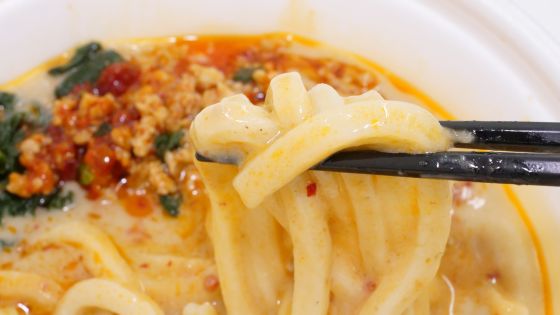 In addition, the rich soup goes well with rice. It is also recommended to combine it with free condiments and eat it in a porridge style.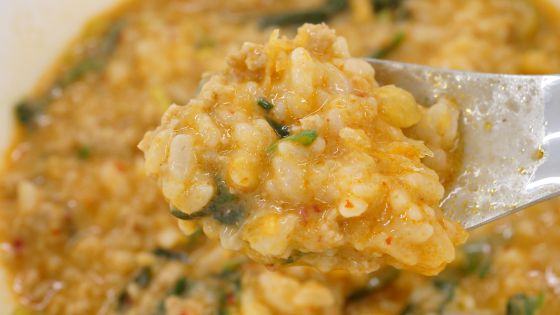 'Spicy Asari Udon' is 690 yen including tax for regular serving, 'Spicy Tantan Udon' is 690 yen including tax for regular serving, 800 yen for large serving, and 910 yen including tax for Tokumori from March 2, 2021 to 2021 You can eat it for a limited time until mid-April. In addition, when taking out, the container stand costs 30 yen including tax. The menu offered by each Marugame Seimen store is different, so if you want to be sure to eat it, it is recommended to check in advance (PDF link).