I tried to save Gifu from the destruction with the retro RPG style smartphone game 'Gifu Quest' that reincarnates into Gifu citizens and defeats monsters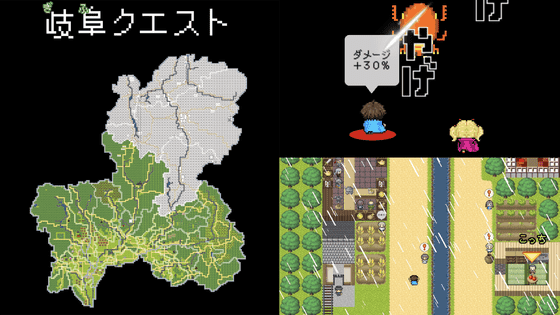 The RPG '
Gifu Quest
' for smartphones set in Gifu Prefecture, which was destroyed by monsters, appeared on February 17, 2021. This game,
Blazeworks
is a game developer of
Mii
Mr. launched a think planning in crowdfunding site · CAMPFIRE from the 'more know I want to! Everyone Gifu attractive', supporters 9 people - It is a game application that has been released from the situation of total support of 120,000 yen. The game is full of stories related to 42 cities, towns and villages in Gifu prefecture, local gourmet items, and episodes that even Gifu citizens do not know, and there is no problem playing even if you are not a Gifu citizen because you do not need location information. So, I was summoned to Gifu and set out on a journey to save Gifu prefecture from the hands of demons.
Gifu Quest-Google Play App
https://play.google.com/store/apps/details?id=jp.blazeworks.gifuquest
'Gifu Quest' on the App Store
https://apps.apple.com/jp/app/%E5%B2%90%E9%98%9C%E3%82%AF%E3%82%A8%E3%82%B9%E3%83%88 / id1545595606
◆ Installation and game start settings
Gifu Quest has an Android version and an iOS version, but this time we will play the iOS version. First of all, to install, access the distribution page from the above URL and tap 'Get'.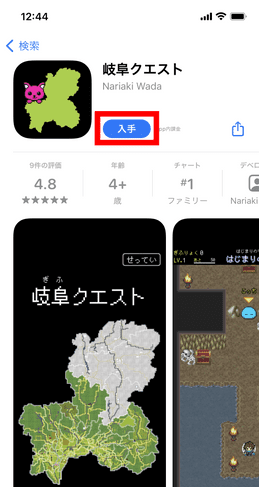 After installation, click 'Open' to start the app.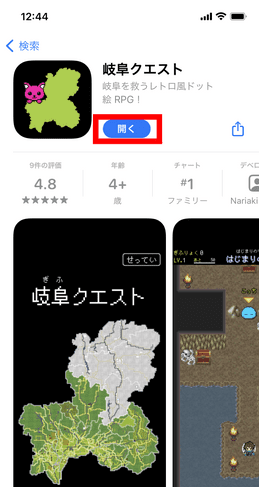 You will be asked to agree to the terms of use, so tap 'How to get started'.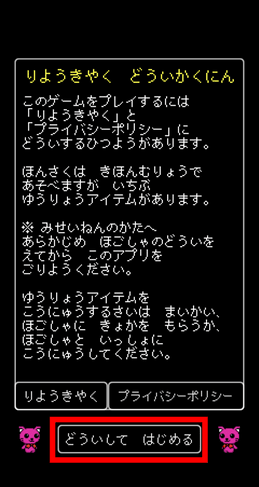 Enter your date of birth and tap 'Kete'.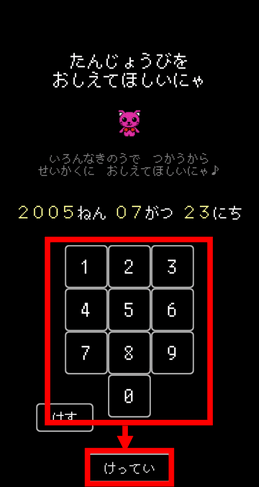 When you tap 'Tap to start' ...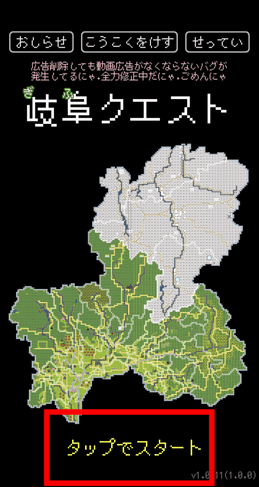 Suddenly I am told that Gifu prefecture has been destroyed.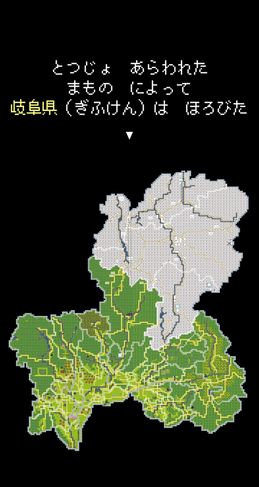 However, he said that he was not completely hopeless.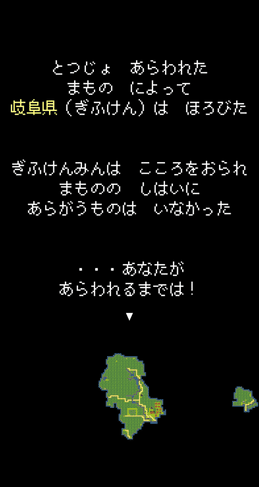 So, I decided to become a citizen of Gifu prefecture and start a journey to save Gifu. First, select the gender of your character.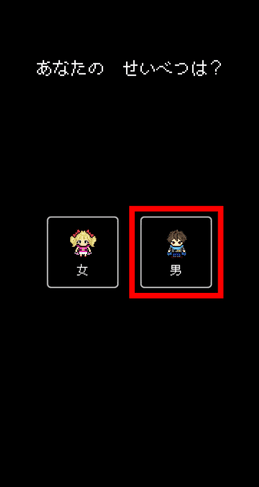 Then enter a name and tap 'Kete'.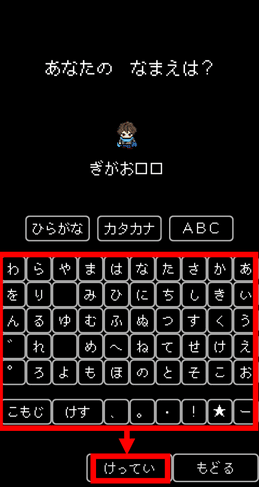 Then decide on your own town. If you don't know the land, you may get a little annoyed, but you can change it later, so you can choose the place you like. This time, select Gifu City, where the prefectural office is located, and tap 'Kete'.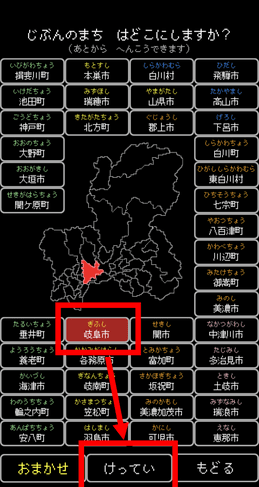 ◆ Main game
Therefore, it was summoned to Gifu prefecture as the 16,831st Gifu citizen 'Gigao'.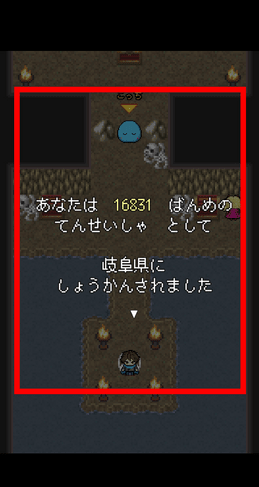 Tap on the screen to move the character to that location.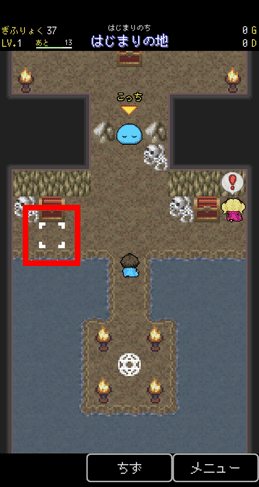 Items can be obtained if a treasure chest is installed at the point where you tapped. Now that you have the weapon, tap 'Menu' to equip it.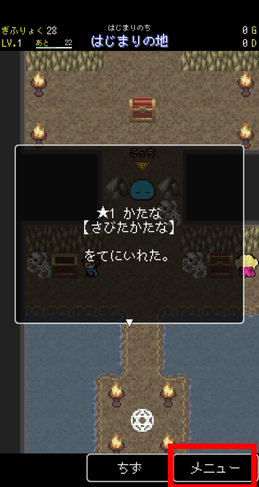 Tap 'Sobi'.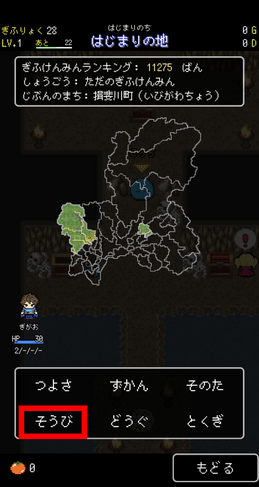 Tap 'Buki'.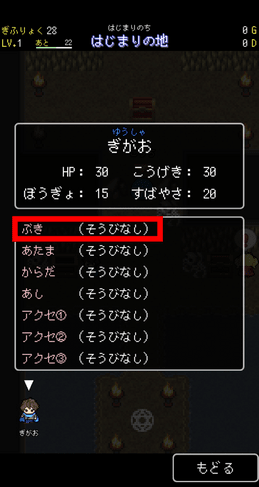 You can equip the weapon by selecting the weapon and tapping 'Sobi'.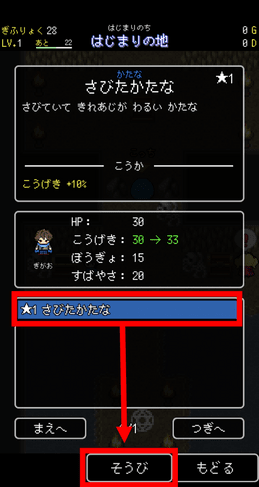 You can talk to another character on the screen by tapping it.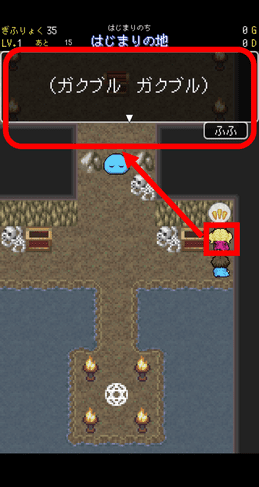 By having a conversation, I won 'Gifu Ryoku'.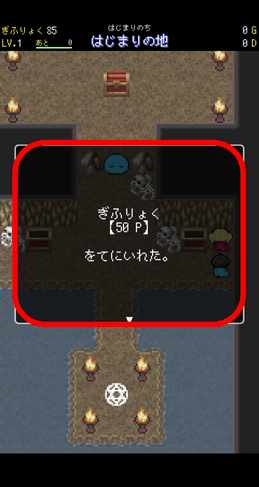 'Gifu Ryoku' is a concept that corresponds to the experience value in RPG. Not only can you get it through conversations and battles with the characters, but you can also get it by walking around or visiting the sightseeing spots in Gifu in the game.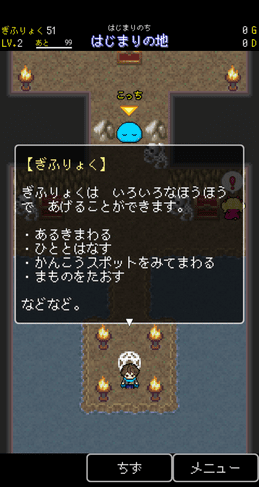 When 'Gifu Ryoku' reaches a certain value, the character will level up and learn 'Tokugi' that can be used for attacks during battle. In addition, there is also a 'Gifu Ryoku Ranking' that competes with other players for scores.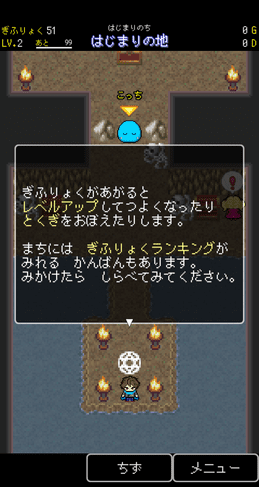 When you talk to the monster on the map ...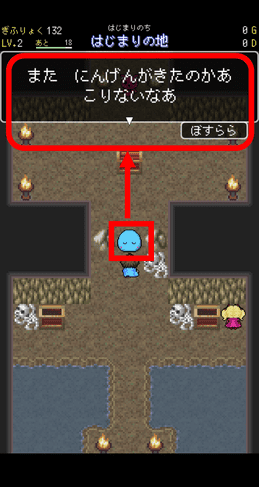 The battle with the boss character 'Bosurara' has begun. First, tap 'Kogeki' to launch a normal attack.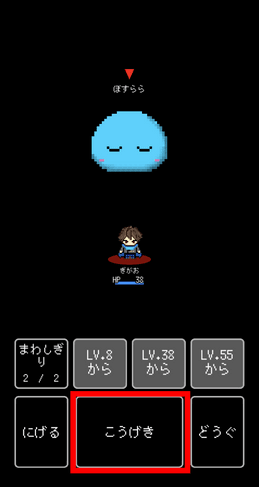 Normal attack is a timing action method that increases the attack power by tapping the screen when the up and down blue bar comes to the dark part. It is possible to shoot an attack even if the timing is not right, but if the timing is right ...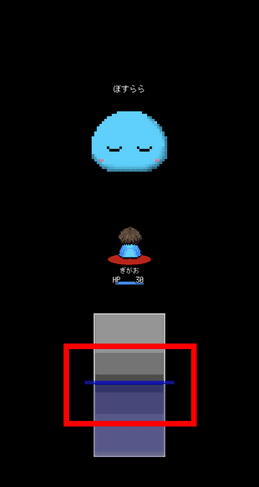 A blow with high attack power is delivered with a shout of 'souvenir'. 'Souvenir' is a dialect of Gifu prefecture.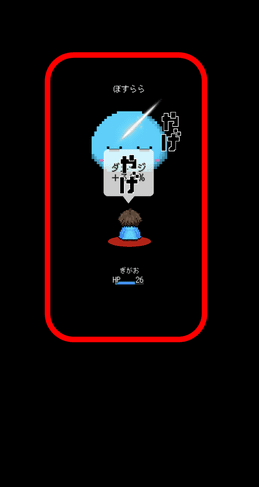 If the HP is reduced by the attack from the opponent, it is possible to recover by consuming tools. To use the tool, tap 'Dogu' ...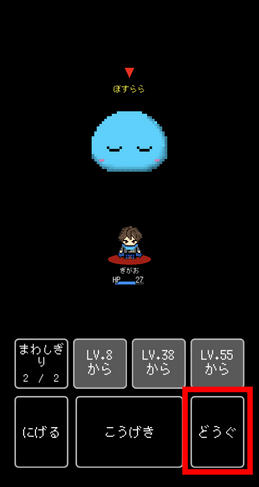 Select the tool you want to use and tap 'Use'. 'Mononofu (samurai)' is
a grade of Tenka Tomimai persimmon,
which is one of the special products of Gifu prefecture.


By eating persimmons, the HP of Gifu citizens was restored.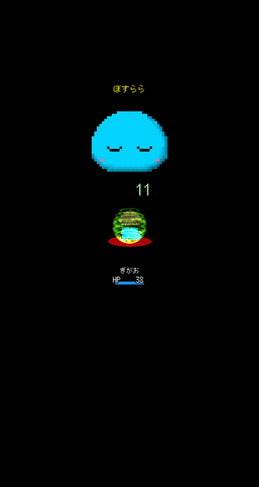 You can also use 'Tokugi' during the battle, so tap 'Mawashigiri' and then 'Use'.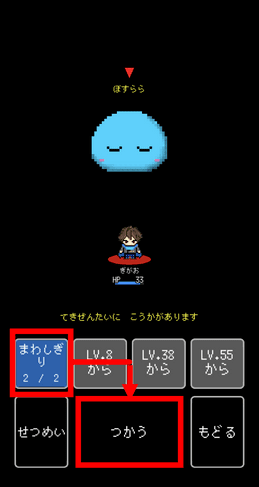 'Tokugi' is powerful, but the number of times it can be used is limited, and basically there is no means of recovery other than resting at the inn. However, if the timing action is successful, the number of times is not consumed, so the timing action is more important than the normal attack in 'Tokugi'.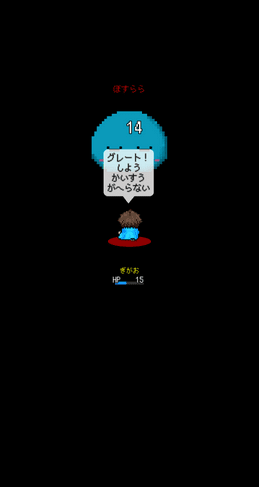 I decided to attack well, defeated the monsters, and obtained 'Gifu Ryoku'.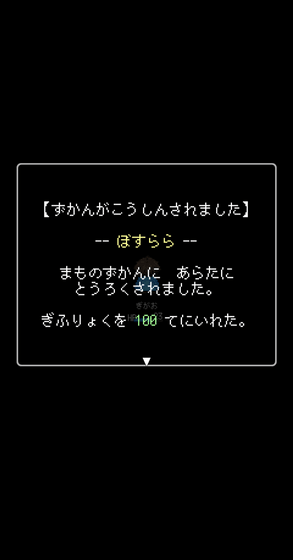 Then, 'Fufu', a girl who was trembling with gakuburu, automatically became a friend.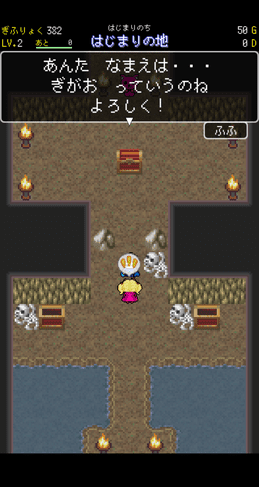 Go further and talk to the pink cat-like 'Mineko'.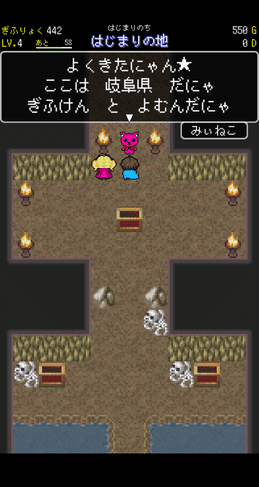 'Mineko' can ask you to save Gifu prefecture. If you select 'But it's different!' As a trial ...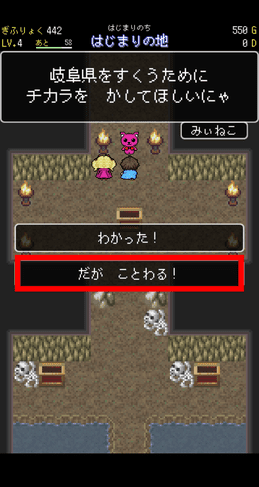 I was swayed.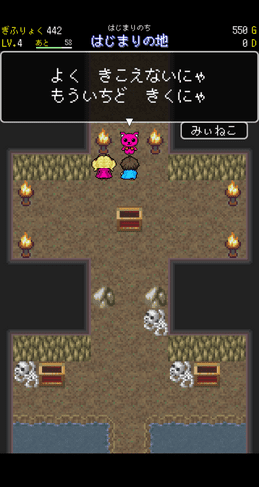 It seems that the conversation will not proceed unless you accept to save Gifu prefecture, so tap 'OK!'.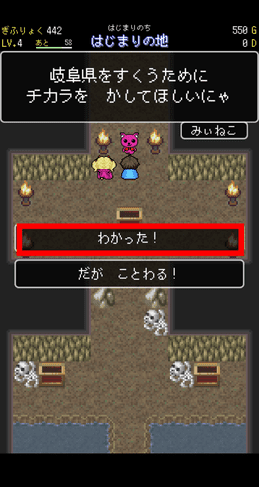 'Mineko' has joined the group.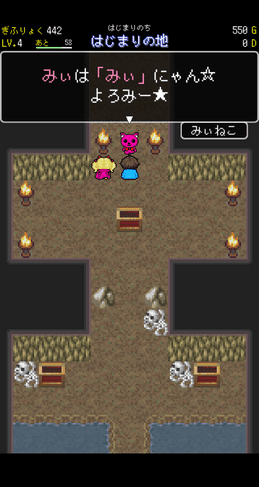 'Mineko' does not fight, but supports play.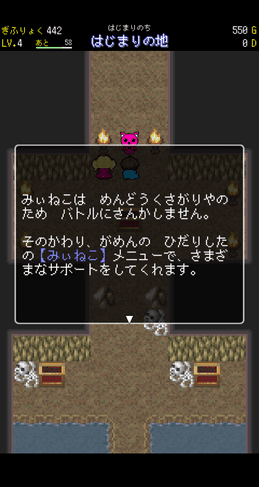 To get support, tap 'Mineko' surrounded by a red frame.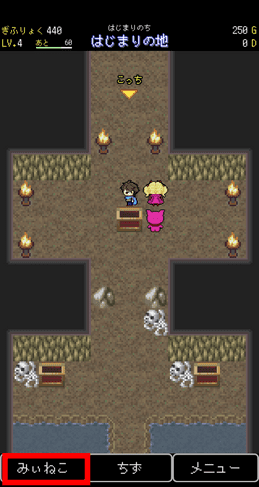 Support is '
Hida beef
' that restores HP only once a day ...


There are two types of 'guidance' that will take you to various destinations. If you try tapping 'Destination' ...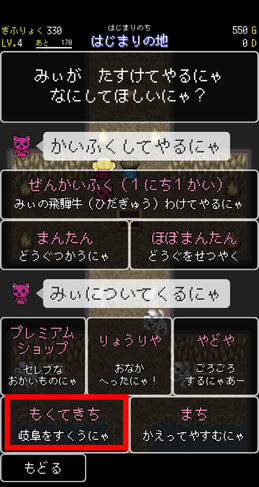 He automatically moved the character, saying, 'I'm going over there!'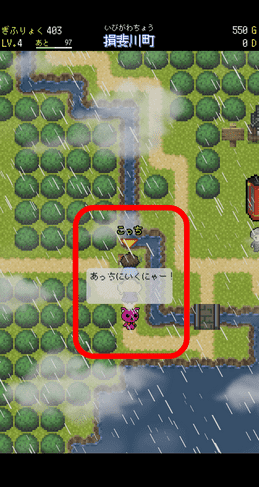 If you move along the way to the destination village, you may encounter a small fish enemy. Encounters will occur even during the guidance of 'Mineko', so be careful when the remaining HP of the character is low.



Arrived at the first destination, Ibigawa-cho, with the guidance of 'Mineko'. When you tap 'Chizu' ...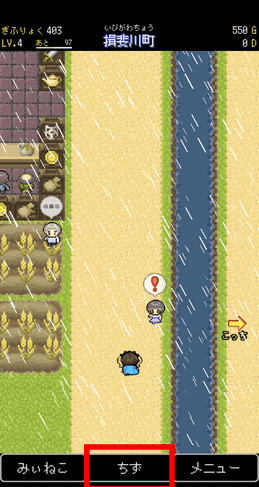 You can see the entire map.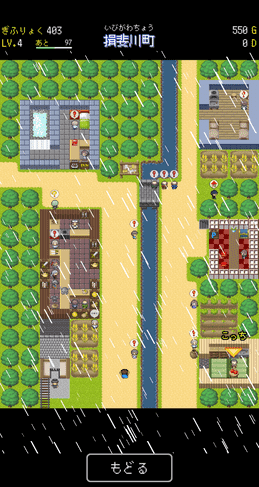 When I went to see the mayor of Ibigawa Town, I was asked to recover my kidnapped daughter.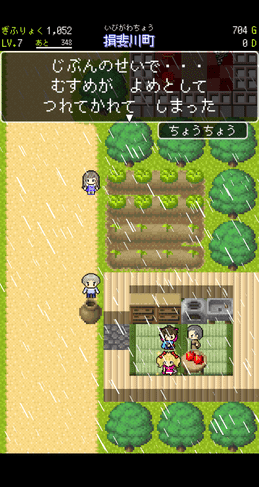 While asked to guide to once again look at Ineko, that the mayor's daughter has been kidnapped
Yasha pond (Yashagaike)
will head to.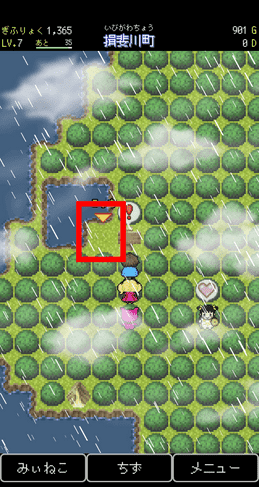 At Yashagaike, the boss character 'Aodambe' was waiting. '
Aodambe
' is a dialect of the Hida region of Gifu prefecture, which refers to the
general blue
snake, which is a type of snake.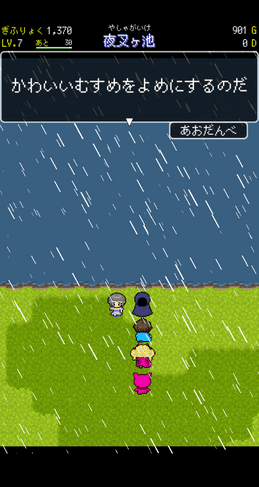 Defeat the boss while making full use of 'Sandanuchi' of 'Fufu' who became a friend earlier.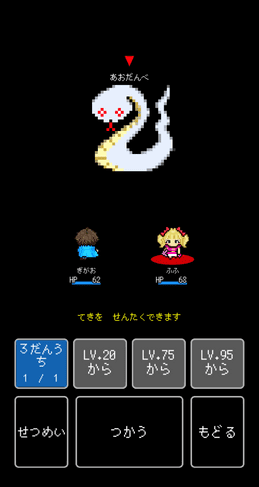 When I rescued the mayor's daughter safely, I heard the voice of 'Yaksha gahime' from the pond and was told that there was a powerful monster. Apparently, this incident seems to be an episode with the motif of the
legend
of
Yashagaike
in Ampachi District, Gifu Prefecture, where 'Ryujin receives a daughter instead of raining'.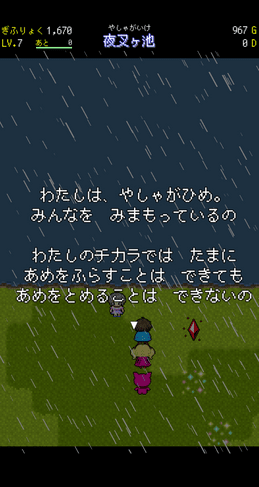 When I left Yasha-gaike, I found that the seal on Ikeda-cho in Ibi-gun was lifted by defeating the monster. In this way, the purpose of 'Gifu Quest' is to break the seal around various parts of Gifu prefecture and save Gifu prefecture from monsters.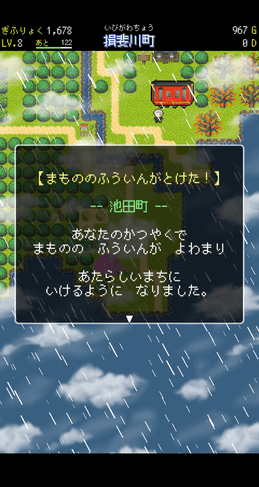 ◆ Summary
'Gifu Quest' is a free-to-play retro-style RPG app, and during the game, folklore and local gourmet items that are handed down in various parts of Gifu Prefecture will appear, so you can experience the charm of Gifu while enjoying the game. I will.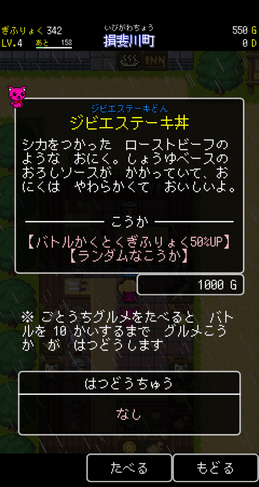 The timing action during the battle is a little severe and there is a moderate tension, but even if you fail to input, it is possible to launch an attack and the enemy is not so strong, so it seems that it will not be clogged due to the difficulty of the battle. In addition, there is automatic movement by support, so you can proceed quickly without getting lost or confused because you do not know the destination.

In addition, probably because it was just released on February 17, there are problems such as 'the bug that the advertisement is displayed even if you charge and delete the advertisement' and 'the forced termination is likely to occur on the Android terminal'. It has been reported , but it will be fixed soon.

I found a bug that a video ad is displayed with a red crystal even if the ad is deleted ????
It seems that it will be fixed soon, so I should submit the application review immediately ???? ✨

I'm sorry ????

Click here for the bugs found now ↓ https://t.co/gQ7rwZskPf

— Mii @ Gifu Quest ???? February 17th Bomb (@gifuquest) February 17, 2021