Intel's claim that the mobile processor 'Tiger Lake' has higher performance than Apple's 'M1' is flooded with tsukkomi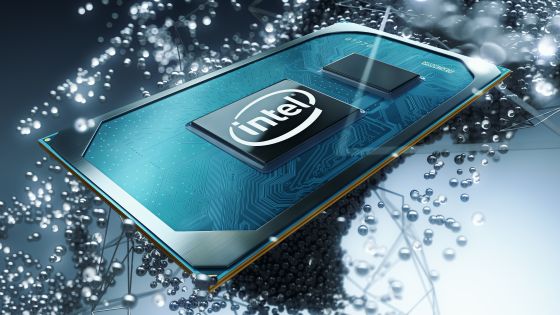 Apple's proprietary chip '
M1
' announced in November 2020 has received
extremely high praise
for its high performance. In order to compete with such an M1 chip, Intel has released a new comparison result that 'the in-house mobile processor'
Tiger Lake
'has better performance than the M1 chip', but many questions have been raised about the comparison result. I will.
Intel Fires Back at Apple's M1 Processors With Benchmarks | Tom's Hardware
https://www.tomshardware.com/news/intel-fires-back-at-apple-m1-processors-with-benchmarks
Intel Core i7 vs. Apple M1: Let's reality-check Intel's new claims | PCWorld
https://www.pcworld.com/article/3606592/intel-benchmarks-say-apples-m1-isnt-faster.html
◆ Software execution performance
At the time of writing the article, Intel prepared and compared a notebook PC equipped with '
Core i7-1185G7
', which is the highest model in Tiger Lake, and a MacBook Pro equipped with an M1 chip.
The graph comparing the execution performance of the software with 'Google Chrome' and '
Microsoft 365
' natively compatible with both chips is like this. The blue bar that shows the performance of the Core i7-1185 G7 PC outperforms the black bar that shows the performance of the MacBook Pro in most test results.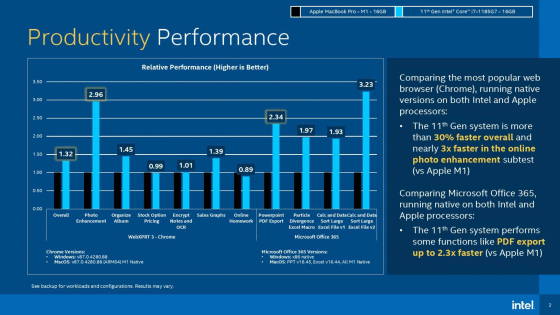 Regarding this result, hardware-related news site
Tom's Hardware
said, 'The benchmark software'
WebXPRT 3
'used to compare the effective performance of Google Chrome is known to have a close cooperation with Intel.'
Principled Technologies
Developed by ", and may be optimized for Intel CPUs. In addition, the tests using Microsoft 365 were also conducted according to Intel's internal test standards, so it is considered that conditions favorable to Intel were set. We
independently compared
the performance of a laptop with Tiger Lake and a MacBook Pro with an M1 chip, but there was no big difference in the performance of Google Chrome and Microsoft 365 between the two. ' He said that Intel's tests were done under conditions favorable to Tiger Lake, and his own research claimed that there was no difference in performance between Tiger Lake and the M1 chip.
Intel also claims that Macs with M1 chips sometimes 'failed' with basic operations such as 'switching to calendar in Outlook,' 'starting Zoom video conferencing,' and 'selecting PowerPoint image menus.' doing.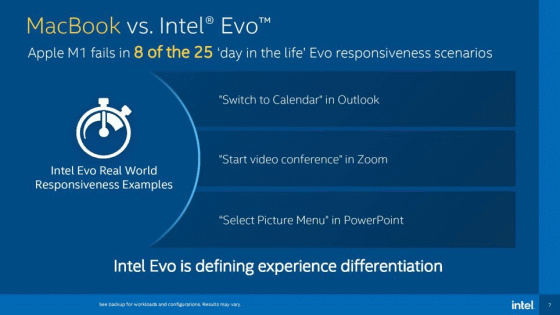 Tom's Hardware, on the other hand, said, 'It's unclear what Intel claims'failure'means. We also had multiple Zoom meetings while testing the MacBook Pro with the M1 chip. It worked, but it worked perfectly fine. '

◆ Gaming performance
A graph comparing the average frame rate when running various games on a laptop with a Core i7-1185 G7 and a MacBook Pro with an M1 chip looks like this. In games that also run on the MacBook Pro, the outcome is divided by title. Also, on the right side of the figure, games that do not work on MacBook Pro are lined up in a row.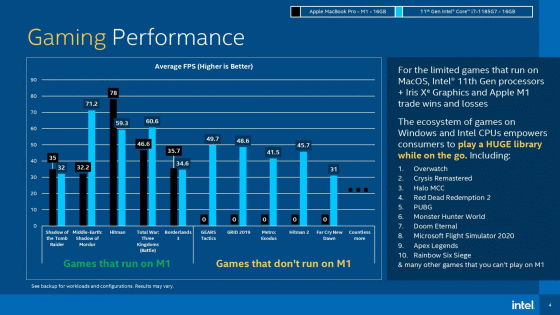 'I feel like treating games that don't run on the Mac as'0 frames per second',' says Tom's Hardware. 'But it's true that macOS, which runs few games, isn't a good gaming platform.'

◆ Power saving performance
Apple has
announced
that the MacBook Air with the M1 chip can play up to 18 hours of video, highlighting the power-saving performance of the M1 chip. In this regard, Intel points out that the longest video playback time Apple claims is due to the condition that the video is played on a dark screen using the Apple TV app, and the MacBook Air and Core i7-1165 G7 with M1 chip The result of playing a Netflix video with a brightness of 250 nits using the installed Acer '
Swift5
' is released. With the MacBook Air playing video for 10 hours and 12 minutes and the Swift 5 playing video for 10 hours and 6 minutes, Intel claims that the Tiger Lake and M1 chips have almost the same power savings.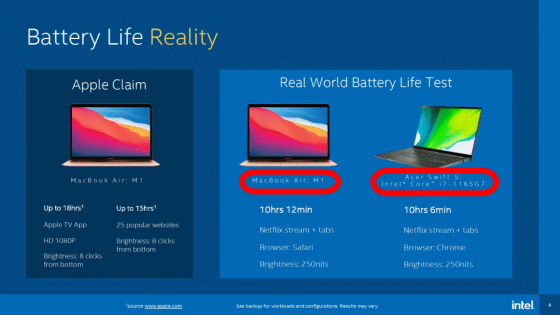 However, Tom's Hardware has the CPU used for the power saving performance test changed to a notebook PC equipped with Core i7-1165G7 instead of Core i7-1185G7, and the battery drive time is shorter than MacBook Pro. Pointed out that the MacBook Air that is known is being compared. 'In our tests, the MacBook Pro with the M1 had a battery life of several hours longer than the Swift 5 with Tiger Lake,' he said, questioning Intel's test environment.

◆ Compatibility
Intel points out that peripherals such as headsets and game controllers aren't compatible with M1-powered Macs, and claims that Tiger Lake will continue to use many peripherals as before.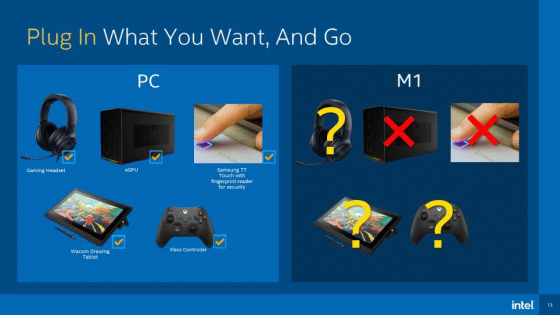 He also points out that a lot of software does not work natively, pointing out the incompatibility of the M1 chip in terms of both hardware and software.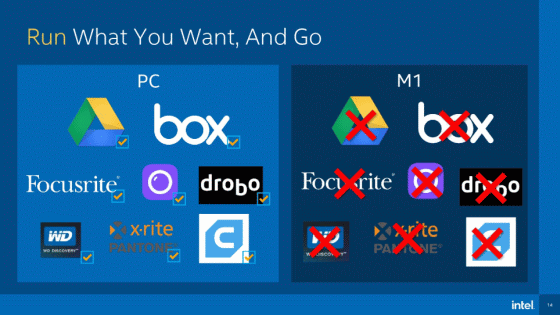 Tom's Hardware acknowledged that this was true, saying, 'The beta version of macOS 11.3 adds support for PlayStation 5 and Xbox Series X controllers, and Intel's native behavior. In the list of apps that do not, Box has stated that support for Macs with M1 chips is a 'high priority issue' . In this way, support for M1 chips is rapidly advancing in both hardware and software. We believe that compatibility issues will be resolved in the future. '

As mentioned above, the performance comparison between Tiger Lake for notebook PCs and the M1 chip announced by Intel was questionable, but Tom's Hardware said, 'The fact that such a comparison was made is that Intel made the M1 chip. It shows that it has been recognized as a strong rival worth comparing, 'he said, and anticipates intensifying competition for mobile processor performance.

In addition, technology-related new media The Verge said, 'The biggest feature of the M1 chip is that it operates fanlessly. Macs equipped with the M1 chip operate much quieter than notebook PCs equipped with Tiger Lake. it. in addition, M1 chip is Apple Silicon and only in the first generation of ' said , shows the expected to further improve the performance of Apple Silicon.