Internet regulation intensified in Myanmar where the coup d'etat broke out, protesters develop a demonstration with three fingers named after the movie 'The Hunger Games'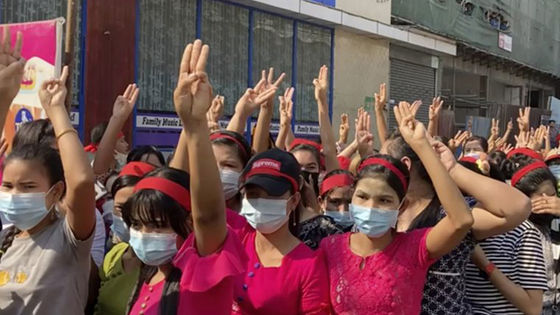 In Myanmar, where a military coup d'etat occurred on February 1, 2021, protests are
underway
to demand the release of Mr.
Aung San Suu Kyi,
who is detained by the military. In response, the military reportedly tightened Internet regulations.
Myanmar junta blocks internet access as coup protests expand
https://apnews.com/article/united-nations-myanmar-media-social-media-yangon-e7765d3459d386219ee1dca8ad1e089c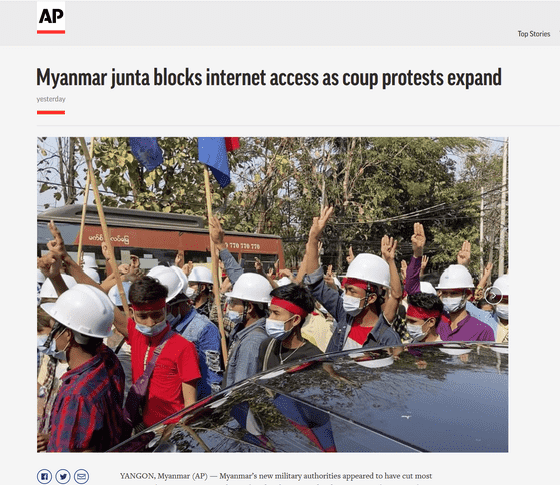 Myanmar military blocks internet access amid coup protests
https://nypost.com/2021/02/06/myanmar-military-blocks-internet-access-amid-coup-protests/

Marise Payne calls in Myanmar ambassador after Australian adviser to Aung Sun Suu Kyi detained | Myanmar | The Guardian
https://www.theguardian.com/world/2021/feb/07/marise-payne-calls-in-myanmar-ambassador-after-australian-adviser-to-aung-sun-suu-kyi-detained

Due to the impact of the coup d'etat that occurred on February 1, the Internet was temporarily cut off on the same day in Myanmar, and the connection has been unstable since then. The Myanmar army is, is Facebook that many of the Myanmar people to use temporarily as a 'have prevented the country of the stability of the recovery' has been blocked .

Internet cut off in Myanmar when coup d'etat breaks out, President Biden mentions sanctions-GIGAZINE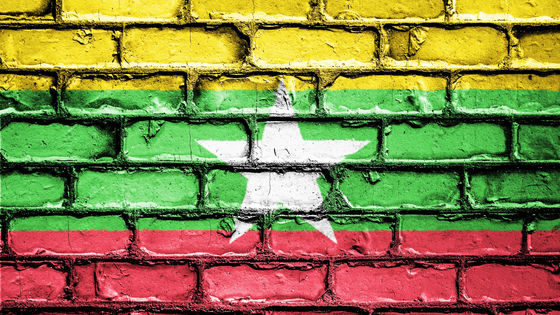 The Associated Press, a major U.S. news agency, said on February 7, 2021, 'Myanmar's new military authorities have been protested against a coup that overthrew the elected Aung San Suu Kyi administration on February 6. It seems that most of the Internet access was blocked. '

According to NetBlocks , an organization that monitors freedom of speech on the Internet, Internet communication has become unstable nationwide from around 10 o'clock on February 6, local time, and connectivity is normal 54. It has dropped to%.

⚠️ Alert: #Myanmar is now in the midst of a second nation-scale internet blackout as of ~ 10:00 am Saturday local time; real-time network data show national connectivity falling to 54% of ordinary levels as users report difficultly getting online ????

???? https://t.co/Jgc20OBk27 pic.twitter.com/ebFLAAl7dj

— NetBlocks (@netblocks) February 6, 2021


Internet connectivity continued to deteriorate, dropping to 14% at one point, but has recovered to around 95% at the time of writing the article. However, NetBlocks pointed out that 'many people remain restricted in their use of social media and the situation remains tense.'

A week after the onset of internet disruptions in #Myanmar amid a military coup and detention of civilian leaders, connectivity has returned to 95% of ordinary levels. However, social media remain restricted for many and the situation remains tense ????

???? https://t.co/Jgc20OBk27 pic.twitter.com/me1Glq3Le2

— NetBlocks (@netblocks) February 7, 2021


Under these circumstances, Myanmar people who oppose the coup are protesting with Aung San Suu Kyi's face photo and three fingers. According to the American tabloid New York Post, the three-fingered sign was used in a protest against a coup in neighboring Thailand and originally appeared in the movie The Hunger Games . It seems to be a 'symbol of rebellion'.

#UPDATE Internet access was partially restored in Myanmar on Sunday, Netblocks reported, as a nationwide web blockade failed to curb public outrage and protests against the coup that ousted elected leader Aung San Suu Kyi https://t.co/VYvePwALYP pic.twitter .com / eQQCv7Ebup

— AFP News Agency (@AFP) February 7, 2021


According to the Associated Press, Aung San Suu Kyi, President Win Myint , 134 parliamentarians and senior government officials, and 18 activists were detained in the coup. Some of them are already open.

'The coup is a major step back in Myanmar's decade of democratization,' the New York Post said of these developments in Myanmar.

The Australian government also announced on the 6th that an Australian was being captured by local police. 'We are deeply concerned about reports that Australians and other foreigners have been arbitrarily detained in Myanmar,' Foreign Minister Maris Payne said in a statement.