Six people arrested trying to change the Hollywood sign to 'HOLLY BOOB'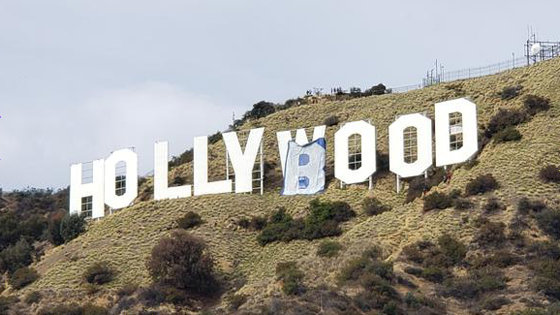 On the hills of Los Angeles, USA, there is a huge
Hollywood sign
that is an icon of Hollywood, the center of the movie industry. A group of six was arrested for trying to change the word 'HOLLYWOOD' to 'HOLLYBOOB'.
Six arrested after changing Hollywood sign to'Hollyboob' --Los Angeles Times
https://www.latimes.com/california/story/2021-02-01/hollywood-sign-hollyboob-six-arrested
Six People Arrested for Altering Hollywood Sign to Read'Hollyboob' – NBC Los Angeles
https://www.nbclosangeles.com/news/local/six-people-arrested-for-altering-hollywood-sign-to-read-hollyboob/2516045/
On February 2, 2021, famous YouTuber Michael Stevens posted three photos on Twitter with the content 'HOLLY BOOB? What's happening right now'.
HOLLYBOOB?
Happening right now. pic.twitter.com/AbGesp1JG8

— Vsauce (@tweetsauce) February 1, 2021


Below is the photo. A sheet with the letter 'B' on top of the letter 'W' is hung on the Hollywood sign, a symbol of Hollywood in the corner of the Santa Monica hills in Los Angeles. Also, the last 'D' has a line drawn in the middle so that it can be read as 'B', and you can see that we are trying to change 'HOLLYWOOD' to 'HOLLYBOOB'.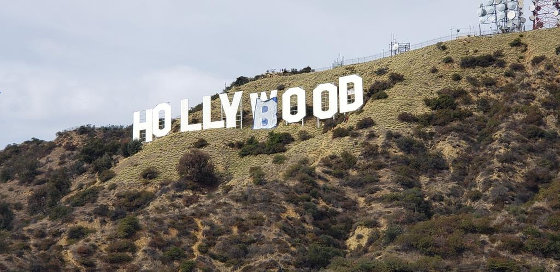 Looking at it in close-up, there are two people under 'B'.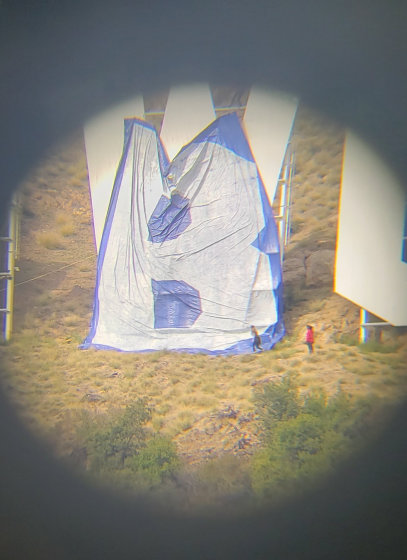 However, it seems that he is struggling because he cannot put the seat well. A helicopter is also shown in the upper right of the image.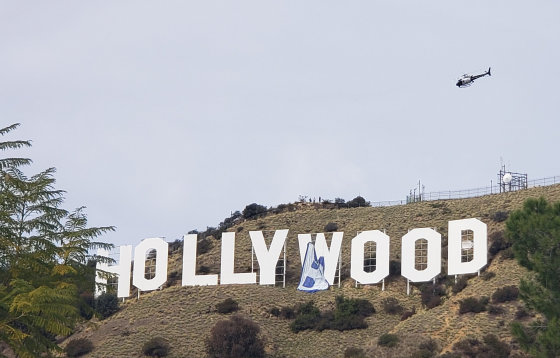 According to police announcements, the Los Angeles Police Department caught five men and two women near the Hollywood Sign at 13:15, and soon after, police were dispatched by helicopter. Police officers dispatched witnessed a group of men and women descending the hill into the Mulholland Highway. The group was arrested by police and Park Ranger on the Mulholland Highway.

The Hollywood Sign is located in Griffith Park, but is personally managed by a non-profit organization called the Hollywood Sign Trust, which is inaccessible to the general public. For this reason, six people were arrested for trespassing, but because the Hollywood Sign was not damaged and there was no vandalism, they were immediately released as a misdemeanor. 'It's a shame that these important icons for the city of Los Angeles weren't treated properly,' said Mark Panatier, chairman of the Hollywood Sign Trust.

The name of the criminal group is not disclosed, but according to the police, the criminal explained that the reason for the crime was 'to raise awareness about breast cancer.' In addition, a YouTuber named Jack Tenney has released a movie with the content 'I was arrested by changing the Hollywood sign to HOLLY BOOB'.

Jack's in Jail "I gave the Hollywood sign a boob job!" #HOLLYBOOB --YouTube


Also, an Instagram account called 'savage' posts similar content on Instagram.

View this post on Instagram
in Note, Posted by logq_fa