A function to display the inoculation location of the new corona vaccine will be added to Google Maps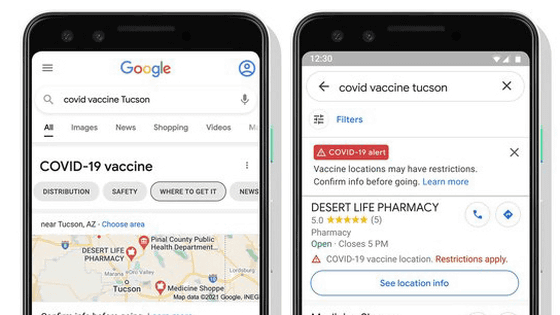 Vaccines for the new coronavirus are being developed at a rapid pace, and there is hope that the global epidemic that will continue from the beginning of 2020 will come to an end. Google has announced that it plans to add a function to Google Search and Google Maps that will allow you to search for places where you can get the vaccine for the new coronavirus.

How we're helping get vaccines to more people

https://blog.google/technology/health/vaccines-how-were-helping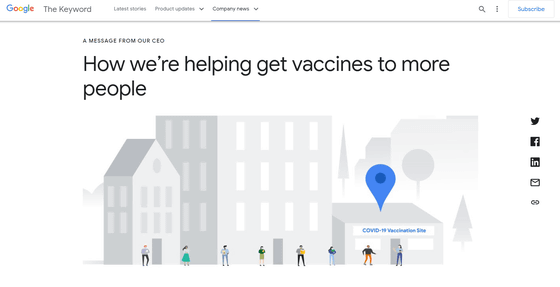 Google Maps will soon show COVID vaccine locations | Ars Technica
https://arstechnica.com/gadgets/2021/01/google-maps-will-soon-show-covid-vaccine-locations/
Google Maps is adding COVID19 vaccine sites
https://thenextweb.com/corona/2021/01/25/google-maps-is-adding-covid19-vaccine-sites/
According to Google CEO Sundar Pichai, the number of searches on Google for the 'nearby vaccine' query has increased five-fold since the beginning of 2021. Therefore, CEO Pichai announced that an information panel on the new coronavirus vaccine will be displayed on Google search results and Google Maps so that you can search for places and times when vaccination is possible.
Based on information from
VaccineFinder.org
, government agencies, pharmacies, etc., this information panel includes 'whether vaccination reservations or referrals are possible', 'whether vaccination targets are limited', 'whether there is a drive-through', etc. Information will be summarized.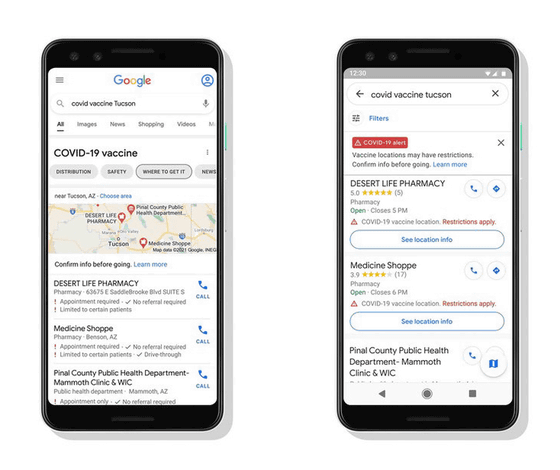 The system that displays information on the new coronavirus vaccine in search results will first be available in Arizona, Louisiana, Mississippi, and Texas in the United States, and will gradually support more than 40 countries and dozens of languages. plans.

Pichai also announced that some Google-owned facilities in the United States, such as buildings, parking lots and open spaces, will be available for vaccination.

In addition, according to Pichai, Google is supporting the Centers for Disease Control and Prevention (CDC) with the CDC Foundation, the World Health Organization (WHO), and non-profit organizations around the world to first deliver vaccine-related information about the new coronavirus. It is said that it will prepare an advertising subsidy of 100 million dollars (about 10.4 billion yen) for commercial organizations. In addition, Google will invest 50 million dollars (about 5.2 billion yen) in spreading information on vaccine infections in cooperation with public health agencies.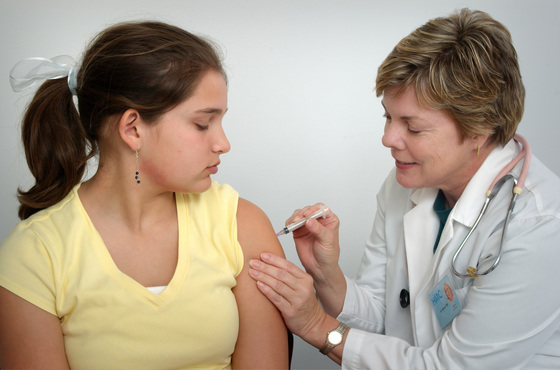 'The pandemic (of the new coronavirus) has had a devastating impact on communities around the world, and many things are still unknown, but multiple safe vaccines have been developed in such a short period of time,' said Pichai. Gives us a reason for hope. Now, work has begun to ensure and promptly benefit everyone from the victory of this scientific achievement. '