Netflix subscribers surpass 200 million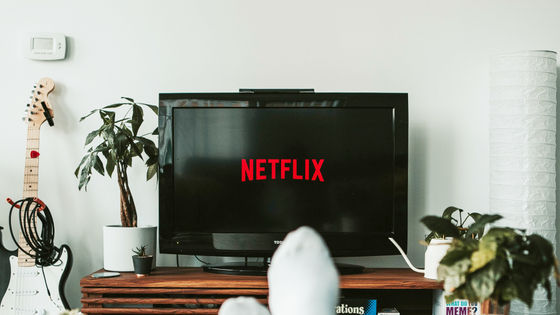 Netflix, a major video distribution service company, announced its financial results for the fourth quarter of 2020 (October to December 2020) on January 19, 2021. In it, Netflix revealed that the number of members has exceeded 200 million.

FINAL-Q420-Shareholder-Letter
(PDF file)
https://s22.q4cdn.com/959853165/files/doc_financials/2020/q4/FINAL-Q420-Shareholder-Letter.pdf
Netflix stocks jump as company crosses 200 million subscribers milestone --CNN
https://edition.cnn.com/2021/01/19/media/netflix-earnings/index.html
Netflix surpasses 200 million subscribers, but has more competition than ever in 2021 --The Verge
https://www.theverge.com/2021/1/19/22238877/netflix-200-million-subscribers-q4-earnings-bridgerton-emily-paris-cobra-kai-queens-gambit
Below is a summary of Netflix's Q4 2020 earnings report released on January 19th. The number of paying members increased by 8.5 million this quarter alone, reaching a record high of 37 million new members for the full year. As a result, the cumulative number of paying members increased by 21.9% from the previous year to about 23.66 million, and the annual revenue increased by 24% from the previous year to 25 billion dollars (about 2,594,050 million yen). Operating income increased 76% to $ 4.6 billion (approximately ¥ 47,328.2 million).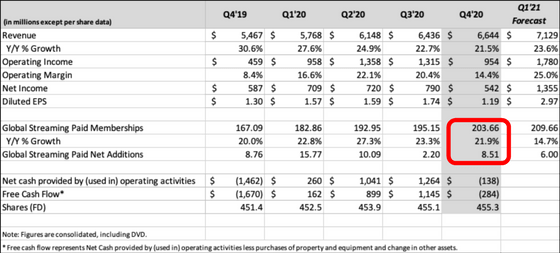 In a statement, Netflix said, '2020 was a difficult year with so many families suffering a great deal of loss, with new restrictions and great uncertainties that no one had ever experienced. I am truly grateful that I was able to continue my business during these times and provide members around the world with a source of escape, connection and joy from difficulties. '

Due to the pandemic of the new coronavirus infection that occurred in 2020, Netflix gained more than double the number of new subscribers in the first quarter of 2020, which is believed to have supported its performance.

Netflix has more than 15 million new subscribers, more than double the expected growth, due to the impact of the new coronavirus --GIGAZINE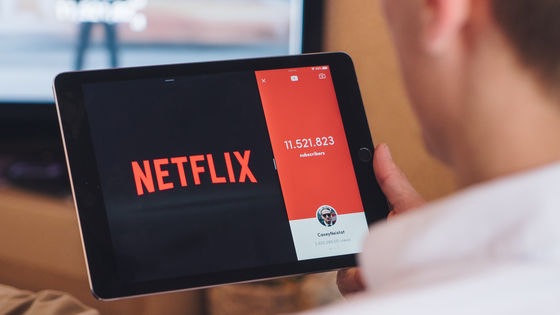 As a result of these strong performances, Netflix's free cash flow (FCF) in 2020 increased by $ 1.9 billion from 'down $ 3.3 billion' in 2019 to '$ 1.9 billion'. It turned positive. From this, the company is on the verge of sustainable FCF profitability, and expects FCF to be near the break-even point by 2021. "From now on, you won't have to rely on external funding for your day-to-day operations," Netflix said.

Regarding the overview of the live streaming industry in 2020, American news media CNN said, 'In 2020, Peacock , Discovery + , HBO Max , and above all,Disney +, which got a good start with more than 80 million subscribers, etc. But with more rivals, long-time live-streaming champion Netflix doesn't seem to be moving at all. '

On the other hand, IT news site The Verge said, 'Although it showed an upward trend this term, there are some concerns about the next term. One of the reasons is the reaction to the large increase in the number of new members. Netflix Co-Chief Executive Reed Hastings had previously said that subscriber growth wouldn't last long as many registered at once, but that's actually happening in the third quarter. I will. ' He said it would not be easy to maintain the top position in the industry in the future.