Almost the final version of Microsoft's new OS 'Windows 10 X' leaked, evaluation as a lightweight version of Windows that looks close to Chrome OS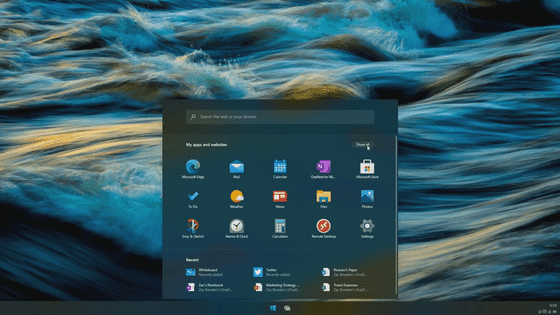 An OS that seems to be the final build of Microsoft's new OS ' Windows 10X ' has been leaked. Several media outlets who actually got Windows 10 X described the new operating system as 'a lightweight version of Windows 10 that is Microsoft's answer to
Chrome OS
.'
Hands-on with Windows 10X for single-screen PCs (video) | Windows Central
https://www.windowscentral.com/hands-windows-10x-single-screen-pcs
Windows 10X is now Microsoft's true answer to Chrome OS --The Verge
https://www.theverge.com/2021/1/14/22230554/microsoft-windows-10x-leak-chrome-os-chromebooks-hands-on
Windows 10 X was first officially announced at Microsoft's October 2019 Surface brand announcement event. Since the new OS Windows 10 X was installed in the dual display PC 'Surface Neo' introduced at this event, it was expected at that time that 'Windows 10 X will be an OS specialized for dual displays'. It was.
Microsoft announces 'Surface Neo' for foldable dual display Windows PC-GIGAZINE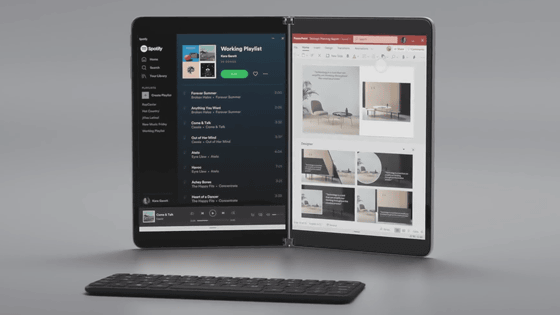 After that, Microsoft
announced
that the introduction of Surface Neo, which was scheduled for the end of 2020, will be delayed due to the influence of the pandemic. Windows 10X has also revealed
that
it will
change
from an OS for dual displays to a
single display
.
Meanwhile, Zak Borden, senior editor of Microsoft product news site Windows Central, announced on January 14, 2021 that he had obtained a nearly finished Windows 10 X that was reborn for single screen. ..
Here's your first look at Windows 10X for single-screen PCs. I should hopefully have more to share very soon :) pic.twitter.com/irkbMC5w5n

— Zac Bowden (@zacbowden) January 13, 2021


Mr. Bowden has released a movie showing how he is actually using Windows 10 X.

Windows 10X --Official Release Demo --YouTube


This is the Windows 10 X desktop screen. It is characteristic that the taskbar icon is placed in the center.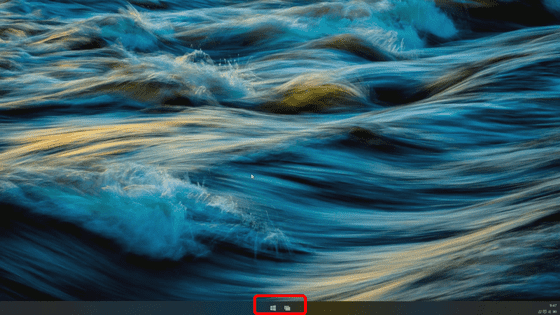 The start menu developed from the start button looks like this. It shows installed apps and recently used files, but it's designed to be simpler and easier to read than the Windows 10 Start menu.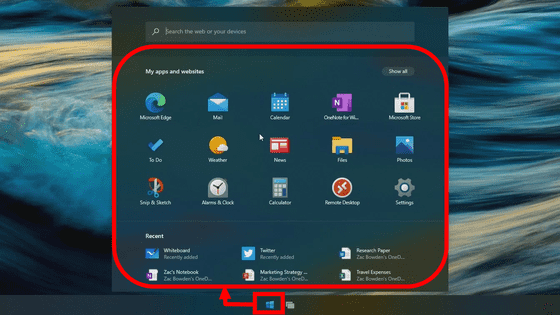 A search box is also integrated into the Start menu.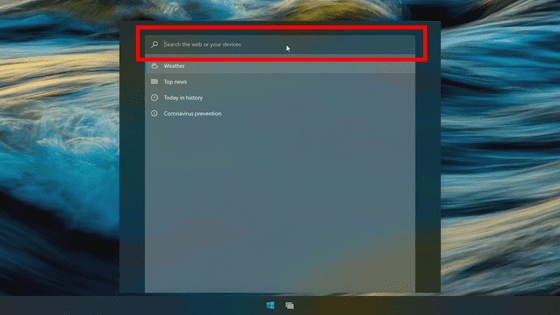 Start menu icons can be rearranged by dragging and dropping.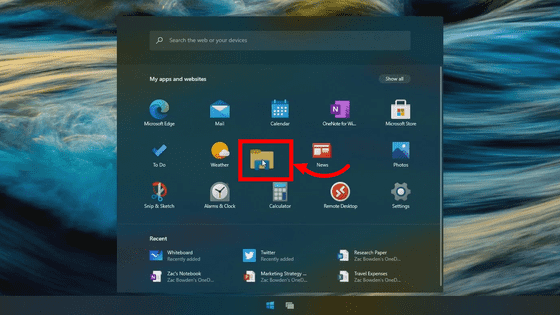 By right-clicking and pinning ...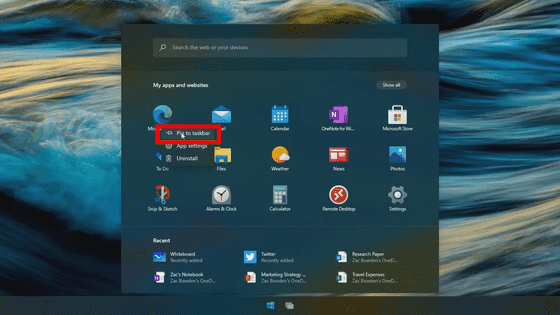 You can also place shortcuts on the taskbar as before.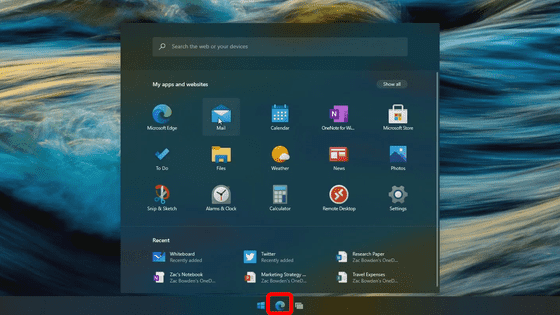 System icons such as Wi-Fi connection have also been integrated with Action Center. In addition, the action center is now used to shut down the PC and access the setting screen, which was previously done from the start menu.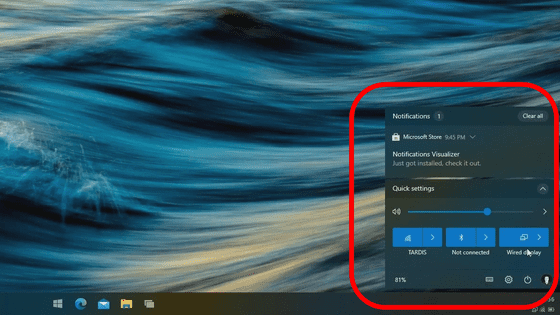 The setting screen looks almost the same as Windows 10, but ...



Explorer has undergone significant changes.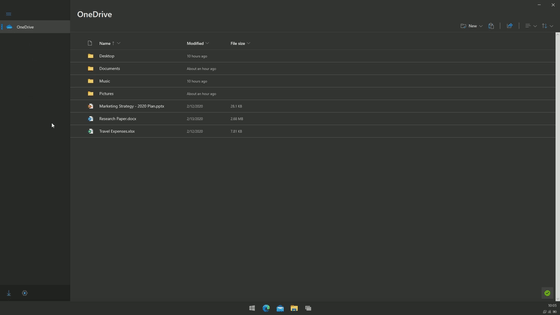 According to the IT news site The Verge, Explorer is designed as an application to access Microsoft's cloud storage service
OneDrive
, and it is not possible to access local files. ..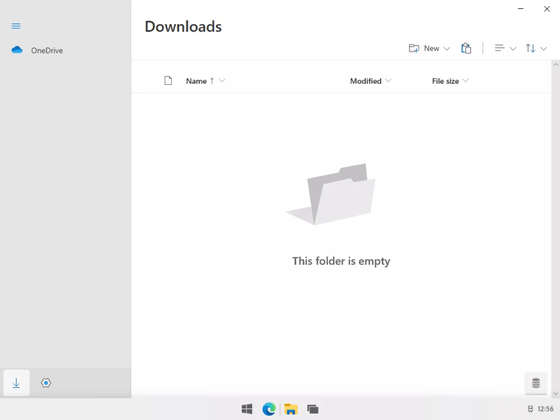 The operation of the window has also been simplified, and it is no longer possible to change the window size to any size. Along with this, the 'button to switch between window mode and full screen mode', which was previously placed between the 'minimize button' and 'close button', has also been abolished.



'The good news for us is that the user interface of Windows 10X hasn't changed much since it was first announced. The animations are streamlined and the OS's,' Bowden said of the feel of using Windows 10X. It looks very sophisticated, 'he said.

'Microsoft has been focusing on differentiating Windows 10 X as an operating system for foldable hardware and dual display devices for many years, but in the end it's more like Chrome OS than ever before,' said The Verge. The OS is finished. The leaked Windows 10X is not an upgraded version that can be installed on existing Windows machines, but a 'lightweight version of Windows' for new devices developed by Microsoft as a rival to Chromebook. ' I commented.

At the time of writing, it is unknown when Windows 10X-equipped devices will hit the market, but software-related news site Softpedia said, 'The first device with Windows 10X was in April 2021. and you should 'be released in either May says .