A movie of the scene where Trump supporters invaded the US Capitol and one woman was shot and died


A demonstrator by Donald Trump's supporters broke through security and invaded the building of the Capitol, where a joint session of the Senate and Senate was held to finalize the outcome of the U.S. presidential election. .. In the turmoil of the suspension of deliberations, a woman in the demonstrators was shot and treated, but died.

Woman Fatally Shot As Far-Right Insurrectionists Storm Capitol: Protests Halt Congress'Electoral Count: Live Updates: NPR

https://www.npr.org/sections/congress-electoral-college-tally-live-updates/2021/01/06/954028436/us-capitol-locked-down-amid-escalating-far-right-protests
US Capitol evacuated as pro-Trump mob storms building --The Verge
https://www.theverge.com/2021/1/6/22217411/capitol-building-lockdown-protesters-trump-supporters
UPDATE: Shots fired at US Capitol; Trump supporters rush House and Senate chambers, destroy media equipment --The Blaze
https://www.theblaze.com/news/trump-supporters-storm-capitol
A woman shot dead in the US Capitol | Overseas elections | NHK News
https://www3.nhk.or.jp/news/html/20210107/k10012800841000.html
Independent journalist Taylor Hansen said he was right next to the woman who was shot, and tweeted the footage right after the shooting. The footage shows the shot woman bleeding.
A young woman was just shot in the neck right besides me in the Capitol Building pic.twitter.com/hLQo4IP8J1

— Tayler Hansen (@TaylerUSA) January 6, 2021


The footage begins with a confused situation immediately after the woman was shot.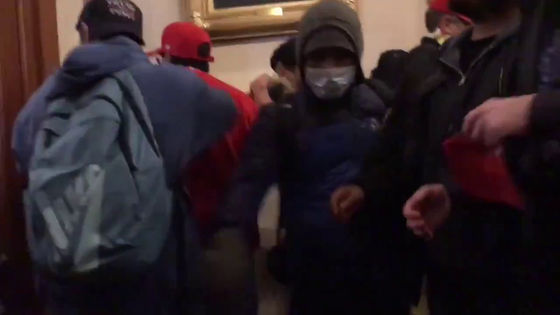 A woman who was shot is lying between the person wearing the cap in the back and the person in the blue backpack in the foreground, and multiple people are trying to care for him. The identity of the woman who was shot was not revealed, but she was not armed.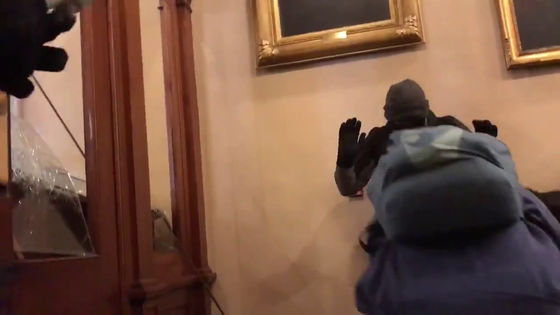 It is believed that it was a police officer of the United States Capitol Police who shot it. There is a glimpse of a person with a gun, but it is unknown if this person shot.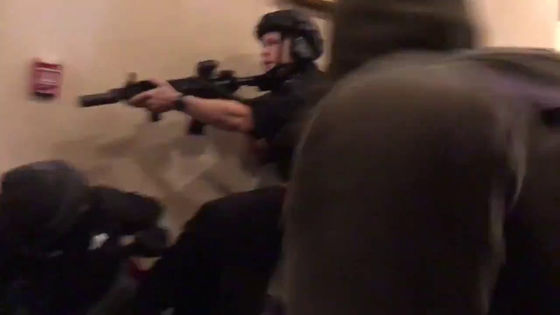 Elijah Shepher, a reporter for the news site The Blaze, reports on the demonstrators being in conflict with security personnel inside the Capitol.

BREAKING: revolution in process as Trump supporters break into the Capitol building, attacking police, breaking windows, and knocking down doors

Full anarchy at this "mostly peaceful" demonstration DC

The people have pushed through & are storming to main chambers

pic.twitter.com/NW6 VDDNBQw — ELIJAH SCHAFFER (@ElijahSchaffer) January 6, 2021


The footage shows a group wearing the Star-Spangled Banner and a red hat ramming a security officer with a baton.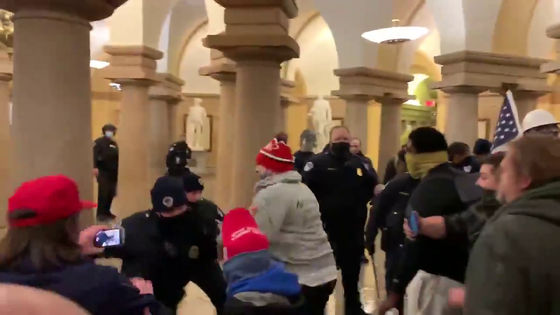 At one point, a banner called 'TRUMP' was hung on the outer wall of the Capitol.

The Capitol at dusk. Photo by @LeahMillis pic.twitter.com/MSzdmTKnMs

— Corinne_perkins (@corinne_perkins) January 6, 2021


Initially, President Trump called on his supporters to 'go to the Capitol,' but tweeted a video calling on people to go home when the turmoil broke out. However, this homecoming tweet etc. was hidden by Twitter. Twitter reports that it has deleted three tweets due to repeated serious violations of its ' Policies for Inhibiting Civil Activity .'

As a result of the unprecedented and ongoing violent situation in Washington, DC, we have required the removal of three @realDonaldTrump Tweets that were posted earlier today for repeated and severe violations of our Civic Integrity policy. Https://t.co/k6OkjNG3bM

— Twitter Safety (@TwitterSafety) January 7, 2021
in Video, Posted by logc_nt