I tried the dish that can eat the best garlic in the world and 'Chkmeruli hot pot style noodles' that made the popular Chkmeruli cup noodles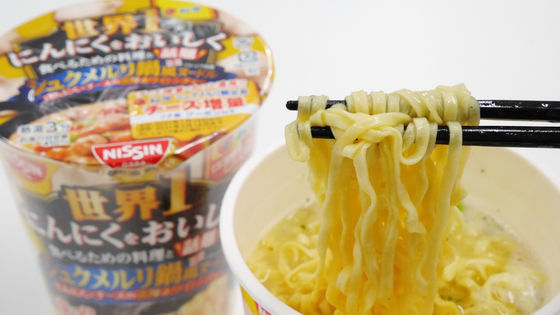 2019 chicken 'regional cuisine of Georgia stewed in garlic and white sauce cheese with plenty at the end of the year
Shukumeruri
've arranged the' in Matsuya wind '
Shukumeruri Nabezen
' became a hot topic on Twitter. 'Chkmeruli Nabezen', which is said to be 'the best dish in the world to eat garlic', won the prestigious 1st place in the '
2nd Matsuya Reprint Menu General Election
' and was so popular on January 19, 2021. It has also been decided that it will be reissued as a 'Chkmeruli hot pot set meal' from Sunday (Tuesday). Under the supervision of Matsuya, Nissin
will release
'
Matsuya Supervised Cooking and Topic Chkmeruli Nabe-style Noodles for Deliciously Eating World 1 Garlic
' on January 18, 2021 (Monday). I tried it.
'Cooking and Topic for Deliciously Eating World 1 Garlic Supervised by Matsuya Chkmeruli Nabe-style Noodles' (Released on January 18) | Nissin Foods Group
https://www.nissin.com/jp/news/9122
The package of 'Cooking and topic for deliciously eating garlic in the world 1 supervised by Matsuya' has a big sticker with the product name like this, and garlic is lined up behind it.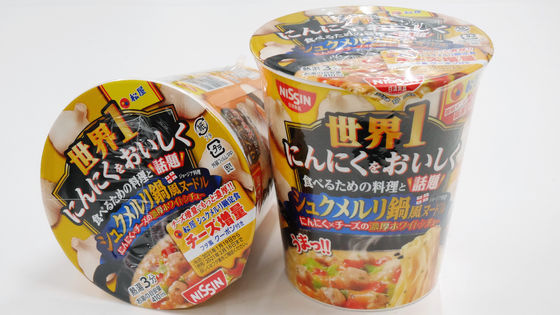 The raw material names are as follows. The soup contains lard, garlic, cheese powder, chicken seasonings, butter oil and more.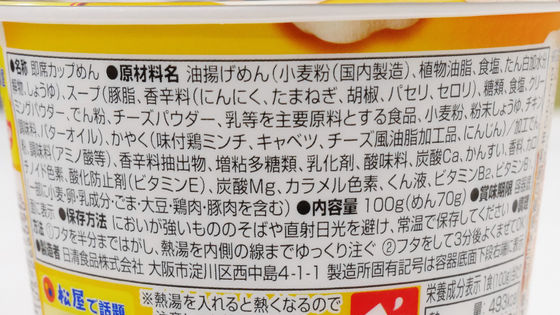 The calories per serving is 493 kcal, and the carbohydrate is 55.8 g.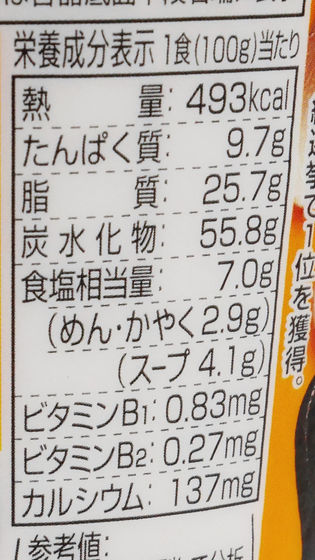 When you open the lid, it looks like this. The ingredients for the mysterious cube are minced chicken and cheddar cheese-style cubes.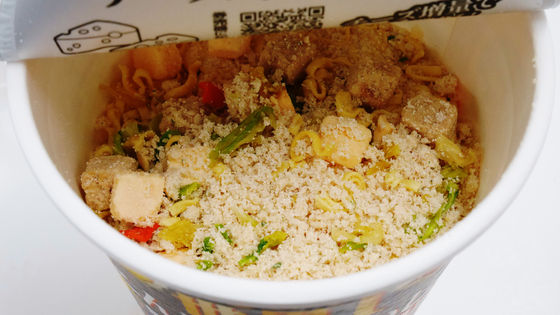 The scent of garlic, which you couldn't really feel just by opening the lid, spreads around the moment you add hot water.



So, after adding hot water, wait 3 minutes ...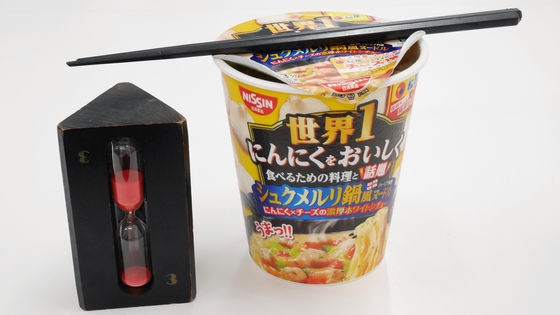 done. The breakdown of the scent was about 7 garlic vs. 3 cheese, and I didn't feel the scent of white sauce. The ingredients are minced chicken, cabbage, cheddar cheese-style cubes, and carrots.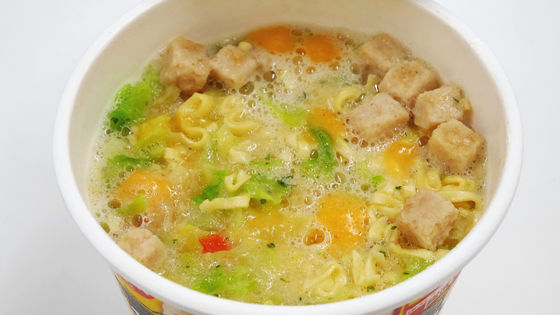 The noodles have a unique smooth texture like cup noodles, and the soup is often entwined with the flat noodles.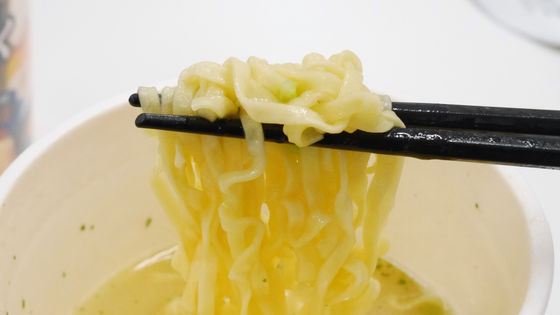 Minced chicken looks a lot like the mysterious meat of cup noodles, but it's softer and crumbles in your mouth, without the distinctive quirky aroma.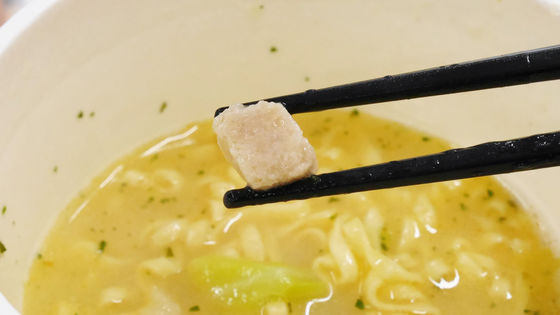 The soup is dominated by the strong aroma of garlic and cheese, and the richness of milk, which is typical of white sauce, is hardly felt and it is not thick. It's like adding a large amount of garlic and cheese to a chicken-based soup so that it tastes like instant noodles.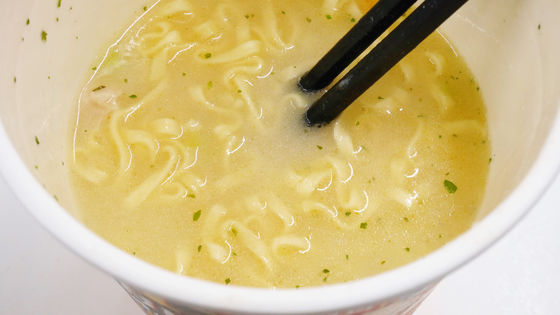 In addition, 'Cooking and topic for deliciously eating the world's 1st garlic, supervised by Matsuya, Chkmeruli Nabe-style noodles' will be released on January 18, 2021 (Monday), and the price is 228 yen excluding tax. The lid part has a cheese increase coupon that can be used in the 'Chkmeruli hot pot set meal' that will be reprinted at Matsuya from January 19, so it is also an ant to try the Chkmeruli hot pot style noodles before eating the Chkmeruli hot pot set meal.