I actually bought and ate what Oisix's Japanese and Western eclectic three-tiered osechi 'Kei Gokumi' looks like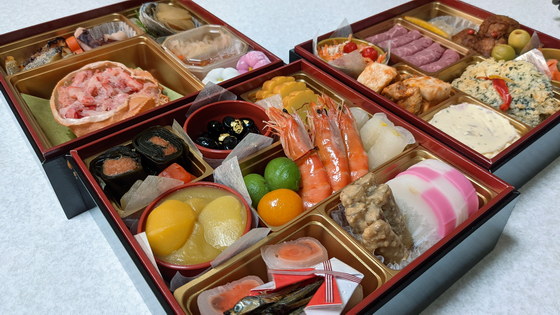 The Japanese-Western eclectic three-tiered osechi 'Ki-Gokumi' was developed in response to the desire to taste Western-style and seafood dishes that are different from the standard three-tiered 'Kamitakasago'. A total of 3 tiers, 35 items, 3-4 servings. Last year,
I ate
that
'Kamitakasago',
so I actually bought it and tried to see what it would look like this time.
Kagayaki Gokumi Japanese and Western eclectic three-tiered | Oisix is the mail order for New Year dishes
https://www.oisix.com/shop.osechi--kagayakikiwami__html.htm
(
The page at the time of release looks like this
)
That's why I arrived. The size is about 196 x 196 x 180 mm.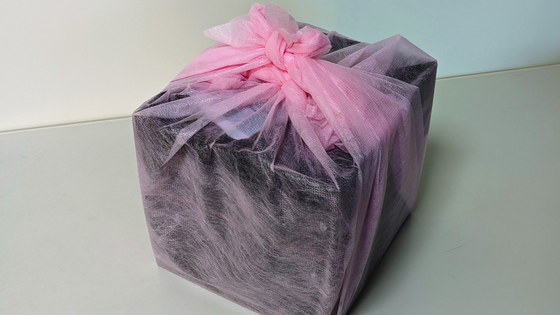 I just opened the furoshiki. On top is the sauce for roast beef.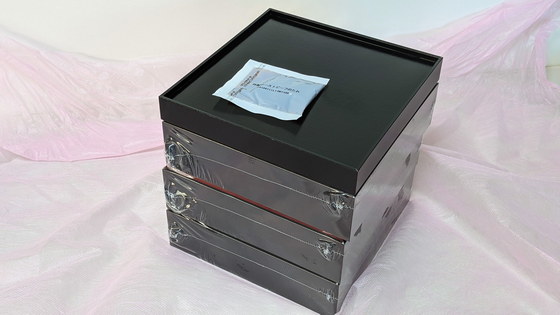 Chopsticks set that was included together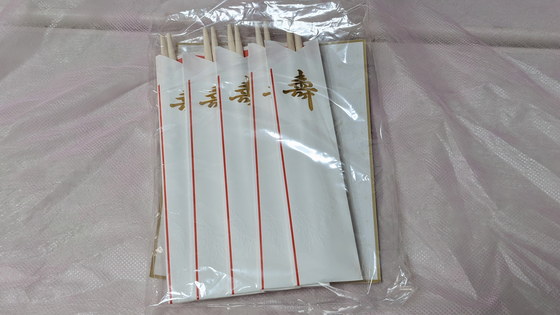 In addition to chopsticks, there are instructions on how to defrost and wrap the furoshiki, as well as seven fortune teas and seven spring herbs.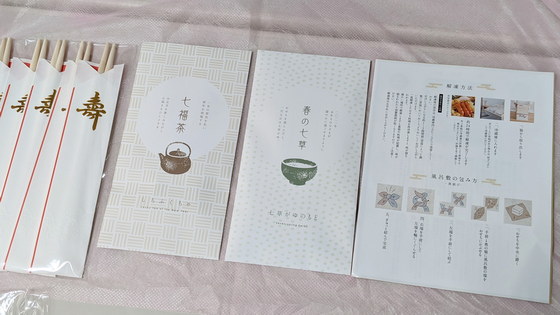 Since it is tightly wrapped and frozen, it will be thawed in the refrigerator for 24 hours from here.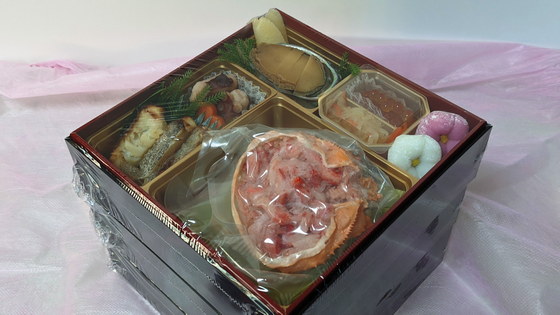 A thin tiger blowfish that has been attached as a bonus. What I got when I answered the questionnaire at the time of purchase. This is also frozen, so you can thaw it in the refrigerator for about an hour.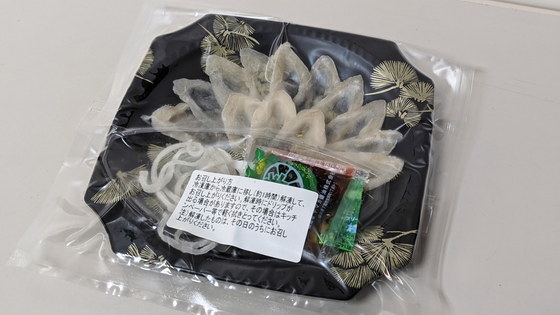 The contents are like this, with ponzu, grated autumn leaves, and dried green onions.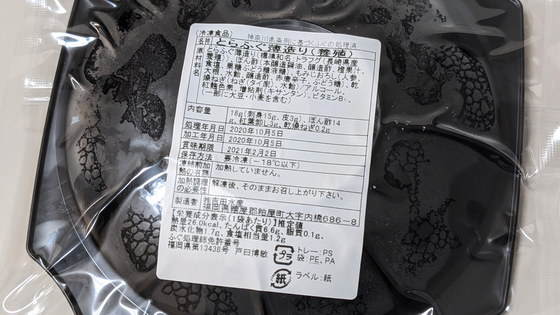 So, 24 hours have passed. Let's try it. From left to right, one layer, two layers, and three layers.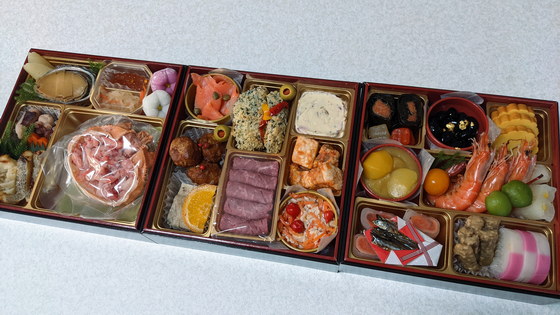 First of all, from one weight. The theme is seafood.



Kazunoko with seasoning, 'It's a chewy kazunoko soaked in bonito-flavored sauce.' → It's quite juicy and the grains are standing, and the texture is also excellent. The flavor of bonito is also slightly fragrant and quite ant.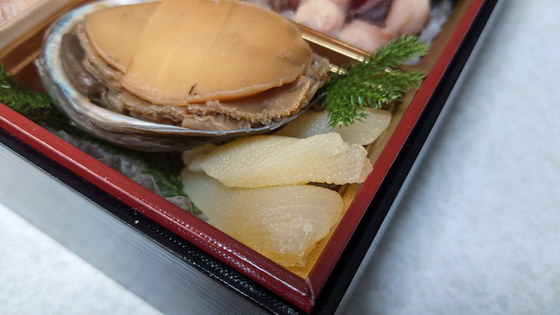 It used to be an underlay, but it's actually relatively large and contains three.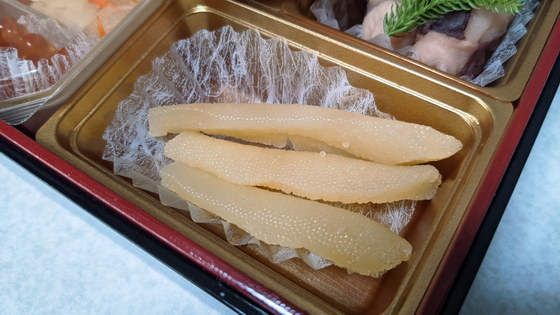 Boiled abalone, 'I cooked sardines, mackerel, and bonito broth with broth.' → Abalone with the taste of seafood. Not too hard and not too soft, just the right texture.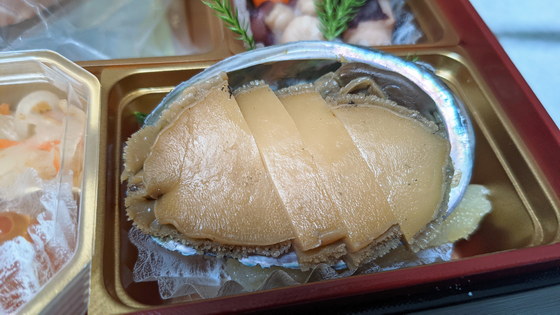 Octopus teriyaki, 'It is seasoned from raw octopus so that the taste and texture of the octopus can be preserved.' → The texture is like a well-cooked octopus. Although the taste and texture of the octopus are maintained properly, the taste unique to grilled octopus is a little lacking.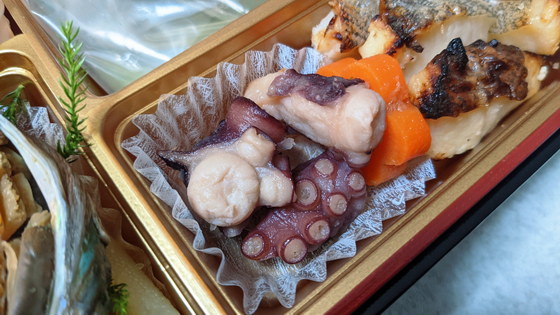 Boiled plum carrot, 'By adding dried plums, the flavor and sourness of the plums will spread.' → Very juicy and very horse. The market price is that these simmered osechi or vegetables are not very delicious, but this is a mess.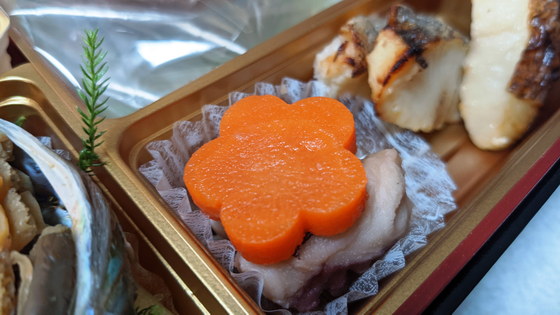 Karei Saikyo-yaki, 'The fat-laden greenland halibut was soaked in sweet miso and baked carefully.' → It's very soft, but it doesn't crumble with chopsticks, and the taste is good. ..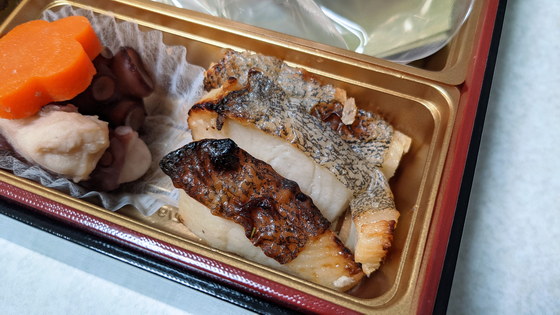 Seasoned salmon roe, 'Carefully selected salmon eggs are pickled in soy sauce. Enjoy the bubble wrap texture.' → It's absolutely delicious when placed on rice!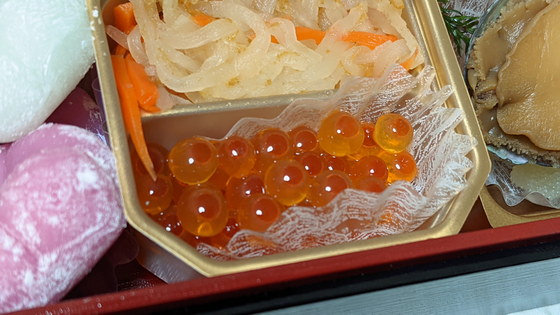 Persimmon, 'By adding dried persimmon, the acidity is mellowed and made easy to eat.' → A refreshing vinegared dish that can be used without problems even if you are not good at vinegared dishes. At first glance, it looks like 'carrot?', But it's definitely a persimmon. There are quite a few.



Hanamochi Koume, 'A mochi that imitates a flower that wraps a moderately sweet bean paste. We have two congratulatory red and white colors.' → A bite-sized mochi. Carefully seasoned without being too sweet. Appropriate, not too chewy and not too soft.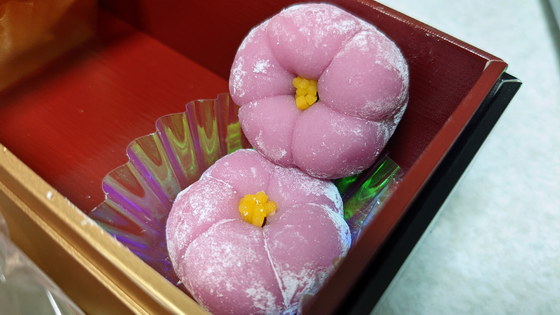 Hanamochi Shiraume, 'It is a rice cake that imitates a flower that wraps a moderately sweet bean paste. Congratulations on two colors of red and white.'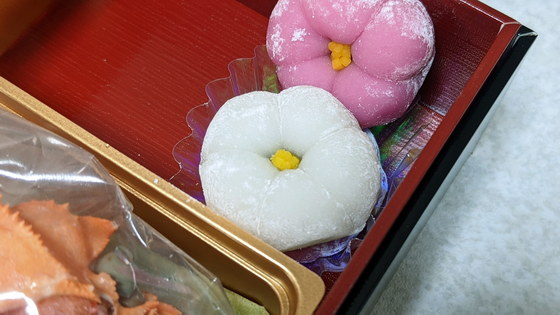 Crab shell sashimi, 'It is a crab shell sashimi that makes the best use of the original taste of the ingredients and is easy to eat.', Wrapped in plastic wrap, let's open it.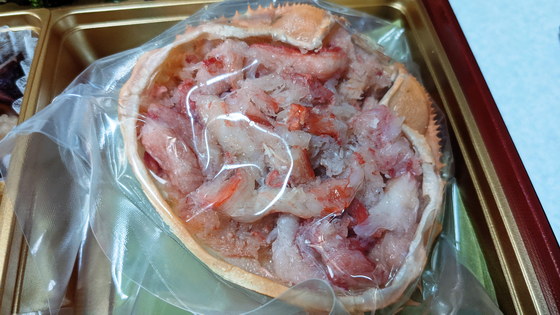 It is packed in Mitch Michi, and the satisfaction level is high. → It has a slightly firmer texture and taste than canned crab meat. The taste of the crab is relatively good.



Next is Niju, the theme of authentic Italian and French Western-style cuisine.



Smoked salmon with capers, 'Smoked salmon with a unique flavor, with a slightly bitter caper as an accent.' → Smoked salmon is still quite good. I personally eat a variety of smoked salmon, but they are thick, have a strong taste, and are messed up.



Chicken confiture with truffle-style orange, 'Add truffle oil and spices to chicken and cook without missing each flavor.' → It has a unique flavor, removes the smell of chicken and leaves only the taste Feeling. This has a great impact because the taste of spices spreads when you put it in your mouth.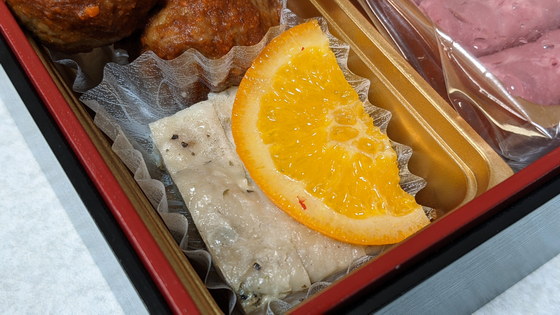 It's completely fused and difficult to understand, but there are 3 pieces.



Put the demiglace-style porpetta pink pepper on top and 'By adding the sauce to the meatball and simmering it, the meat and the sauce are mixed and finished in a deep taste.' → A meatball with a heavy weight. A chunk of meat rather than a meatball. Very good because the taste of the sauce is well entwined.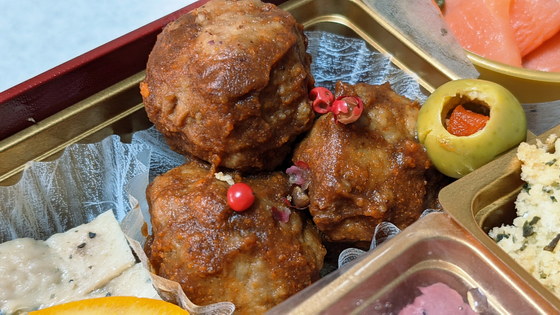 Red and yellow paprika, 'Pickles made by soaking bright paprika in sweet vinegar.' Then, grilled Spanish mackerel with herbs, 'Basil and cheese mixed with bread crumbs.' .. Aside from the Spanish mackerel, paprika is all too small, so it's a little useless to count it as a single item ...? → To be honest, paprika has a weak presence, but the taste is just an iron plate because it is a combination of cheese and basil. Absolutely this is the one that tastes better right after baking! The taste.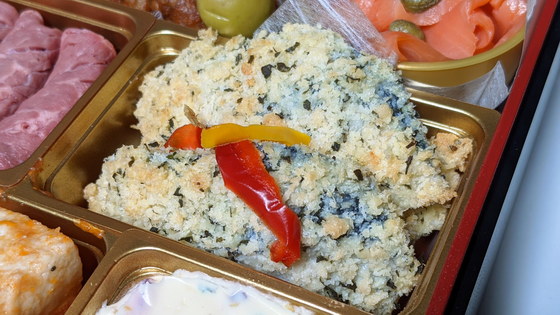 Stuffed olives, 'Salted olives with a bright appearance, stuffed with red peppers in seedless olives.' → The salty taste and olive flavor are so strong that you will want to sprinkle them on the pizza. Just pickles.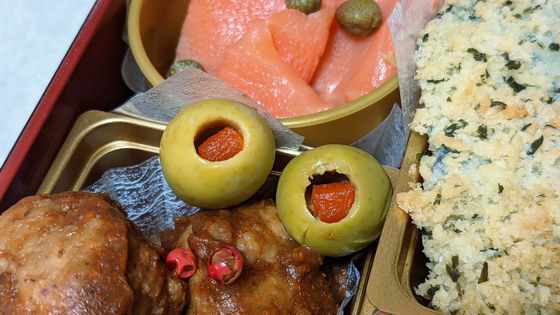 Roast beef slice (with sauce), 'Australian beef is roasted on the surface in an oven and then softly finished by vacuum cooking. * Please enjoy the sauce as you like.'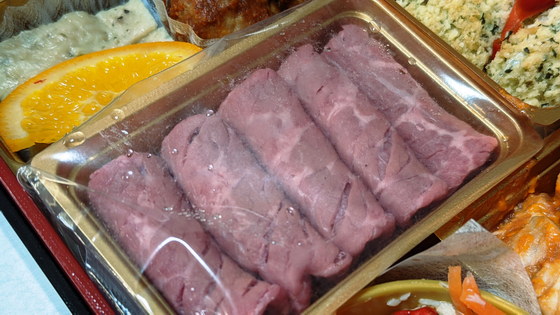 When opened, it looks like this → Winner, overwhelming victory. Sprinkle with sauce to make it even more delicious. No, this is exquisite.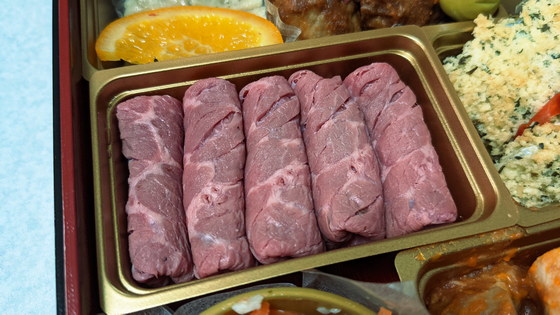 Cream cheese and fruit peel, 'You can enjoy a refreshing aftertaste and texture by mixing plenty of dried fruits with rich cheese that brings out the sweetness.'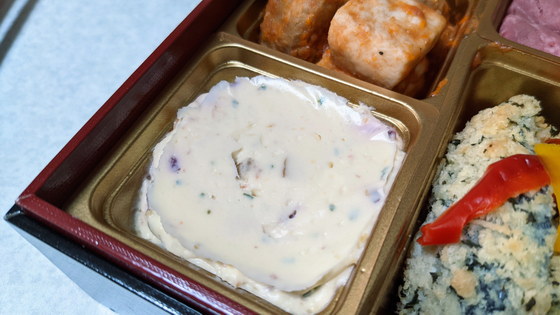 It's packed tightly, so it's a great deal. → Insanely sweet and sticky, with a dessert taste. It looks good when applied to baked bread.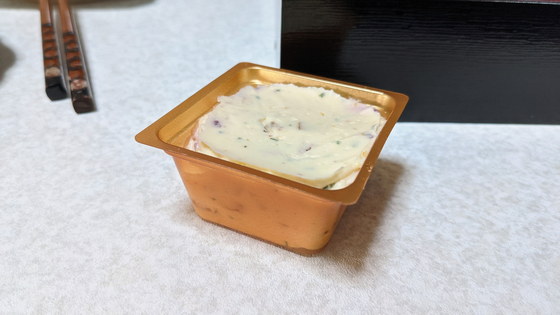 Pork ragout, 'By boiling the pork cut into squares with the sauce, I finished it so that the taste of pork fat and tomatoes is enhanced.' → The appearance is rugged and the fat is messy. I feel like 'Is it OK to eat as it is ...?', But it's messed up. It feels like eating a chunk of bacon stewed in tomatoes.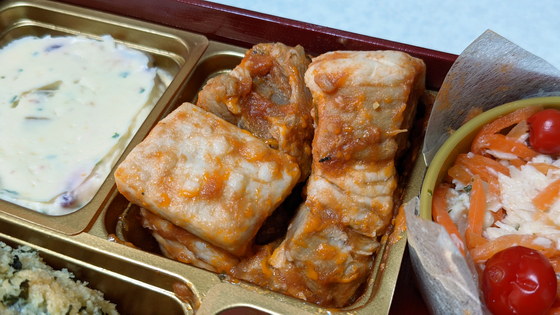 Sakurajima-dori carrot trape, 'A product that mixes Sakurajima-dori steamed meat with shredded carrots and has a strong look and texture.' Then, pepper drop, 'Pickles that make use of the flavor of pepper drop.' The cuteness of the appearance is also a point. ', I couldn't find it for a moment because it was completely blended in. → It's good because it has a unique taste when eaten together. However, it may feel like 'chicken ...?' If it's a little too shredded ...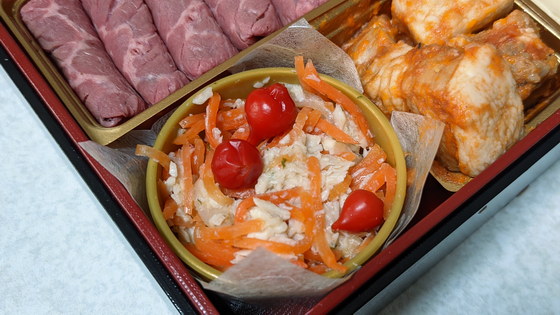 At the end, it's a traditional combination with three layers, like 'Osechi'.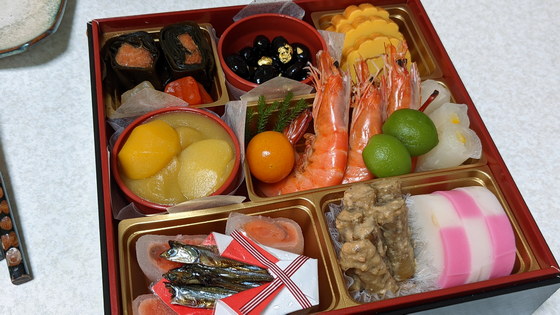 Salmon konbu maki, 'Sockeye salmon wrapped in kelp and cooked sweet and spicy.' → I thought that I would lose because the impact of Niju was too strong, but it wasn't. The salmon has a strong presence, and the thin kelp is layered on top of each other, so the taste is strong and there is no problem even if you are not good at konbu maki.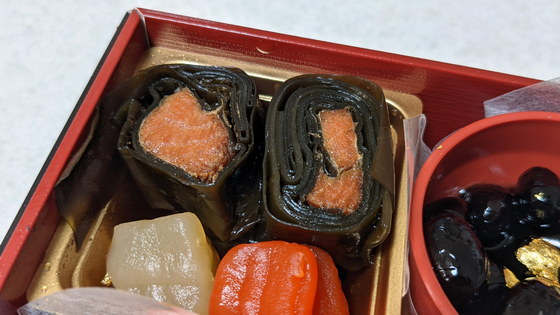 Boiled red and white flower konnyaku, 'I cook red and white flower-shaped konnyaku with a light taste with soup stock.' → Pre-prepared konnyaku. It feels pretty good.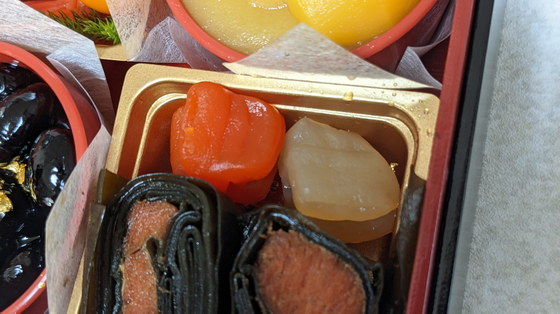 Kuri-Kanro-ni, 'Chestnut Kanro-ni finished with an elegant sweetness so as not to spoil the taste of chestnuts.' Then, Anno Imokinton, 'The sweetness of Anno Imo is cherished and finished with a smooth texture. It's ok. '→ If you eat both at the same time, it will be deluxe and rich.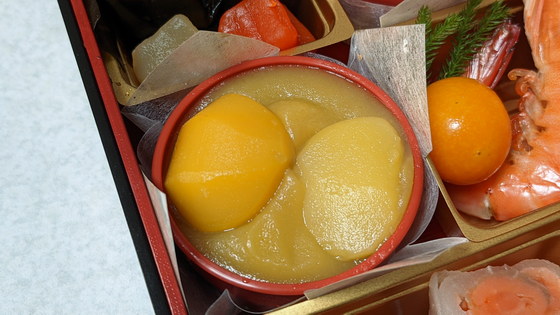 Tazukuri, 'I finish the domestically produced sardines so that they are not too sweet.' → Iwashi is the main character, not the tazukuri that sticks to the mouth.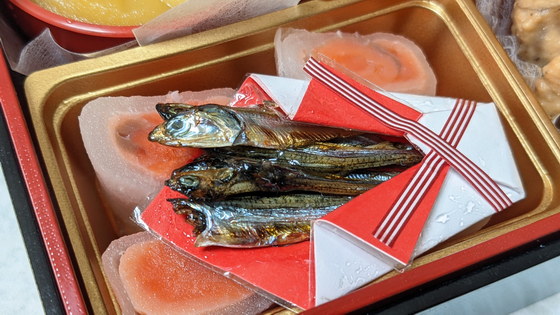 Salmon lanterns, 'Wrapping in refreshing radish pickles made it easier to eat salmon with fat.' → The combination of salmon and radish pickles matches very well, which is quite good. It looks like it's going to be crazy.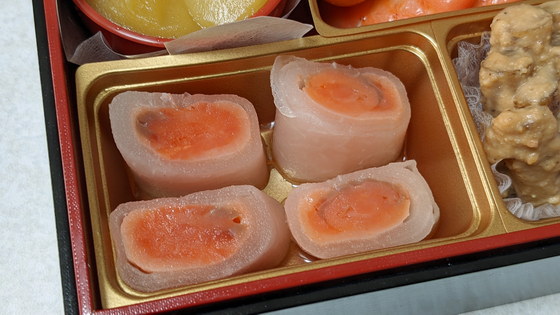 Black beans from Tamba Gold powder decoration, 'Black beans from Tamba Sasayama are cooked plumply so that you can taste the original taste of the beans.' → This sweetness is stronger than the previous chestnut kanro-ni, and the dessert feeling is strong. Even if you don't like black beans, this is an ant's haze.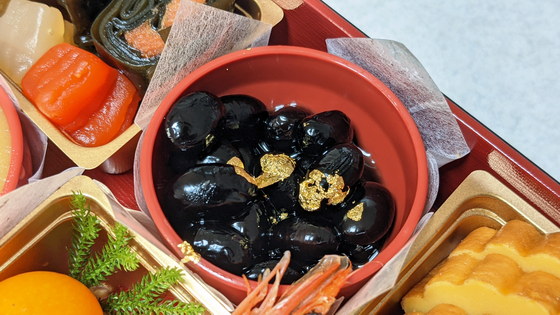 Datemaki, 'It is a datemaki that is fluffy baked by adding yam.' → The feeling of yam is '?', But it tastes good when it is in sushi. A little sweeter.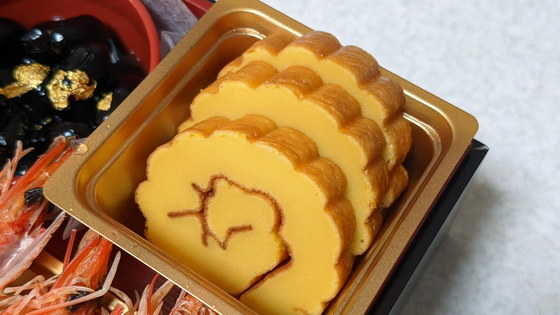 Kumquat is refreshingly boiled, 'It is seasoned with less sweetness so that you can enjoy the original taste of kumquat.' → I buy and eat kumquat every week, but I feel like 'Well, this is what it is.' And the first point.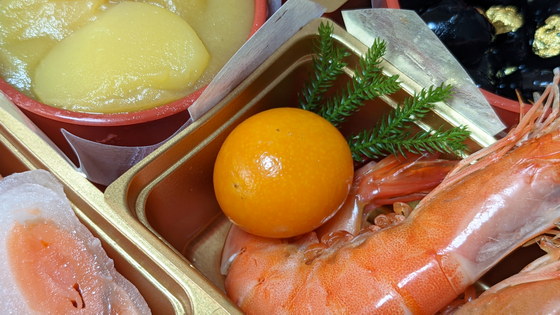 Shrimp simmered, 'It is a simmered shrimp that you can taste the taste by using raw materials with good color and freshness.' → You can go from the tail to the head. The body is tight and quite ants.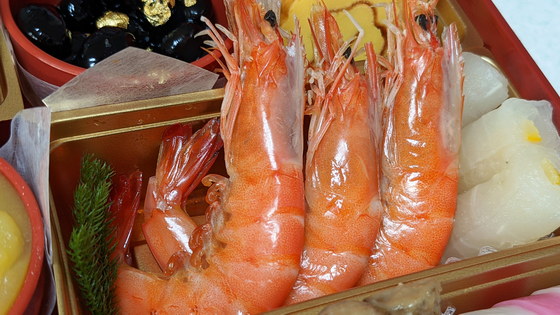 Wakamomo Kanro-ni, 'Kanro-ni of young peaches with a light peach scent and bright green color.' → A light and mysterious peach. Is it a peach if you ask? Feeling like that.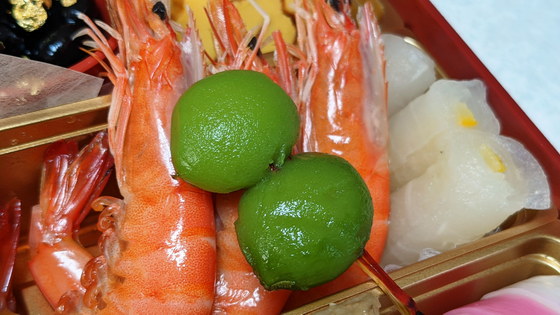 Yuzu Hosho Maki, 'A refreshing, easy-to-eat radish pickled in sweet and sour radish with a yuzu flavor.' → The aroma of yuzu is strong and it tastes as the name suggests.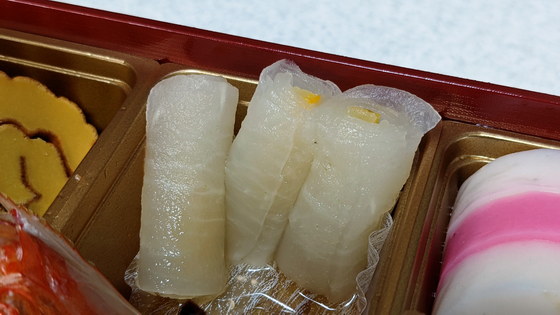 Tataki burdock, 'Using sesame seeds and ground sesame, we finish it with sesame flavor and sour taste.' → This burdock is refreshing and very well made. You can taste one by one.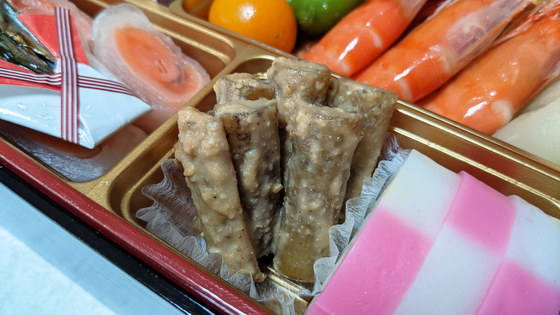 Red and white checkered kamaboko, 'Congratulations on the red and white kamaboko that makes the best use of the taste of fish.' → I realized that it would be good to cut it as thick as this.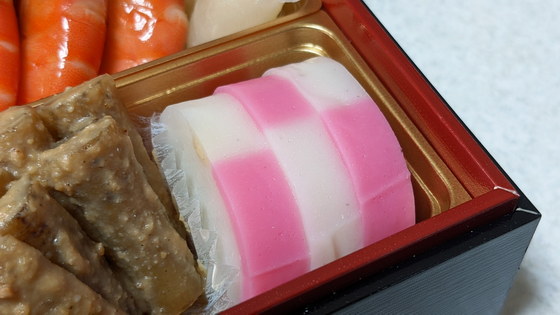 As a general comment, the result is that last year's classic three-tiered 'Kamitakasago' clearly feels better overall. It's 22,680 yen including tax / shipping included, so maybe I wanted you to do your best in that sense as well. Especially for some reason, the result was that the impression of 'Hmm ...' of the crab and the last 'Sanju' became stronger. I ate it with people who ate the same thing last year, so multiple people have the same evaluation, so I might want Oisix to do its best next year. It wasn't bad, but it wasn't as good as it sounds. Also, since the temperature is much lower than last year, it is highly possible that the evaluation is stricter for the colder ones.