Reported a bug that save data is corrupted when collecting too many items in 'Cyberpunk 2077'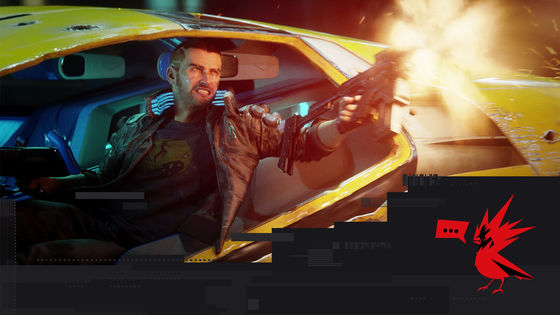 The ' Cyberpunk 2077 ' released on December 10, 2020 sold 8 million copies in advance, but due to frequent bugs and crashes , the developer CD Projekt RED is facing a class action crisis . .. In Cyberpunk 2077, a new bug was reported that save data would be damaged if too many items were collected.

Cyberpunk 2077 Save Files Will Break Forever If You Collect Too Many Items --ExtremeTech
https://www.extremetech.com/gaming/318586-cyberpunk-2077-save-files-will-break-forever-if-you-collect-too-many-items

Holy Elder Scrolls bug: Cyberpunk 2077 saves over 8MB are getting corrupted
https://www.destructoid.com/stories/holy-elder-scrolls-bug-cyberpunk-2077-saves-over-8mb-are-getting-corrupted-614230.phtml

If your Cyberpunk 2077 save file becomes too big, it might get corrupted --The Verge
https://www.theverge.com/2020/12/20/22192375/cyberpunk-2077-save-file-corrupted-8-mb

CD Projekt RED, known as the developer of The Witcher series, released 'Cyberpunk 2077' over an eight-year development period. Cyberpunk 2077 has been reported to have multiple bugs and poor performance, but there is a new bug that says, 'If you collect too many items in the game, your save data will be corrupted.'

Multiple bugs such as 'If you collect too many items in the game, the save data will be damaged' have been reported on GOG.COM of the game forum, Reddit overseas bulletin board, and the official forum of Cyberpunk 2077. 'Once the character dies in the game or the game is closed, the save data can no longer be read. I updated the driver and reinstalled the game, but nothing is displayed,' said the game save data. Several people have reported how they suddenly got damaged and couldn't play the game.

Cyberpunk 2077 --Saved data is damaged and cannot be loaded. – GOG.COM SUPPORT CENTER
https://support.gog.com/hc/en-us/articles/360016743298-Cyberpunk-2077-Saved-data-is-damaged-and-cannot-be-loaded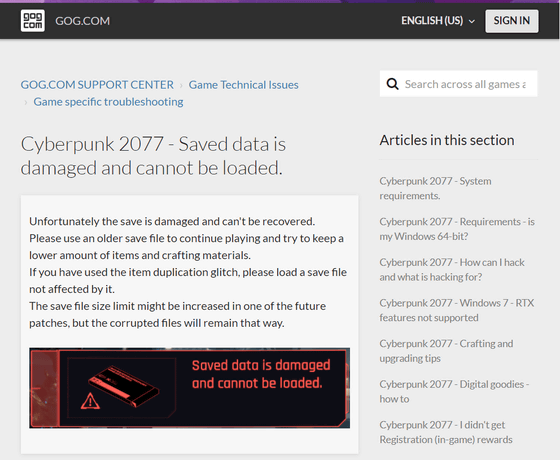 Save files are corrupted | Forums --CD PROJEKT RED
https://forums.cdprojektred.com/index.php?threads/save-files-are-corrupted.11052596/

PSA your cyberpunk saves will become corrupted and unrecoverable if they reach 8mb in size: pcgaming
https://www.reddit.com/r/pcgaming/comments/kft0sy/psa_your_cyberpunk_saves_will_become_corrupted/

In Cyberpunk 2077, most items can be disassembled into craft materials. We will use this to prepare equipment that can be used in the game, but it seems that if you collect too much of this craft material, the size of the save data will become too large. The maximum size of the save data of Cyberpunk 2077 is limited to 8MB, so if you exceed this, the save data will be damaged and you will not be able to continue playing the game.

The support team for CD Projekt RED said, 'The save data is corrupted and cannot be loaded. Unfortunately, it cannot be restored. It uses data prior to the corrupted save data and is in-game. Please reduce the amount of items and crafting materials in. Future patches may raise the size limit of save data, but corrupted data will not be usable as it is. '

The bug that 'collecting too many items in the game will damage the save data' has been reported mainly by the PC version of Cyberpunk 2077 player, but some people claim that the same problem occurred in the console version as well. I could see it on the forum. However, technology media ExtremeTech wrote, 'The performance is so poor that it will be difficult for the console version of Cyberpunk 2077 to collect enough items to corrupt the save data.'

In addition, there are cases where a warning is displayed in the game when the save data approaches the upper limit of 8 MB, and some players also report that 'when the size upper limit is approached, the game load time becomes longer'. In addition, it seems that the amount of save data was about 4 MB when ExtremeTech played Cyberpunk 2077 for about 15 hours.


in Game, Posted by logu_ii