Orphen's hair color is 'warm black' and other colors under construction 'Sorcerous Stabber Orphen Hagure Journey Kimrak Edition' Color Design Interview with Imazato Katsuragi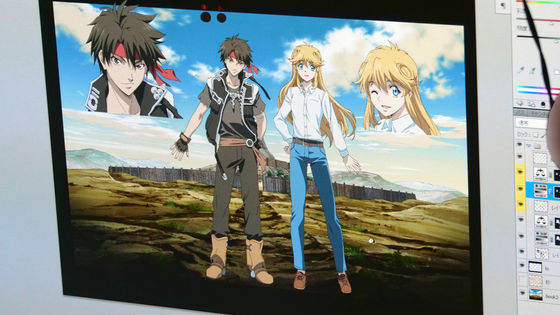 The third series of interviews with the production staff of 'Sorcerous Stabber Orphen Hagure Journey Kimrak Hen', followed by
director
Takayuki Hamana
and
cinematographer
Shinyo
Kondo
, is color designer Imazato Katsuragi. As you can see at a glance, the characters in the anime may have a rather colorful hair color, but in this work there are few such characters. I've heard stories about how the colors on the screen are decided.
TV anime 'Sorcerous Stabber Orphen Hagure Journey Kimrak Hen' Official Website
http://ssorphen-anime.com/
GIGAZINE (G):
Color design is the role of deciding 'which color to use'.
Color designer Imazato Katsuragi (hereinafter referred to as Katsuragi):
That's right. What you are seeing on the screen right now is Orphen edited by Kimrak.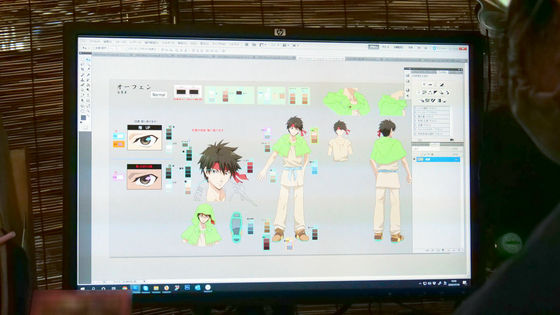 G:
'Orphen' is a world where there aren't many people with unusual hair colors. Especially in the Kimrak edition, there are many people with black hair, including the new Mechen, isn't it difficult?

Katsuragi:
First of all, I try to make the main character stand out based on Orphen. However, mobs also have a lot of black hair, so I try to make it less noticeable than Orphen. Orphen looks like black hair, but it's a little brown, and Azary is close to light brown.

G:
Since there are many scenes of black clothes in Orphen, the hair color was almost black, but it's a little brownish.

Katsuragi:
Yes, many people wear black-eyed clothes, but no one has completely black hair. Since the stage is not in Japan, it seems that there are people with light brown and blonde hair in a Western style, but mainly brown and black lines are adopted.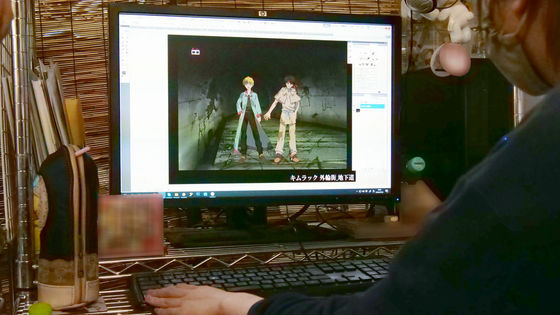 G:
Magicians like black (laughs)

Katsuragi:
That's right (laughs) There are various skin colors, and the people mentioned in the original match it.

G:
When Sarua came out in the first term, I thought that she was a 'bad guy', but it seems that she looks good when she shows her again ... Is it a change in her clothes?

Katsuragi:
It used to be a blackish outfit that blended in with the villagers, but this time it's whitish. Actually, this costume was put out for a moment at the ending of the first period.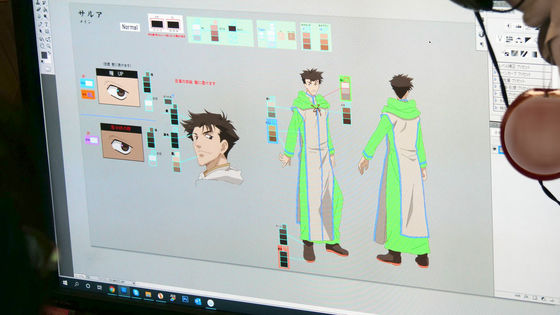 G:
What!

Katsuragi:
It will appear properly in the Kimrak edition. After that ... there are many new characters that are a little spoiler ... It was like this in the first period, but it was actually like this in the Kimrak edition, so please take a look.

G:
When it comes to hair color, it's Heartia that really stands out.

Katsuragi:
The only one is red.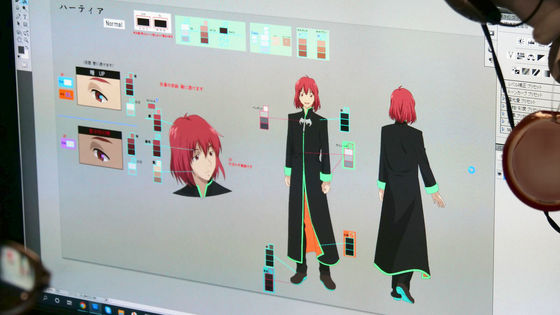 G:
When you look at it like this, you even get the impression that it came from another work. And this is Leticia ... it's blackish but bluish. There were many scenes with Orphen, so it was easy to see that the hair colors of the two were different even in black.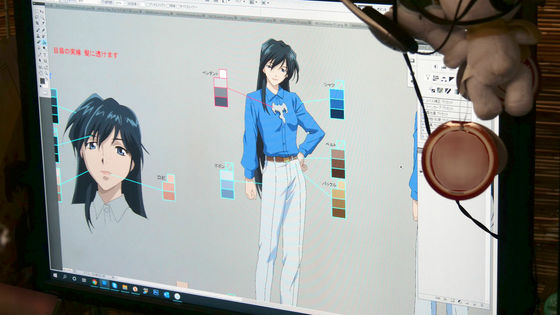 Katsuragi:
I made this point with a firm awareness. At the time of the check, the director said, 'Don't make it the exact same color,' so Orphen is warmer and Leticia is cooler. However, if you change the impression, it will deviate from the original this time, so it seems that the impression of the original is the same range, the brightness is about the same, and only the color is changed.

G:
It is said that the story of Kimrak is heavier than that of the first period, but are you aware of the heavier colors in terms of color design?

Katsuragi:
If the scene is heavy, the color is heavy, but the color design does not express it heavily by changing colors, but it matches the director's policy of 'I want to do this'. As a result of being instructed to 'feel the character's feelings like this', the color has a dark and heavy impression, so there is no scene where the color is consciously made heavy.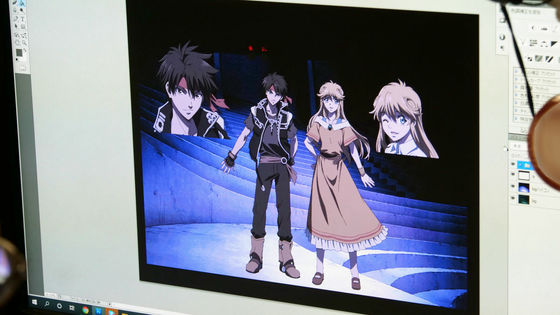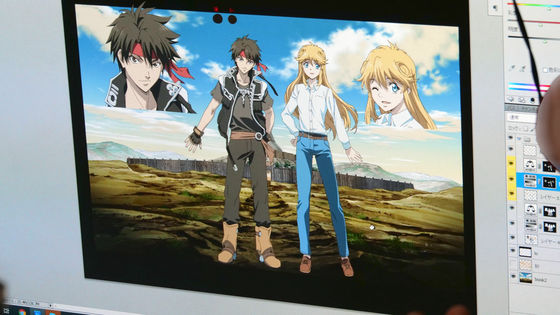 G:
Do you have the impression that you are making it according to your intentions and using colors that are heavier than the first period?

Katsuragi:
I have the impression that it is cloudy and not very sunny. There are many scenes that approach Orphen's heart, so I think it's naturally dark. In such a scene, I try not to make the color change brighter. So, on the contrary, I am conscious of the contrast that makes it brighter when there are Volcan and Dochin.

There was a dark scene in the first period, but I didn't have the impression that it would last for a long time. In the Kimrak edition, there are many dark scenes, and I think you can take a closer look at the character's emotions. Personally, I would like you to see the sixth episode, in which the director has a special production, including that part. I can't say anything because the content is spoiled to the fullest, but by all means ...

G:
Let's blur it so that there is just one mountain in the center (laugh) Did you have a favorite character involved in 'Orphen'?

Katsuragi:
I knew the existence of a work called 'Sorcerous Stabber Orphen' even before I did the animation, and I'm the type who likes the main character, so if I thought that I would like Orphen, my friends in my school days were very happy. I became attached to it.

In the first period, I like the place where Orphen and Krieou meet in the first episode. Orphens are marriage scammers ...

G:
You're dressed like Orphen (laughs)

Katsuragi:
I like that and the place where Orphen changes clothes early in the childhood scene, which I haven't seen much recently.

G:
This is not limited to 'Orphen', but is there anything that anyone who wants to get a job in color design should know or should acquire?

Katsuragi:
Will you touch on various works? If your knowledge is biased, you may not understand when you are asked something.

G:
Is it a feeling that you can understand 'I see' when you are instructed to 'feel like XX' as a color reference?

Katsuragi:
That's it. If you don't understand it, you will be asked 'What is it, you have to look it up later', so if you know it even a little, you can deepen your understanding, and since you can feel 'like this', you should know it widely. Is it?

G:
Is anime a good genre to know? Should I include the live-action film?

Katsuragi:
I can't say such a big thing, but I think it's good to know a wide range of the original parts of anime. If you know the live-action movie about color change, you can get a realistic composition atmosphere.

G:
Is there any work you would like to work on based on your experience with 'Orphen'?

Katsuragi:
Originally I wanted to do a work for children, but that has come true ... I really like shojo manga-like colors and I'm good at it, so I'd like to do that. However, like 'Ophen', it's for boys, or the work mainly by men is a good challenge, so it's 'anything'.

G:
What made you aim for color design?

Katsuragi:
I like painting and making colors, but I don't have any particular reason for aiming for it (laughs). In the finishing process, there is a separate color designer to add some color, but I actually do it myself. If you were doing the work of making colors and continued to say 'fun', you would be asked 'Do you want to try designing?', And as a result, you are doing color design.

G:
If you kept doing what you liked, would you feel like you were here when you realized it?

Katsuragi:
I wonder what it is (laughs) But I enjoyed doing it, so when I was asked 'Do you want to do it?', I started to say 'I want to do it.'

G:
Which part of the color design is 'this is the most fun'?

Katsuragi:
Mobs who are not the main characters do not have detailed settings, so it is possible to set their favorite hair and eye color to some extent. I like brown hair and green eyes, so such mobs are sometimes mixed.

G:
I like that kind of thing (laughs) Certainly, there are no mobs that have 'green eyes' on purpose.

Katsuragi:
Of course, if it doesn't fit the work properly, it's useless. If it's a work with a Western atmosphere, it's okay to have green eyes. Color design is suitable for people who find it fun to add color to line art to make it vivid. 'Ophen' is not a work in which hair and clothes are 'colorful' as a whole, but I think it is worthwhile to bring out the charm of the characters by adding color.

G:
So that's it. Thank you for the detailed story.

Staff interviews are still going on.

'Sorcerous Stabber Orphen Hagure Journey Kimrak Hen' Anime PV 2nd --YouTube