Qualcomm announces next-generation SoC 'Snapdragon 888', finally built-in 5G modem & GPU greatly strengthened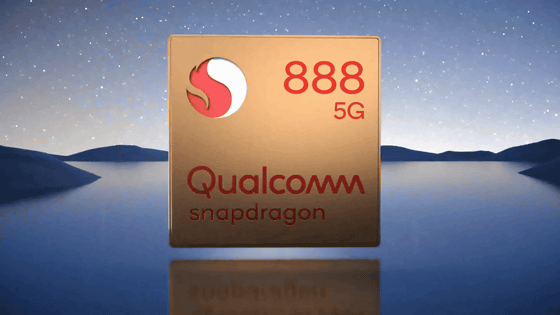 At the event 'Qualcomm Snapdragon Tech Summit 2020' held by semiconductor giant Qualcomm from December 1st to 2nd, 2020, ' Snapdragon ' will be the flagship model of SoC for next-generation smartphones following
Snapdragon 865
and
Snapdragon 865 Plus
888
'was officially announced.
Qualcomm Snapdragon Tech Summit 2020 | Qualcomm
https://www.qualcomm.com/company/events/snapdragon-tech-summit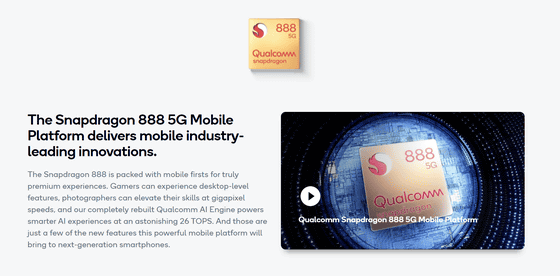 Qualcomm's new Snapdragon 888 processor will power the Android flagships of 2021 --The Verge
https://www.theverge.com/2020/12/1/21678359/qualcomm-snapdragon-888-processor-first-look-5g-performance-ai-photography
The Snapdragon 865 and Snapdragon 865 Plus did not have a built-in 5G modem, but the Snapdragon 888 has a built-in 3rd generation 5G modem '
Snapdragon X60
', which supports
sub 6GHz band
and
millimeter wave band
. At the same time, the built-in 5G modem also contributes to saving space in the smartphone.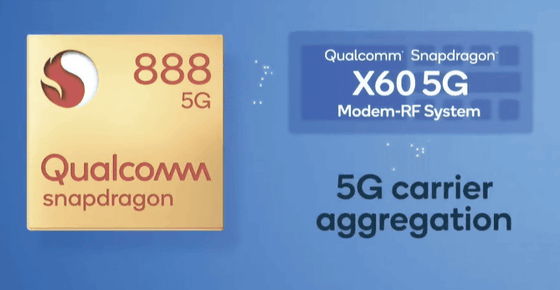 Also, at the keynote speech on the first day of Qualcomm Snapdragon Tech Summit 2020, it was announced that the GPU performance of the Snapdragon 888 has improved by 35% compared to the previous model. In addition to enabling 4K drawing of True 10bit HDR with Snapdragon 888, it is said that gaming performance has been greatly improved by supporting 144Hz refresh rate.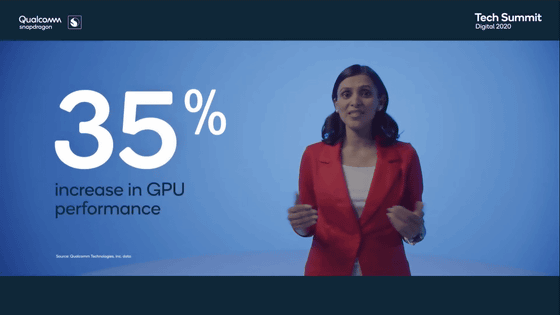 Furthermore, the performance of the image processor (ISP) has been improved, and it is now possible to take pictures and movies at a maximum of 2.7 gigapixels per second. This means that you can take 120 photos per second with a 12-megapixel camera.

In addition, the Snapdragon 888 uses the
Qualcomm Hexagon
series of
digital signal processors
(DSPs) and is equipped with the 6th generation 'Qualcomm AI Engine'. This enables 26 TOPS, that is, 26 trillion operations per second, which is about 1.7 times higher than the 5th generation Qualcomm AI Engine installed in the Snapdragon 865.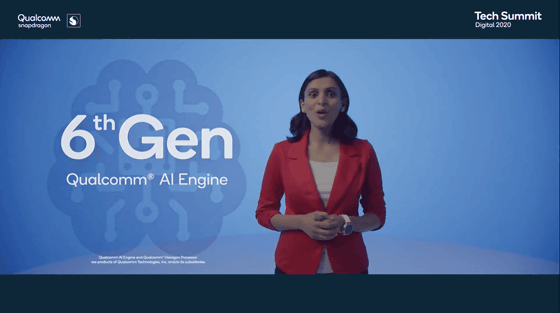 According to Qualcomm, the Snapdragon 888 will debut in the Xiaomi Mi 11 series in 2021. In addition to Xiaomi, ASUS, Lenovo, LG, Motorola, Sharp, Oppo, ZTE, OnePlus, Vivo, OnePlus, Realme, Black Shark, MEIZU and Nubia are developing devices with Snapdragon 888.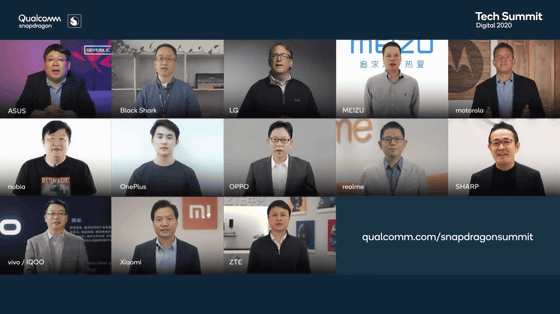 More detailed performance of Snapdragon 888 will be announced later on the second day. The keynote speech on the first day can be viewed from the following movie.

Day 1 Keynote --Qualcomm Snapdragon Tech Summit 2020 --YouTube