I ate 'Crispy', 'Fluffy' and 'Mochi' French toast baked on a copper plate and Persian iced tea called 'French toast' at a long-established coffee shop 'Cafe Aaliya'.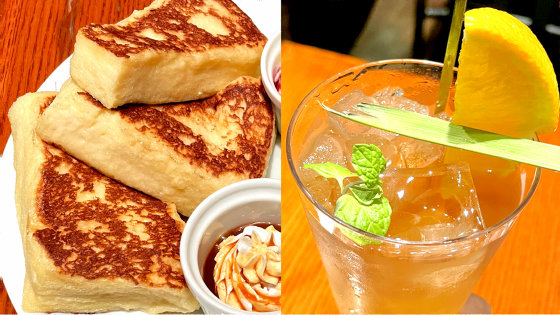 At the cafe 'Cafe Aaliya' in Shinjuku, not only is the authentic
French toast
baked with exquisite baking using a copper plate a specialty, but also various drinks are offered in addition to the coffee shop's standard coffee. .. Among them, the drink called '
Persian Ice Tea
' is perfect for French toast. I was really curious about what French toast and 'drinks that go with French toast' are like at a coffee shop that has been around for about 40 years, so I actually went there.
Cafe AALIYA
http://www.aaliya.jp/
Cafe Aaliya It is located in 'Shinjuku 3-chome
, Shinjuku-ku
,
Tokyo, Building Yamamoto B1F
', about a 3-minute walk from Tokyo Metro 'Shinjuku 3-chome' station.
Arrived at Cafe Aaliya.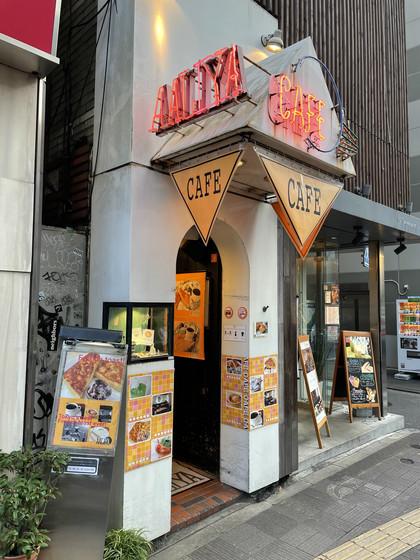 The signboard at the store emphasizes the famous French toast.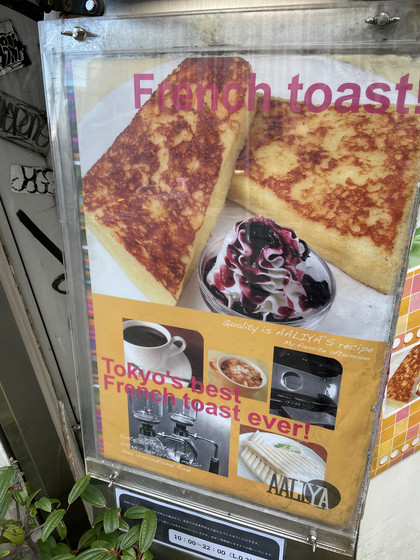 And French toast ordered 'Mix' (950 yen including tax) that comes with 3 kinds of sauces.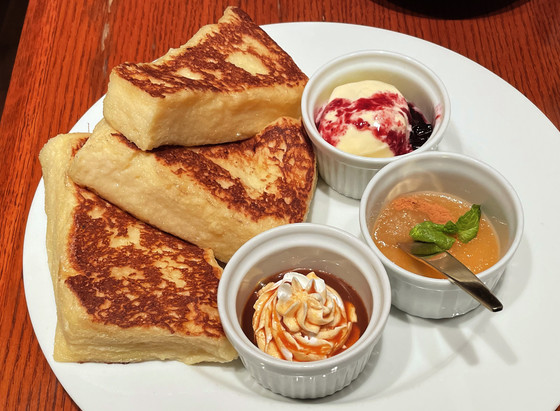 There are 3 large French toasts on the plate, and it looks quite voluminous. You can see its size by lining it up with the iPhone X, which has a long side of 143.6 mm.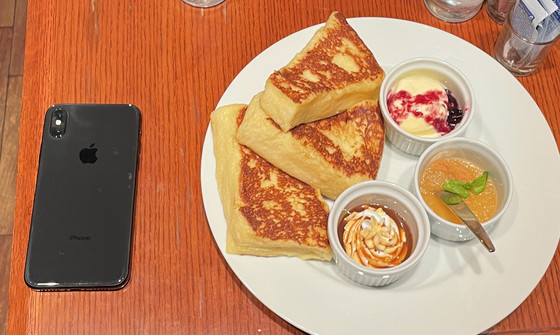 There are three types of sauces that came with it: caramel sauce, cinnamon apple, and blueberry ice cream.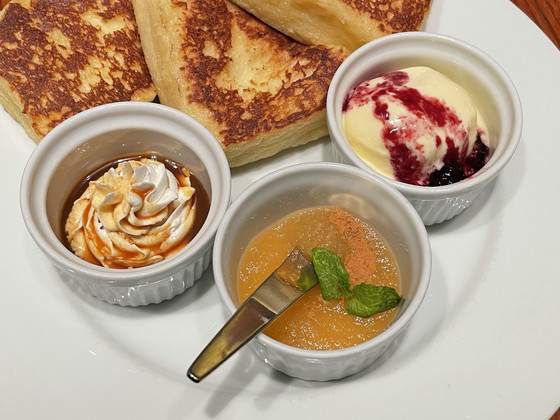 French toast is crispy because the outside is fragrant and baked, but the inside is fluffy and chewy. It is soaked in eggs and sugar, so it has a mellow and slightly sweet flavor.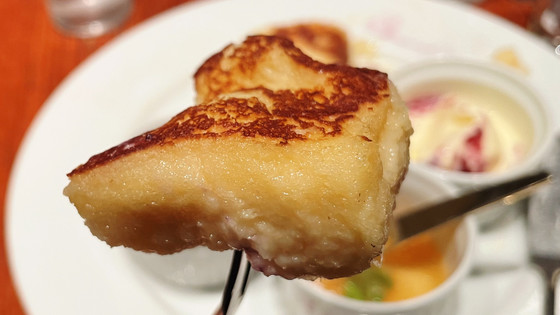 First of all, when you eat French toast with caramel sauce, you can feel the caramel-specific aroma, bitterness, and sweetness. The cream is rich and smooth.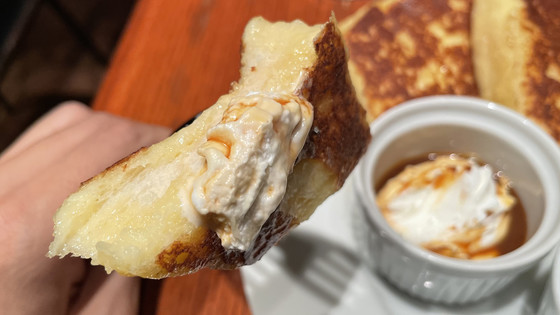 Cinnamon apple is an apple sauce with a cinnamon aroma and sourness, but it's not insanely sweet and is perfect for the fluffy sweetness of French toast. I was reminded that the compatibility between cinnamon and apples is excellent.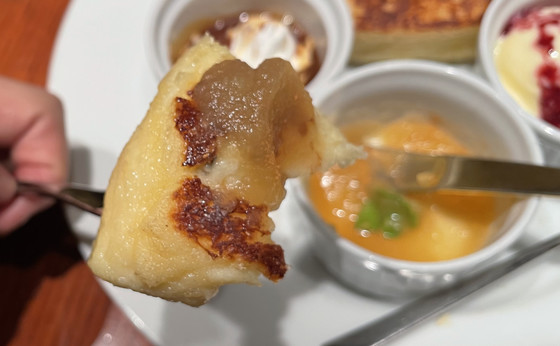 Eat blueberry sauce with vanilla ice cream on French toast. By eating freshly baked warm French toast with cold vanilla ice cream, the temperature difference felt on the tongue is comfortable, and the heat of the French toast melts the ice cream and spreads in the mouth exquisitely. You can see that the sourness of the blueberry sauce accentuates the texture and taste, which changes rapidly in the mouth.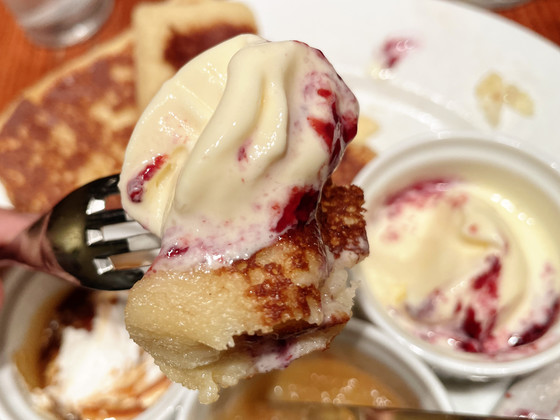 I also ordered 'Persian Ice Tea' (730 yen including tax) to drink in between.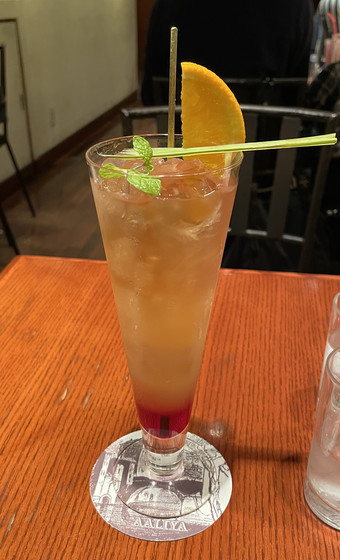 The edge of the glass is orange and topped with lemongrass leaves and mint.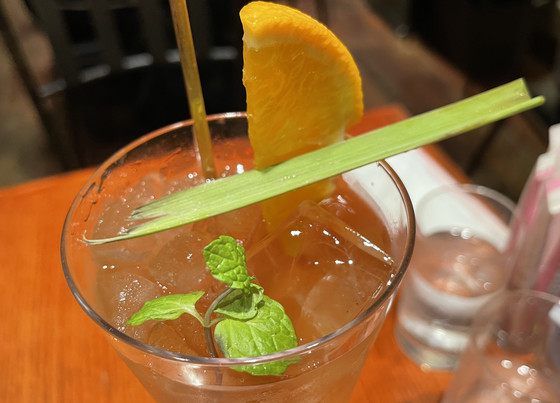 From the side, you can see that it has a two-layer structure of yellowish part and red syrup.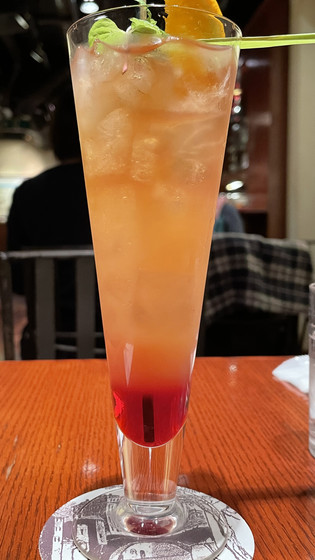 If you drink it without stirring, the upper part is black tea, but you can feel the bittersweetness and sourness of grapefruit. The lower layer is sweet and sour pomegranate syrup.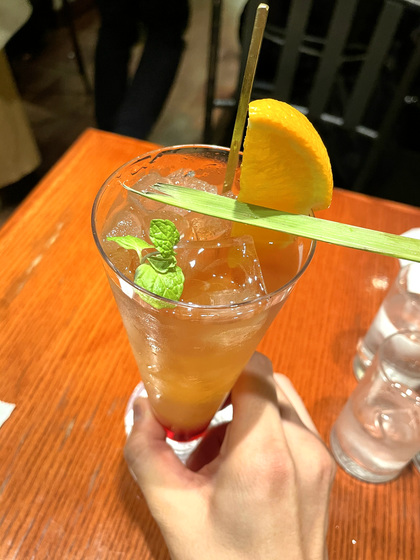 If you stir it well this time, the yellow and red layers will mix and turn orange like a sunset.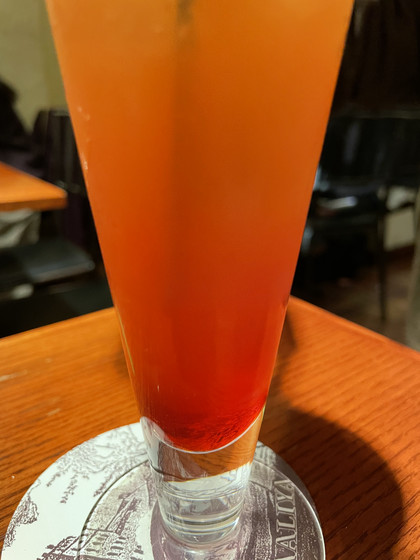 When I drank it, the bittersweet black tea became moderately sweet, and it became a refreshing fruit tea with the acidity of grapefruit and pomegranate syrup.