Microsoft added a specification to forcibly open incompatible sites in Edge with Internet Explorer, and the setting method to disable redirect is this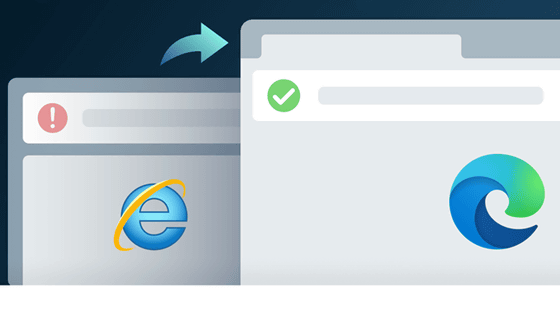 Regarding Internet Explorer,
whose timeline until the end
of
support was announced
in August 2020, Microsoft refused to load the URL when accessing an incompatible website with Internet Explorer and automatically redirected to Edge. We announced a new specification that says 'to do'.
Redirection from Internet Explorer to Microsoft Edge for compatibility with modern web sites | Microsoft Docs
https://docs.microsoft.com/en-us/deployedge/edge-learnmore-neededge
Microsoft will forcibly open some websites in Edge instead of Internet Explorer | ZDNet
https://www.zdnet.com/article/microsoft-will-forcibly-open-some-websites-in-edge-instead-of-internet-explorer/
Microsoft hobbled Internet Explorer to push Edge: Here's how to fix it --SlashGear
https://www.slashgear.com/microsoft-hobbled-internet-explorer-to-push-edge-heres-how-to-fix-it-26644431/
Forced redirects to Edge are
1156 websites
that Mirosoft has identified as 'incompatible with Internet Explorer,' including major high-user services such as YouTube, Instagram, Twitter, and Yahoo Mail. It is.
The following movie actually shows how this specification behaves.
When I open a Stack Overflow website that is not compatible with Internet Explorer in Internet Explorer ...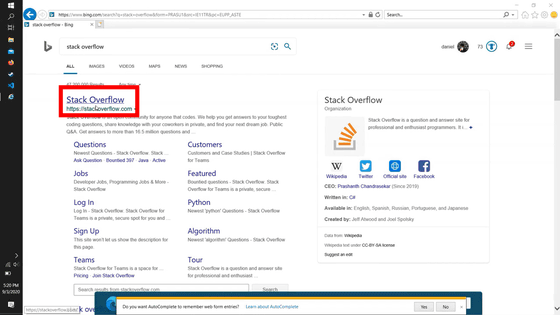 Immediately after Internet Explorer loaded the website, Edge forcibly launched and opened the website. At the top of the tab, you will see a guide saying 'Edge is recommended because some websites cannot be opened by Internet Explorer.'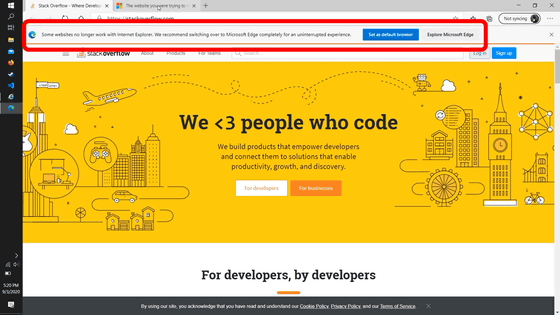 In addition, another tab forces a support page titled 'The
website you are trying to visit does not work in Internet Explorer
'.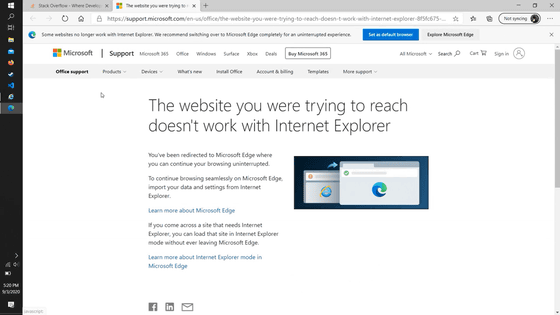 The new specification was piloted in version 84 of Edge, released in July 2020, but will be enabled for all users in version 87 of Edge, due out in November 2020. plans. If you want to disable this specification in Edge version 87 or later, enter 'edge: // settings / defaultbrowser' in the address bar of Edge to open the settings screen, and 'Let Internet Explorer open the site in Microsoft Edge'. Must be set to 'None'.