Xbox UI updated prior to the launch of the Xbox Series X


With the launch of Microsoft's next-generation game console
Xbox Series X
approaching November 10, 2020, Microsoft carried out a system update of Xbox on October 14, 2020, and renewed the user interface (UI). Microsoft says it will unify the UI for the Xbox series, so with this update, you'll be able to experience the same UI as the pre-launch Xbox Series X and the cheaper version of the
Xbox Series S.
Xbox UI update is out now, a month before the Xbox Series X / S launch | GamesRadar +
https://www.gamesradar.com/xbox-ui-update-is-out-now-a-month-before-the-xbox-series-xs-launch/
Harrison Hoffman, chief program manager for Xbox at Microsoft, announced on October 14, 2020 that the October update for Xbox has begun on Twitter. Among them, he said that changes such as 'look and feel', 'profile theme', 'new sign-in', 'support for Czech, Greek, Hungarian and Slovak' and 'improved performance' were made. ..
The #Xbox October Update starts rolling out today, featuring lots of new goodness, including:

???? A fresh look and feel
???? Profile Themes
???? New sign-in experience
???? Language support for Czech, Greek, Hungarian, and Slovak
???? Performance improvements
???? ... and more!

— Harrison Hoffman (@harrisonhoffman) October 13, 2020


Microsoft pre-announced the new Xbox UI in August.

The New Xbox Experience: Connecting You to Fun, Wherever You Want to Play --YouTube


The new Xbox home screen looks like this.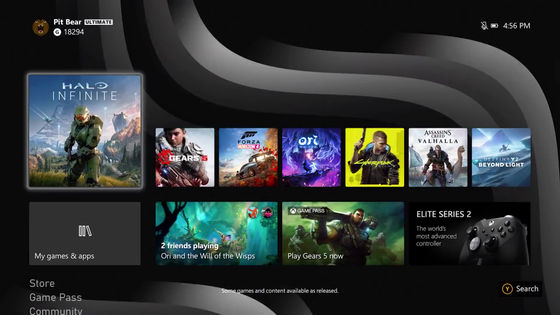 In addition to 15% faster loading of the home screen when starting Xbox, it is said that the loading time when returning to the home screen from the game is also one third.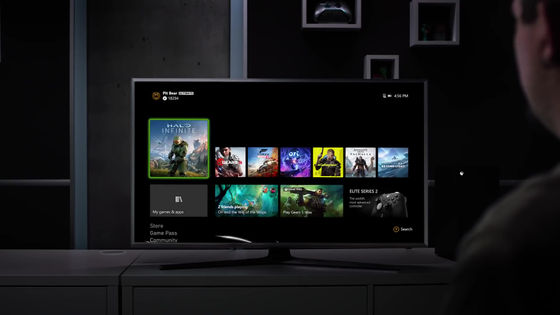 Hirun Cryer of GamesRadar +, a news site that handles game information, said about the new UI, 'With this update, you can change the color theme of the menu system to either light or dark, but my preference is the latter. This UI is a bit of a taste of the system that will be used on Microsoft's next-generation machines in November. It's a great way to get used to the new system in advance. '