Facebook and Twitter block the spread of articles reporting allegations of presidential candidate Biden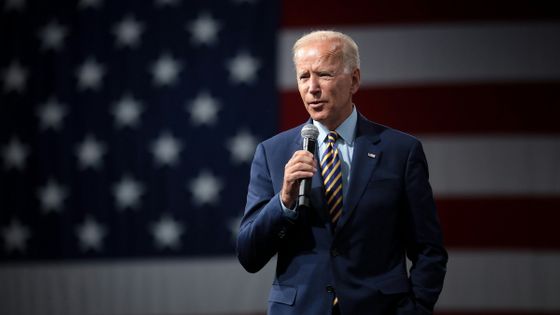 by
Gage Skidmore
In preparation for the US presidential election in November 2020, SNS companies and major IT companies are paying attention to the spread of content that may interfere with the election. Meanwhile, it's controversial that Facebook and Twitter have restricted sharing of articles reported by the
New York Post
about allegations related to Democratic candidate
Joe Biden
and his son.
Facebook and Twitter are restricting a disputed New York Post story about Joe Biden's son --The Verge
https://www.theverge.com/2020/10/14/21515972/facebook-new-york-post-hunter-biden-story-fact-checking-reduced-distribution-election-misinformation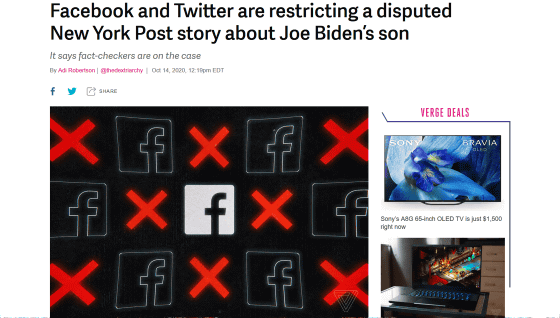 Facebook And Twitter Limit Sharing New York Post Story About Joe Biden: NPR
https://www.npr.org/2020/10/14/923766097/facebook-and-twitter-limit-sharing-new-york-post-story-about-joe-biden

Twitter Cites'Hacked Materials Policy' to Justify Censorship of NY Post Hunter Biden Article | National Review
https://www.nationalreview.com/news/twitter-cites-hacked-materials-policy-to-justify-censorship-of-ny-post-hunter-biden-article/

Biden, who opposes incumbent President Donald Trump in the US presidential election, has been suspicious of Ukrainian energy company Brisma and Mr. Biden's second son, Hunter Biden .

Mr. Hunter was an executive of Brisma from 2014 to 2019, and he said that he received a monthly compensation of 50,000 dollars (about 5.3 million yen). Meanwhile, Ukrainian prosecutors were investigating Brisma corruption at about the same time that Hunter became a Brisma executive.

However, Mr. Biden, who was the Vice President under the Obama administration at that time, insisted that Ukraine's Attorney General Victor Shokin be dismissed, saying that he was 'reluctant to investigate.' The Ukrainian parliament dismissed the prosecutor's chief, and as a result Brisma escaped the investigation. The move has been criticized by Biden for being negatively accused of 'maybe he has put pressure on him to defend his son.'

'Before Mr. Biden demanded the removal of the prosecutor, Mr. Hunter met with Brisma executives and Mr. Biden,' an article reported by the New York Post on October 14, just before the presidential election. thing. If this were the case, it would be inconsistent with Mr. Biden's previous claim that he had 'never talked about foreign commerce with his son.'

Email reveals how Hunter Biden introduced Ukrainian biz man to dad
https://nypost.com/2020/10/14/email-reveals-how-hunter-biden-introduced-ukrainian-biz-man-to-dad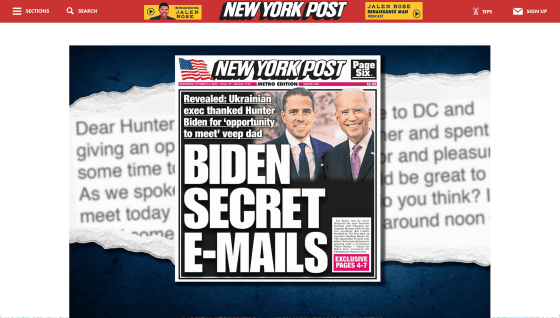 While this article has received a lot of attention, Facebook has revealed that it limits the extent to which the article is spread while waiting for a fact-check review. 'I intentionally don't link to the New York Post, but this article should be fact-checked by Facebook's third-party fact-checking partners,' said Andy Stone , Facebook's Policy and Communications Manager. I'd like to clarify that. In the meantime, we're reducing delivery on the platform. '

While I will intentionally not link to the New York Post, I want be clear that this story is eligible to be fact checked by Facebook's third-party fact checking partners. In the meantime, we are reducing its distribution on our platform.

— Andy Stone (@andymstone) October 14, 2020


Stone said that while many people are paying attention, this measure to curb the spread and perform fact checking on articles where some journalists have questioned their credibility is within the normal process. Claims to be inside.

Facebook has previously restricted the spread of articles that appeal to the theory that 'the new coronavirus has spread from Chinese laboratories,' and this is not the first time we have dealt with individual articles. On the other hand, this article is a 'scoop' based on information independently obtained by the New York Post, and the foreign media The Verge said, 'The facts of the story based on the documents obtained by a single news agency are more It's difficult. '

Twitter also prevents posting links to New York Post articles and posting photos used in the articles. Twitter spokeswoman Trenton Kennedy said Twitter's rule 'prevents direct distribution of content containing personal information obtained through hacking' prevents users from sharing article links. Said that.

The New York Post report was based on data recovered from 'a laptop that Mr. Hunter had taken to a repair shop and left unpaid and uncollected.' The data included an 'email thanking Mr. Biden for inquiring' sent by a Brisma executive. Twitter has indicated that this email is 'personal information obtained through hacking.'

When I try to share an article link on Twitter, I get a notification that 'This link has been identified as potentially harmful by Twitter or a partner and I cannot complete this request' and the post cannot be completed.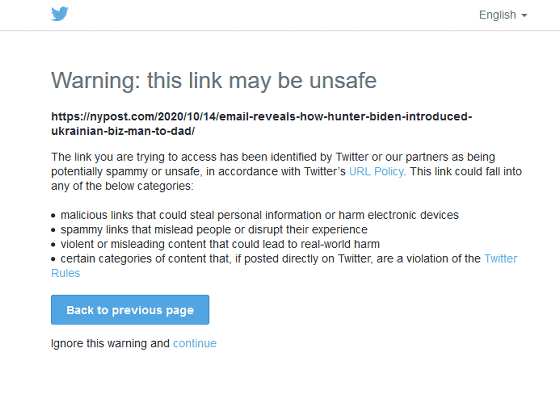 by NPR

Twitter explained on October 15th how to limit the sharing of articles, but CEO Jack Dorsey has tweeted admitting that there was a lack of communication about the measures.

Our communication around our actions on the @nypost article was not great. And blocking URL sharing via tweet or DM with zero context as to why we're blocking: unacceptable. Https://t.co/v55vDVVlgt

— Jack (@jack) October 14, 2020


In addition, President Trump also mentioned that Facebook and Twitter are preventing the spread of articles, and strongly criticized the response of both companies.

So terrible that Facebook and Twitter took down the story of "Smoking Gun" emails related to Sleepy Joe Biden and his son, Hunter, in the @NYPost . It is only the beginning for them. There is nothing worse than a corrupt politician. REPEAL SECTION 230 !!! https://t.co/g1RJFpIVUZ

— Donald J. Trump (@realDonaldTrump) October 14, 2020