Microsoft announces backward compatibility for Xbox Series X, allowing you to play past titles with significantly enhanced loading speed and image quality


Microsoft has announced a new
backward compatibility feature
for the home video game console 'Xbox Series X' released in November 2020 and its low-priced version 'Xbox Series S'. With the Xbox Series X, when playing games from older models such as the original Xbox that support backward compatibility, the load time is significantly reduced,
HDR
is automatically turned on, and games at 30fps are now 60fps.
Xbox Series X and Xbox Series S Will Be the Best Place to Play 1000s of Games From Across Four Generations of Xbox --Xbox Wire
https://news.xbox.com/en-us/2020/10/13/xbox-series-x-and-xbox-series-s-backward-compatibility-update/
Microsoft
implemented
the backward compatibility feature of Xbox in 2015 and updated the title of the old model Xbox 360 at that time so that it can be played on the new model Xbox One. With this backward compatibility feature, you can not only play Xbox 360 titles with the Xbox One specs, but also carry over achievements, save data, add-ons, etc. across models.
Xbox One Backward Compatibility Game Library | Xbox
https://www.xbox.com/ja-JP/xbox-one/backward-compatibility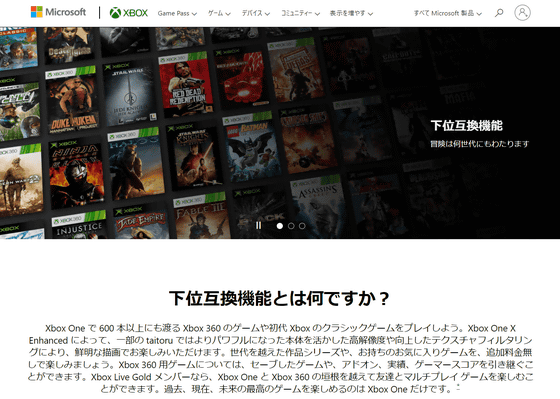 This Microsoft announcement also inherits the backward compatibility features of the Xbox One. In Xbox Series X / S, not only can titles that support backward compatibility functions be played with the specifications of Xbox Series X, but the graphics are automatically enhanced when playing on Xbox Series X.
Games that support backward compatibility are run natively on the Xbox Series X / S, and are processed using the full performance of the CPU, GPU, and SSD, which have evolved significantly compared to past models. Since the Xbox Series X / S is equipped with NVMe SSD that adopts the '
Xbox Velocity architecture
' that eliminates waste of loading time and explodes the loading time, the loading time of past works will be significantly shortened.


In addition, an 'automatic HDR function' has also appeared, which converts works that are not compatible with HDR, which expresses a wider range of brightness than before and gives the graphics vividness and depth, to HDR. The automatic HDR function automatically improves the graphics of the game without damaging the artistic intention at the time of release, and since it is a function automatically processed by the Xbox Series X / S system, the developer side is responsible for each title. There is no need to update to support the automatic HDR function. In addition, the automatic HDR function does not put a load on the CPU, GPU, or memory, so it does not cause an increase in load time.

The difference between the visual before correction (left side) by the automatic HDR function and after correction is as follows.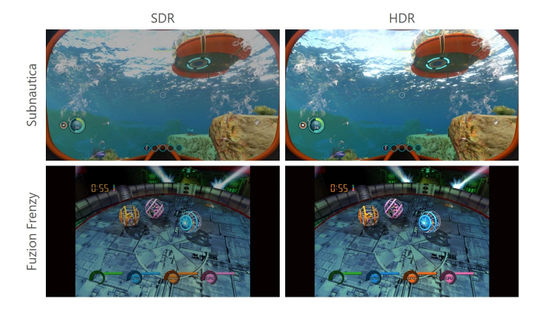 In addition, Xbox Series X / S will also implement an 'automatic fps doubling' function that changes some titles from 30fps to 60fps. Although this feature interferes with the original arithmetic and animation, it may not be enabled for all backwards compatible titles, but Microsoft says it 'provides a smoother experience than the original.'

The following is a comparison video when the 'automatic fps doubling function' is on / off. You can clearly see that the image is drawn smoothly at 60fps.


Xbox Series S Backward Compatibility Frame Rate Technical Demo --Fallout 4 --YouTube
In addition, by continuing to adopt the video processing technology called 'Heutchy method' implemented on Xbox One, the title of Xbox 360 with a resolution of 720p and the title of the original Xbox with 360p can be changed to 4K on Xbox Series X, Xbox Series. Can be executed at 1440p on S. In addition, 16x anisotropic filtering is enabled for almost all backward compatible titles, which seems to improve video quality.



Microsoft said, 'Preserving past games is the foundation of Xbox's DNA and continues the vows we made in the past. Your favorite games are intended by the original developers. You don't have to look back when you move to the new generation of Xbox, as you'll be able to play with everything in place and with enhancements. '