It turns out that the movie version '<span translate="no">Demon Slayer: Kimetsu no Yaiba</span>' will be a total war with a movie theater that will be screened up to 42 times from the first day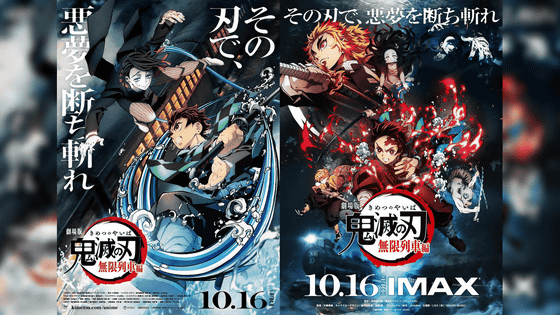 Tickets will be available online from midnight on October 13th (Tuesday) for the
movie version of 'Demon Slayer' infinite train
, which will be released on October 16th (Friday), 2020. Since the reaction of the movie theater site was temporarily slowed down, it seems that people were inundated, but the movie theater side has prepared a reception system so that no one can see it, and the movie theater It turned out that some movies are scheduled to be screened up to 42 times a day.
Movie version 'Demon Slayer' Infinite Train Edition Official Website
https://kimetsu.com/anime/
TOHO Cinemas Shinjuku: Screening Schedule || TOHO Cinemas
https://hlo.tohotheater.jp/net/schedule/076/TNPI2000J01.do
TOHO Cinemas Shinjuku will be screened 42 times a day. Screening on screen 10 compatible with IMAX laser starts at 8 o'clock, starts at 10:50, starts at 13:40, starts at 16:30, starts at 22:40, and starts at 25:30.



In addition, Screen 1 to Screen 8, TCX-compatible Screen 9 and Screen 12 will also be screened. If you add this to IMAX, it will be 42 times.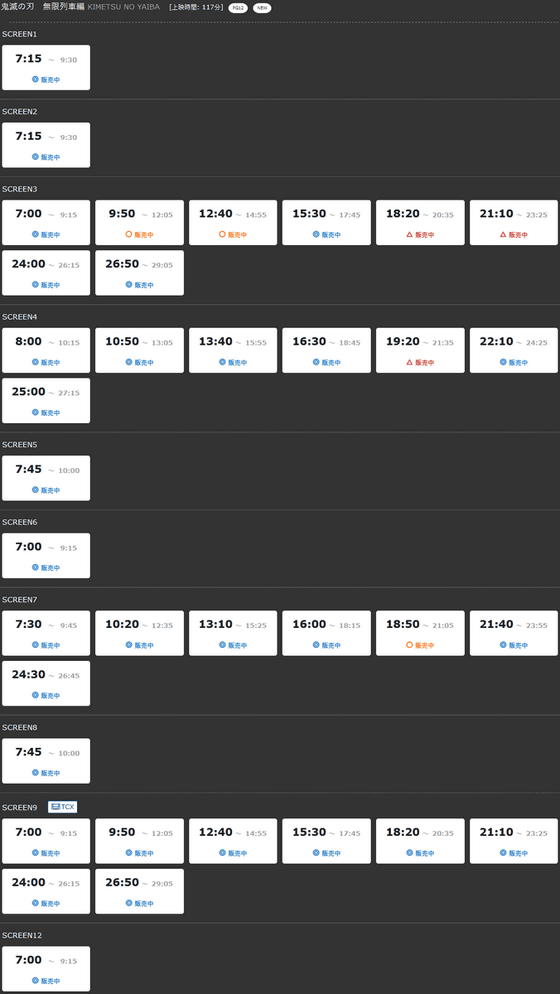 On Saturday, October 17th, a stage greeting will be held with director Haruo Sotozaki and the performers on stage. Tickets were released on Saturday, October 10th and sold out. Including this time, the number of screenings on the 17th was 41 times.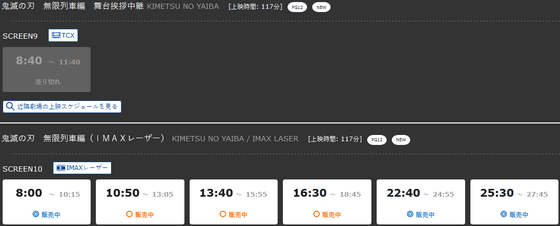 TOHO Cinemas Shinjuku is a theater with a particularly large number of screenings, but Shinjuku is not special, and the nearby TOHO Cinemas Roppongi also has 28 screening opportunities on October 16th (Friday).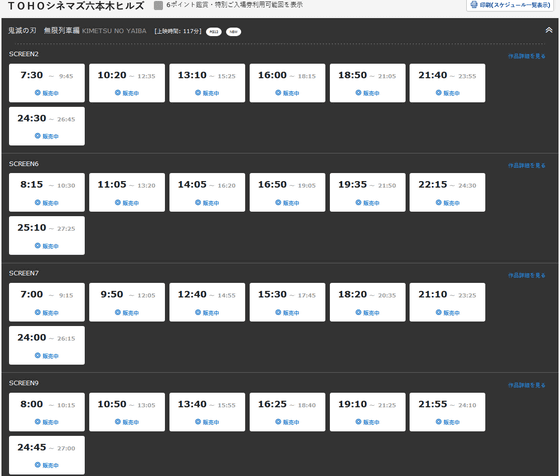 At TOHO Cinemas Hibiya, which is also a large building in Tokyo, 23 times including IMAX 5 times.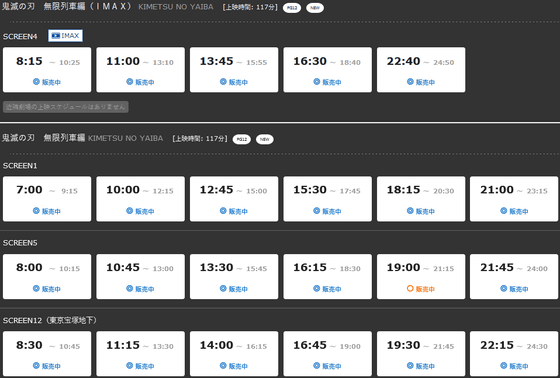 Shinjuku Wald 9 is 31 times in total from morning to the next morning.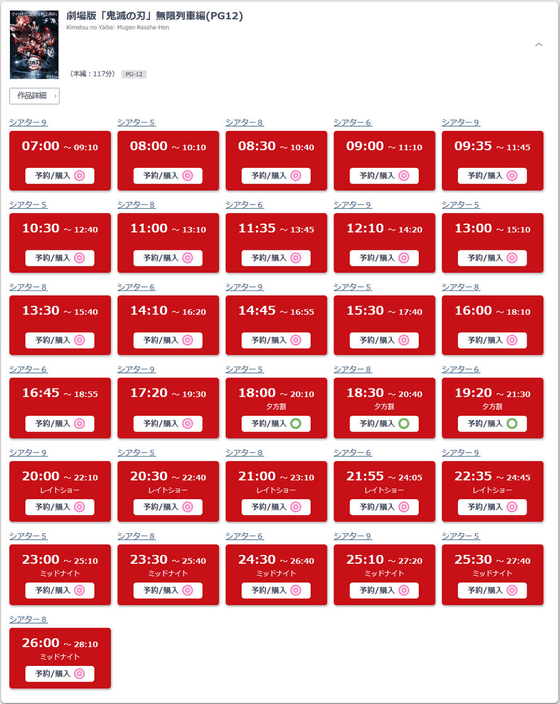 Shinjuku Piccadilly has a total of 22 times.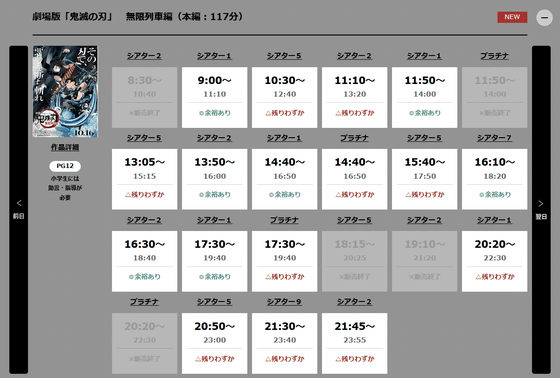 In Tokyo, there are 35 buildings including the above buildings, and in the entire Kanto area, there are 124 buildings including Tokyo. Considering that it is released on the same scale from Hokkaido to Okinawa, the number of times it takes on the screen on the released weekend is likely to be enormous, at least it will be a situation that 'I can not see it because I can not get a seat'. It seems unlikely.

・ Continued

A summary of the numbers related to the number of times the movie '

Demon Slayer: Kimetsu no Yaiba

' has been screened, the total number of times per day is 7560, and IMAX screenings are more than 150 times per day --GIGAZINE