Microsoft's next-generation machine 'Xbox Series X' review lifted, usability and findings summary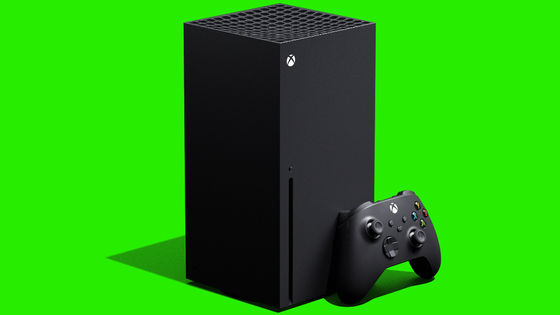 The media review of the
Xbox Series X
, which Microsoft will release worldwide on November 10, 2020, has been lifted. Each media has published their impressions and findings after actually using Xbox Series X for about a week, so I summarized it.
Xbox Series X Hands-On: Load Times, Quick Resume, and Compatibility --IGN
https://www.ign.com/articles/xbox-series-x-hands-on-load-times-quick-resume-and-compatibility
Xbox Series X impressions: No going back to Xbox One and PlayStation 4 | VentureBeat
https://venturebeat.com/2020/09/28/xbox-series-x-impressions/
A week with the Xbox Series X: load times, game performance, and more --The Verge
https://www.theverge.com/21458254/microsoft-xbox-series-x-load-times-performance-gameplay-preview
◆ 1: Body design
◆ 2: Controller
◆ 3: Storage
◆ 4: Main unit startup time and startup sound
◆ 5: Game loading time
◆ 6: Improved game frame rate
◆ 7: Quick resume function
The detailed specifications of Xbox Series X are summarized in the following articles.
Detailed specifications of the next-generation game machine 'Xbox Series X' have been released, not only a major evolution of basic specifications but also support for dedicated expansion SSD & external storage --GIGAZINE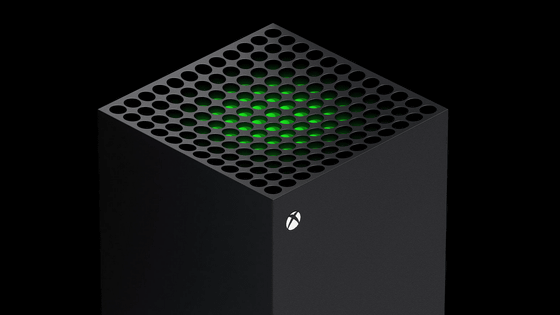 ◆ 1: Body design
The Xbox Series X is a vertically long rectangular parallelepiped of 151 mm x 151 mm x 301 mm, and is a system that cools while dividing into multiple airflows from the bottom to the top. Traditional home consoles can be placed horizontally or vertically, but the Xbox Series X isn't recommended to be placed horizontally due to the cooling system, VentureBeat said. However, because it is a very simple design, it is unlikely that it will appear to float from the interior of the room even if it is placed.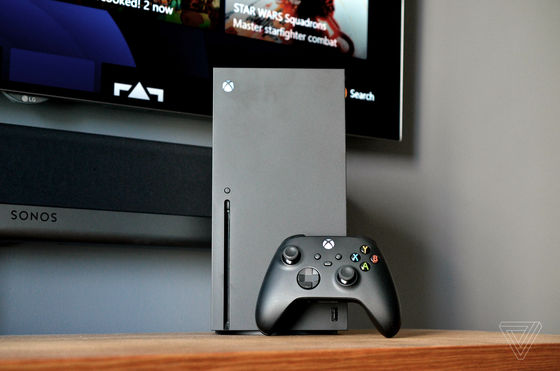 Below is the IGN of the game media arranging Xbox 360, Xbox One X, Xbox Series S, and Xbox Series X, and you can see that the Xbox Series X is quite large when compared.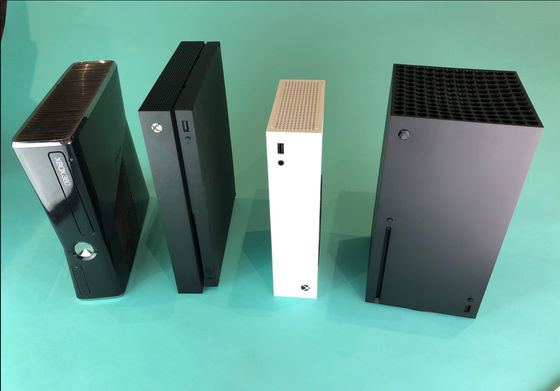 ◆ 2: Controller
The controller included with the Xbox Series X looks like this. It looks almost the same as the one that came with the Xbox One, but the size and shape of the controller has become slightly smaller overall. Also, the cross key on the left has been changed to a disk shape similar to the
Xbox Elite Wireless Controller Series 2
.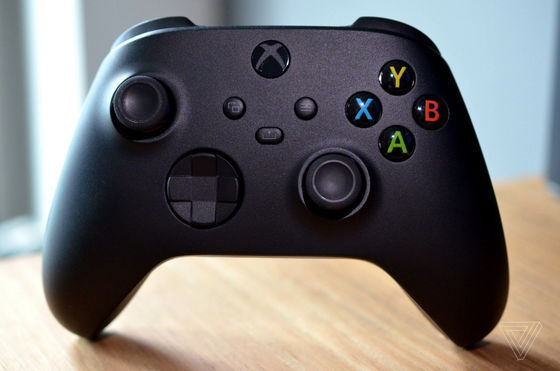 It also has a USB Type-C connector, but it's not rechargeable, and to use it as a wireless controller, you need to insert two AA batteries like a conventional Xbox controller, or purchase a rechargeable battery kit (sold separately). And that.

◆ 3: Storage
As the game evolves, so does its data size. Therefore, it is required to increase the capacity of the storage installed in the game machine. The Xbox Series X has a 1TB SSD, but since the OS and system files are installed, the actual free space that can be used is about 800GB.

You can also easily add free space by connecting an external storage via USB 3.1, and you can freely transfer game data. VentureBeat measures the time it takes to transfer an Assassin Creed Origins , which weighs 49GB, 2 minutes 18 seconds to transfer from an external SSD to an internal SSD, and 7 to transfer from an external HDD to an internal SSD. It reported that the transfer from the internal SSD to the external SSD took 4 minutes and 33 seconds at 46 minutes.

In addition, a 1TB expansion card is sold separately for Xbox Series X. The 1TB expansion card with the Seagate logo is a little larger than the SD card, and it is possible to add about 900GB of external storage by inserting it into a dedicated connector.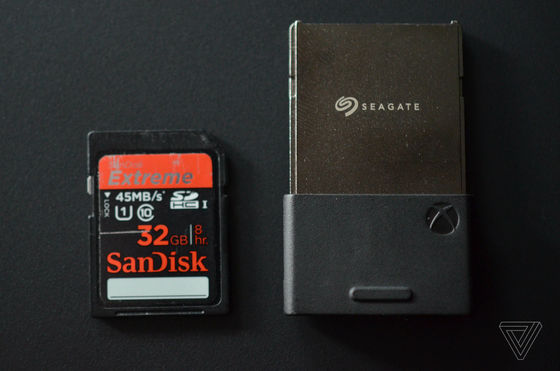 ◆ 4: Main unit startup time and startup sound
According to tech media VentureBeat, the Xbox Series X starts up fast anyway. The following movie is a cold boot that shuts down the Xbox Series X completely and then starts it, and the system menu is displayed in a little over 10 seconds after pressing the switch. In addition, it is very quiet at startup, and there is no 'sound of fan spinning'.

Xbox Series X Cold Boot-YouTube


◆ 5: Game loading time
According to the IT news site The Verge, the most important and obvious improvement on the Xbox Series X is 'the loading time it takes to launch and play the game,' and most of the week-long trials All titles reported shorter load times.

Below is a specific table that The Verge compared on Xbox Series X and Xbox One X. "The Xbox Series X loads about the same as a PC with an NVMe SSD, and it really transforms the gaming experience," said The Verge.

◆ 6: Improved game frame rate
The Xbox Series X is backwards compatible, allowing you to play previous generation Xbox game titles from the original Xbox to the Xbox 360 and Xbox One. According to VentureBeat, the performance of older generation game titles has improved, though not all titles, and the average frame rate has jumped to around 60fps. For example, in
SEKIRO: Shadows Die
, the average was 37fps on Xbox One X, but it was fixed at 60fps on Xbox Series X. Also,
Final Fantasy XV
averaged 42fps on the Xbox One X, but increased to 59fps on the Xbox Series X. However, games such as No Man's Sky, which are fixed at 30 fps on the software side, were still executed at 30 fps.
Below you can see a movie that actually compares the frame rates on Xbox Series X and Xbox One X.
Xbox Series X Backwards Compatibility Tested --And The Performance Is Extreme --YouTube
◆ 7: Quick resume function
The quick resume function that switches to another game at high speed while playing a game was installed from Xbox One X, but in reality it hardly supported, and it was said that it was almost not functioning.
With Xbox Series X, it is possible to switch games very easily and at high speed as before. In about 5 minutes and 21 seconds of the following movie released by CNET, you can see how to actually switch the game to play in just a few seconds using the quick resume function. However, in some games such as Sea of ​​Thieves, the software did not support the quick resume function.
Xbox Series X hands-on preview: Quick Resume is a game-changer --YouTube
Xbox Series X will be available for purchase on Tuesday, November 10, 2020 for 49,800 yen plus tax. It is also handled by Amazon.co.jp, but at the time of article creation, it is out of stock and pre-ordering is not possible.
Amazon.co.jp: Xbox Series X: Games