What is the method by which a scammer used Facebook ads to deceive about 500,000 yen from a security-sensitive person?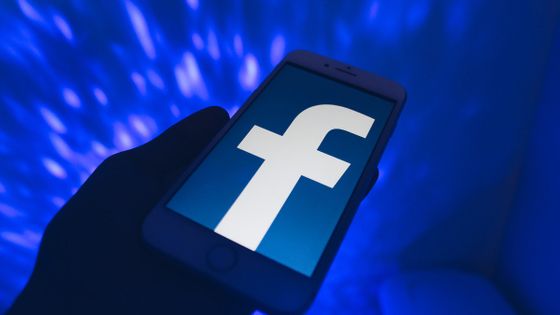 by
www.shopcatalog.com
In recent years, it has been pointed out that online scams have become extremely sophisticated, and there have been reports of cases where people familiar with security are scammed. An online marketing consultant company in the Netherlands told me about the story of 'I was careful about security, but I was deceived by a sophisticated Facebook fraudulent advertisement for 4000 euros (about 500,000 yen)'
Niek van der Maas,
who runs the
company,
said.
Niek / README.md at master · Niek / Niek · GitHub
https://github.com/Niek/Niek/blob/master/facebook-scam/README.md
'I set up two-step authentication for all my accounts, used a password manager, and was sensitive to account security,' Maas said. However, it is still unbelievable that he was caught in a scam and as a result was robbed of nearly 500,000 yen.
One day in September 2020, Maas discovered an ad on Facebook called '
Tiktok Ads Business
', a company marketing on TikTok. It seems that he failed to take a screenshot of the advertisement, but the advertisement said that 'We will provide a new contract company with an advertisement for 3,000 dollars (about 320,000 yen) for free'.
According to Maas, who runs an online marketing company, the method of 'providing free ad coupons to acquire new advertisers' seems to be common in the marketing industry, and it feels strange when seeing this ad. Said he never remembered. Also, although the service of 'providing free advertisements for $ 3000' is quite expensive, the program '
TikTok Back to Business Program
' provided by
TikTok
for small and medium-sized enterprises provides advertising coupons totaling more than 10 billion yen. I didn't feel it was a scam at this point.
When I clicked on the ad, I was taken to the Google Play page where I could install the 'TikTok Ads Business' Android app. Looking at the screenshots actually taken by Mr. Maas, the 'TikTok Ads Business' app has been downloaded more than 10,000 times, has more than 1000 reviews, and the average rating is 4.6 out of 5 points. You can see that it is very highly rated. If you look closely, it is unnatural that the developer name is 'Develop App' and the first half of the email address is 'develop game online', but Maas said that he was not so distracted at that time. ..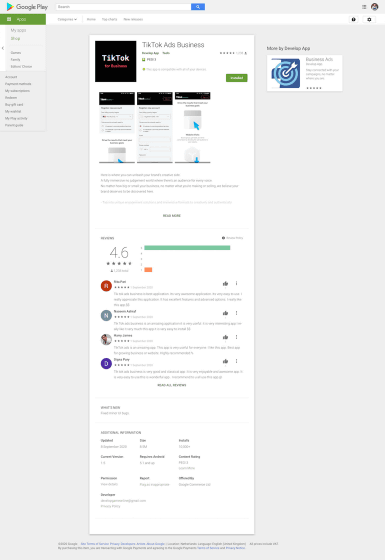 After installing the app, a page imitating the 'TikTok Back to Business Program' will be displayed, and after entering the phone number and email address, you will be asked to 'Log in to Facebook to earn advertising credits that can be used with TikTok'. It was said that.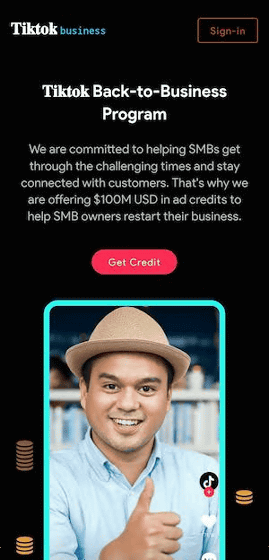 When I logged in to my corporate Facebook account through the app, $ 3000 was added to my in-app balance. It was explained that it would take up to 48 hours for TikTok to contact him, so Maas decided to wait for him to contact him.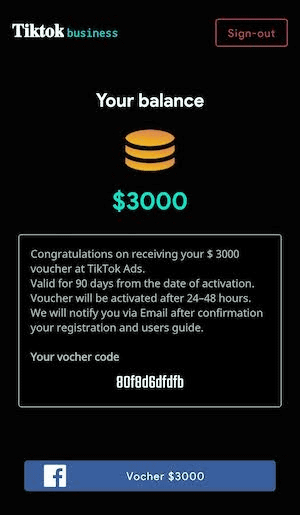 However, two days later, it was not the contact email from TikTok that was sent to Maas, but the transaction completion email from PayPal. The content of the email was that 'Facebook charged 3990.17 euros (about 500,000 yen) for the PayPal account linked to Maas's Facebook advertising account', Maas who did not remember Hastily tried to log in to his Facebook advertising account. However, the scammer has already deleted Maas's Facebook advertising account using the information obtained through the application, and Maas could not get information on the details of the transaction. In addition, it seems that Facebook did not send an email to Maas about the deletion of the Facebook advertising account.



Facebook has a support page for advertisers, but I couldn't email or chat from here. Fortunately, however, Maas was able to find an officially supported Facebook Messenger account and report the situation.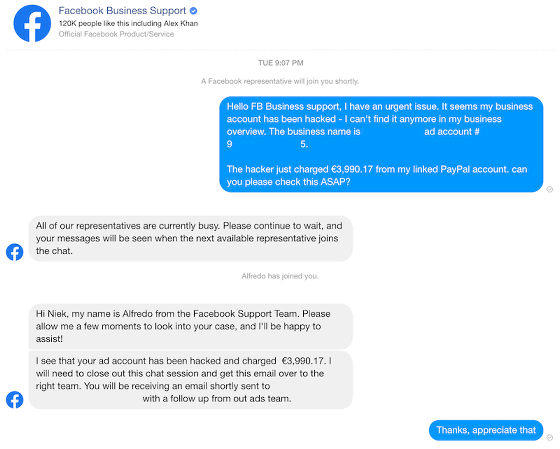 Two days later, Maas was able to log in to his Facebook advertising account again to get an idea of the damage. It seems that the billing from Maas's Facebook advertising account was used to deliver various Facebook advertisements, including advertisements promoting Vietnamese aluminum products.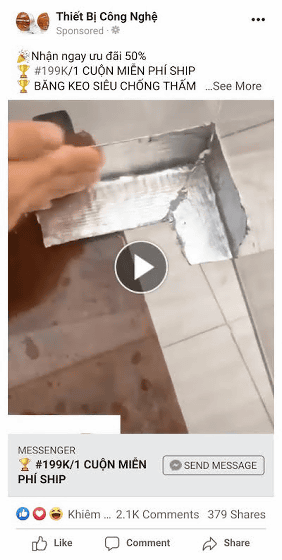 Maas asked PayPal for a refund, but PayPal's reply was 'I have decided that there is no unauthorized use', and it seems that Facebook is waiting for a refund of the fee.

This case has also been talked about on overseas social news site Hacker News , 'The lesson learned from this case is that installing native apps on devices is risky.' 'This on smartphones. I can't imagine running such a business process. '' I've had similar experiences with fake ads that imitate real products on my smartphone. It's a tremendous amount of time to get a refund from PayPal. It took a lot of time, 'and so on.