Google announces 'Fundo', a platform for creators that can easily hold online events from a browser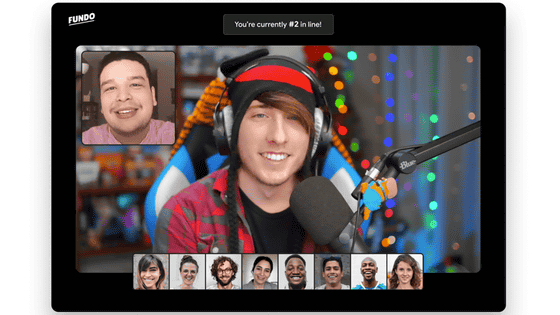 Area 120
, Google's in-house startup division, has announced
Fundo, a
platform that allows creators to easily hold online events.
Fundo: a virtual experiences platform for creators
https://blog.google/technology/area-120/fundo/
Google Area 120 announces Fundo for hosting virtual events --9to5Google
https://9to5google.com/2020/09/09/google-area-120-fundo/
Google's Area 120 Launches Fundo for Creator Paid Virtual Events --Variety
https://variety.com/2020/digital/news/fundo-google-area-120-paid-events-1234763389/
Fundo is an end-to-end platform for holding one-on-one chats, group exchanges and workshops. Users can directly participate in online events held by creators on Fundo.
The official page of Fundo can be accessed from the following.
Fundo
https://fundo.town/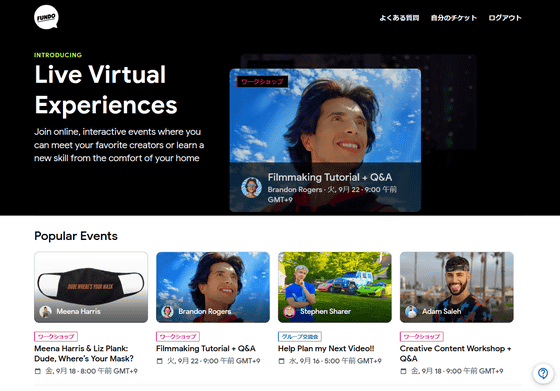 At the bottom of the top page, the events scheduled to be held are lined up in a row.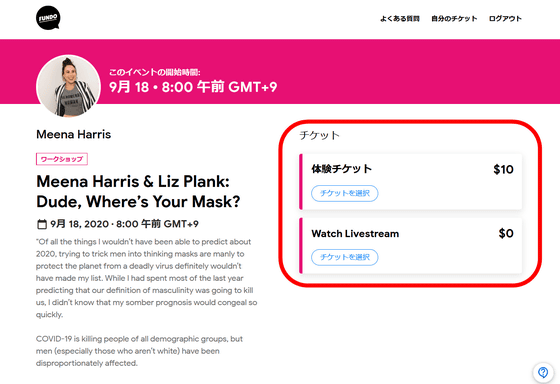 For each event, the genre of group exchange meetings and workshops, event titles, dates and times, etc. are listed.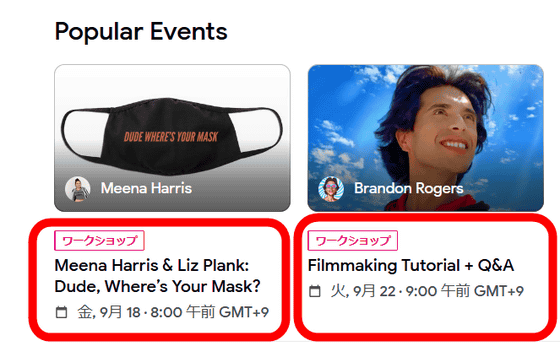 When I log in with my Google account and look at the individual pages, it looks like this. It is a mechanism that you can participate in the event held on Fundo through the form to purchase the ticket prepared in advance.



Some events have free plans. It is possible to cooperate with YouTube, so it seems that it is possible to hold an exchange meeting that only YouTube channel membership registrants can participate.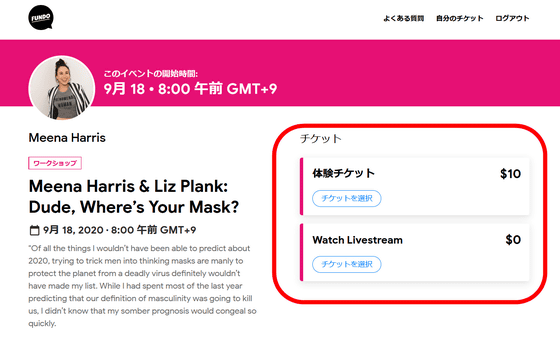 The state of the exchange meeting is like this. The Fundo is designed for relatively small events, with up to 30 people using the camera simultaneously in an interactive session. Typical use cases include social gatherings, small workshops, and medium-sized group experiences.



Participants will be displayed side by side in the workshop.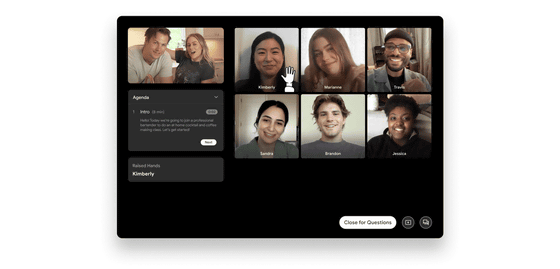 You can take a photo with the organizer in a one-on-one chat.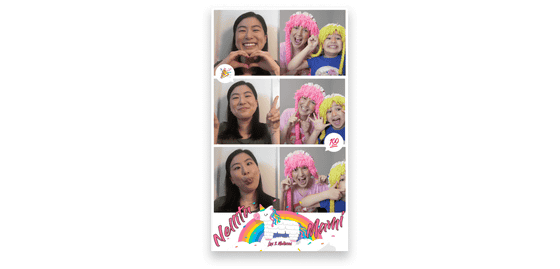 Fundo is a web-based platform for scheduling, signing up, payment processing, communication, live streaming, guest management and more, without the need for apps or software to host your event. Google receives 20% of the revenue generated through Fundo as a usage fee.

According to Google, Fundo was originally a tool for YouTuber to organize online social gatherings. However, due to the epidemic of the new coronavirus infection (COVID-19), the demand for online fitness courses, cooking classes and workshops has increased, so it has been redesigned for creators of all kinds, not just YouTube creators. ..

Fundo can be registered as a creator from the following URL.

Fundo
https://fundo.town/creators