Facebook removes anti-mask group to prevent misinformation about the new Corona


Facebook has removed 'Unmasking America', an anti-mask group with more than 9600 registered members, to prevent the spread of false alarms about the new coronavirus infection (COVID-19).

Facebook suspends anti-mask group for spreading COVID-19 misinformation-The Verge

https://www.theverge.com/2020/7/20/21331060/anti-mask-groups-facebook-misinformation
Facebook has a policy to prevent the spread of misinformation about new coronavirus infections, but because it violated this policy, it formed the largest anti-mask group on Facebook 'Unmasking America' It became clear that was deleted.
Unmasking America is a group that was organized to 'disseminate the truth about masks.' Masks 'interfere with the flow of oxygen and have a negative psychological impact.' 'Mask is a repressive, enslaving, and cognitive subject. Psychological anchor for' 'Wearing a mask is responsible for declaring all humans to be dangerous, infected, and threaten.'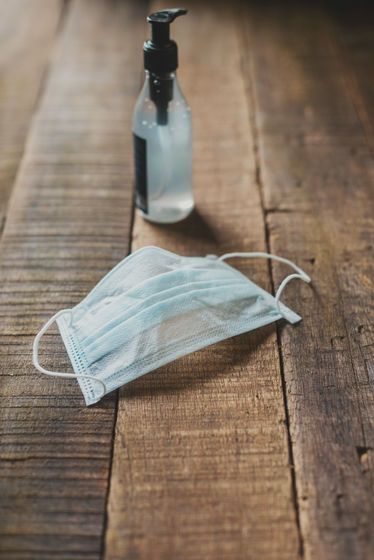 Unmasking America is one of the groups you can easily find by searching for 'Unmasking' on Facebook. These anti-mask groups are essentially private groups and you cannot join the group as a member without the approval of the group administrator. However, the same topic is being discussed within each group, and all groups object to health professionals recommending masks for public health.
The Centers for Disease Control and Prevention
(CDC) recommend wearing masks in all public places, and we also publish
recipes for easy-to-make cloth masks
.
When the overseas media, The Verge, contacted Facebook, it said, 'There is a clear policy on Facebook about spreading harmful false alarms about new coronavirus infections, and while evaluating other groups this time. I decided to delete the group.'
In addition, on Facebook, if a group repeatedly shares false alarms, we propose a proposal to reduce the frequency of displaying the content of the group on the user's news feed and encourage participation in the group to suppress the increase of group members. It will be stopped.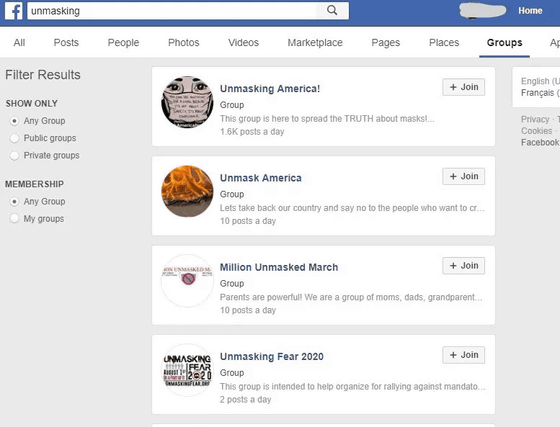 On the group page of Unmasking America that was deleted this time, to the face mask exemption card issued by a group that calls itself Freedom to Breathe Agency (face mask exemption card) There is also a link of, and one user recommended that this card be printed, laminated and used.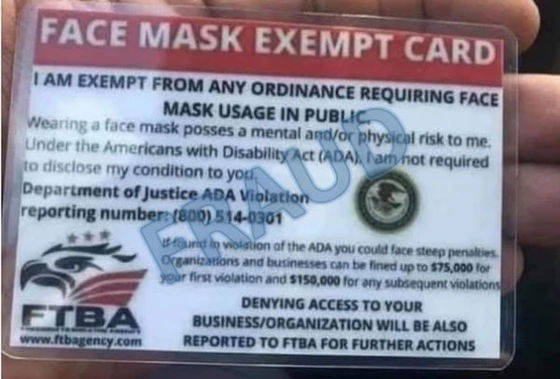 In contrast, most medical professionals say, 'There is no medical reason to deprecate wearing a mask when going out,' and in about 20 states in the United States about wearing masks in public places There are requirements. Even President Trump, who has avoided wearing masks in public,
tweeted
on July 20, 2020, 'wearing a face mask when you can't take a social distance is a patriotic act.'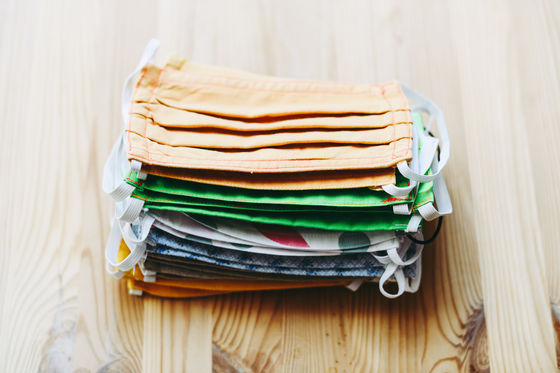 In addition, in order to prevent misinformation about the new coronavirus, such as Facebook trying to prevent the spread of wrong information by introducing a function etc. that warns users who are trying to share old articles We are taking measures.

Facebook now warns users trying to share old articles-GIGAZINE