China pressures EU to retaliate against Nokia and Ericsson if Huawei is removed from 5G network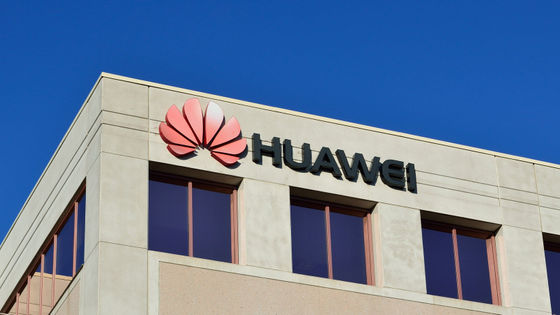 It is reported that China is exerting pressure on EU countries 'if the EU removes Huawei from the
5G
network construction following the United States and the United Kingdom, it will retaliate against EU communication equipment makers Nokia and Ericsson' I am.
China May Retaliate Against Nokia and Ericsson If EU Countries Move to Ban Huawei-WSJ
https://www.wsj.com/articles/china-may-retaliate-against-nokia-and-ericsson-if-eu-countries-move-to-ban-huawei-11595250557
China reportedly mulls retaliatory export controls on Ericsson and Nokia – Telecoms.com
https://telecoms.com/505659/china-reportedly-mulls-retaliatory-export-controls-on-ericsson-and-nokia/
China may retaliate against Nokia, Ericsson if EU bans Huawei: WSJ-Reuters
https://www.reuters.com/article/us-china-huawei-europe/china-may-retaliate-against-nokia-ericsson-if-eu-bans-huawei-wsj-idUSKCN24L1NW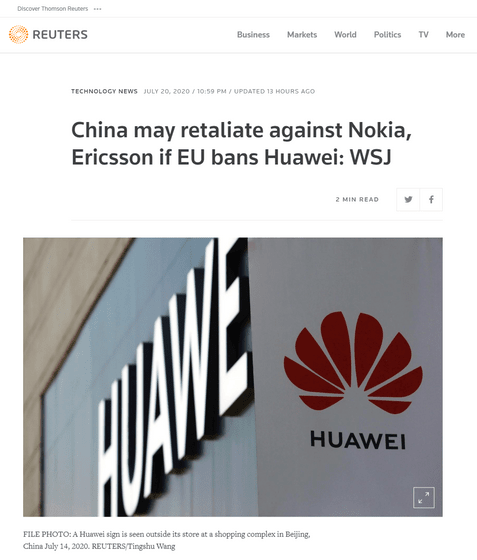 Huawei, a major Chinese telecommunications equipment maker, is suspected of
handing over information to the Chinese government
by installing a back door on the product, so US President Donald Trump put Huawei in mind in 2019
Signed the Presidential Decree 'Prohibiting the trading of foreign products that pose a risk in information and communications
.' Finally, on June 30, 2020, the Federal Communications Commission (FCC) officially named Huawei a
'national security threat
.'
In addition, in July, the United Kingdom also announced a "policy to completely remove Huawei products from the 5G communication network by 2027," and the movement to eliminate Huawei is increasing in Europe and the United States.
British government officially announces ``policy to completely remove Huawei products from 5G communication network by 2027''-GIGAZINE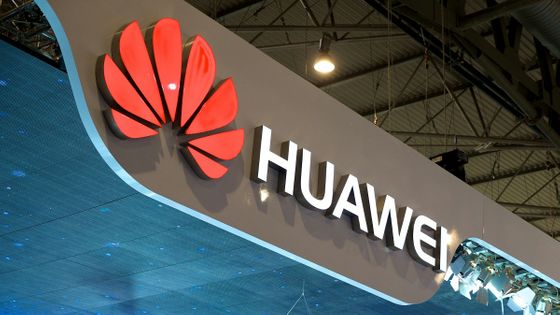 by
Kārlis Dambrāns
The U.S. economic paper The Wall Street Journal (WSJ) said on July 20: 'In case the EU nations move towards Huawei's expulsion, the Chinese Department of Commerce will export Nokia and Ericsson to products produced in China. We are considering limiting it.' 'Nokia in Finland and Ericsson in Sweden are some of the companies that most directly benefit from the Huawei exclusion,' said Reuters, a report on WSJ.
As Reuters pointed out, the Huawei exclusion move will help EU telecommunications equipment manufacturers. Financial information site
Asktraders
said on July 20, 'Ericsson's share price in the American stock market has skyrocketed by more than 5% despite the possibility of retaliation by China. Has soared 13.2% after reporting that Huawei has solidified its policy of exclusion, and the stock price of the company has risen 29.5% since the beginning of the year.
According to people
familiar with the
US news agency
Fox Business
, Nokia and Ericsson's manufacturing plants in China have a total of thousands of employees. However, the two companies were aware of China's export restrictions a few weeks ago, and have already begun reviewing the supply chain and shifting production sites.


Telecoms.com, a news site that deals with information related to the telecommunications industry, said, ``The reason why the UK turned to Huawei exclusion was because there was a recommendation from a security expert, so I think that EU countries are considering the same thing as the UK. In any case, the European Commission (EC) will be forced to issue a new statement to clarify its attitude towards Huawei: the risk that the EC will continue to adopt Huawei is If they claim it can be mitigated, they must prove that they know what the British experts don't know.'

Telecoms.com said on the pressure from Chinese authorities, 'The Communist Party should reconsider its actions before it retaliates against Western moves to remove Huawei from 5G technology. The Chinese move is a clear extortion. Not only that, but it also makes all Western companies think of moving their production bases from China. Will result in greater harm to China than it threatens.'