I heard at the Kyoto Aquarium 'Jellyfish Wonder' which renewed the secret story of the birth of the aquarium 'GURURI' where 'experience when surrounded by jellyfish in the sea'


Katsuhiko Matsumoto, director of the Kyoto Aquarium, about '
GURURI,
' where you can experience being surrounded by jellyfish in a 360-degree panorama, and '
Jellyfish Wonder
' at the
Kyoto Aquarium
, where you can enjoy the
jellyfish research up
close. I asked Mr. Seiki Kawasaki, Deputy Director, about the details of the renewal.
New exhibition area 'Jellyfish Wonder' | Umekoji 'Kyoto Aquarium' [Official Site]
https://www.kyoto-aquarium.com/renewal_Area/
The person on the left in the photo is Vice-Director Seiki Kawasaki, and the person on the right is Katsuhiko Matsumoto.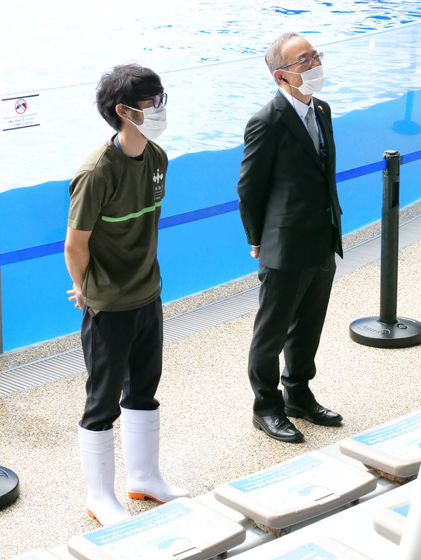 Q:
I would like to ask the director, but please tell me why you are a jellyfish when you renew.

Director Katsuhiko Matsumoto (hereinafter Matsumoto):
First of all, the question was 'why are jellyfish?', but since its opening, we used to have a jellyfish tank to go to kindergarten every year because it was a 'mobile aquarium.' One of the reasons is that the kindergarten children are really pleased and that not only kindergarten children but also seniors, young and old, regardless of age, sex, or age can be enjoyed and the healing is jellyfish.
Since the opening of the museum, the breeding team has been conducting regular surveys such as regularly going to Miyazu City, Kyoto Prefecture to collect jellyfish, but there are overwhelmingly unknown things to jellyfish. There is also a point that I would like to deepen my research on jellyfish and deepen it further, so this time I focused on jellyfish.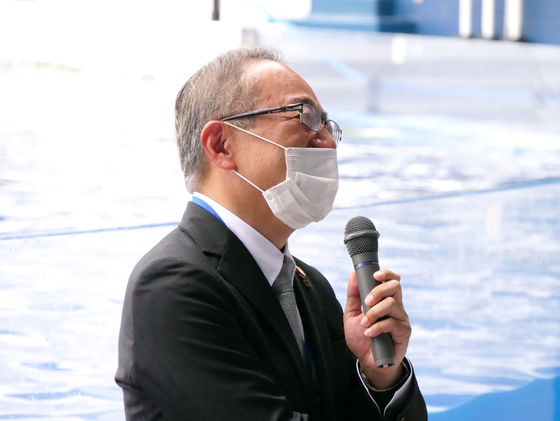 Q:
Is there anything you want to see or do you want to enjoy?

Matsumoto:
Although the jellyfish exhibition itself has been there until now, 360 that seems to be wrapped in jellyfish because we want you to feel more mysterious ecology of jellyfish, 'What kind of jellyfish are there?' I made a panoramic water tank.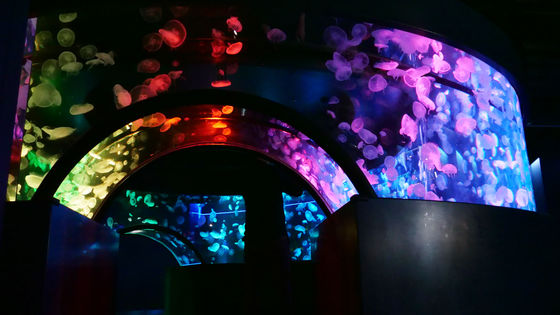 Matsumoto:
Jellyfish's 360-degree panoramic water tank is the first in Japan, and I would like you to heal it. We also created a 'Kyoto Jellyfish Research Department' that allows you to see the upbringing and breeding work that you have been doing in the backyard until now in an open space. This is a facility where questions and answers and communication are created between staff and customers. We would like you to enjoy it at such a new facility.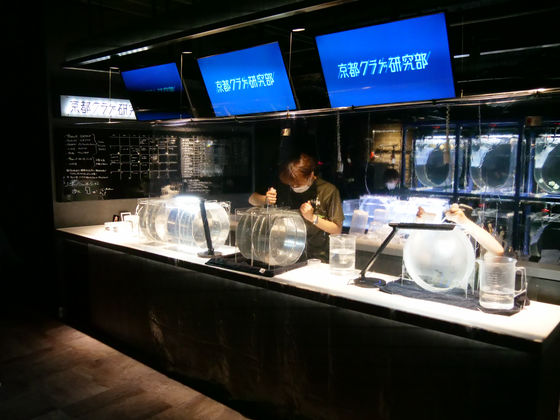 Seiki Kawasaki, Deputy Director (hereinafter Kawasaki):
To add to the question 'why are jellyfish?', in fact, when I opened the Kyoto Aquarium, I was exhibiting a little jellyfish, but at that time there was no one who was researching 'what kind of jellyfish are in Kyoto?' I have been conducting surveys since the beginning of business. On top of that, the breeding technology has improved, so I was fully prepared to select jellyfish. During my research, I have come to understand that there are a lot of this jellyfish in this year, and that there were no such jellyfish that I had last year, so I hope to be able to send information about that in the future as well. ..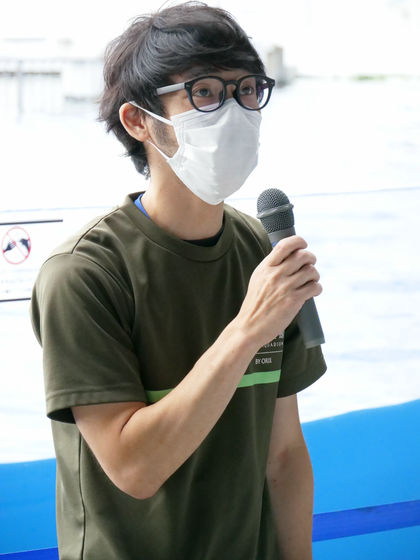 Q:
You didn't plan to do the renewal first, did you decide to do it because the research results of jellyfish have accumulated?

Kawasaki:
I wonder if there were both timings. I am always consulting about the fact that there are various researches that I am continuing other than jellyfish, and how I can disseminate them. There was a timing of renewal and a timing of wanting to enhance the jellyfish a little more, so it was like a jellyfish exhibition.

Q:
It means that you had been researching jellyfish before the opening of your business. What are the specific results of your research?

Kawasaki:
First of all, we are breeding with 100% artificial seawater, so we started with the question 'Is it possible to breed jellyfish with artificial seawater?' After that, I knew that I could try and breed various seawater year by year, but I am promoting the breeding in a healthy condition with less use of seawater. The museum is also focusing on breeding, and even those that were initially poorly breeding can now breed under artificial seawater. I think that is the largest. After that, we are continuing to research jellyfish, so we will make announcements in the form of 'jellyfish seen in Kyoto.'

Q:
Are there few facilities that are raised with 100% artificial seawater?

Kawasaki:
Only this museum and the Sumida Aquarium use 100% artificial seawater in Japan. There is no such thing as artificial seawater rearing including jellyfish, and the first place in Japan to start rearing with 100% artificial seawater is the Kyoto Aquarium.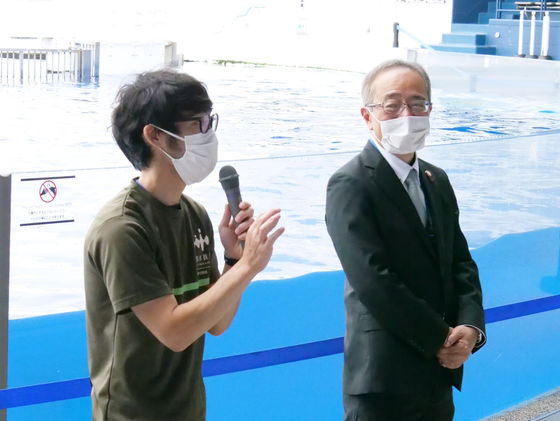 Q:
Are all jellyfish wonder jellyfish caught in the sea of Kyoto?

Kawasaki:
Actually, I'm not particular about that, and of course I'm focusing on the jellyfish that can be seen in Kyoto, but rather, 'There are various forms of jellyfish.' 'There are also colorful jellyfish. I am hoping to provide 'Yo', so I am displaying jellyfish that can be seen in various places without being bound by Kyoto.

Q:
Please tell us how to enjoy maniac jellyfish from the perspective of the breeding staff.

Kawasaki:
One of the reasons for creating the research department this time is that 'there are few jellyfish that can be found at a glance', and the size of the jellyfish is fairly small. Actually, there are many staff who like small jellyfish among the breeding staff, and I am looking forward to seeing small jellyfish up close in the aquarium. After that, the breeding staff can see the life of the jellyfish that were born in the aquarium and lived in the aquarium. As we keep ourselves close to the lives of the jellyfish, which are born with dozens or hundreds of them in one day, it is the most rewarding and enjoyable place for our breeding staff.

Q:
Does that mean that even the customers can see the newborn jellyfish?

Kawasaki:
Depending on the type, it may be quite difficult to see it at a small stage because it requires quite a lot of care to grow and manage the waterways, but this time, in front of GURURI, a panoramic aquarium containing the moon jellyfish, We are exhibiting the growth process. As for other jellyfish, I try to put things that can be seen in a small state at the Kyoto Jellyfish Research Department's counter as much as possible, so I hope it can be seen with the customer. I hope that the exhibition will show that 'small jellyfish will grow to this size' as much as possible.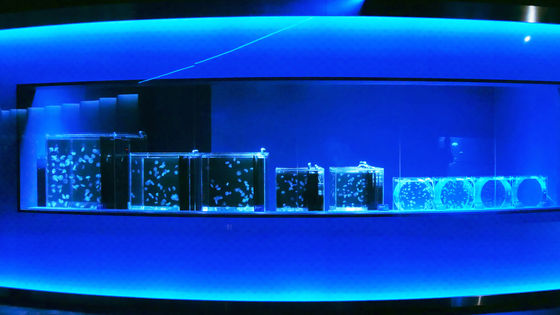 Q:
The jellyfish research department in Kyoto contained small jellyfish in a small container. Can jellyfish grow in a small container?

Kawasaki:
The container changes as it grows, but if you put a small jellyfish in a large area, you can not eat rice or gather jellyfish in a dirty place, so let's put it in a small container and eat rice For example, when I have the ability to swim myself, I will gradually transfer it to a large container. I hope you can see such a process.

Q:
You can see the growth process and become a jellyfish fan.

Kawasaki:
I agree. I think that is the most recommended point.

Q:
Originally, we planned to reopen at the end of April 2020, but please tell us how you feel about the new reopening three months later.

Matsumoto:
After all, it was unexpected, so I was really troubled. It's a really exciting experience to be able to show it to everyone at the reopening on July 16, 2020. I came to say that I want customers to come as soon as possible, so I'm really happy to finally be able to showcase it. That's all there is to it.

Kawasaki:
The things I was preparing for April 29th stopped, and I think everyone should have looked at it... I was confused as a keeper. From that point on, I think that we were able to upgrade it and bring it to a state that everyone can see, so I hope that many customers will see it.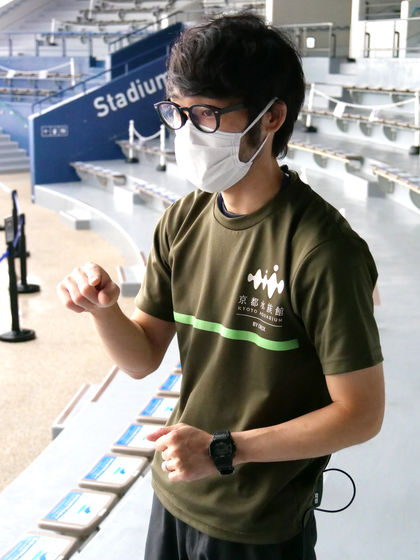 Q:
When did you have the idea of GURURI?

Kawasaki:
The idea was from an early stage. I mentioned earlier that I was conducting a jellyfish survey, but during the survey there was a day when jellyfish appeared so that they were surrounded by the sea, so I wanted to tell them about it. Originally, even among the breeding staff, I was talking about 'I hope you can feel the feeling of being surrounded by jellyfish,' so in that sense, it's an early stage.

Q:
How long did it take to complete the GURURI aquarium?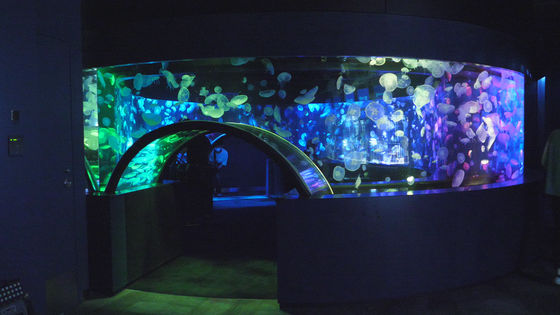 Kawasaki:
The aquarium itself was pretty fast after the idea was decided, so it took about half a year. I had a tank, but I started with the task of whether the jellyfish could actually rotate evenly, so it was really difficult after the tank was completed and I put the jellyfish.

Q:
Did the jellyfish not turn?

Kawasaki:
'There are a lot of jellyfish above the aquarium', 'a lot below the aquarium', etc., and the rest is like a tunnel, so I wonder if the jellyfish can pass through the upper part of the arch properly or if it gets stuck. The water flow has been gradually changed until now.

Q:
Is it because of the water flow that jellyfish are biased?

Kawasaki:
I agree. If you leave the moon jellyfish roughly, it will go up or down.

Q:
What kind of water flow did you adopt as a solution?

Kawasaki:
There are two types of jets, one is for spraying the top and bottom of the water tank, and the other is a water flow that rotates while rotating the entire water tank sideways.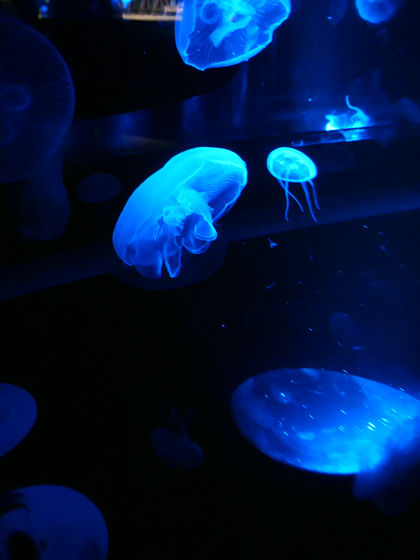 Q:
At first, there were not some patterns of aquariums as an idea, but there was a trial and error of what to do with the water flow after deciding the aquarium first.

Kawasaki:
It took time for the aquarium to be decided early and how to realize it,

Q:
Trial and error, while trying?

Kawasaki:
I agree. Jellyfish have a weak ability to swim, so it is imperative that they not be sucked into the drain while the water circulates. I'll be sucked immediately. I can't swim well. A jellyfish with long tentacles like a red jellyfish has a strong ability to swim, so even if it is sucked into the drain, it will escape by itself, but since the jellyfish is even weaker, it may have holes in its umbrella. Therefore, we are making countermeasures by constructing an aquarium that will not be sucked in.

Q:
Please tell us the reason you put the jellyfish in GURURI among many jellyfish.

Kawasaki:
The most popular jellyfish when you go to the sea is the jellyfish. The sea of Kyoto is also the same, but there are different jellyfish depending on the year, and there are many, but Mizu jellyfish is a year-round jellyfish, and GURURI is a familiar jellyfish that you can find first when you search for jellyfish in the sea. Contains a jellyfish.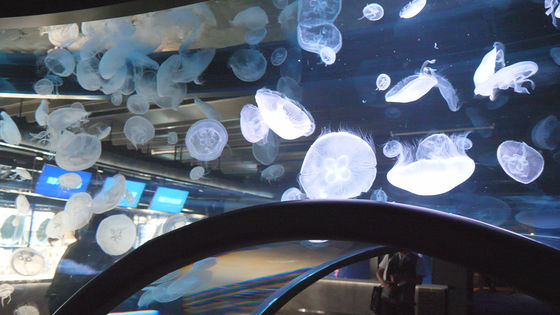 Q:
If you can enjoy the experience in the sea.

Kawasaki:
That's right. I'm actually stung (laughs)

Q:
It is a good point of GURURI that you can be surrounded by jellyfish without being bitten (laughs) Did you have any breeding staff who was actually surrounded by jellyfish in the sea?

Kawasaki:
I think there are all breeding staff. The jellyfish really come out. It's kind of strange, and it pops out and disappears.

Q:
If you haven't had much experience entering the sea, you don't even know that you are surrounded by jellyfish in the sea, so GURURI is a valuable experience. Jellyfish were supposed to enter the arched part of the tunnel, but was there any particular point in trying to let the jellyfish pass there as well?



Kawasaki:
Since it's a highlight to put it in, it is absolutely necessary to have an entrance, but as I decided to raise the entrance so that customers can enter easily, I initially lowered the frontage, but it was barely possible. Up to. I also like seeing jellyfish passing over the head, so I think it's good.

Q:
Is there any rule in the color of GURURI's light-up?

Kawasaki:
It changes every 3 minutes. It's one of the charms of the moon jellyfish that you can see it in various ways, so I hope that you also see it. The light is shining from below, and you can see the jellyfish clearly when it passes over the light, so when you look up close, it says 'There is such a line' 'There is something like a blood vessel' I hope you will see.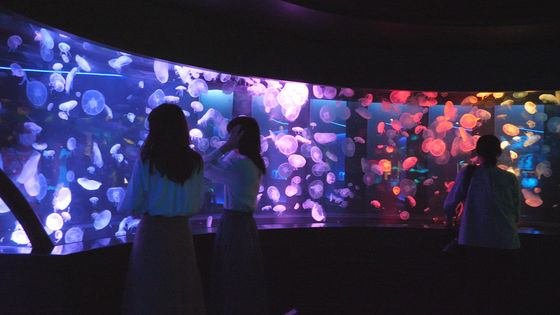 Q:
Besides GURURI, there were many jellyfish tanks. Some are in large aquariums, some are in small aquariums, is there any relationship between the size of the aquarium and the type of jellyfish?

Kawasaki:
I want people to see the creatures as clearly as possible, so one thing is that small jellyfish are hard to see if they are too far away. Also, when breeding small jellyfish in a large aquarium, you can swim freely and it seems easy to manage the water, but it is the opposite, it is difficult to confirm that you are eating rice properly, It's gone, so I feel that the size of the aquarium is decided according to the jellyfish.

Q:
When you renewed the jellyfish area, you had an idea to add GURURI and Kyoto jellyfish research department, but is there any idea you couldn't?

Kawasaki:
The first theme was 'I want to create something like a research department.' There were problems such as 'I can not see a small jellyfish' or 'I do not know what kind of creature a jellyfish is just by exhibiting it', so I asked them to see how they are doing research and see how they will be born I made a research department to let you know. I wish I could feel like raising them while there are customers next to me. In that sense, I think that it has been realized, but in the future, we are promoting the display of jellyfish, which is growing in size.

Q:
What was the standard for determining the size of GURURI?

Planning public relations Aki Okumura (hereinafter Okumura):
In the first place, due to space issues and immovable pillars, etc., in discussions about how to arrange GURURI in a limited space, it is designed to accommodate up to 30 people. However, since it is a state of 3 dense avoidance, we actually expect about 10 people each, and we plan to deal with operations that do not become dense.

Kawasaki:
It's too wide for a 360-degree experience, so I've adjusted it so you can feel the jellyfish in the back.

Q:
It means that you can experience the experience of being surrounded by 360-degree jellyfish. Thank you very much.