Nissin 'Tokyo NOODLES AFURI Awakening Super Spicy Yuzu Shio Ramen' tasting review with stimulating spiciness and rich umami and a refreshing scent of yuzu
From Nisshin
Foods, known for its cup noodles, 'Tokyo NOODLES AFURI Awakening Super Spicy Yuzu Shio Ramen
' that reproduces the taste of 'Yuzu Spicy Ramen', the signature menu of 'AFURI Spicy Ramen' in Shinjuku-ku, Tokyo, will be released in 2020. It appeared on June 29th. I actually tried it because it was a cup of spicy soup based on
chicken bouillon, combined with the pungent spiciness of chili peppers and the refreshing aroma of yuzu.
'NISSIN TOKYO NOODLES AFURI Awakening Spicy Yuzu Shio Ramen' (released June 29) | NISSIN FOODS Group
https://www.nissin.com/jp/news/8701
NISSIN TOKYO NOODLES AFURI Awakening Spicy Yuzu Shio Ramen | NISSIN FOODS Group Online Store
https://store.nissin.com/jp/products/product/9983/
Tokyo NOODLES AFURI Awakening Spicy Yuzu Shio Ramen package looks like this.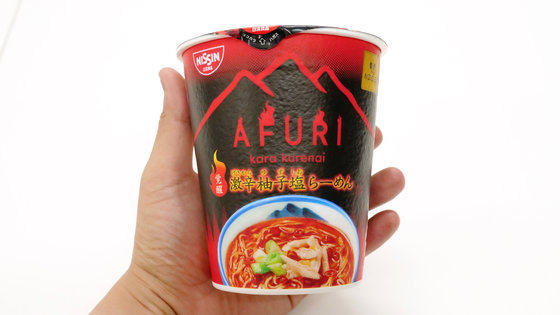 A bag of awakening sesame oil was pasted on the lid.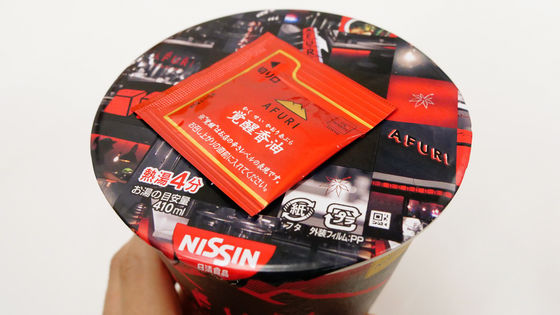 The spiciness level is set to '5', which is the most spicy on a 5-point scale.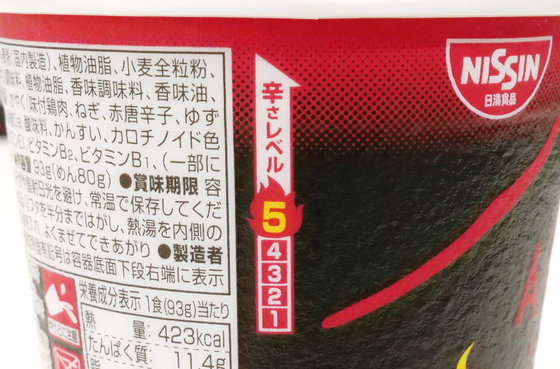 The raw material looks like this. The noodles are fried tofu and
whole grain flour
is used. The contents of the soup are fish meal, spices, sugars, chicken seasonings, vegetable oils and fats, flavor seasonings, flavor oils, lard, salt, dried bonito seasonings, powdered soy sauce, and fish sauce. In addition, Kayaku is seasoned chicken, green onion, red pepper, and yuzu peel.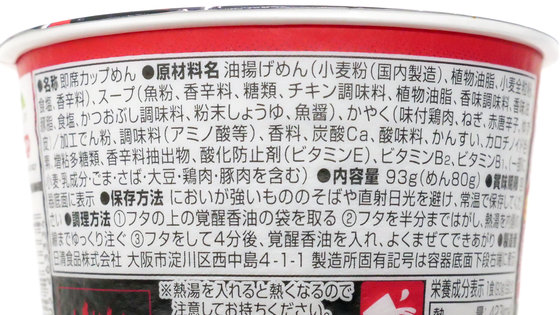 The calories were 423 kcal per cup.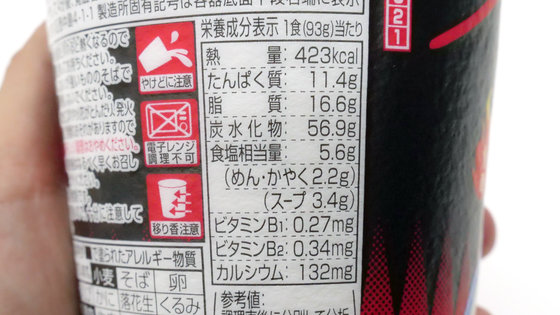 The place where I opened the lid looks like this. You can see dried seasoned chicken, sliced red pepper, and green onions. Also, at this point, you can feel the strong scent of yuzu.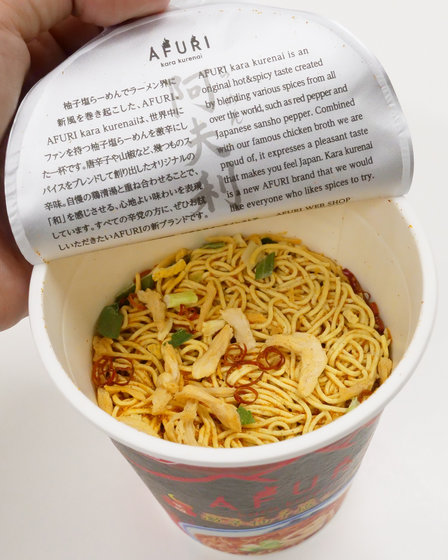 Pour an appropriate amount of hot water and wait 4 minutes.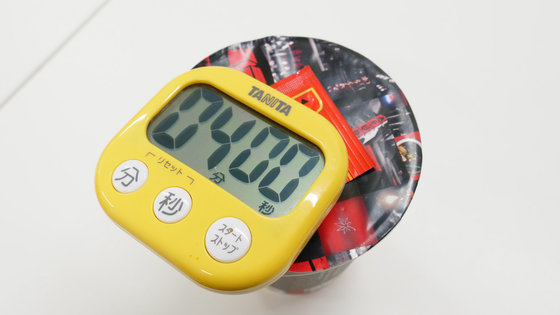 After 4 minutes, remove the lid ...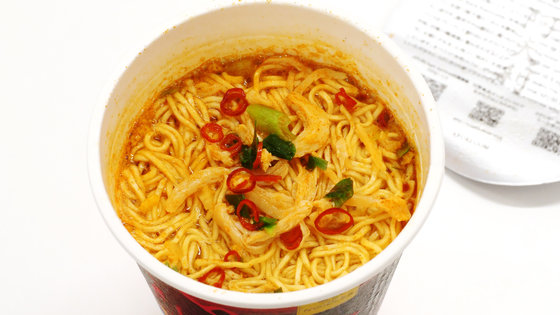 Sprinkle with awakening sesame oil.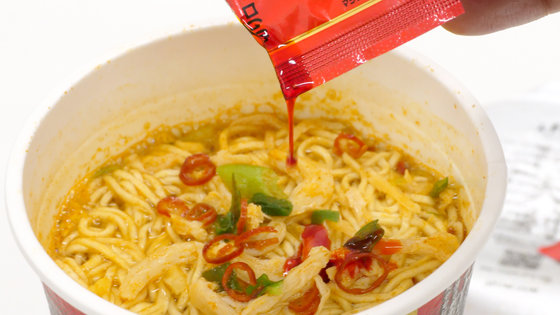 If you stir well as it is, it will be completed



When I first sipped the soup, the refreshing aroma of yuzu passed through my nose, and I could feel the sharp spiciness of chili peppers along with the umami of chicken and seafood. However, it is not just a soup that stimulates the sensation of pain, but the taste of the soup remains firmly after the spiciness has subsided, and it has a lingering taste.



The noodles are thin straight noodles. The texture and aroma peculiar to noodles using whole grain flour is perfect for the aroma of spicy soup and yuzu. The spiciness itself is at the level of 'certainly it is impossible for people who are not good at spicy foods', but it is not so spicy that it cannot be eaten. Some of the spicy ramen is just 'painful', but the taste of the soup and noodles is firmly felt, and the aroma of yuzu produces a refreshing aftertaste, which is said to be quite complete. I was impressed.