Movie posted by President Trump on Twitter and Facebook will be deleted due to copyright infringement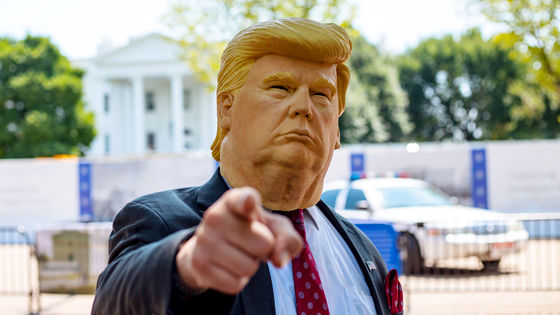 President Trump posted an edited movie on Twitter and Facebook on June 18, 2020 (Thursday), the photographer of the original movie claimed ``piracy'' and deleted it from Twitter and Facebook It is reported that it has been done.

Parent of toddler in'manipulated' Trump video forces Facebook and Twitter to remove it-CNN
https://edition.cnn.com/2020/06/18/business/trump-video-twitter-manipulated-media/index.html

Facebook and Twitter remove manipulated video from president's accounts after DMCA complaint-The Verge
https://www.theverge.com/2020/6/19/21297209/facebook-removes-manipulated-toddler-video-president-trump-copyright-claim-dmca-jukin

The original story of the movie uploaded by President Trump is as follows, and a black child and a white child run from each end of the road and hug each other.

Two Toddlers These 'Heartwarming Reaction To Spotting Each Other On The Street Will Make Your Monday. Https://T.Co/D1FN6AxmmD Pic.Twitter.Com/eSed92F2g6

— ABC News (@ABC) September 9, 2019


However, the movie posted by President Trump on his Twitter and Facebook was edited as if a black child was running away from a white child. The editor is believed to be Carpe Donktum , who regularly publishes memes and parody movies in favor of President Trump.

Immediately after the movie was posted, Twitter labeled the movie 'manipulated media', and Jukin Media, who manages the rights of the original movie, announced that 'it submitted a deletion request to Twitter'. The movie posted by President Trump on Twitter was deleted in response to a copyright infringement claim.

June 19, 2020


In addition, what was posted on Facebook was also deleted, and Facebook spokeswoman Andy Stone said, ``Based on the Digital Millennium Copyright Act (DMCA), copyright infringement from the rights owner of this movie In response to the allegation, we deleted the post.' The movie was played more than 4 million times until Facebook deleted it.

The children's parents and Jukin Media in the movie said, 'We didn't give the President permission to post the movie. Abuse of his content is a clear work that does not constitute valid fair use or other defenses. I think it's an example of infringement.'

On the other hand, White House spokeswoman Kaley McEnani asked when I was asked about the movie, 'I thought it was interesting.' 'When I actually saw the movie, I think that the president put a satire message.' I commented.