People are not gathering at the event of President Trump, the venue is rattled, is it due to mischief of K-POP fans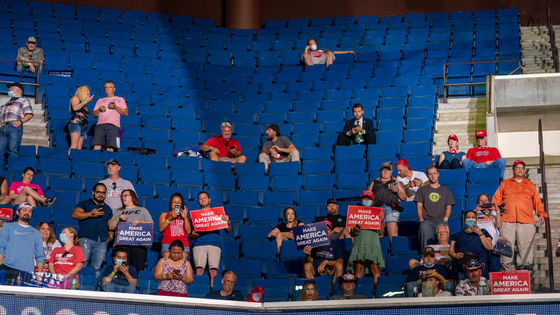 by Doug Mills/The New York Times

At a large rally of President Trump in Tulsa, Oklahoma, USA on Saturday, June 20, 2020, it was found that the number of visitors was significantly less than the number of reservations for admission tickets announced by the organizer. It was Reported vacant seats have been attributed to widespread mischief among K-POP fans.

TikTok Teens Tank Trump Rally in Tulsa, They Say-The New York Times
https://www.nytimes.com/2020/06/21/style/tiktok-trump-rally-tulsa.html

TikTok users are trying to troll Trump's campaign by reserving tickets for Tulsa rally they'll never use-CNNPolitics
https://edition.cnn.com/2020/06/16/politics/tiktok-trump-tulsa-rally-trnd/index.html

Trump campaign statement on bogus claims of ticket hacking | Donald J. Trump for President
https://www.donaldjtrump.com/media/trump-campaign-statement-on-bogus-claims-of-ticket-hacking

President Trump held a massive rally on June 20th at the BOK Center in Oklahoma. President Trump announced on Twitter the number of attendees for the rally admission: 'Almost one million booked tickets for the Saturday Night Rally in Tulsa, OK!' Since the BOK Center has a capacity of only 19,000 people, an event outside the venue was also planned for participants who could not enter the venue.

Almost One Million people request tickets for the Saturday Night Rally in Tulsa, Oklahoma!

— Donald J. Trump (@realDonaldTrump) June 15, 2020


However, when the rally was held, the venue attracted far fewer participants than expected. Looking at the photo of the venue posted by Steadman, a New York Times reporter, people gather on the floor near the stage and the audience seats, but there is a floor with nobody behind the camera I understand. Also, there are few people in the upper half of the auditorium.

As others are reporting, looks like attendance here in Tulsa is well below campaign's expectations. Here's the main floor at the arena currently pic.twitter.com/EASfSHL5nN

— Steadman™ (@Astead Wesley) June 20, 2020


The event was canceled because the participants did not gather unexpectedly.

Update:. Outdoor Area Has Completely Emptied Out Pic.Twitter.Com/XS8M0IJRFc

— Abby D. Phillip (@abbydphillip) June 20, 2020


According to the announcement of the local fire department, there were only 6200 participants in the rally except staff and reporters. Tim Murtaugh, a spokeswoman for Trump's support group 'Trump War Room,' said that the reason why there were few participants was 'Protesters against President Trump interfered with attendees' entry and metal entrance detectors. It was for 'the explanation we are. Certainly, it was reported that protesters gathered outside the rally and were stopped by the National Guard who was in charge of security, but the scale of the protest was not large.

The New York Times reported on the real reason why people did not gather, ``TikTok users and K-POP fans may have registered hundreds of thousands of admission tickets for President Trump's election rally.'' It was It started with a short movie posted by 51-year-old TikTok user Mary Jo Laupp. Mr. Laupp called in a movie, 'You can book an admission ticket for two people for free just by calling. Let's leave President Trump alone on stage'.



According to the New York Times, Laupp's call spread rapidly among K-POP fans through TikTok users, and it developed into a movement that 'I do not actually go while booking for a meeting'. Many of the exercise movies were deleted in a short time to hide the reality, `` I booked two tickets by phone, but I can not go because I have to attend the funeral of my dog and a goldfish.' ' ' I just booked for the meeting, but I forgot that I had to mop the window that day. This left my seat empty. The person who saw this had the same mistakes. I hope you don't repeat this. I'd like to see the seats for 19,000 people fill up.'



Elijah Daniel of YouTuber who participated in this movement told the New York Times, 'The movement spread through a group of TikTok users called Alt TikTok. We have partnerships to share and spread quickly.'

The exact number of empty reservations generated by this movement is unknown, but Brad Parscale, the manager of President Trump's election campaign, said, 'It is 10 times the past data ' at the time of 800,000 reservations . You can see the magnitude of the momentum.

In a statement released on June 21, Parscale said, ``The reporters who were happy to write about TikTok and K-POP fans without seeking comment from the rally organizers lacked professionalism. We are always fooled by this farce, and we are always excluding fake phone numbers when we calculate who wants to join us.' He called for people to avoid attending the rally because of protests, adding news footage to the recent rise of fire in various US cities, which has influenced family and child participation. It denied the series of press reports and revealed a sense of distrust in the mass media.

in Note, Posted by log1l_ks