Why you should buy a new 'display setting' and 'high resolution display of 4K or higher' that you should do right now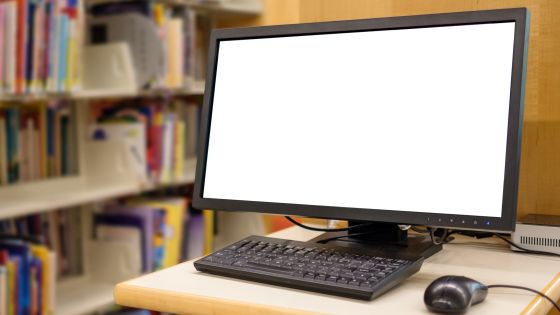 Not only high-end graphic boards, but also low-end graphic boards '
Radeon RX 550
' for 10,000 yen or less support 4K output, making it easier to build a high-resolution display environment. Programmer
Nikita Prokopov
says, 'It's time to upgrade your monitor,' and recommends replacing low-resolution monitors with high-definition monitors.
Time to upgrade your monitor @ tonsky.me
https://tonsky.me/blog/monitors/
Since Mr. Prokopov is a programmer, he is optimizing the monitor environment specializing in 'displaying characters neatly', and he does not care much about accurate color expression and color gamut. A Twitter survey by Prokopov found that approximately 43% of respondents use monitors below
150 dpi.
'The era of low-definition displays is over, high-definition displays are now commonplace,' commented Prokopov.
Your _primary_ working monitor dpi? Use this tool to calculate https://t.co/SY8Sfd1KER Thanks!

— Niki Tonsky (@nikitonsky) May 12, 2020


◆ Font hinting
Prokopov displays the monospaced font 'Consolas' developed for programmers in low and high resolutions and compares how they look. When the word 'Bug' is displayed at a resolution of 14 pixels, it looks like this. No matter how good the font design is, a few pixels cannot represent anything.




On the other hand, this is the 'g' displayed in 168 pixels. Naturally, it is clearly displayed.


It is said that powerful font hinting
is performed in Windows to deal with such problems. The characters on the right side displayed on Windows feel easier to read than the characters on the left side displayed on macOS.



However, Prokopov says that font hinting does not mean that characters look 'better' but 'good'. It has also been pointed out that font hinting can cause characters to lose their shape.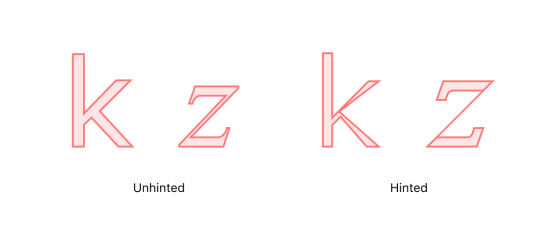 Also, in font hinting, even if the pixels that display characters are slightly shifted, the display will be significantly different. Prokopov uses '#' as an example.




When I moved the horizontal horizontal bar down a little, the characters became unclear.




The pixels of the display are made up of three vertically aligned
sub-pixels
, so changing the display for each sub-pixel can effectively triple the horizontal resolution, Prokopov said.



However, pixels represent colors by combining three colors, so this method makes the characters appear colorful.




To solve this problem, a compromise is needed to deviate the color of each subpixel from black.




This has improved readability, but the characters I want to display in black are turquoise and orange. While these tricks are essential for low-definition displays, they are also a compromise in an era when good displays weren't available, Prokopov said.




◆ Display settings on MacBook series
Prokopov enumerates two 'must do' in the MacBook series with Retina display. The first is to turn off the Use font smoothing when available setting.




This function was to enable sub-pixel anti-aliasing, but in 2018 Apple said that it removed the sub-pixel anti-aliasing function from macOS. Currently, Prokopov points out that turning on the setting only makes the characters a little thicker and just breaks the font shape.




In addition, Prokopov pointed out that the second setting should be 'integer multiple expansion'. For example, the 15-inch Macbook Pro Retina 2012 model has a screen with a resolution of 2880 x 1800, but the logical scaling resolution supported by macOS is 1920x1200, which scales at non-integer magnifications. It is said that it is going. The left side of the image shows the resolution of the OS UI, and the right side shows the resolution of the display.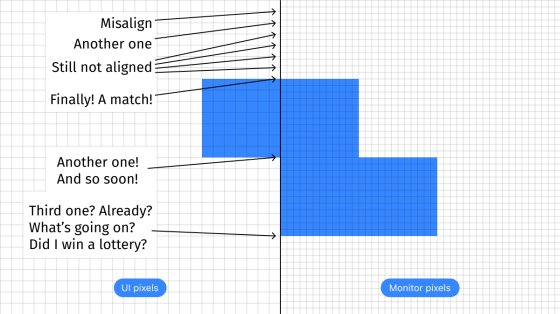 Prokopov says that it may not be possible to make one pixel on the UI side correspond to one pixel on the display side because the pixel is not enlarged by an integral multiple.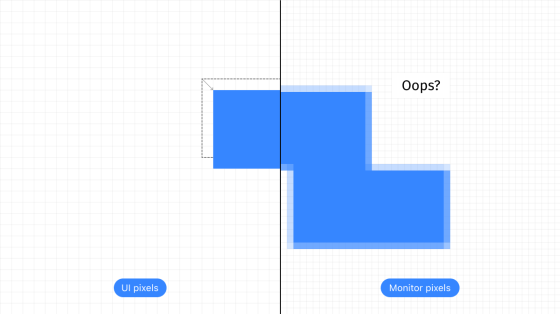 It is said that such enlargement that is not an integral multiple causes a problem that the UI is blurred depending on the display position of the window. Prokopov is concerned that this setting is the default.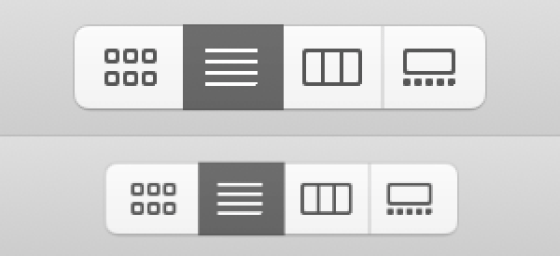 It is said that these problems can be solved by selecting 'Scaled' in the display settings and selecting a resolution that is an integral multiple of the display resolution. It can also be set using a third-party app such as
'Display Menu'.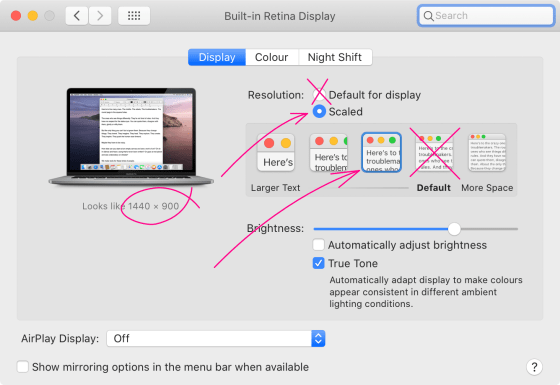 Windows has
an anti-aliasing feature called 'ClearType
', but it doesn't have an integrated UI that can be turned off in all software, and turning it off looks terrible, so leave it on. Is good.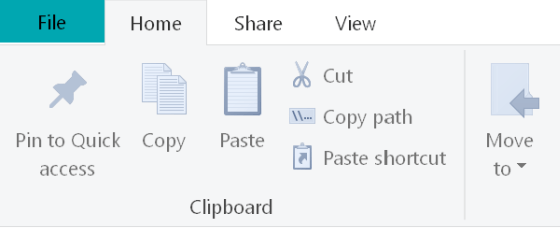 ◆ Display selection
Prokopov says that it is important to select a display with '5K or 6K, at least 4K or higher resolution' and 'scaling by an integral multiple'. Scaling twice on a 4K monitor is the same as 1080p in terms of display range, but it can display a bleed-free UI and characters.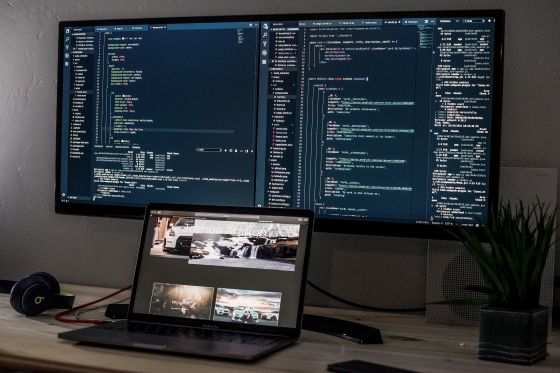 Also, as Prokopov said, 'The world was once divided into two camps, a'high resolution display'and a'high refresh rate display',' the refresh rate is also an important factor in selecting a display. It seems that there was not much demand from gamers and creators for 4K displays with a refresh rate of 120Hz, but Prokopov commented that 'there is an option of a 4K monitor with 120Hz', and this discovery is this article. He says he was motivated to write.

By using a display that supports a refresh rate of 120Hz, animation and scrolling will be smooth, and you will be able to do games and work with one display. The monitor update interval is 32ms for 30Hz, 16ms for 60Hz, and 8ms for 120Hz, so it's better from 60Hz to 120Hz than the 16ms reduction from updating from 30Hz to 60Hz. Prokopov said that while the 8ms reduction from the update had less impact, the upgrade from 60Hz to 120Hz also made a difference.

The final display recommended by Prokopov is below.

Amazon | ASUS Gaming Monitor 27 inch ROG SWIFT PG27UQ (4K / Quantum Dot IPS / HDR10 / 4ms / 144Hz / G-SYNC / Direct LED / Aura Sync / HDMI / DP) | ASUSTek |



Amazon | Acer Predator X27 LED display 68.6 cm (27 ') 4K Ultra HD Flat Black | Acer |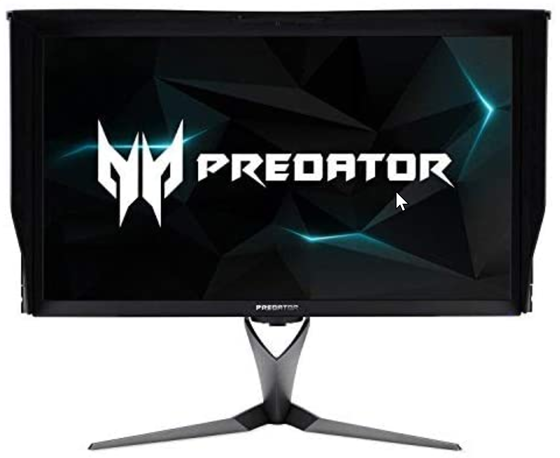 Amazon | Acer ConceptD 4K Display IPS Monitor CP7271KPbmiphzx 27 inch Delta E1 Less than Adobe RGB 99% DisplayHDR 1000 Pantone Certification Height Adjustment For Creators | ConceptD | Laptop Online Store



In addition, Mr. Prokopov is currently using 'Acer Nitro XV 273K'.

Amazon | Acer Nitro XV273K Pbmiipphzx 27 'UHD 3840 x 2160 IPS AMD Radeon FreeSync and NVIDIA G-SYNC Compatible Monitor, DisplayHDR400, Quantum Dot, 144Hz, 1ms, DCI-P3, Delta E1 | Acer |



In addition, 'Dell UP32 18K', the only 8K monitor on the market at the time of writing the article, was listed as 'everyone needs a dream'.

Amazon | Dell Display Monitor UP3218K 31.5 inch / 8K / IPS Matte / 6ms / DP / Adobe RGB 100% / USB Hub / Flicker Free / 3 Year Warranty | Dell | Display Store