Added a new function that can record up to 140 seconds of voice and tweet it on Twitter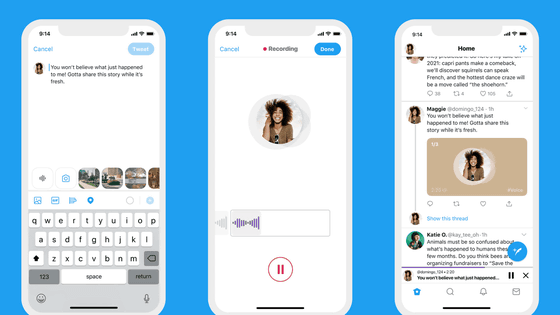 Twitter announced on June 17, 2020 (Wednesday) that, in addition to photos, videos, GIF images, etc., it will add a new function that allows you to record audio on the spot and tweet .

Your Tweet, your voice

https://blog.twitter.com/en_us/topics/product/2020/your-tweet-your-voice.html
Twitter adds ability to record audio in tweets-Axios
https://www.axios.com/twitter-audio-tweets-d2cc67b8-b0a5-43c2-90f5-554edf6076a3.html
Twitter is the official blog: 'Twitter is a place to discuss what's happening. For years, use photos, videos, GIFs, and extra characters to add talent and personality to conversations. But sometimes 280 characters isn't enough and you can lose some of the nuances of the conversation, so from today we're testing a new feature that adds a human element to how Twitter is used. That is the voice of the user himself."
A voice tweet is almost the same as a text tweet, and you can select the attachment of content at the bottom of the Twitter posting screen and tap the newly added waveform icon to start recording voice.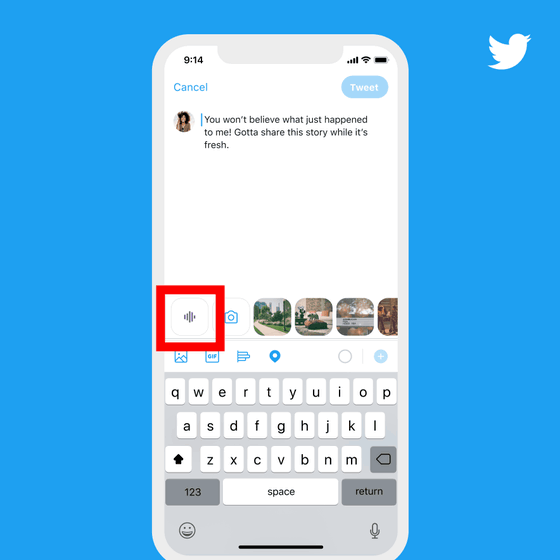 The voice that can be tweeted is up to 140 seconds, and when the time limit is exceeded, the tweet is automatically done, a thread is created and the rest is tweeted as it is. The tweeted voice can be played by tapping the thumbnail of the icon.

My first voice tweet

pic.twitter.com/9NwVfnbTE3 — The Enforcer ???? (@Vani_TheGoat) June 17, 2020


Also, in the iOS version application, a voice playback window opens at the bottom of the timeline, so it is possible to play voice while scrolling the timeline.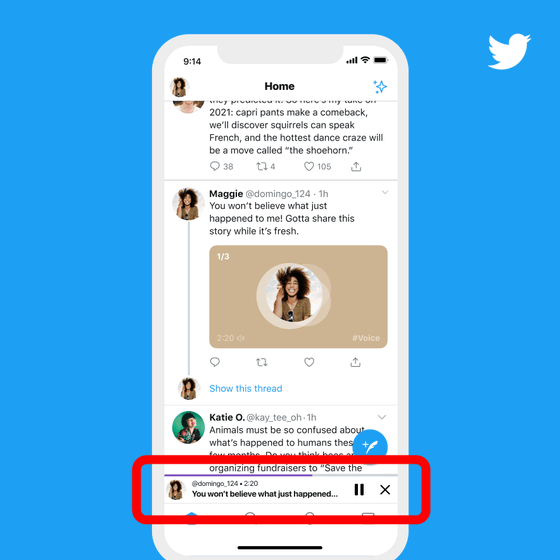 According to Twitter, from June 17th, it will be available to some limited users, and within a few weeks all users will be able to tweet audio from the iOS version of the app.