Hackers distribute popular residents free of charge to counter the black market where the residents of 'Atsume Animal Forest' are bought and sold for money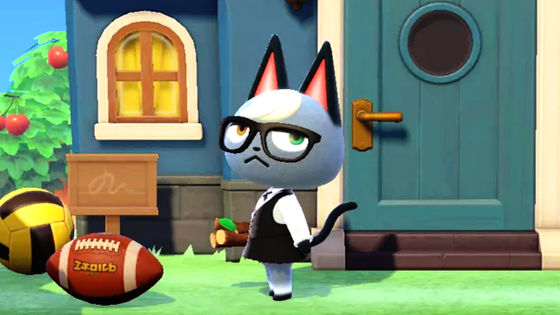 Released on March 20, 2020, the world-record record monthly sales of uninhabited islands with a slow and fun life in the miniature garden game ' Atsume Animal Crossing ' will bring various residents to the island. Among them, the cat wearing glasses, Jack is very popular, and there are players who sell Jack with a lot of miles travel tickets, bells, cash, etc. on the Internet. In order to break through the situation of human trafficking, one hacker declared that 'Distributing Jack free of charge' became a hot topic.

Animal Crossing: New Horizons hacker gave out free Raymonds to everyone-Polygon
https://www.polygon.com/2020/5/21/21266398/animal-crossing-new-horizons-raymond-hacking-nintendo-switch-villager-black-market-free-nook-miles

In the Atsume Animal Crossing Forest, you can invite residents to the uninhabited islands you cultivated. Among the residents of 35 races and about 400 people, the most popular is Jack with black-rimmed glasses and cool words.

[Animal Forest] Recent Jack pic.twitter.com/H8u9utxNjp

— Snow blade @ Momo no Amane (@ no13yukiba) May 15, 2020


Jack is very popular, and there are many players on the Internet who sell items such as the in-game currency bell and mileage travel tickets, and eventually Jack in cash. The game market, Polygon, points out that the market has formed. Also, since Jack is a new inhabitant of the Animal Forest, there is no Animal Forest amiibo card , so it is more difficult to obtain than the inhabitants of the previous series. It was Poké Ninja who opposed this situation and called on Twitter to 'distribute Jack free of charge.'

In order to transfer the residents of the island to another person, it is necessary for the recipient side to move the residents on their own island first, and then the receiving party talks to the residents on the island of the recipient side and invites them to their own island. .. In other words, once you give it to someone, Jack disappears from his island, but Poké Ninja seems to be able to make Jack appear on his island many times and distribute it by using a hacking tool. .

And Poké Ninja said that he distributed 36 jacks to players all over the world in about 4-5 hours. Too many reactions came back and I could not process it, so the tweet when calling was already deleted.

I am now deleting the Raymond tweet so that the list doesn't get out of hand, it's already pretty long

I will be going through each of yesterdays responses and only have availability for those that are around when I am doing this today as it's going to take hours of my time

— Poké Ninja (@iPokeNinja) May 18, 2020


Nonetheless, it seems that a lot of direct messages requesting 'I want you to send Jack' will be sent to Poké Ninja.

So you guys understand.I currently have about 100+ PMs + 100+ replies all asking me for a villager.I'm not ignoring y'all. Just gonna need time to answer any of these questions.

Please see my pinned tweet for any more info on a villager. Hope you understand and thanks again! Pic.twitter.com/zcEsi4rwjP

— Poké Ninja (@iPokeNinja) May 22, 2020


On Twitter, the comment of the player who received Jack from PokéNinja has been tweeted.

'I am so grateful to Poké Ninja for giving this selfish boy Jack.'

Big thanks to @iPokeNinja for this smug boi! #AnimalCrossing #ACNH #NintendoSwitch pic.twitter.com/Jq7iRk6Zil

— Hermy (@SeishinHermy) May 19, 2020


'Thanks to Poké Ninja, I was able to adopt Jack, thanks.'

AAAA IT'S HAPPENING #AnimalCrossing #ACNH Thank you @iPokeNinja for letting me adopt this boy ???? pic.twitter.com/TZaICkfef9

— Nyx ☀️ #MassTestingNowPH (@_psionyx) May 19, 2020


"I finally got my favorite resident! Thanks, Poké Ninja"

I FINALLY GOT MY FUCKING NUMBER 1 VILLAGER THANK YOU @iPokeNinja pic.twitter.com/ZX84uR7a4b

— Shipping (@ShippingOW) May 18, 2020


It seems that some of the players who received Jack tried to thank Poké Ninja with a bell and mileage travel tickets, but Poké Ninja did not receive it. Poké Ninja says, 'My goal was not to ask for anything in return, and to give out Jack the same way that Jack sells Jack on the Internet.'

Poké Ninja said, '(Jack's popularity is high) It's easy to imagine a child begging his parents to'call Jack to his island ', and parents who can't afford big bucks for Jack. I know there are a lot of people there, "he said, and he hopes to carry out the same project again someday.

in Game, Posted by log1i_yk