Headline news on May 19, 2020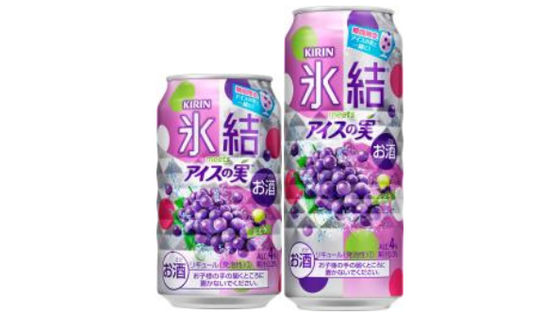 A collaboration product `` Kirin Hyakuyu meets Ice Fruit '', which is a popular grape flavor from Ezaki Glico's `` Ice Fruit '' and arranged in the way of Kirin's Chu Hai `` Ikyuu '', will be released on June 16, 2020 (Tuesday). .. The collaboration is the second time since 2019, and pursuing the deliciousness of 'putting ice fruit in Chu-Hi' which is popular in the street, it is said that it has a taste that you can enjoy a rich fruit juice feeling. The alcohol content is 4% and both 350ml and 500ml cans are sold at the open price.

By the way, this article was posted on the same day of the past month.

`` Battleship Missouri Memorial '' which became a memorial hall for the world's largest existing battleship with a total length of 270 m tells the history of the 20th century with a powerful force-GIGAZINE

You may be able to think more concretely by just thinking about coffee and raising your alertness-GIGAZINE

Why shouldn't the number be divided by '0'? -GIGAZINE

Claim that action movies have failed due to the influence of the `` Bone '' series-GIGAZINE

There is a city with a `` hidden diving spot '' 30 meters underground in the city area-GIGAZINE

Keihan's first paying seat designated vehicle `` Premium car '' unveiled, 3-row seat with outlet & Wi-Fi equipment-GIGAZINE

The famous machine `` DC-3 '' came to Japan and participated in the experience flight of `` Breitling DC-3 World Tour ''-GIGAZINE

`` Breitling DC-3 World Tour '' event report that I was able to board the rare masterpiece `` Douglas DC-3 ''-GIGAZINE

Bison children helped by the general public in `` good faith '' are abandoned by their parents and euthanized-GIGAZINE

[Obsolete] Yuko Mizutani, a voice actor who plays 'Chibi Maruko' sister and 'Black Jack' Pinoko, died-GIGAZINE

◆ Material (memo, various other)

Speak in Japanese already pic.twitter.com/7ufmwrIuxd

— Ayano. (@ Ayano__02f) May 18, 2020
Haven't you left your stuffed toy? pic.twitter.com/i3cis85YSs

— Oga Koga (@eatmorecakes) May 18, 2020
Godzilla can be seen from the window of the house next door, so when I was facing the gamera, Godzilla turned to me one day. pic.twitter.com/k2JWgUOWj4

— EP (@ELPACHOPAMYOLE) May 18, 2020
I made conveyor belt sushi (Kura sushi) with Plarail. pic.twitter.com/QU7g2R2HFT

— Hisa (@ hisa_916) May 17, 2020
This is the worst shelf I found at a bookstore today pic.twitter.com/redZgURM3L

— Udo (@udoP_) May 18, 2020
Go board that has been checked as a junk item without operation pic.twitter.com/rFqMxPGsSN

— BURABI @ BLIND RABBIT (@ blindrabbit1) May 18, 2020


◆ Science (Science / Academic / Technology)

Mr. Hashibirokou and Pelican suddenly opened their beaks wide and put out unidentified things. Did you know that this is their 'spine'? pic.twitter.com/UGn8Ki2MBx

— Itchi @ Virtual Psychiatrist (@ichiipsy) May 19, 2020


Dani, extinct with Japanese crested ibis that has completed to the end: Asahi Shimbun Digital

New corona infected person, research on surrounding environment before onset of research 1 photo International News: AFPBB News

◆ Society, politics, economy (incidents, world news, business)

Each paper this morning is spectacular. Yomiuri, which has been reported in small articles so far, is also the top page following yesterday's 'Send off consideration'.

However, it is significant that the government did not withdraw the special case of extension of retirement and continued deliberation. The arrogance of forgetting public opinion in the autumn is transparent. The problem has not been resolved, and we will continue to pursue it. # Prosecutor's office law revision proposal abolished pic.twitter.com/XXdzryZCqa

— Taku Yamazoe (@ pioneertaku84) May 18, 2020


Prime Minister will give up to 200,000 yen to students who have a difficult life | Cabinet decision on 19th | NHK News

New corona: US modeler confirms corona vaccine antibody Large scale clinical trial in July: Nihon Keizai Shimbun

Home electronics mass retailer that must wear a mask Sold to a forgotten boy for '3,990 yen' |

New Corona: Mr. Trump reveals "taking unapproved drugs" to prevent corona (Photo = AP): Nihon Keizai Shimbun

'Abeno mask, if not needed, return to collection box' Effectively use unopened items [New coronavirus]: Asahi Shimbun Digital

'Ministry of Justice Proposal' Prime Minister's remarks extend to the mandatory retirement age, doubting emphasis on irrelevance | Kyodo News

Prosecutor's Office law amendment, attitude toward establishing as it is current law Minister Mori [Prosecutor's Office law amendment]: Asahi Shimbun Digital

Prosecutor's Office Law Interpretation Change Chief Cabinet Secretary `` I did not need to be informed ''

Takamatsu City to cancel online application 100,000 yen benefit, many input errors | Kyodo News

5 new infection confirmed in Tokyo, the smallest new corona since the declaration of emergency | NHK News

Starbucks 850 stores reopened today due to new corona closure | NHK News


This morning, Yomiuri's report on 'Considering the prosecution's bill send-off' was focused on the fact that if Prime Minister Abe's views on Yoshiko Sakurai became the focus and the Ministry of Justice announced the facts, it was decided that the resignation of the prime minister would be unavoidable. Isn't it? Therefore, I think that the truthfulness of this word of Prime Minister Abe must continue to be thoroughly pursued. https://t.co/0z2xZaYg3k

— Yuichi Kaito (@kidkaido) May 17, 2020


100,000 yen cash payment Online application highlights issues in various areas | NHK News

Sony company name changed to 'Sony Group' as of April 1, next year | NHK News

Prosecutors Office postpones amendment to law 'No effect on Attorney Kurokawa's personnel'

Learning app error series / Use of half of Benesse high school

'Northern territory is the sovereignty of Japan' diplomatic blueprint, change from deletion: Asahi Shimbun Digital

Pachinko parlor parking lot in Yamanashi, hit by 90-year-old and died 90-sankei news

◆ Lifestyle (life / life / health)
'I have diarrhea every time after eating.' A person who has a healthy bowel but is prone to diarrhea after eating, gave advice on Twitter. The frequency of diarrhea decreased 'I understand this!'-Togetter


[Tips for fluffy egg soup]
① Turn off the heat when the soup is boiled ② Stir in one direction to create a water flow ③ Rotate backwards and add the beaten egg → The egg will be fluffy, like a heavenly girl's coat. The appearance and texture are different.

It was 'Middle and Much faster, better known, and better!' pic.twitter.com/wlpSZQhLuz

— Zennoh Public Relations Department [Official] Enjoy Japanese food (@zennoh_food) May 18, 2020
The washing does not become painful pic.twitter.com/t2CQYsu1Ly

— Puccho (@puuuutttyo) May 18, 2020
I tried to cook Funawa potatoes with unsalted butter.
It's a sinful taste, but I'm telling you that it's official. It can not be helped. pic.twitter.com/UZ96Rmns01

— Sword The Huge Zanbar (@ DAIGATANA) May 18, 2020
Finally, Daiso started selling Daiso masks normally, so it may be good to see that the lack of masks is completely ending # mask price collapse pic.twitter.com/amInhnFlzQ

— CDB (@ C4Dbeginner) May 18, 2020
Walking has Once small puddle or a thinks Ya by the Akankohan ... Although the wooden sticks that I found the Swamp bottomless there was more than 180cm was not attached to the bottom pic.twitter.com/3EkGjDg6ay

— Akan Nature Center @ Outdoor Guide (@Akan_Nature) May 18, 2020
The supermarket 'with creamy cheese and porcini' is full of scent of mushrooms. https://t.co/uBCK3iYum4

— KEISUI ART STUDIO (@keisuiart) May 18, 2020


◆ IT / gadgets (net, software, hardware, mobile)
Deno 1.0 release commemorative illustrations drawn-No Regrets in Bathing


When I woke up at the bedside in the middle of the night with a loud noise, '... Miss ... Misimi MiMiMi ... Bakotsu!', The Chinese tablet I bought a few years ago (uncharged) was torn. Wow, battery pan and pan.
It was really good because it didn't matter. pic.twitter.com/logTJs7Knz

— Ichikawa (ICHI) @ Comiket C98 canceled (sad) (@ atsuyuki1kawa) May 17, 2020


'Shut up' Attacks women who say things intensify SNS full of abusive voice: Asahi Shimbun Digital

Who will kill the work? | A reader | note

Sequel-Who kills the work? | A reader | note

◆ Anime, games, manga (subcar)

The cumulative sales volume of the DARK SOULS series has exceeded 27 million. It's a great honor for many people to play. We are developing a new title so that everyone can enjoy it again, so I hope you can expect it. pic.twitter.com/utwl6Se97J

— FROMSOFTWARE (@fromsoftware_pr) May 19, 2020
Small tambourine player # Small music band pic.twitter.com/QIYsdSSWac

— Blue ham ham (@THEBLUEHAMHAM) May 18, 2020
Welcome~! pic.twitter.com/wwaWDD6B3Q

— Mamemid Vtuber (@mmaaeemm) May 18, 2020
If you experience from Kazuya Minekura's assistant to the comicalization of God Eater, the face of the warrior is full of scratches, the stones are flying in front of the camera and I can not feel unless I crack the floor pic.twitter.com/5Zz4BJkjmI

— Ikumi Katagiri (@ iku_mi193) May 18, 2020
Hello Kedomo'm sensitive system groupie old hag on the tag of the fashion! !
I didn't really understand it in a challenging spirit, but I drew it!
What do you mean! ? is this okay! ?
I'm not sure, but I became Ryo-chan who put in a Sailor Moon MOD, but I wonder if it fits! ? #sailormoonredraw pic.twitter.com/wdChHwoMgm

— Kirariyama Yu (@ymzkmsr) May 18, 2020
The one who drew Party Parrot with a function, which he said 'wasting his talent', may not be a waste of technology.
Comparing with the conventional method (video created by the principle of so-called 'flip-book manga'), we can see that the proposed method is slimmer. #Variable t pic.twitter.com/iuSu7pTZ0M

— CHARTMAN (@CHARTMANq) May 18, 2020
White colored with a single blow, and the silver and silver staff worked as a paint maker and said, 'A marker can paint such a beautiful metal color !?' We hope you will experience the power of the Mackey Paint Marker. It's interesting. #nippper https://t.co/QiDc7K4hET pic.twitter.com/0pGtVwPnen

— Karapata (@kalapattar) May 18, 2020
Following the controller of Volte, the result of trying APEX with the controller of DanceDance Revolution pic.twitter.com/L0X2EPPvef

— A little Takasaki Unnie @ 19:00 APEX delivery (@takasaki_sister) May 18, 2020
#Air Committee #COMITIA
It has passed the time, but it will be open to the public for about a week.

Wizard's disciple (1/10) pic.twitter.com/P5iQ6ShfHw

— Shimoji Akira (@shimojishobo) May 17, 2020
#sailormoonredraw
Sailor Moon pic.twitter.com/bumDseDAVC

— Sadamatsu Ryuichi (manga artist) (@ ryuichizzz) May 18, 2020
In the brain when doing Apex, it is like this pic.twitter.com/8A9xXvSatG

— Chibi (@CHiBi_officiaI) May 18, 2020
Son who stopped taking a nap and the solution (1/3) pic.twitter.com/NPOfrUtHQR

— Ayaka Sayaka (3/3 new release) (@akiba_sayaka) May 18, 2020
It is a story when I stayed in a lounge wear all the way through the stay home and adjusted makeup and grooming for the first time in a month #Isho Pin 5 `` Why I am cute '' 1/2 pic.twitter.com/LkYUtEQyub

— Yuicco (@yuiccooo) May 18, 2020
Doraemon stamps released tomorrow at the post office are super cute, so please get everyone https://t.co/3fUzuVoDiR pic.twitter.com/VC45MOeMX1

— Nnpana (@nnpanaki) May 19, 2020
I like this too much already pic.twitter.com/QWBmeTjiSp

— Pleasant soba restaurant @FerdaGirls (@Yoshimura_Walk) May 17, 2020
# Nuonthat pic.twitter.com/tv32qGlP8l

— Ixy (@Ixy) May 19, 2020
I bought #Black Warriors released by Gwangyang Orient Japan!

Reflectivity, amazing 0.8% (absorption of 99% or more of light)

The left halo is a general black paint (3 coats)
The right one is black warriors (3 coats)

It seems that there are holes in the space ... pic.twitter.com/hHLxNmq0IZ

— FLT (@flt_chiba) May 18, 2020
Kotaro Tatsumi 'You will save Saga!' #Sailormoonredraw pic.twitter.com/3mpy6wxt2f

— Somasotaro (@somasoutaro) May 18, 2020
I drew Party Parrot with a function. It works by changing the value of the variable t. The color changes.

I will put a desmos link on it so please give it a try.
↓↓↓ https://t.co/9h7aA4K8xJ pic.twitter.com/SiP2SDvOTX

— CHARTMAN (@CHARTMANq) May 17, 2020
There was such a review when I was thinking of purchasing an additional Switch programming console on Amazon Σ (゚ Д ゚)
I'm not sure how to put the individual review link, so I'm sorry for squeaking pic.twitter.com/1mMpr1dlqq

— Egg (@ sarapapa227) May 18, 2020
I made a vtuber Tsukinotomi Usagi with a paper cup. # Paper cup vtuber # Mitoart pic.twitter.com/XSVL8Res4o

— Shinra Shinge shinrashinge (@shin___geki) May 18, 2020
Tensai! Hakase-chan 2 pic.twitter.com/7oFKPj1Jf9

— Somechime @ Book ① ② Now on sale! (@ Sometime1209) May 18, 2020
Sailor warrior pic.twitter.com/eYjzhvMXNT

— Sueki (@suekichiii) May 18, 2020
Vocalo P upbringing game covered with prejudice Cartoon game over edition pic.twitter.com/ZN5X3sAq00

— Shirokuro (@ shirokuro_3939) May 18, 2020
# Sky memorial pic.twitter.com/1asqur4bIV which exchanged very different cultures

— Awakening (@mezamento) May 17, 2020
A story that Twitter's common sense is not always common sense in the world pic.twitter.com/PAdNAIgRny

— Chanoyama (@ d1_earth) May 17, 2020
The story of the greatest luck in life
# Hashtag that can read manga # Strong dialogue pic.twitter.com/qWNHNLaSYl

— Kojimama Yuko (@ cotori9) May 18, 2020
I think it's each, but it's nice to have them like you pic.twitter.com/k0hWwTgjsZ

— Rainbow running (@nijibashiri) May 18, 2020
Lapu Rongde # Arc Knights # Arknights # Tomorrow Boat pic.twitter.com/f7OBP3GCe7

— Yoko Yamakawa (@YOKO_OWO_) May 18, 2020
[Fire Emblem Heroes] I drew an illustration of 'Silver sister and green brother Mikaya'. Thank you! https://t.co/owVNmYbDuS #FE Heroes
pic.twitter.com / clzovEBmim

— Teffish (@teffish) May 19, 2020
Even if you reuse the perspective line almost completely, you can make a completely different picture pic.twitter.com/a4QwzSIFlo

— Garbage sesame (@ omao51062020) May 18, 2020
Sailor warrior Mizore #sailormoonredraw pic.twitter.com/hPnFunqdiW

— Yu. (@ wishbone777) May 18, 2020
[Rabbit] God is also a god pic.twitter.com/6sep7Dhql4

— Usagi Mimi-chan, "I with a low self-affirmation" is on sale (@usagitoseino) May 18, 2020
Yoiko's reading Kinniku picture book 'Mizutama Shatsu' pic.twitter.com/BnffA5qkOO

— Fun animal land (@tanoshidoubutsu) May 18, 2020
Perfect one's only fault picture I made into a picture diary pic.twitter.com/09cr1pVqRQ

— Hatopopoko (@hatopopoko) May 19, 2020


Personal consideration of Sailor Moon MUJI episode 34 that Director Anno cried-Togetter


The scene that Hideaki Anno was most impressed with at Sailor Moon was the transformation story of episode 34, where the rabbit turned his face red.
The reason seems to be that 'during the crisis of life, the rabbit made the decision to show Mamoru naked for the first time, and touched the chord of his heart.'
.. pic.twitter.com/4oUpXuyvMs

— Tona (@ tona_tona2) March 29, 2014


This day has finally arrived ... | Hiro Mizushima Official Blog Powered by Ameba


What is scary with the hit of the devilish blade, it is a fact that there is 3.5 million copies until it is animated even though the cartoon with the potential to sell 60 million copies is serialized on the Champs-Elysees in the manga world called Weekly Shonen Jump. .. Even parallel paradise is nominally 2.2 million copies. It's an era in which even if serialized in Jump, it won't stop in the eyes of the general public. scared.

— Rin Okamoto (@okamotolynn) May 18, 2020


2ch All AA Illustrative Plan Tabungo no Uta [Tabungo no Uta]

Taberuko's room-Nico Nico Douga



Eating a song (Okinawa)-Nico Nico Douga



Balalaika & not to eat & not to do-Nico Nico Douga



Minagiru Akari and others [Handwriting] [Torres]-Nico Nico Douga



Don't say 'apple'-Nico Nico Douga



Ngo is a garment-Nico Nico Douga



◆ Sports / Entertainment / Music / Movies (Entertainment)

[To everyone who supports us from Ryunosuke Kamiki] pic.twitter.com/fkJpdyhLmJ

— Ryunosuke Kamiki (@kamiki_official) May 19, 2020
A few years ago, when I got an interview because I wanted to become an employee of Yoshimoto, pic.twitter.com/pSIYG6NvpI

— Yamamoto Yamamoto (@yamagemoto) May 18, 2020


◆ New products (clothing, food, housing)
Melting sweetness carbonated drink 'Mitsuya' melting mango mix 'using mango puree from carbonated drink' Mitsuya 'brand born in Japan on sale on June 2 (Tuesday) Refreshing aftertaste with apple juice! | News Release 2020 | Company Information | Asahi Beverage

Introducing the brand's first flavor! 'Takenoko no Sato Kuromitsuki Natako' May 26 New Release / Nationwide | 2020 | Press Release | Meiji Co., Ltd.