New Coronavirus Explodes Online Shopping Demand, Records More Than Black Friday


With the pandemic of the new coronavirus infectious disease (COVID-19), people are now buying various products from online shopping sites rather than physical stores. Meanwhile,
PriceSpider,
which provides data on consumer behavior for manufacturers,
reports
in a blog post that
``
the impact of the new coronavirus has dramatically increased online shopping demand and the number of transactions exceeded Black Friday ''. did.
Online Pandemic Platform Transactions Are Officially Bigger Than Black Friday-PriceSpider
https://www.pricespider.com/pandemic-shopping-black-friday-sales/
In the United States, Friday, the day after
Thanksgiving
, is called
Black Friday,
and large-scale bargain sales will be held at retail stores, etc., both as an outpost of Christmas sale and a sale-out sale of Thanksgiving gifts. Therefore, it is said to be the most promising day of the year in the American retail industry.
Read the article below to get a good idea of how massive Black Friday's sales are.
A movie showing the chaotic state of `` Black Friday '' where people rush into the shop with tremendous scale and momentum-GIGAZINE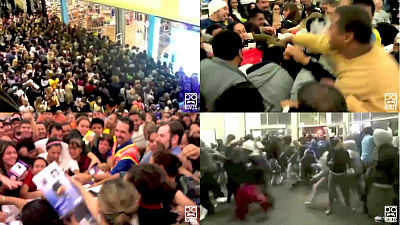 In November 2019, Americans spent $ 7.4 billion (about 800 billion yen) on online shopping, and just three days later on
Cyber Monday
, the highest sales of 9.4 billion dollars (about 1 trillion yen) Recorded on an online shopping site. However, despite achieving record sales in 2019, transactions and traffic on online shopping sites are increasing again due to the COVID-19 pandemic that occurred just a few months later.
Given that COVID-19's pandemic is longer than Thanksgiving to Cyber Monday, it's no wonder that online shopping site traffic during the entire pandemic period outweighs traffic before and after Black Friday. However, according to PriceSpider data, the number of online shopping transactions during the week from April 22, 2020 to April 28, 2020 is from Black Friday, November 29, 2019 to December 5, 2019. It turns out that it was 22% more than in one week. In the graph below, the light blue part shows the number of transactions at the same time last year, but since the middle of March when the damage of COVID-19 became serious in the United States, the number of transactions has increased at a stretch I understand.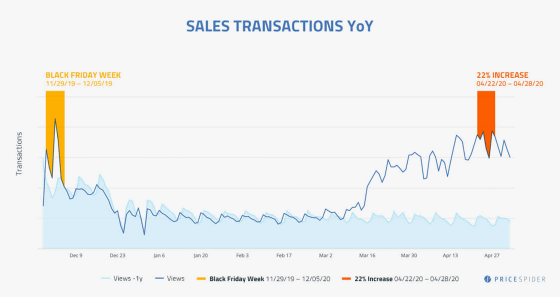 Also, the traffic volume of online shopping sites from April 22nd to 28th has increased by 59% compared to before and after Black Friday. PriceSpider said, "Brands and retailers are doing their best to make Black Friday weekend the biggest sales event of the year. For decades, consumers have been looking for deals in the last five days, I've been trained to do big shopping. ' 'It's shocking that the voluntary changes in consumer behavior from the COVID-19 pandemic are driving more deals than before and after Black Friday, where the brand spends months preparing for it,' he said.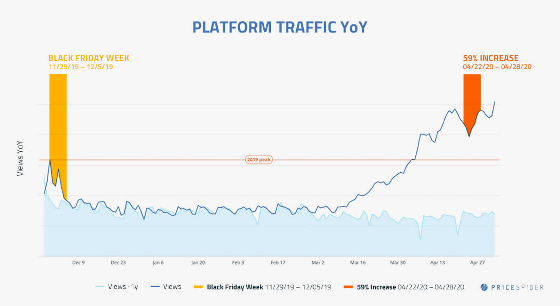 PriceSpider said that the reasons why the COVID-19 pandemic increased online shopping traffic and transactions could be as follows.

◆ 1: Increased demand for panic buying and time-killing items due to going out
The COVID-19 pandemic caused people to panic
, buying up toilet paper and hand sanitizers
all over the world. People who fear the depletion of their daily necessities due to these panics buy their daily necessities before they run out of stock in the market.
In addition, the COVID-19 pandemic bans the need to go out all over the United States, so demand for items to escape boredom is also increasing. In fact, it
has been
reported that
the demand for entertainment products such as board games and puzzles is increasing
with the pandemic of COVID-19,
as
well as those who are involved in handicrafts and bread making, to gain strength at home. The number of people who buy yoga mats and training tubes is increasing.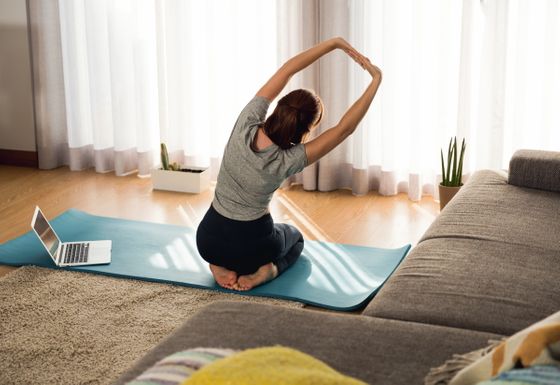 ◆ 2: Diversification of products purchased online
Although it was possible to buy food and beverages online through online shopping, many people thought that 'I want to pick up what I want to eat and daily necessities at the actual store and purchase it.' However, the COVID-19 pandemic comes with the risk of infection by visiting supermarkets, etc.PriceSpider says that consumers are now buying food and daily necessities online that they used to buy at physical stores. Pointed out. Of course, there is an increasing tendency for consumers to look for everything online, not only food products, but also beauty products, pet products, electric appliances, automobile parts, and so on.

◆ 3: Impact of economic stimulus measures implemented by the government
The average American is planning to spend around $ 40,000 for the holiday season, including Black Friday. On the other hand, in order to stop the economic stagnation due to the COVID-19 pandemic, the U.S. government will support households with annual income of less than $ 75,000 (about 8 million yen) for at least $ 1200 (about 130,000 yen) Implemented a large-scale economic stimulus package that will provide an additional $ 500 (about 54,000 yen) to each child. PriceSpider expects most people will use this extra income to buy something online instead of in the physical store.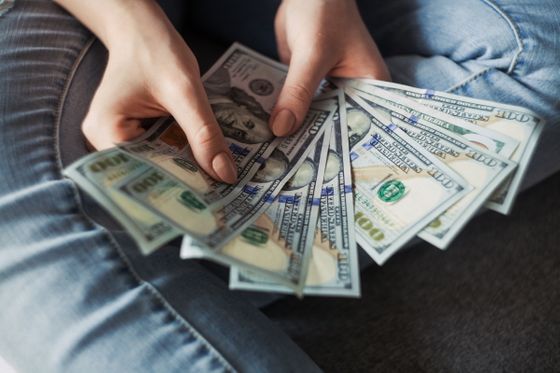 ◆ 4: Increasing demand for home appliances
One of the unexpected changes in consumer behavior due to the COVID-19 pandemic is PriceSpider's point of view of a significant increase in demand for home appliances. With schools switching to online classes and many workers starting to work from home, people are spending significantly more time at home than before. Therefore, there is an increasing desire to make the time spent at home comfortable, and the demand for convenient home appliances is increasing.

◆ 5: Brands and retailers are focusing on online shopping
There is a risk that the new coronavirus infection will spread due to people gathering at the actual stores, so the stores that are said to be 'indispensable for daily life' will have to be closed or seek online expansion. did. As a result, brands and retailers who have not previously focused on online are also changing their minds and presenting attractive choices to consumers.

◆ 6: Online shopping is always available
As the information on COVID-19 is updated daily, many US states are expected to extend curfew. But consumers still have to buy what they need for their lives, and more and more consumers are relying on online shopping to buy their products in an emergency, PriceSpider noted.