Large-scale gas leak from LG plant in India, 13 people including children died and hundreds go to hospital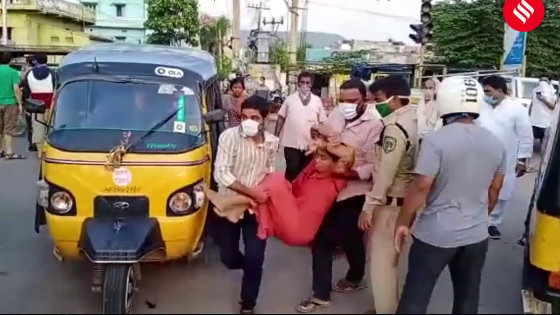 Chemical gas leaked from an
LG Polymer
factory in India, killing 13 people, including children, and sending hundreds to hospitals.
Gas leak at South Korea-owned factory in India kills 11, hundreds hospitalized-Reuters
https://www.reuters.com/article/us-india-disaster/gas-leak-at-south-korea-owned-factory-in-india-kills-11-hundreds-hospitalized-idUSKBN22J092
India gas leak at LG Polymers plant in Visakhapatnam (Vizag) causes at least a dozen deaths today-CBS News
https://www.cbsnews.com/news/india-gas-leak-lg-polymers-visakhapatnam-vizag-at-least-a-dozen-deaths-today-2020-05-07/
Visakhapatnam LG Polymers Gas Leakage News: 6 dead after a gas leak at LG Polymers in Vizag, PM monitoring situation
https://indianexpress.com/article/india/visakhaptnam-lg-polymers-gas-leakage-live-updates-6397737/
India: Gas leak at Visakhapatnam LG Polymers plant kills at least 11-CNN
https://edition.cnn.com/2020/05/07/asia/india-gas-leak-death-intl-hnk/index.html
A gas leak was reported from LG Polymer's plant on the outskirts of Visakhapatnam, the largest city in Andhra Pradesh, India, around 2:30 am on May 7. LG Polymer is a subsidiary of LG headquartered in Seoul, South Korea, and the leaked gas is '
(PDF file) Styrene,
' a gas that has a respiratory impact, used in plastic manufacturing. The cause of death reported so far is not only the fact that gas is inhaled, but also that it fell from a well or a two-story building, an accident during evacuation, and caused complications. Although not present, prolonged exposure is said to cause problems.
Below is the LG Polymer factory. The factory resumed operations after a six-week hiatus due to the new coronavirus infectious disease (COVID-19), but said, 'An unskilled worker erroneously performed maintenance work caused a gas leak.' Visakhapatnam officials said.
Primary report is PVC gas (or Styrene) leaked from LG Polymers, Vepagunta near Gopalapatnam in Visakhapatnam at around 2:30 AM today
Because of the leakage of the said compound gas hundreds of people have inhaled it and either fell unconscious or having breathing issues.pic.twitter.com/WeCdrbddV1

— Srijana Gummalla (@GummallaSrijana) May 7, 2020


According to a CBS interview, Visakhapatnam's police aide, Swalpa Roni, said, '13 people, including children, have died and 300 to 400 have been treated in hospitals.' 'The 800 people were hospitalized, but many were immediately discharged,' said the chief of police in Andhra Pradesh. The death toll is expected to increase in the future.

Many of the inhabitants who lived around the factory were sleeping because the gas leak broke out at midnight. Around 4 am, when the authorities were contacted by a police officer near the factory and headed for the village near the factory, many people had already fallen. It seems that many volunteers fell down on the street when the volunteers who noticed the situation led the residents to the hospital and the ambulance.

According to Reuters, a 23-year-old inhabitant living about 300 meters from the factory said, 'I got up around 6 am because of the strong smell. It was irritating, drowsy, and slightly I had a suffocation. '

Children under the age of 10 and the elderly were particularly vulnerable and many children were taken to the hospital.



Indian National Disaster Response Forces are wearing protective clothing to help.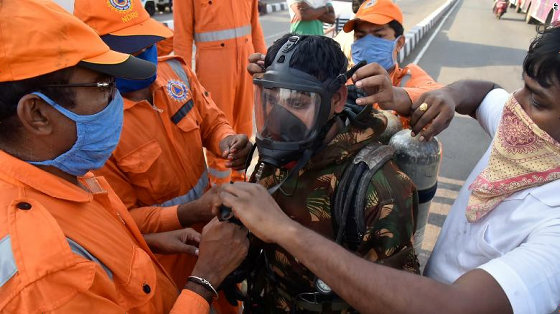 People gathering outside the factory after a gas leak.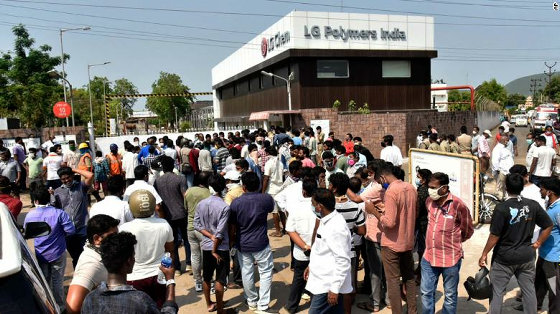 Many of the livestock have also died.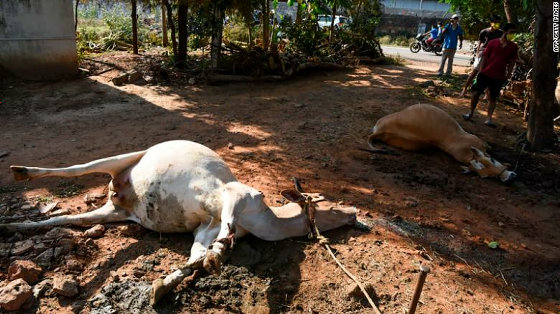 The following movie shows the chaos of the city after the accident. Be careful when browsing because it contains shocking content.

Gas leaks from Visakhapatnam's LG Polymers plant, area vacated-YouTube


People who fall to the ground and do not move.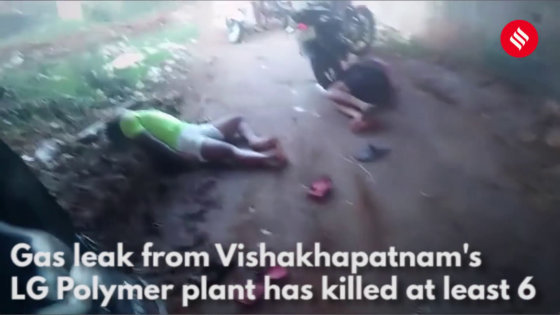 On the street where smoke is trapped ...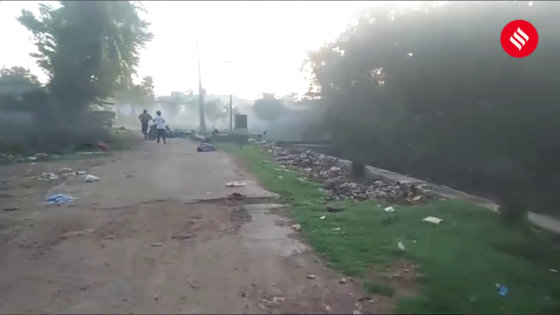 People who have fallen.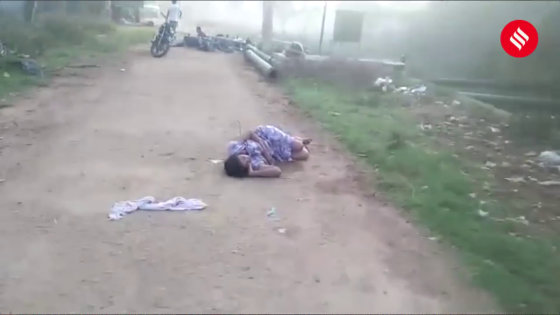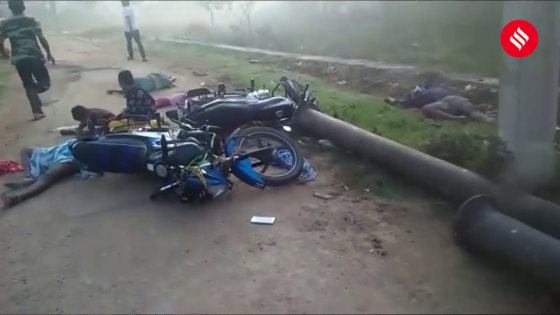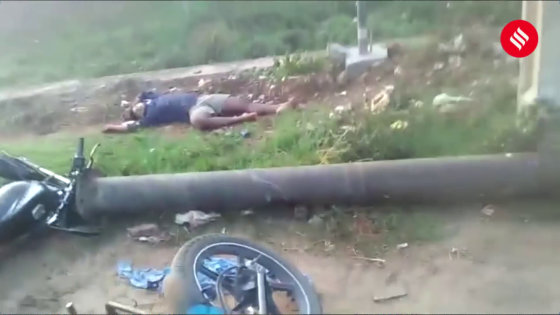 border = '0'>
Children are also falling.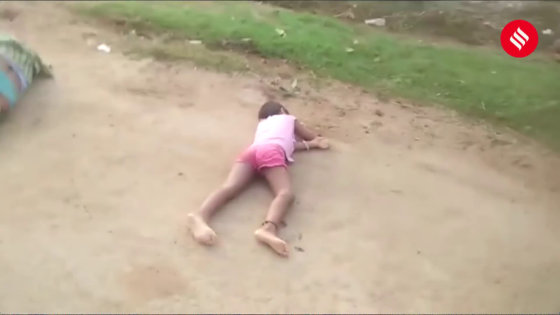 In the image below, the sun is already high, so it's likely several hours after the gas leak was reported, but the man is still drinking water with the help of another man.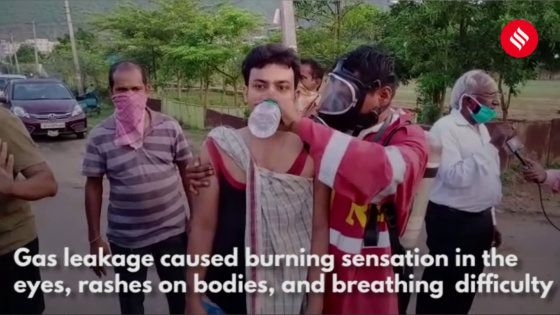 Men are carrying women who are stuck in the city to an ambulance.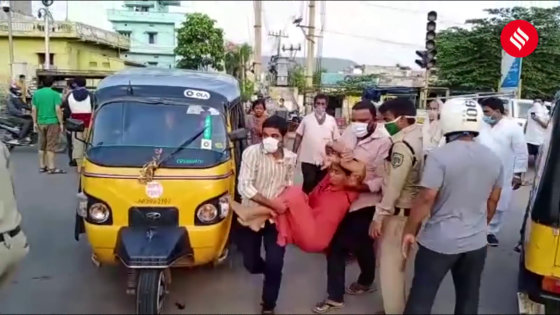 It seems that the men shown below can not walk themselves.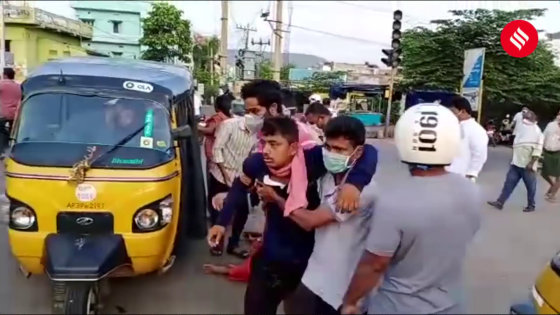 Many people in the city, including children, are shown boarding an ambulance.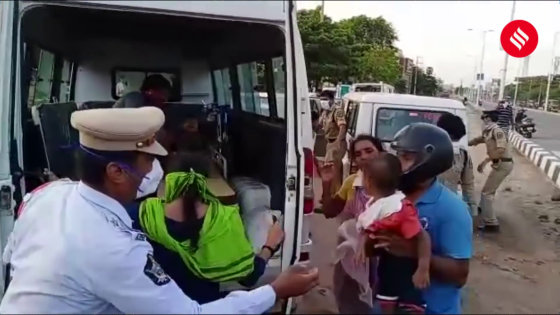 In the following movie, a woman watching the state of the city suddenly falls down.

Tragedy after tragedy hitting this country.Sad news from everywhere. # VizagGasLeak pic.twitter.com/VvzdNOKAze

— Sanghamitra (@AudaciousQuest) May 7, 2020


Even in the house, some people seem to be affected by gas, and some are rescued from inside the building.

#VizagGasLeak update 4 @NDRFHQ at work assisting local people & admin on site for evacuation & relief @PIBHomeAffairs @ndmaindia @vizagcitypolice @vizagcollector @HMOIndia @ BhallaAjay26 pic.twitter.com/Mfow4caiWg

— Ѕαtчα prαdhαn सत्यनारायण प्रधान ସତ୍ଯ ପ୍ରଧାନ- DG NDRF (@ satyaprad1) May 7, 2020


People rescued. Paramedics are wearing protective clothing.

#VizagGasLeak update 3 @NDRFHQ Spl chemical accident team continues search & evacuation work assisting local people & admin on site @PIBHomeAffairs @ndmaindia @vizagcitypolice @vizagcollector @HMOIndia @ BhallaAjay26 pic.twitter.com/yKzxdHu3cV

— Ѕαtчα prαdhαn सत्यनारायण प्रधान ସତ୍ଯ ପ୍ରଧାନ- DG NDRF (@ satyaprad1) May 7, 2020


City officials have announced that about 1500 people living within a factory radius of 3 km have evacuated after the accident. However, since there was a rumor that a new factory explosion had occurred on SNS, many people tried to get out of the city despite the government telling people to "be at home" Traffic jam occurs on the national highway at 1 am midnight on May 8, the next day. Officials say the factory is stable and there is no reason to panic.

Rumours of a second leak strikes post-midnight panic in Visakhapatnam-The Hindu
https://www.thehindu.com/news/national/andhra-pradesh/rumours-of-a-second-leak-strikes-post-midnight-panic-in-visakhapatnam/article31531064.ece

in Video, Posted by logq_fa