"Keep Your Hands Off Eizouken!" Interview with Masaaki Yuasa, "How are you making amazing animation"?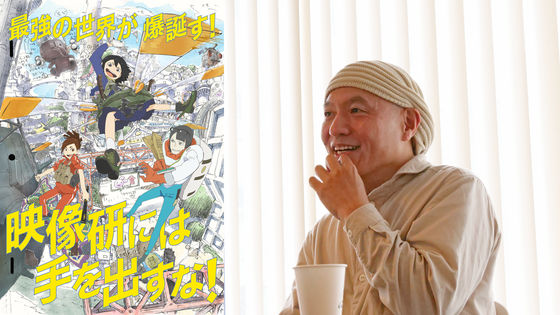 Director
Masaaki Yuasa,
who worked on the anime '
Keep Your Hands Off Eizouken!
' I asked about various stories that could be put together because the broadcast was over, such as whether it was converted into animation or how it was matched with Mr. Oorutaichi's music.
TV animation 'Keep Your Hands Off Eizouken! 'Official site
http://eizouken-anime.com/
The interview was conducted in March, and I have Director Yuasa remove the mask at the time of shooting.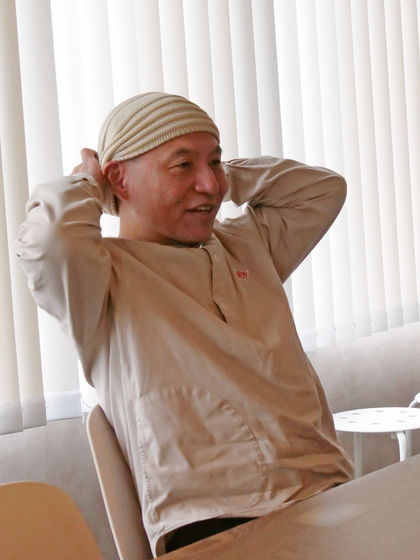 Q:
There was a story that Director Yuasa knew the original story.

Masaaki Yuasa (hereinafter Yuasa):
Yes. With Egosa ...

Q:
Egosa (laughs)

Yuasa:
I saw a story like 'I hope Yuasa would be animated,' so it was interesting to buy the original and read it. So, 'Isn't it possible to animate with Science SARU?' However, I heard a rumor that 'I already got the visualization right somewhere,' so if I thought 'I am making it elsewhere', Mr. Atsushi Sakata of NHK Enterprise came to talk. It was good, I could do it. '

Q:
It was 'interesting', but what did you find attractive when you read the original story? It's a very expressive work, though.

Yuasa:
'I want to embody what I imagined' was a great part of what I was working on, and that was an interesting part, and that is what I really enjoy as a manga, which is a lot of entertainment. I found it interesting that people would receive it. I was wondering if it was more maniac content.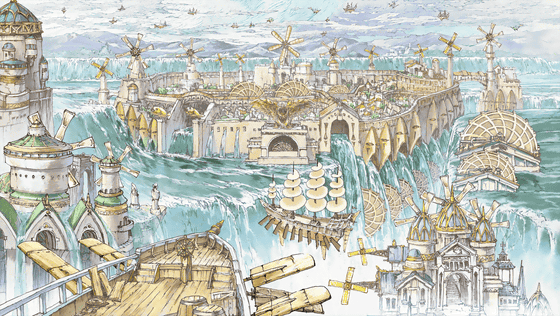 Q:
From what you know from the standpoint of anime production, how did you see the girls making the animation in the work?

Yuasa:
I thought it was a good place to have a lot of talented people who could think about it and not have to worry too much about it. When we do it, we really want to draw hardships.

(All, lol)

Yuasa:
Without drawing too much effort, but wanting to add what we know. I made it while thinking that I would like to include the "something" of the industry and people who are producing animation.

Q:
In fact, when you started working on the piece, did you talk with Sumito Owara?

Yuasa:
Regarding the work, I didn't do anything like this. When I was making it, I was told, 'Please do this only for rabbit dolls,' and I thought, 'I'm really particular about that.' I also looked at the dolls that Daido-san had as the basis for the painting, and I intended to do it faithfully, but it was 'more like this.'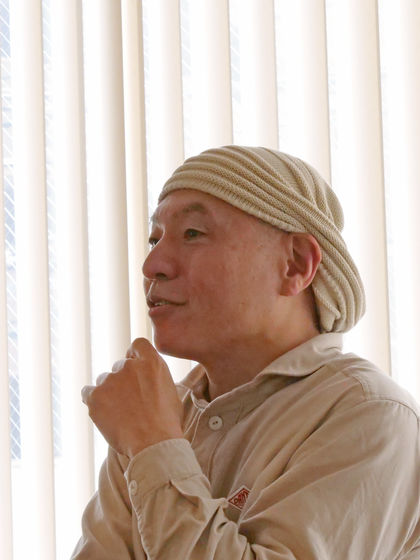 Q:
When visualizing the charm of the original work, I think that there was addition and subtraction as some kind of video. Did Mr. Yuasa have any major directions in the image, 'This area is the point', 'I want to bulge this area, I want to push it to the front'?

Yuasa:
There were a lot of details in the original work, and I thought it would be better if the enthusiastic person could read them and say that they were interesting in the anime. At the time of the talk, only 2 volumes were still released, and when 3 volumes appeared, it seemed that each person became the main character, so if the animation ends with the content of 3 volumes, it will be the last I wondered if it would be better to make excitement and place it. Also, when I make an animation, there are places that I care about, so there are gaps in manga, so I'm skipping it, whether three people can really make it, what is the content of the work made by three people I was thinking about doing things while supplementing them so that it would not be too disturbing.

Q:
Did you negotiate with Daido-san about proposals other than rabbits?

Yuasa:
I think that there were various opinions, but I feel that I was in the stance that I would not say unless I heard from you. When I asked a question that I didn't understand, he answered a lot. What was quite helpful was what are the two are in the Department of Imaging Research that are also related to the 'weapon' of the hydroelectric power plant? And.

Q:
Is it a ventilation fan?

Yuasa:
When I asked him, he said, 'I was thinking that I was shooting from there and burning something (*),' and said, 'But I still don't know whether to draw it.' I did this because I thought it would be better to produce results as an anime in something meaningful.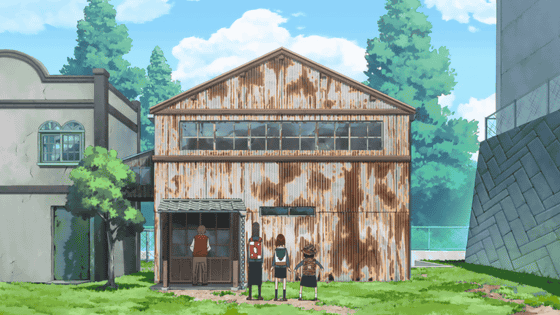 (* Note: Irradiation experiment of 'Ku Weapon' is being conducted in the place where there was a hydroelectric power plant, and the target was installed in the warehouse where the Imaging Research Institute decided to set up a room, (The supplementary explanation was given that it was a story that the pressure ventilation fan was installed for exhaust heat and ventilation after the target burned)

GIGAZINE (hereinafter G):
About the opening video, there was a lot of excitement since the episode 1 broadcast. At the same time as the final broadcast, Science SARU's official Twitter released the 'Opening animation production memo', and the animators made fine movements based on the story brought by the director. To what extent was the dance in the director's mind?

#Video Lab
The final episode has begun! !!

Did you get excited about the opening production ????

Please read it ???? ‍♀️ ♪ #eizouken_anime #chelmico pic.twitter.com/TzVXyw7FYP

— Science SARU (@sciencesaru) March 22, 2020


Yuasa:
Only vaguely decided, `` At first, each person moves his body and stops for a while '' (laugh), and after that, the place where the 4 people dance is as slowly as possible It's a dance. I gave an example, but I think that it would be better to have it inflate, so I made a framework and raised the story with the feeling that everyone can arrange it. Chelmico's song is very good, and the high school girls at IKEN don't show the canned or energetic places so much, so I thought it would be nice if I could do that part well with the opening.

TV animation 'Don't mess with the video lab!' OP video [1/5 (Sun) 24: 10-Broadcast on NHK general TV]-YouTube


G:
There are a lot of icons showing characters in the video, but regarding that, there is no specific instruction from the director that 'you should put something like this'?

Yuasa:
Yes. You haven't specified it in detail. It just came out a lot, and just pointed out that there should be a pattern of icons and such icons that they like.

Q:
I would like to hear your first impressions of the production up to episode 12.

Yuasa:
Since it was a slapstick at the end, I felt a little regretful and ended with the feeling that 'I have raised it for the time being', but the content was 'I was able'. I was looking for my impressions and looking at them, but in the final episode there were pros and cons, and I thought, 'There are some things that have not been transmitted.'

Q:
It's like a stone of soulful resignation and compromise ...

Yuasa:
I agree. It is a result of all the effort.

Q:
In the production process of episode 12, do you have an impressive episode as a director?

Yuasa:
Naoki Kobayashi, the director of the final story, was making a lot of particles called fine particles that would rise when the building exploded. There were so many pieces of wood, bolts, and so on that I couldn't use them. Kobayashi-kun said that he said 'please use this' with great pleasure. And I thought, 'Something good.'

Q:
Was the idea of various staff reflected in the work?

Yuasa:
There aren't many, but the well-produced volume has the fine details done well. I was looking for a glass at the sweeping port of the line of force and I was dying before I knew it. In Episode 8, the background depiction was specified in detail. However, it is quite difficult to align the direction as a whole, so I tried to align it as much as possible with the cooperation of the in-house staff.

Q:
I think that the original elements of the anime are also included, but did the director mainly take in that area? Is it supervised by the original author Daido?

Yuasa:
There aren't many original elements. Basically, I wanted to do it in a form that is based on the original and that does not disappoint the original fans. Asking Daido about the cloth on which Mizusaki in Episode 7 is connected, 'What kind of cloth is that?', Where it is connected, and what the starting point of the robot base is. I made it. As a whole structure, while talking with the screenwriter Kido and the producers at the script conference, it is hard to understand, but it is impossible to replace manga as it is, so it is 'animated because it is animation' as much as possible I was thinking, 'How can I get the best out of the original when I replace it with an animation?' Also, as I said earlier, I think it makes more sense to animate by showing the part that is a little difficult to understand in the original work to the front and making it feel like you can see it once.

Q:
There was a story about 'line spacing' earlier. Did you have a hard time moving something that wasn't moving?

Yuasa:
That's right ... I was thinking 'I should make a great animation' because the setting is 'I am making great animation', but 'I can not do it very much' (laugh) 'Awesome animation I'm looking at it. "How do you do your body? While I was doing it, the characters became attached to me, and Ono was very popular. At the beginning of the school festival, Mr. Kido, the screenwriter, started to do it, and I thought, 'Isn't that kind of thing possible?' And thought it was a kind of 'Urusei Yatsura' -like school festival.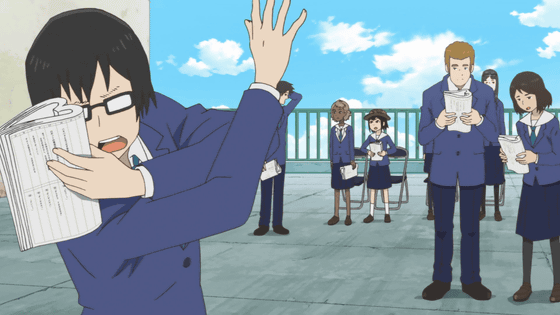 Q:
If you're a manga, readers can imagine 'great animation,' but I think it's very difficult to say that you can't make a really great anime.

Yuasa:
I agree. Surprisingly, the scene that reflects the main part is short, the first and the second one are performed centering on the reaction of the viewer, and the third one has a story, so the last thing to say is 'What happened to the viewer?' I made it a form that you would like to see.

Q:
'Don't put your hands on the video lab! In ', Director Yuasa is not only the director, but also the series composition.

Yuasa:
I didn't credit 'Series composition' to the main part, but I think that the remnants of what I happened to say to do the series composition at the beginning are left here and there in print. As usual, we just land the shape of 'I want to do it' with the opinions of everyone. If there are people who will do it, I will give it more and more, and if there is no one, this will do. I didn't take out the credits because I didn't say that the whole composition was made. This time, the schedule was pretty tight, so I decided to ask people to do it as much as possible without having to hold the storyboards and directing times myself. I was doing so.

Q:
This time, on the screen, I got the impression that a wide variety of people, especially young people and veterans, are swinging their arms. How did the director himself have a career as an animator and move his staff around in expressing animation?

Yuasa:
I agree. For those who say 'I can't quite do it,' he said that he would show them only the direction, and that they would do well.

(All, lol)

Yuasa:
If you still can't do it, it's like fixing it ... Depending on the work, I try to convey as much as possible the idea of 'I want to do it this way', and those who follow it will not have any problems. There are many people who aren't, so that's a problem.

Q:
When I interviewed Mr.
Naoyuki Asano
, the character design / total drawing director (Episode 1), `` Because there were many young people this time, we are veterans, so the feeling that'I do not do this here 'is alive That was rather interesting, 'he said. Did you feel that?
Yuasa:
Well ... I didn't really understand.
(All, lol)
Yuasa:
There is no sense of incongruity. I'm leaving things that are as generous and understandable as possible.
G:
The 'Shibahama UFO War' that came out as a 'great animation' lasted 8 minutes on the broadcast. However, when I reread the original work, after the completion of the work, I was flying to the point where the three were looking at the contents, and only the background frame came out. What was likely to be in the original was visualized as it was, but how did you make that content?
Yuasa:
When I read the 3rd volume, I was worried about 'What's going on with the content?' And I was also worried about 'how it was created.' When I thought about it, I thought, 'What will I do next ... I will go out of school and make it. First of all, I say' on the stage of the town ', so I think it is a town. I wonder if we can do it that way. '
G:
So that's it…….
Yuasa:
'What do you think Asakusa thinks about the story ... I don't think that many people start from the setting', so I thought, 'How did I think about it?' I feel. After that, the original story also became like that, and I thought that 'I was interested in the story after all' and there was also a town revitalization, 'I will go in the same direction'. If Daido went in that direction, I was a little relieved that I was not wrong, too.
Q:
When I interviewed animation producer Choi Eun-young, I heard that the director is trying various new challenges for each film, but this time, 'Don't put your hands on the video lab!' ], What kind of challenge did you have, and how did you realize it?
Yuasa:
There is a place to express the image, such as the animation in the animation, and the animation that is actually made has a lot of intermediate colors without lines, thinking that it is different from the main part, I will try to make the image watercolor-like. I was thinking. Mr. Sekiya, the cinematographer, told me that the cels can also be made into a watercolor-style film by the shooting process, so I thought that it would not be as difficult as when I was in Hohokekyo My Neighbor Yamada-kun. The first thing I was thinking about was that the 'watercolor background' would be flat, so it would be interesting to enter it in three dimensions. 'Ping-pong' 'makes screens that make the most of manga frames', '4 tatami mat mythology' 'try to put a pattern on the background' 'do not use too much color' 'white skin color' I said, 'Don't put your hands on the video lab! 』, I thought that the first point of the image is that the watercolor painting moves, and that it moves three-dimensionally, so please ask the special shooting person to come in and consult I went as I asked.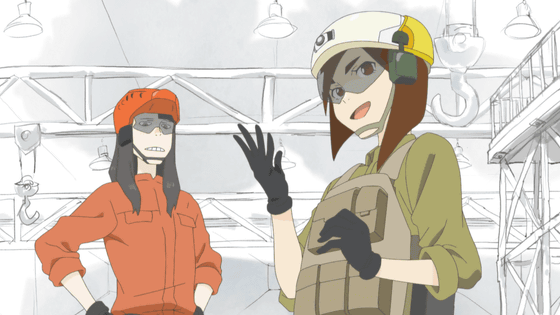 Q:
How do you feel as a result of actually doing it?

Yuasa:
I don't have time and there are still a lot of things to do, but there were many things that I thought were impossible until Mr. Sekiya and others came in. I think it was a really interesting and 'image research' video.

Q:
You talked about 'I want to create a three-dimensional object with a watercolor-like expression,' but what was your aim in that regard?

Yuasa:
It's like 'getting into the picture.' If it's a cardboard, it will be a sign that 'I entered in two dimensions', but when the watercolor background actually comes out and I think 'It's a picture', suddenly there is a perspective and it is three-dimensional It would be interesting to move to. It is good that there is a space properly in the rough-cut image that 'a proper background is moving in 3D' rather than 'a proper background is moving properly in 3D' I thought it was.

Q:
It seems that the viewers were very surprised.

Yuasa:
I've seen such works at animated film festivals. Probably, it was a simpler work like 'a thing that I quickly drew with a brush moves in three dimensions', but I thought that something that was not as good as possible would be interesting for me when the space was created So, I tried to 'do it as tightly as possible', but this time it was difficult. Because professionals work to 'make exactly'. Speaking of challenges, it may be a challenge.

Q:
Did you feel that the technique could be used in the future?

Yuasa:
I think that if there is a need and someone who can do it, it will be done. There are some things that I am still unsatisfied with and I think I can do even better, so I would like to try again if I have the opportunity again.

Q:
In terms of differentiating the real world from the delusional world, SE also casts a voice in the delusional world, but who is that idea?

Yuasa:
I think it was me, but it seemed that it had been saying quite early, but it did not seem to be conveyed so much, and Eriko Kimura, the sound director, felt like 'I was told such a thing on the spot.' I thought, 'Oh, I feel like I was saying that ...' (laughs) After all, is it something like the 'artificial world', or is it in the world that people are talking about? Shingo Yanagisawa plays a police car only by voice, and it is very fun to convey while saying onomatopoeia. I wonder if it feels like that.

(All, lol)

Yuasa:
The fact that we are talking about the scene with tremendous heat is actually visible to us as a picture. So basically, the sound is like they are emitting. I tried to say 'Let's do all the image scenes by voice' and it was 'too difficult to do', but I asked him to feel like he was doing it.

Q:
I heard from Director Kimura Ongaku about the music that Director Yuasa had already consulted with Mr. Oorutaichi before Mr. Kimura was involved. Did you have any reason to ask Orutaichi?

Yuasa:
I hadn't been able to do it properly with Oorutaichi, but he was a musician who wanted to do it. I like his extraordinary and bright places, and I wonder if he could put something weird or unimaginable into the mysterious and creative world of 'Iken'. However, I found something weird and neat more than I expected, and I thought, 'I can do it properly after all.'

Q:
There are images and animated scenes that play in the play, but did you place an order after the director made the music menu well?

Yuasa:
It's roughly. I was told, 'It's a bit small,' but I'm supposed to keep it small.

Q:
So that's it.

Yuasa:
Maiko Goda was included in the selection of songs, we've done it together several times, and there are many places where we can learn techniques and tricks. I'm sure you're a professional. He edited a little song, and in the latter half, I heard a song like 'Is there such a song?' With some kind of musical instrument missing (laughs), and Mr. Goda also does that kind of thing. Somehow, I'm thinking about the composition of the music, but when it fits well, I make it into a pattern. In the latter half, 'I want to do it like this' gradually came out and 'I want to use this song for this, I want to use it for that', but in the latter half it will be featured in the sound and music. It became like this, so I felt like I would make it accordingly.

Q:
Among the directors, 'Don't put your hands on the video lab! Is there any song that symbolizes '?'

Yuasa:
I feel that the song used for the PV was made with the theme of a school festival, but this is the theme already (laugh)


TV animation 'Do not put your hand in the video lab!' PV 2nd-YouTube
Yuasa:
It's a very mysterious song mixed with various cultures. I use it as a theme for image scenes. Was Goda-san put it first in episode 1? I don't remember it, but it made me feel like it. Also, since I had you make one theme song for each animation in each work, I was thinking about trying and using it in each main part as much as possible.
Q:
As for the topic of music, during 'Shibahama UFO War', a lot of music came under 'Iken' and it was messed up, but this time, the song came up from Mr. Oorutaichi What was your impression as a director when you played? Was the song perfect as ordered?
Yuasa:
At first, I felt that there were many songs that went behind the scenes. It's like 'Huh? Is this song okay?'
(All, lol)
Yuasa:
However, it was OK because I asked for it with such unexpectedness. But when I actually did it, I was just making a song that really fits well, just because I wasn't thinking about it. At first, I was thinking 'how to fit the song Oortaichi made' rather than 'I want it to fit the song I imagined'. 'Is this a song that can be used when it's fun? How can I use it? Can't I use it now?' I was thinking, 'But can I use it this way?' However, when I thought about it later, it was a perfect fit and it was all a perfect song.
Q:
You didn't say 'This is useless' to the song, did it feel like you matched it from the side of the work?
Yuasa:
Well, almost no retake. I think it was just like 'I hope, but I hope it will be a little more alarming'. I'm a person who can make songs that I can't imagine, so I didn't want to be bound by this kind of clunky idea, and I thought that would be the strength of 'Iken'.
Q:
After all 12 episodes were over, the director's Twitter was a little overwhelmed with the future development of the original work, but it was written that the continuation can be made. I'm sure there are many voices of expectations for the sequel, but do you have a desire or desire to make something about that?
Yuasa:
I think if I say 'do it' (laugh) However, there is also a place where I think that there is 'what I want to do' in 'what I have not done', and I am more familiar with mechanical and science fiction examination I wonder what happens when people make it with their heads. It might be more interesting to make a sequel or change the composition at all if the same content fits into the movie. There are manga, and I saw it on TV, so if you see it, it would be nice to see something different.
G:
What was the part that took a lot of time as a director's job?
Yuasa:
The character's play was quite difficult. I'm not a person who tries to fix the story, but this time I couldn't really convey my intention. If you haven't done it well, put in a lot of repair. I tried to make it possible to unify the direction of expression in the character-like play.
G:
Did you fix the play before the repairs, which is not the movement of the three video labs that Yuasa imagined?
Yuasa:
I agree. I don't think I'm alone. There was a part where I felt that my intentions were not communicated more than before. I explained that it wasn't so.
G:
Is there a reason that the movements of the characters are characteristic in this work?
Yuasa:
Especially for manga-like movements, I have no intention of doing so except for Asakusa. Depending on the person in charge, there is a number of stories saying 'Oh, this person is okay', but it is not so much, but when it becomes a leap, how much glue can be allowed again becomes a problem . I was wondering why I was particular about the character's characteristics and the style of movement, 'Why haven't I fixed that much so far? Why is it so fixed now?' There were many things that didn't happen, even though I asked you to be aware of the pose of the original. There may be timely ones. That was the case with the more recognizable style work that was being done at the same time. I paid attention to the point of 'characteristics' as much as possible.
G:
So that's it.
Yuasa:
'Kanamori-like movements,' 'Asakusa-like movements,' 'Mizusaki-like movements,' 'I don't think I should look like this,' 'I think I should. There is also a desire to make the shots in the original work as good as possible, so I adjusted the points that 'this is not the original work' 'I think it should be more original', but I added a little If you have a good idea, it's like using it, too.
G:
At the time of planning, it was a story that it was about the second volume or not, but this was because the video research was making the third work in the series, so it was decided to be a chapter 3 structure. Or?
Yuasa:
It was like we should look at Volume 3 and decide. When I looked at it, I found that the first volume was in Asakusa, the second volume was in Mizusaki, and the third volume was in Kanamori, so I thought it would be better to do three. Besides, it seemed that the three of them could be put together on a scale.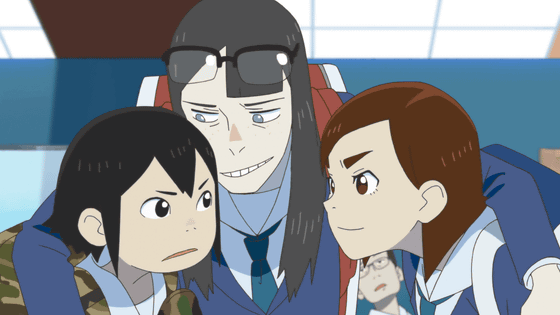 G:
'Don't put your hands on the video lab! 』, And listening to the staff of various works, you can see that group communication is very important for animation production. If you are a beginner in animation production, please tell us if you have any points such as 'You should be careful here in communication in group production' or 'This is important'.

Yuasa:
Everyone's thinking is different. I don't think anyone knows exactly what is right, but it also requires some degree of cooperation. Some people say that this person is the center, and if you do not think that person as a standard, the whole thing will not come together. However, it is not enough to say 'cooperativity', and I have to say my opinion properly. Of course, I think there are some people who can naturally become TU-KA ... but it's hard to understand people. In 'Iken', there is a scene where Asakusa fails to explain to the art department. I failed because I talked to him because I thought he was the same person as me. Everyone is different people. There are various ways of thinking. I have to talk with the other person's body that I have never seen or heard anything I have seen other than what I speak or show. It is better to think that depending on the situation, half of them will not be transmitted. It is necessary to keep communicating patiently repeatedly. People who can understand each other are friends. What is most important is the work that is completed, and the companions who are unwilling to match up will understand if the content is good and completed. Basically, they help each other, so I'm not good if I can do it well, and if there are people who aren't doing well, I'll follow them. The direction everyone should aim for is the success of the work, and for that reason, we will do our best to meet and give opinions. The ones made properly are not touching. After getting older, everyone has their own way of doing things, and there are often times when they will collide with each other, so it would be nice to be able to flexibly view and think about various things while you are young.

G:
So that's it.

Yuasa:
It would be nice if I could communicate flexibly, thinking about my strengths and weaknesses and the strengths and weaknesses of other people, and thinking that they might all be different. And I can't have fun. The work itself will always be difficult, so it's better for everyone to have a good time. It's difficult for everyone to take care of that. It's very ideal that three people like 'Iken' will meet.

G:
Isn't it possible to have such an ideal trio?

Yuasa:
I agree. I think everyone has merits and demerits, and I don't know if what I want to do is different or not ... it's a difficult place.

G:
From the experience and knowledge of the director's long career, is there anything that you would like to do if you are doing something like 'video research' while you were a student?

Yuasa:
I hate to say something to young people because I feel that the elderly are saying something (laughs), but I think it's good to be able to do 'Iken'. That's why I think everyone jumps. Well ... let's say it's not that easy. However, there is absolutely a possibility that you can do it, and if it works miraculously, it will become 'Visual Research'. But I think it's not an easy process to reach 'Iken' and it requires a lot of thought and effort.

G:
Hmm ...

Yuasa:
But most of the time you can do anything. It depends on how you do it. I think it will take time, but I can usually think of what I can do with the image.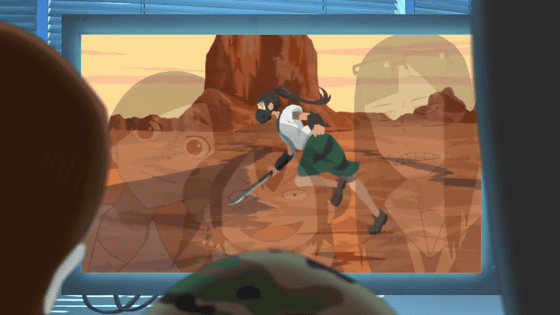 G:
That's right.

Yuasa:
It's difficult to create, but if you want to make a work, you should definitely finish it. If you don't make it, you won't know. Most people finish without making anything. It was probably something that didn't mean that it was finished without making it. However, once you have made it, there will be a problem of 'Let's do this next time', so I will also say that 'I will make it to the end' for the time being. I also say to people who come into the company that they "get together at least once". I don't think what you're doing for the first time, 'Oh, okay, this is what you say'. If you look at the progress of various works and find out that they will eventually be created like this, you can understand that 'that was for this purpose'. If you don't like what you know, you can just quit. Everyone makes the work, but I don't think I know what was good or bad unless I made it to the end.

G:
First, complete it.

Yuasa:
That's right. Anyway, it's about completing everything.

G:
When creating a work, there are 'what I want to make' and 'what I can actually make', and I find it difficult to find a balance. How did Director Yuasa balance you?

Yuasa:
Always find fun. It's always fun to the extent possible. If you try to make a 100% thing that everyone can do, it will fail, so I'm doing something like 'Keep 70%.' If you are going to do a difficult task, make sure that you have a comfortable place and do it in a costly manner that is as easy as possible. Also, if you put a little leverage on the low quality part, it will get better, but the higher quality part, the more effort it takes to improve the quality a little, so 'Which area is the best cospa, good Does it look like a work? ' And 'do not overdo it.' Even if I don't try to overdo it myself, it will always be difficult, so I think that when I think about the difficult things from the beginning, I'm going to fail. Even if you set the hurdle low, people who jump high will jump, so put the expected people in a place where you can fly.

G:
So that's it.

Yuasa:
The hurdles are low and there is plenty of room. 'Everyone, don't jump the hurdle,' is a boring task, so I feel like 'I'll do it if I can.'

G:
As an example of that story, I feel that Mizusaki is already putting his hand into the part where cospa is not so good.

Yuasa:
You still can't see the point, and you don't know the frame. I have something I want to do, but I don't know the schedule or what I can do. Hope she's part of it, but it's a problem because I have the whole drawing. I think Asakusa is a person between Kanamori and Mizusaki. To some extent, I know what I can do, and I'm told by Kanamori that I am concerned about the schedule. I think Mizusaki will eventually do it, though. A free animator who can become a person who can make a schedule and calculate.

G:
Kanamori drives those two people.

Yuasa:
The great thing about Kanamori is that it's very moving. Perhaps I'm probably working the most, but I don't show that much. It seems that Asakusa and Mizusaki are playing a role, and I think that the place where they respect them very much is like a producer. Although such a producer is not so easy in reality, I feel like a 'producer capable'.

G:
At 'Iken', four people with amazing talent, Asakusa, Kanamori, Mizusaki, and Hyakumeki who are in charge of sound, are making the work, but Director Yuasa will actually make the work. Then what kind of person is good?

Yuasa:
I think all four are good. There are only good people. But I also want to work with people who aren't good, or who are difficult to get along with. I think that makes the work more interesting. I think it's good to have a person who has the opposite idea to me. If there aren't even those who break it down a lot ... there are a lot of people like that, so it's generally good if not.

G:
In 'Iken', there aren't any people up to that point (laughs).

Yuasa:
That's right (laughs) 'Don't put your hands on the video lab! I thought that there were 3 people who thought, 'I think it would be nice to have people like them in the company.'

G:
The thing that impressed me during the film was that my adviser, Fujimoto, said, 'I can't work without playing and vacationing. I find a chance to play more than I need to, and play is the secret of work.' is. Is there any 'secret of work' for Director Yuasa?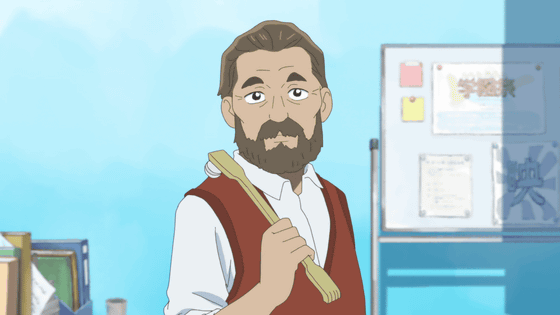 Yuasa:
'It's just fun!' Don't think too seriously, don't get serious but serious. There aren't many places where you can do what you originally thought. From time to time, I will change my pinch into opportunities and make the work more interesting, and I will do it as fun as possible in a costly manner. Make it a fun work. I don't think it's possible to make a good work so that it doesn't get into trouble, so I had to enjoy it when I was doing my best.

G:
Finally, it's a bit far from the film, but when the director tweeted about the film on Twitter, the film was quite diverse. What is your favorite movie?

Yuasa:
I want to see various things. 'I like this genre' doesn't exist in me, but 'I want to see something I've never seen and is interesting.' Is it the feeling that if people say that they are interesting and you don't understand yourself, you want to see until you find yourself interesting? As I grow older, some movies I don't understand at first. 'Why did Tim Burton make such a broken movie?' I first liked only art.

G:
(Lol)

Yuasa:
However, when it became clear that the broken part was reality or his affection for the film, he said, 'Oh, I see.' I like everything that opens my new door and I want to see something new. 'What I have never seen.' So is food. I want to eat something I've never eaten, rather than the same thing.

G:
That kind of stimulus leads to the creation of works.

Yuasa:
I'm looking forward to it, and I will continue to connect to my work. I think that anything will be useful for the work. I am always impressed with something because I can always use it in my work.

G:
So that's it. Thank you for today.

'Don't mess with the video lab!' Is available for download from April 1, 2020 (Wednesday), and rental distribution has begun from April 15 (Wednesday), so you can easily follow the whole story. It is possible. In addition, the Blu-Ray COMPLETE BOX will be released on Wednesday, June 24, and we are accepting reservations for acclaim.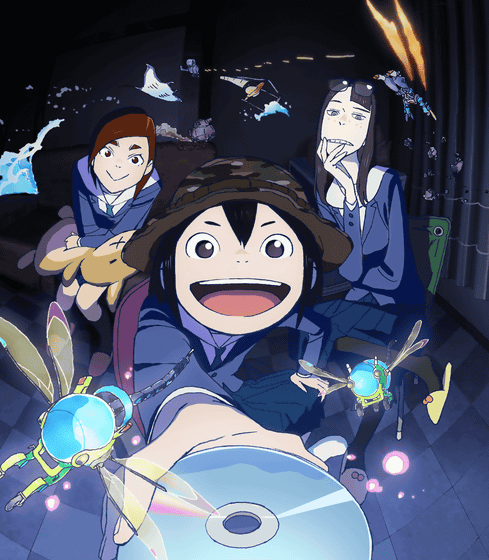 In addition, 'Aiken' has been released in drama since April, and the live-action movie version is being released, so it seems to entertain us further.

Movie 'Don't put your hands on the video lab! 'Official site
https://eizouken-saikyo.com/

©2020 大童澄瞳・小学館/「映像研」製作委員会