The 2019 version of 'Popular genres of hentai manga by prefecture' has been released by the all-you-can-read manga service.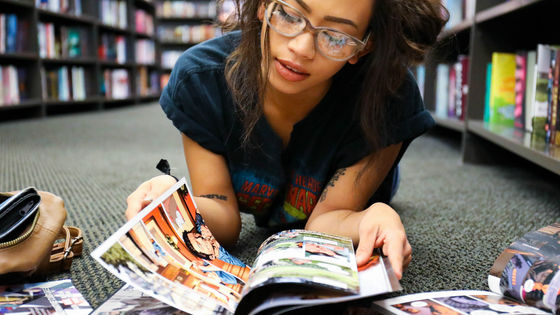 'Komiflo
', an all-you-can-read manga service, has released
'2019 genres of popular manga by prefecture
' based on the user statistics of the service. It seems that there is a considerable bias by region, and it is clear that there are various hobbies and tastes in Japan as well.
[Domestic popular erotic manga statistics] Based on the data collected by Komiflo, an all-you-can-read erotic manga service, we will announce popular genres by prefecture in 2019! What kind of works are popular in your city? https://t.co/bcWLqFkfYl pic.twitter.com/XYYlHeIxwL

— Komiflo (@komiflo) April 7, 2020


The popular genres in Hokkaido, Tohoku, Kanto, and Chubu regions are as follows. Also, as popular tags by area, 'JK' in Japan, 'married woman' in Taiwan, 'slut' in Hong Kong, and 'virgin' in Singapore.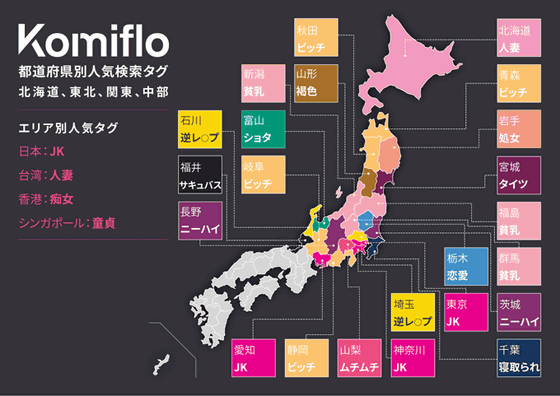 The popular genres in Kansai, Chugoku, Shikoku, Kyushu, and Okinawa are as follows. Furthermore, the most popular tags nationwide are 'Bitch' (5 prefectures), 'Small breasts' (5 prefectures), 'Reverse rape' (4 prefectures), and 'JK' (1 metropolitan area and 3 prefectures).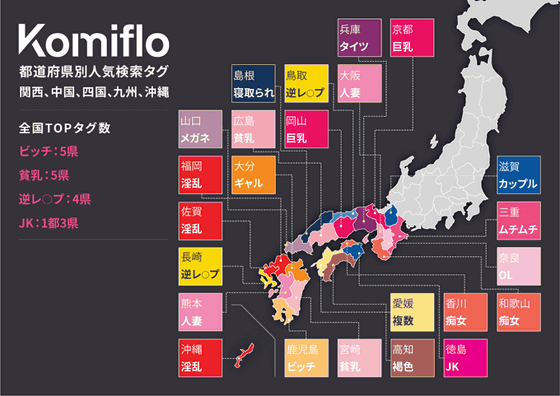 The following is a summary of popular genres by prefecture.

Hokkaido: Married woman
Aomori: Bitch
Akita: Bitch
Iwate: Virgin
Yamagata: Brown
Miyagi: Tights
Fukushima: Small breasts
Gunma: Small breasts
Tochigi: Love
Ibaraki: Knee high
Saitama: Reverse rep
Tokyo: JK
Chiba: Cuckold
Kanagawa: JK
Niigata: Small breasts
Toyama: Shota
Ishikawa: Reverse rep
Fukui: Succubus
Yamanashi: Muchimuchi
Nagano: Knee high
Gifu: Bitch
Shizuoka: Bitch
Aichi: JK
Mie: Muchimuchi
Shiga: Couple
Kyoto: Big breasts
Osaka: Married woman
Hyogo: Tights
Nara: OL
Wakayama: Slut
Tottori: Reverse rep
Shimane: Cuckold
Okayama: Big breasts
Hiroshima: Small breasts
Yamaguchi: Glasses
Tokushima: JK
Kagawa: Slut
Ehime: Multiple
Kochi: Brown
Fukuoka: Nasty
Saga: Nasty
Nagasaki: Reverse rep
Kumamoto: Married woman
Oita: Gal
Miyazaki: Small breasts
Kagoshima: Bitch
Okinawa: Nasty

Perhaps the popular genre image tweets by prefecture published by Komiflo were too interesting, there are many tweets that analyze (?) The tendency difference by prefecture in the reply.

A tweet that analyzes (?) A genre not found in other prefectures, such as Toyama's 'Shota', Fukui's 'Succubus', and Yamaguchi's 'Glasses'.

The brilliantly shining 'Shota' in Toyama and the 'Succubus' in Fukui Prefecture (no other prefectures) are deep.
Since Toyama is a prefecture that is enthusiastic about education, it is expected that it is probably an educator.
Maybe there is a succubus in Fukui.
Also, the sad reality is that glasses skiing is only available in Yamaguchi Prefecture.

— Chocolata likes Jim Cannon (@tyokorata) April 7, 2020


I wonder if there is a tendency in each region ...

Iwate worships a virgin while being surrounded by a married woman and a bitch. A hidden village of small breasts, where Echigo, Kanto and Tohoku meet. For some reason, the metropolitan area is a JK fetish. I think it's a major, but a big-breasted group that exists only in western Japan. Kyushu where the idea of chastity has collapsed as a whole. Tochigi and Shiga are a gentle world. Why did Toyama and Fukui look like this ... and Yamaguchi glasses w

— Nagisa (@AfterTheRain_K) April 7, 2020


People who want to associate regional colors with sexual orientation.

Kochi's 'brown' shows Tosa's longing for a single-fishing brown girl.

— Chocolata likes Jim Cannon (@tyokorata) April 7, 2020


Some say that Tochigi, which is popular for its straightforward genre of 'love,' is the only salvation in the midst of a plethora of special habits.

While the peculiarities of each region are revealed, only Tochigi's 'romance' is the salvation of Japan.

— Repmaid ???? VTuber (@repmaid) April 7, 2020


In addition, FANZA, an adult portal site, publishes data that analyzes popular genres by similar prefectures. FANZA has released coterie-related data.

[FANZA REPORT 2018 Doujinshi] Immediately before Comiket 'Statistical Survey on Doujin' Urgent Results Announcement! --FANZA Magazine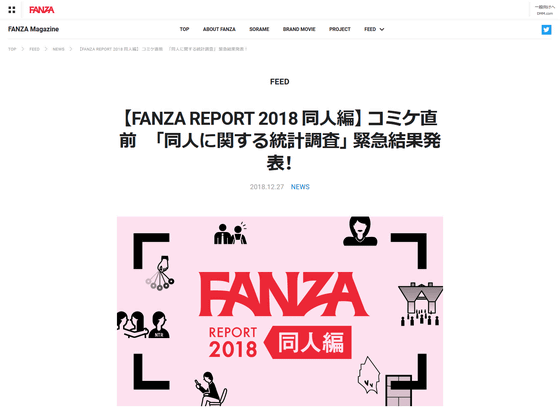 Number of users visiting FANZA Doujin in one year: Approximately 140 million (145,805,763)
Number of new coterie works sold in one year: Approximately 18,000 titles (17,558 works)
Male-female ratio of users: 7: 3 (male: 73.66%, female 26.34%)
User age group: 18-24 years (22%), 25-34 years (33%), 35-44 years (26%), 45-54 years (13%), 55-64 years (4%), 65 Over the age of (2%)
Popular genres: 1st place: Cuckold, 2nd place: Married woman, 3rd place: Hypnosis, 4th place: Crossdresser / Otokonoko, 5th place: Mature woman

In addition, popular genres by area, popular genres by gender, popular genres by age, and access trends to the site are also revealed. FANZA Doujin is overwhelmingly popular as a genre of 'cuckold / cuckold', and it is fun to compare it because it tends to be different from the data published by Komiflo.


in Manga, Posted by logu_ii