Research results that people living in places with lots of nature and parks are less likely to lack sleep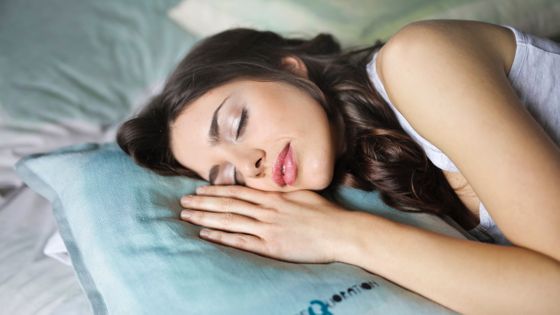 Numerous studies have shown that interacting with nature has various mental and physical benefits, and engaging with nature in everyday life
improves mental status, improves
health and well-being. to
have found that. A study team by Professor
Thomas Astell-Burt,
who studies the relationship between population health and the environment at the
University
of
Wollongong,
Australia, said that people living in places with lots of nature and parks live in places with little green. It is harder to get sleep deprivation compared to ''.
Does sleep grow on trees? A longitudinal study to investigate potential prevention of insufficient sleep with different types of urban green space-ScienceDirect
https://www.sciencedirect.com/science/article/pii/S2352827319301703
More green, more 'zzzzz'? Trees may help us sleep
https://theconversation.com/more-green-more-zzzzz-trees-may-help-us-sleep-132354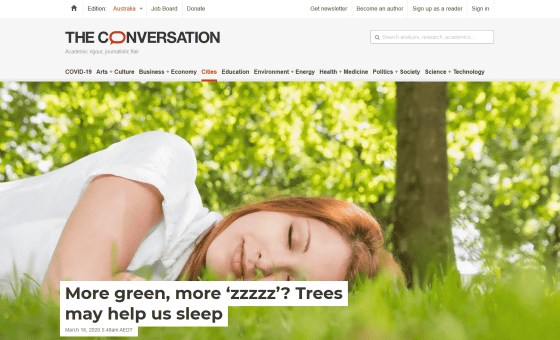 According to Astell-Burt, about 12 to 19% of Australian adults sleep less than five and a half to six hours and do not sleep well. On the other hand, the causes of sleep deprivation are not only lifestyles of individuals, but also various factors such as noise and temperature of aircraft and cars, artificial light, air pollution, etc., as well as age, occupation, economic situation etc. It states that lack of sleep cannot be cut off as personal responsibility.

Astell-Burt, who has been studying the health benefits of green spaces for many years, says that natural environments such as forests, parks and street trees can mitigate the effects of noise and air pollution, or local heat island phenomena, and improve health and mental health. He pointed out that the condition may have provided benefits. As these problems can be a factor that hinders people's sleep, Astell-Burt seems to have thought that 'the presence of green space may improve sleep status.'



Early
research,
published by Astell-Burt et al. In 2013,
showed
that people living in green spaces have a low rate of reporting sleep deprivation. Since then, research on the relationship between green space and sleep time has been conducted in other countries, and results similar to those of Astell-Burt et al. Have been reported.
However, Astell-Burt points out that many studies capture 'snapshots at a point in time', like predicting the cause and effect from a single photo. The problem with snapshot-like research pointed out by Astell-Burt is that the causes and effects are difficult to understand accurately. A study investigating only the relationship between green space and sleep at a particular point in time showed that green space really provides good sleep, or that people who can get good sleep without problems with their health and financial situation can find a better place in the environment. It will be difficult to determine whether they can live or not.
To address this, Astell-Burt's research team looked at over six years to see if there was a difference in the frequency of sleep deprivation between people with a lot of green space and people with few green spaces around a 1.6 km radius around their homes . The target population reached 38,982 people living in
Sydney
,
Wollongong
and
Newcastle
, and none of the subjects moved during the survey period. For each subject, the research team determined whether the person lives in a place with a lot of greenery based on 'What percentage of the circumference of the home is 1.6 km covered with trees when viewed from the sky' , Or live in a place with little greenery.
Analysis showed that people who covered more than 30% of the green area around their 1.6km radius were more than 30% green compared to those who had less than 10% green, saying that 'they sleep less than 6 hours a day.' 13% less likely to experience sleep deprivation, which is defined as ' Astell-Burt says that the results were consistently confirmed even when factors such as age, gender, educational background, job description, marital status, and household income that affected sleep time were excluded.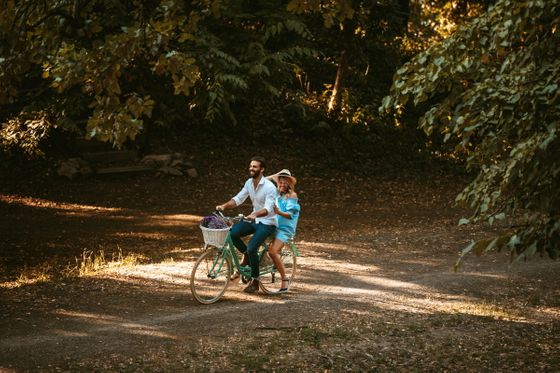 This study showed that people living in places with lots of green space are less likely to have sleep deprivation, but Astell-Burt said in the future `` whether a space with lots of green space will provide better quality sleep '' He said that he would like to pursue research. By clarifying the relationship between green spaces and sleep, it is possible that significant changes may be made to administrative city planning.

Many people know that green space has a positive effect on mental and health, but the relationship between green space and sleep is often overlooked. Between 2016 and 2017, four out of ten Australians were affected by sleep deprivation, benefit costs related to sleep problems were A $ 40.1 billion (about 2.6 trillion yen), health system and productivity declined Astell-Burt pointed out that public policy on sleep is important both socially and economically, according to
reports
(PDF file) that the cost of the project was A $ 26.2 billion.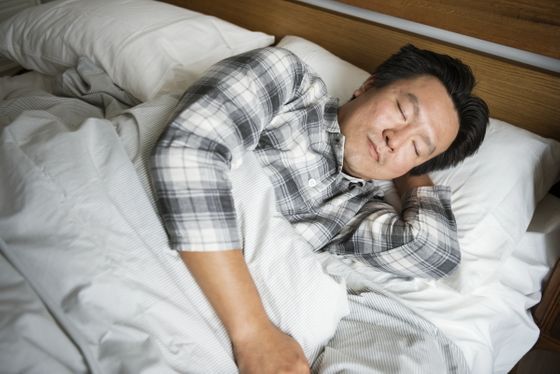 in Note, Posted by log1h_ik