[Dread:] Masao of 'Sazae-san' and Hiroshi Masuoka who played 'Sopan! Anpanman' Uncle Jam died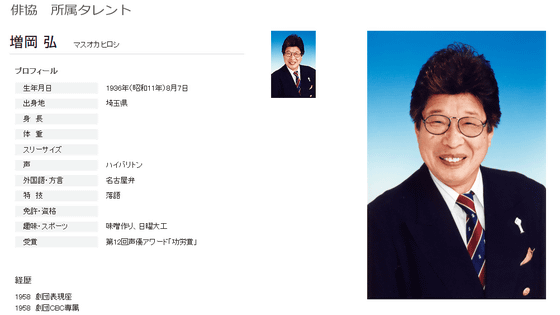 Tokyo actor life cooperative to which the voice actor and narrator
Hiroshi Masuoka
passed away, known for having long been in charge of the role of Maso Fuguda in TV anime 'Sazae-san' and Uncle Jam in 'Soreike! Anpanman' It was announced by the union (Haikyo). 83 years old.
Obituary Hiroshi Masuoka
https://haikyo.co.jp/information/info63/info.html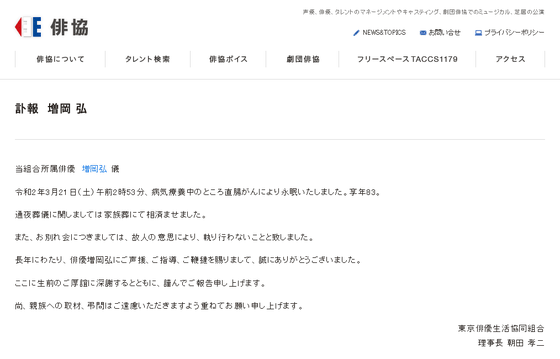 Masuoka was born in 1936 and is from Saitama Prefecture. He has been active as a voice actor since the early days of TV animation.

Especially known to a wide range of generations are Suzue-san's role of Maso Fuguda and 'Soreike! Anpanman' 's role of Uncle Jam. Shinsuke Chikaishi is in charge of the role of Masuo from the start of broadcasting in 1969 until 1978. Masuoka played the role of Masuo for more than 40 years as the second generation, and was replaced by Hideyuki Tanaka in 2019.

Uncle Jam also played the role of Cheese and Kamameshidon in the same work from 2019 since 1988 to 2019, when the broadcast of 'So Pan! Koichi took over.

According to Haiku, Masuoka was in treatment for rectal cancer.


in Note, Posted by logc_nt