'Sakura' is in full bloom, but movie version 'Fate / stay night [Heaven's Feel]' Chapter 3 release postponed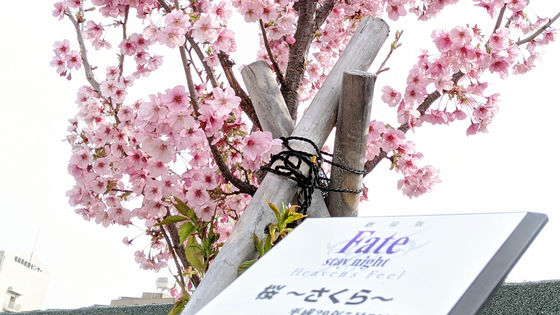 The
theater version of 'Fate / stay night [Heaven's Feel]' III.spring song
scheduled to be released on March 28, 2020 (Saturday), April 25, 2020, based on various circumstances accompanying the spread of the new coronavirus infection It was postponed on (Sat).
The
cherry blossoms planted at
the '
Sakura Tree Planting
' in 2017 are in full bloom, but unfortunately, 'Cherry blossom viewing under the cherry blossoms' is likely to be another opportunity.
"Fate / stay night [Heaven's Feel]" Ⅲ.spring song "postponed-NEWS |" Fate / stay night [Heaven's Feel] "
https://www.fate-sn.com/news/?article_id=53859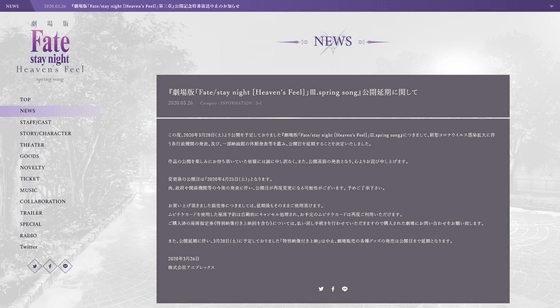 Theatrical version "Fate / stay night [Heaven's Feel]" is one of the visualization projects of the game "Fate / stay night". Of the three heroine routes of Saber, Rin Tohsaka and Sakura Matou, the Saber route was made into a TV anime in 2006, and the Rin route (Unlimited Blade Works) was made into a theater animation in 2010, and then again in 2014 and 2015 TV animation. And the last cherry blossom route was 'Heaven's Feel', which was visualized in the movie trilogy.

Toward this, it was May 2017 that 'Matori Sakura Cherry Blossom' was planted with gusset asobi.


'Sakura tree-planting party' inspired by the cherry blossoms of the movie version 'Fate / stay night [Heaven's Feel]' will be held at Machi ★ Asobi-GIGAZINE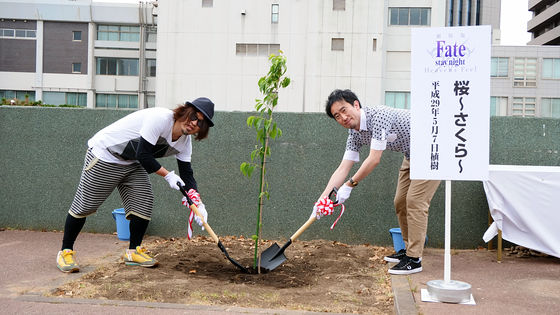 The cast gathered at the gusset ★ asobi held before the opening of the first chapter `` presage flower '' on October 14, 2017 (Saturday), and the ambition of `` watching cherry blossoms under the large grown cherry blossoms '' was told .


In the theater version of "Fate / stay night [Heaven's Feel]" "Come over to watch the cherry blossoms" Cast of the role of Sakura Matou and Noriko Shimoya, hit prayer Shinto also-GIGAZINE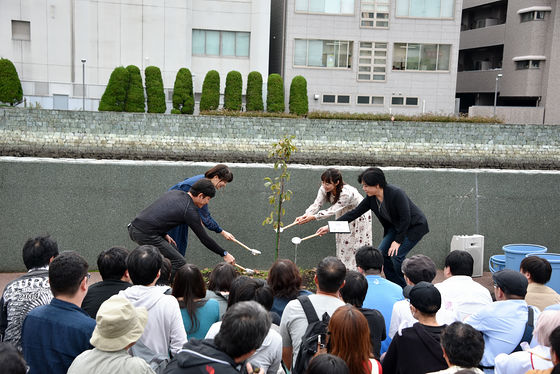 After that, at Machi ★ Asobi, a "watching party for cherry blossoms" was held every time, and this time it was finally whether we could see the cherry blossoms in time with the opening of Chapter 3, but unfortunately, the new coronavirus Due to the announcement of administrative agencies following the spread of infection and the decision to close some movie theaters, the release date has been postponed to April 25 (Saturday).

However, since the spread of the virus was not related to the cherry blossoms, the cherry blossoms were in full bloom in the week of the initial theater release.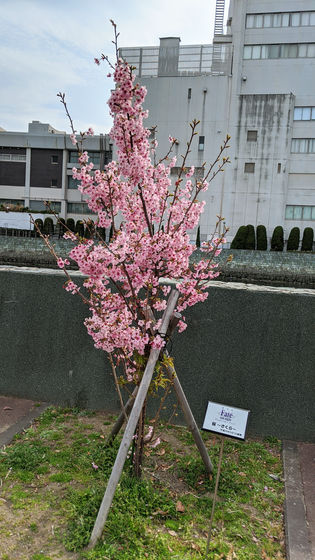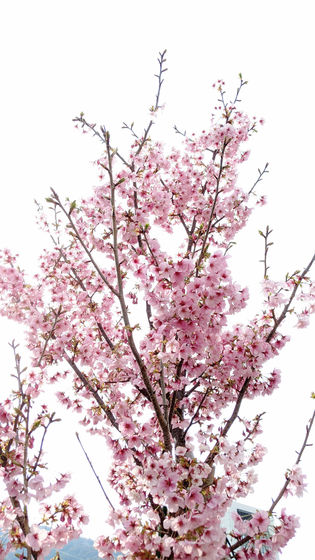 This is
ufotable CINEMA
, which is the nearest movie theater of 'Sakura' and is operated by ufotable, which produces works.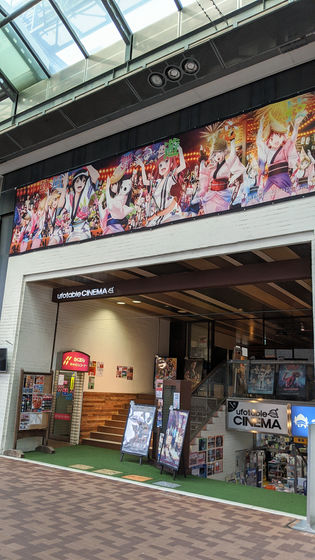 Because it was before the release delay announcement, the visual released on March 28 was displayed.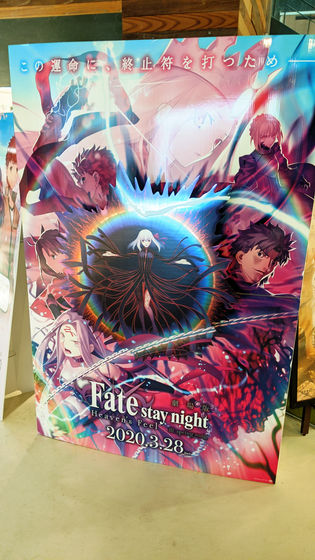 Unfortunately, the cherry blossom season is over before it is postponed, but there is nothing we can do about it, so we want to look forward to completing the work and avoid unnecessary and urgent outings to stay healthy.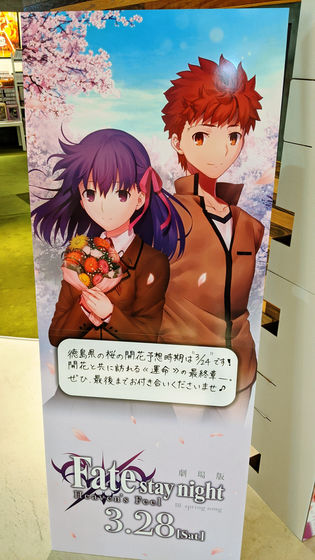 Movie version 'Fate / stay night [Heaven's Feel]' el.spring song trailer│Released March 28, 2020-YouTube