F1 and NASCAR professional drivers participate in esports event, affected by new coronavirus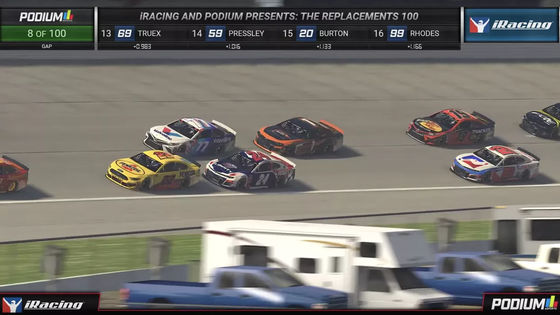 Impact of the new coronavirus is spread also in motor sports, was scheduled to be held on 2020 F1 World Championship of the Australian GP and Vietnam GP and becomes canceled, NASCAR also race organizers held in a non-spectator announcement it was done. Although professional racing drivers have lost their place due to the effects of the new coronavirus, they have shifted their playing field to racing games and attracted many fans.

Virtual F1 and NASCAR events are filling the gap left by canceled races-The Verge
https://www.theverge.com/2020/3/22/21184192/sim-racing-coronavirus-f1-nascar-iracing-veloce-esports-max-verstappen-lando-norris

Many sports, such as soccer, baseball, and basketball, have announced game delays due to the effects of the new coronavirus. Although the motorsports sector has been similarly banned from the show, fans can enjoy the hot races of professional racers in the gaming world.

Motor racing organizations such as F1, NASCAR and IndyCar have canceled their season-opening season in response to the spread of the new coronavirus infection. Minutes after the race was abandoned, NASCAR spotter TJ Majors began calling to replicate the canceled race in Atlanta in-game.

And it was decided to reproduce the canceled race using ' iRacing ', a famous motorsport simulator. The state of the race was broadcast live on Twitch, the number of simultaneous viewers at the peak was over 23,000, and a total of 70,000 viewers checked the race of about 2 hours. The whole race is published on Twitch, and the number of viewers here is about 15,000. 'Races with little notice and no advertising have given very impressive results,' said iRacing Marketing Director Kevin Bobbit.

PodiumeSports-Podium and iRacing Present: The Replacements 100 at Atlanta Motor Speedway-Twitch


Participating in the race were NASCAR stars Anthony Alfredo, Justin Allgaier, Tyler Ankrum, Alex Bowman, Chase Briscoe, William Byron, Dale Earnhardt Jr., Noah Gragson, Justin Haley, Parker Kligerman, Garrett Smithley and Bubba Wallace. Kevin Hamlin, TJ Majors, Coleman Pressley, and Josh Williams participated as spotters. In addition, former American football player Kyle Long and singer Tim Dagger participate in the race.

Spotter Kevin Hamlin said that since more than 50% of the people involved in NASCAR play iRacing, each home has an 'iRacing play environment' such as a steering wheel, pedal and custom PC. He said he came up with the idea of hosting a NASCAR race with iRacing.

According to active racer Parker Kligerman, 'When all the races were stopped, my phone immediately rang and said,' Let's race! ', So the NASCAR race will be held at iRacing It was not surprising that the story was quickly finalized. ' Kligerman has been hit by an accident that the machine rushes into the wall of the course because Windows Update of PC started during the race.

Poor Parker. @ Pkligerman | # Replacements100 pic.twitter.com/NdfkTb5PZO

— Xfinity Racing (@XfinityRacing) March 15, 2020


Kligerman emphasizes the compatibility between motorsports and e-sports: 'Motorsports games are the only e-sports you can play in the real world. Many famous drivers from around the world always play racing games Not only because it's fun, but also because it feels like the game is helping the driver: just because you beat Lebron James in the NBA 2K, you can really beat Lebron on the basketball court. But if you could overtake me and other players in a motorsports game, the same might happen in a real motor race. '

In addition, many impressions that 'it was a good race' were gathered for the race that active racers and spotters used iRacing to develop.

Was # TheReplacements100 a good race?

— Jeff Gluck (@jeff_gluck) March 15, 2020


Also, Darren Cox, the organizer of the Motorsports-related news site The Race and the director of the F1e sports team at Mercedes Benz, heard the cancellation of the Australian GP, and after hearing the announcement of the Australian Grand Prix rFactor 2 To come up with the idea of holding a race. Former F1 drivers such as Max Verstappen , Simon Pageeno , Felix Rosenkvist , and IndyCar star Juan Pablo Montoya also participated in the race hosted by him.

The state of the race can be viewed in the following movie. The race has been played live on March 15, 2020 and has been played more than 550,000 times.

The Race All-Star esports Battle-Australian F1 GP alternative event (rFactor 2 + surprise circuit)-YouTube