Apple updates how to keep iPhone clean, recommends using some disinfection sheets
It
is said that
the screen of the smartphone is more dirty than the toilet seat
, but the cleaning method is surprisingly delicate, and it is recommended not to use chemicals or solvents to prevent affecting the coating on the screen etc. You. Apple has updated its support page on 'How to Care for Apple Products' as the new coronavirus infection (COVID-19) is prevalent. For some 'sanitization sheets' that have not been recommended for many years, it states that 'the device can be safely cleaned'.
Apple says you can clean your device with disinfecting wipes-but be careful
https://appleinsider.com/articles/20/03/09/apple-says-you-can-clean-your-device-with-disinfecting-wipes---but-be-careful
Apple confirms you can clean your iPhone with disinfecting wipes
https://www.idownloadblog.com/2020/03/09/apple-clean-disinfecting-wipes/
Until now, Apple has suggested that Apple products be wiped and cleaned using a soft, lint-free cloth. At the time of article creation, the following Japanese version `` How to care for Apple products '' page has not been updated yet, so it is only recommended to use `` soft lint-free soft cloth '' for care method . It also states, 'Do not use spray liquid cleaners, solvents or abrasives.'
How to care for Apple products-Apple support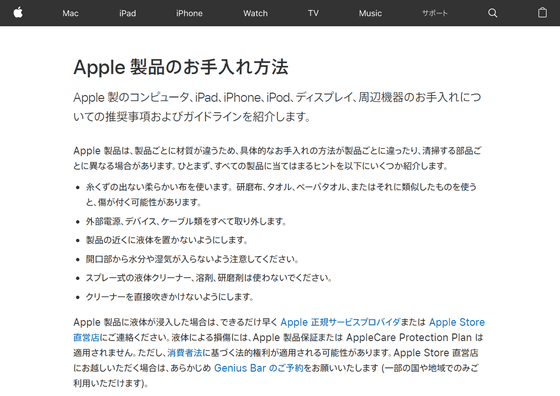 However, the updated new guidelines use 'sterilized sheets with 70% isopropyl alcohol' or '
Clrox sanitized
sheets' to 'make hard, non-porous Apple products, such as displays, keyboards, and other surfaces.' Wipe the surface carefully. ' However, care has been taken to avoid using these disinfecting sheets on leather and fabric products.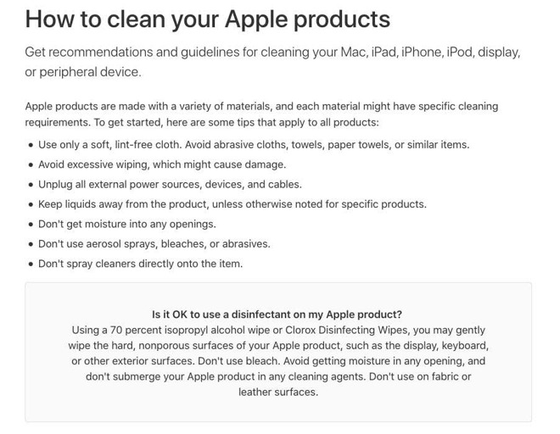 However, the use of solvents to clean the display can result in wear and tear on the fingerprint-resistant oleophobic coating on the screen and can damage the device. AppleInsider wrote that `` I do not recommend wiping the screen of MacBook Air or MacBook Pro with a disinfecting sheet at all because the screen may be damaged if you wipe the display using a solvent containing alcohol '' You.

The Wall Street Journal , on the other hand, has actually tested the display of the iPhone 8 using a Clorox disinfection sheet by wiping it 1000 times or more. Testing has shown that the fingerprint-resistant oleophobic coating on the iPhone 8 display hasn't been compromised at all, and the Wall Street Journal says it can use Clorox sanitizing sheets to keep the iPhone clean.