'Final Fantasy VII Remake' data capacity could exceed 100GB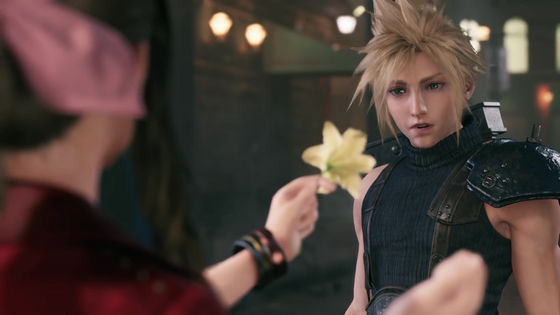 Regarding ``
Final Fantasy VII Remake
''
announced
in June 2015 and delayed for release for quality improvement and finally released worldwide on April 10, 2020, the data capacity of the game will not exceed 100 GB Information is popping out.
Final Fantasy 7 Remake Will Seemingly Be 100GB-IGN
https://www.ign.com/articles/final-fantasy-7-remake-will-seemingly-be-100gb
Twitter user
Pixelbuster
has released an image that seems to be a package of the Korean version of `` Final Fantasy VII Remake '', according to game media IGN `` Similar Final Fantasy VII remake package photo appeared on the Internet It is starting to do. '
Final Fantasy VII Remake will be over 100GB pic.twitter.com/WNgBjpgGD7

— Pixelbuster (@Nitomatta) February 17, 2020


In the red frame part, the required capacity on the back of the package of PlayStation 4 dedicated software is described, and it can be clearly read as '100 GB'.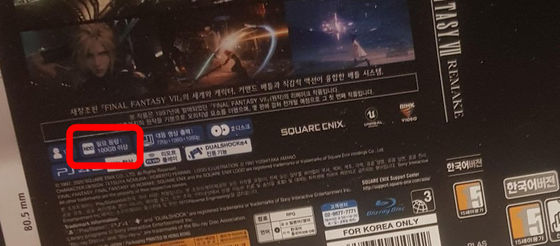 Final Fantasy VII Remake has been announced that the story of Final Fantasy VII will be divided and remade, and that it will be released on April 10, 2020 is a story until `` Escape Midgargu '' Is revealed. Also, interviews revealed that even the first work depicting the escape of Midgar would have a large capacity of two Blu-ray discs.

It has not been confirmed whether the final Fantasy VII remake package photo on the Internet is genuine, and details such as whether it exceeds 100 GB on a single disc or 100 GB on two discs are unknown.

The only thing that has been revealed in the information about the package of Final Fantasy VII remake is that the cover is reversible.

In North America & Europe, all physical copies of #FinalFantasy VII Remake will come with a reversible cover, which matches the front cover being used in Japan!

All pre-orders come with a Chocobo Chick Summon Materia DLC ???? # FF7R

Pre-order here
???? https://t.co/GgyCsmRrt6 pic.twitter.com/z8NcWMRPOG

— FINAL FANTASY VII REMAKE (@finalfantasyvii) November 27, 2019


Looking at Aeris and Sephiroth reborn with high image quality, as well as the opening movie of the main game just released, etc., IGN points out that it is not surprising that the data capacity exceeds 100 GB.

FINAL FANTASY VII REMAKE opening movie trailer-YouTube


The PS4 version of ' Red Dead Redemption 2 ' also has a data capacity exceeding 100GB, and is also a set of two Blu-ray discs.