WikiLeaks Twitter account locked just before Assange's extradition trial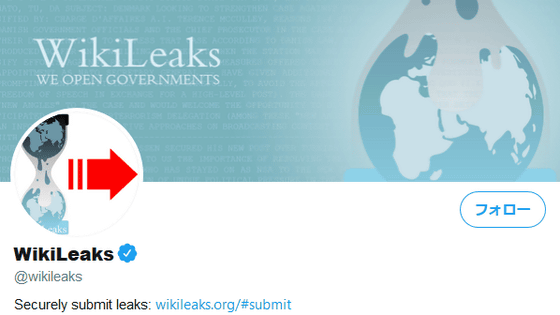 WikiLeaks ' Twitter account, known for accusing a number of confidential information, is from the United Kingdom to the United States of the founder, Julian Assange defendant accused of `` disclosing American military secrets' ' The lock was found shortly before the extradition hearing took place. It has since been unlocked, but Twitter has been suspected of attempting to deliberately silence certain accounts.

WikiLeaks (@wikileaks) / Twitter
https://twitter.com/wikileaks

The lock on WikiLeaks' Twitter account was revealed by a tweet from WikiLeaks journalist Kristinn Hrafnsson. According to Hrafnsson, all attempts to reopen the account in the usual way did not work, but also failed to reach a Twitter representative who could resolve the issue.

Twitter Account Has WikiLeaks Been Locked, Shortly Before Assange Extradition Hearing. All Attempts To Get It Reopened Via Regular Channels Have Been Unsuccessful. It Has Been Impossible To Reach A Human At Twitter To Resolve The Issue. Can Someone Fix This? Attotwittersupport Attojack

— Kristinn Hrafnsson (@khrafnsson) February 17, 2020


It is unknown when Twitter noticed this condition, but about nine hours after Hrafnsson's report, it was reported that the problem with the WikiLeaks official Twitter account had been resolved.

Thanks to @twitter for not long after @wikileaks Editor-in-chief @khrafnsson 's tweet resoving said issue.

Julian Assange's Extradition hearing begins next week-24 February-the future of the free press literally stands in the balance https://t.co/hAzgxObjrw

— WikiLeaks (@wikileaks) February 18, 2020


It's no wonder if this lock was a glitch in the system, but just Julian Assange, the founder of WikiLeaks, who has asked the United States to surrender as 'exposed US military secrets.' It is controversial because the timing is just before the hearing from the British to the United States.

When WikiLeaks released thousands of emails obtained from the Democratic National Committee's server in 2016, Twitter temporarily disappeared from the trend even though the hashtag `` #DNCLeaks '' entered the trend There was one case that a strong protest was received from the user due to having made it, and the display was restored, and some were suspected that this time it was locked due to something inconvenient. You.

Why Did Twitter Just 'Lockdown' WikiLeaks Account? | Zero Hedge
https://www.zerohedge.com/technology/why-did-twitter-just-lockdown-wikileaks-account

Twitter CEO Jack Dorsey denied 'False.'