Disney's masterpiece movie `` Bambi '' is live-action, script and production company also revealed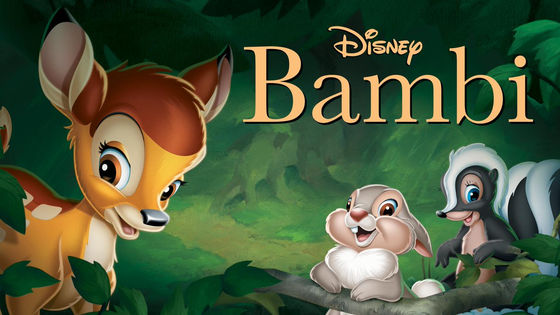 Disney plans to make a live-action movie of the animated movie `` Bambi '' released in 1942, the movie media Hollywood Reporter reports

'Bambi' Remake in the Works (Exclusive) | Hollywood Reporter
https://www.hollywoodreporter.com/heat-vision/bambi-remake-works-1272457

Disney released live-action versions of works such as The Lion King and Aladdin in 2019, all of which have achieved excellent box office results . Disney plans to continue to adapt past animations with modern, state-of-the-art technology, with the next target appearing to be 'Bambi' in 1942.

The movie 'Bambi' was originally published in 1942 in the United States and in 1951 in Japan, based on the novel of the same name by Felix Sarten . By arranging multiple cell images at different positions and moving them at different speeds, a cell animation shooting camera that can create an effect that expresses three-dimensional depth that is difficult to express with two-dimensional pictures `` It is one of the movies shot using ' multi-plane camera '.

Bambi (1942) pic.twitter.com/UXsMnGXVro

— Disney + (@disneyplus) October 14, 2019


According to information independently obtained by Hollywood Reporter, the live-action version of Bambi will be scripted by Captain Marvel 's Geneva Robertson-Dwallet and Chaos Walking 's Lindsay Behr.

The production company is said to be in charge of the movie studio Depth of Field, which was set up by movie directors Paul M. Weiss and brothers Paul Weitz and brothers Chris Weitz .

According to the person who leaked the information to Hollywood Reporter, Depth of Field positions the live-action version of Bambi as a live-action version of ' Jungle Book ' or a live-action version of The Lion King. The live-action version of the jungle book is a work that makes full use of many CG technologies, and the live-action version of the Lion King is a work created with full CG except for one scene . Therefore, it can be seen that CG will be used in many scenes in the live-action version Bambi.

`` Lion King '' MovieNEX trailer-YouTube


In addition, Disney is planning to live-action several past masterpiece animation films in addition to Bambi. In the live-action version of `` The Little Mermaid '', a black singer Harry Bailey is selected as the main character Ariel, and in the live-action version of `` Peter Pan '' David Lowry of `` Pete and the Secret Friend '' is directed You. A live-action version of Pinocchio is also planned, with the Depth of Field already involved in the production, Hollywood Reporter reports.