Concern that `` SpaceX's artificial satellite is too bright and destroys space research ''


Private companies such as
Amazon
,
Google
, and
SpaceX
have entered the space business, but regulations have not kept up with technology, and there are many concerns, such as the problem of
space debris 'Space Debris'
. One of them is the problem that the satellite launched by SpaceX is too bright, and astronomers around the world are heading for solutions as 'a threat to space research.'
SpaceX tests black satellite to reduce 'megaconstellation' threat to astronomy
https://www.nature.com/articles/d41586-020-00041-4
SpaceX, astronomers working to address brightness of Starlink satellites-SpaceNews.com
https://spacenews.com/spacex-astronomers-working-to-address-brightness-of-starlink-satellites/
SpaceX of space development companies on May 27, 2019, that 'to launch an artificial satellite create a huge communication network'
Starlink
as part of the project, the 60 groups
have launched an artificial satellite
.
STARLINK MISSION | SpaceX
https://www.spacex.com/webcast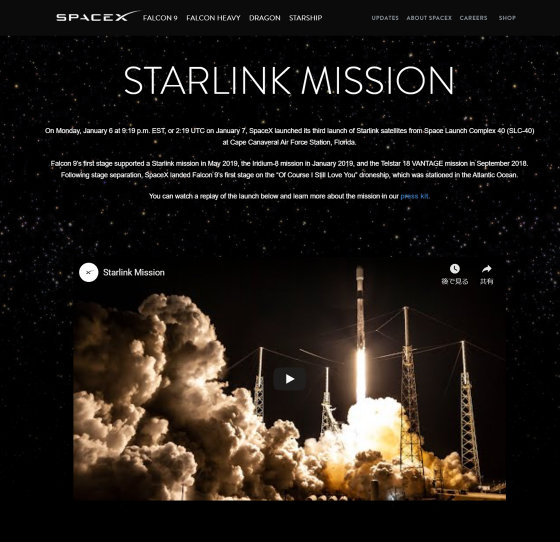 The launch was successful, but the light emitted by the satellite was too bright, and many scientists subsequently complained that it would affect scientific research. In response, SpaceX is conducting an experiment to paint one of the 60 new satellites launched on January 6, 2020, black.
According to Patricia Cooper, SpaceX's vice president, there are several factors that can cause satellites to shine brightly. First, Starlink increases in brightness due to reflections when it is released at a low position in
space orbit
and when satellites deploy their solar panels. And when it reaches the operational orbit at an altitude of 550 km, the actual visual
grade
will be about 5 and it will be bright enough to be visible to the naked eye. Also, it is pointed out that the speed at which the satellite traverses the range that can be captured by the telescope is related.
Here is a Starlink photo taken by Lowell Observatory. The diagonal lines running through the image are the light trails of Starlink.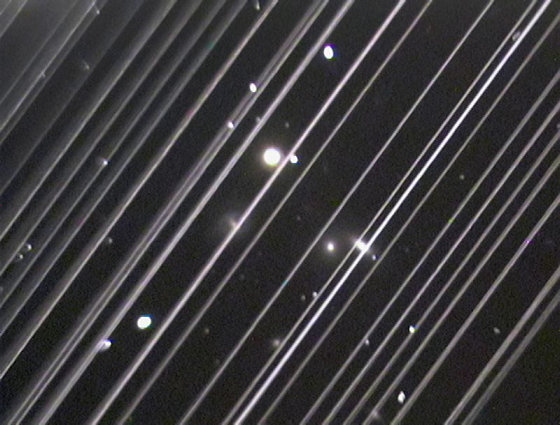 Many astronomers are already discussing how satellites affect various telescopes and how to avoid them. `` Satellite megaconstellations can be brighter than 99% of the material in Earth's orbit, ' ' said Patrick Saizer, an astronomer at the University of Michigan, and an astronomer at the University of California, Davis. Tony Tyson says, 'I'm bothered by this problem and I can't sleep at night.'

According to calculations, the effects of Starlink's brightness are greatest at dawn and dusk. For this reason, asteroids near the earth that need to be observed at dawn are expected to have a significant impact on the survey. The large synoptic survey telescope, which is scheduled to be installed in Chile, will cover a large area of the entire sky every three days after 2022 and for the next ten years, but this could also be significantly affected.

Mr. Tyson's research team is working on modifying the software that predicts the trajectory of the satellite and removes the light of electricity, but says, `` It is very difficult to remove everything and there is still concern about system errors '' Is. If you know the position where the satellite passes in advance, you can take `` photos without satellites '' by taking pictures outside the place when the satellite is there, but as the number of satellites increases That is not feasible. SpaceX will eventually launch more than 4,000 satellites.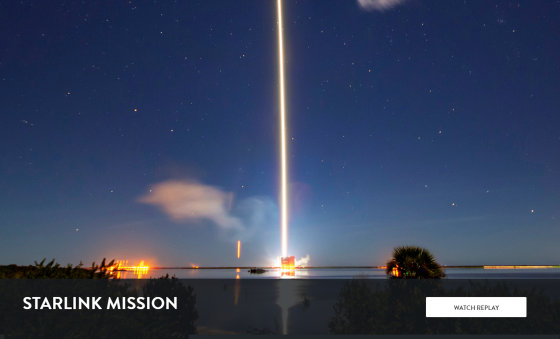 For this reason, an attempt was made to 'paint black' on one of the satellites launched on January 6. The artificial satellite painted in black is called 'DarkSat' and is considered to reduce the clutter and reflection of light. DarkSat is already in orbit on Earth, but is expected to be in orbit after late February, and will take time to see its effect.

At the time of writing, there is no law regulating the brightness of artificial satellites. In addition to painting the aircraft black, SpaceX also revealed that the launch trajectory could be adjusted as needed.