Interview with author, Yoshinobu Akita, `` Magician Orphen is a departure trip '', tried to find out the episode related to new animation and writing of the 25th anniversary of the series


The popular light novel series `` Magician Orphen '', which has been turned into a television animation once in 1998, will have a completely new animation made in commemoration of the 25th anniversary of the series, and the author and
Yoshinobu Akita
about this movement and writing I've heard a lot of things digging into the roots and digging about things like 'Narurou-kei' and even the parts that are far from the work.
TV anime `` Mage Orphen Hagure Journey '' Official Site
http://ssorphen-anime.com/


◆ 25th anniversary commemoration
GIGAZINE (G):
Since 2019 is the 25th anniversary of the "Magician Orphen" series, there were various movements including animation. From the end of 2017, comicalization was also performed one after another, but how do you see this flow?

'The magician Orphen is a stray trip, respond to my call ', a faithful comicalization of the original volume.



Yoshinobu Akita (hereinafter Akita):
I don't know if you can believe it, but that series of comicalization is getting an offer before the anime story comes out, and it has nothing to do with the 25th anniversary of birth.

G:
eh? Really!?

Akita:
I think it seems to match it, but it is actually irrelevant, at the time of receiving the offer of comicalization, the other party did not know about animation, and at that time, there was no story of animation yet right.

Editor of TO Books (hereinafter TO):
I didn't. It seems that KADOKAWA's comicalization also moved as part of the flow of the past light novels being revived around the same time, including other works.

G:
The anime broadcast was decided for the 25th anniversary completely, and I thought it was tailored for it.

TO:
Akita-san is angry about this. The "25th anniversary" is for 2019, but the comicalization at an earlier stage is like "25th anniversary!".

Akita:
If you look closely, it says 'Aiming for the 25th anniversary' (laughs), it's hard to understand!

(Laughs)

Akita:
When I thought calmly, I thought, 'Isn't the year right?'

TO:
However, the original side wanted to do something to commemorate the 25th anniversary, even if the story of this anime had not come. I just got a story about comicalization, so we decided to go together until the 25th anniversary.

G:
Do you have any feelings about the '25th anniversary'?

Akita:
No ... I was suddenly told, 'Orphen, isn't it the 25th anniversary?'

G:
Suddenly (laughs) Who started saying that it's not the 25th anniversary?

TO:
GIGAZINE has been interviewed during the "Akita Yoshinobu BOX" in 2009 and during "Hunter Dark" in 2011, but this 2011 has been "new, I'll write a sequel. ' I wasn't aiming for anything, but it was just completed for the 20th anniversary. First, miracle.

Completed the fourth part of the series `` Magical Orphan Haggling Journey Goddess Future (2) ''



G:
Miracle (laugh)

TO:
I thought, 'It's over.'

Akita:
It's good (laughs)

TO:
Yes (laughs) But then came the light novel revival boom I mentioned earlier. `` Let's go to new things but also look at old things '', and the story began to come in steadily, and the amount increased considerably, so `` I will not do anything according to the 25th anniversary Isn't that bad? '

Akita:
At one point, he said, 'Do you want to travel?' I want to go if I can go (laughs)

G:
Why did you travel?

TO:
I thought, 'Let's do something!' You can do something only with the help of everyone, but first of all, I think you have to give up to those who have been working for 25 years, so why not travel.

G:
So that's it.

TO:
The great thing about the "Magician Orphen" is that the combination of Akita, who is writing the work, and Yuya Kusagawa, who is drawing the illustration, has been continuing. However, they have almost never met.

G:
Really!?

Akita:
Maybe I've met five times.

TO:
We don't even keep in touch.

Akita:
Because Mr. Kusagawa is a person who does not have a fax machine at home. I'm an illustrator. It seems that he finally got a mobile phone as a result of being dismissed by others.

G:
The situation that 'it is hard just to contact' has come out of it.

TO:
No, it's hard. I still get calls from other companies saying 'I can't get in touch.'

Akita:
There is no window.

G:
It's like a fantasy ...

Akita:
Mr. Kusagawa is already a hermit.

TO:
When Part 4 started, it was talked about, 'Mr. Akita and Ms. Kusagawa will have to meet', but they said they wouldn't get excited even if they said, 'Let's go on a trip.' It was a two-day autograph session in Tokyo and dinner at night. Even that was about eight years ago.

G:
Don't you travel too much?

Akita:
My friends love traveling, so I go out with them unexpectedly.
Last time,
I went to
Mimine Shrine
. I climbed the mountain, but licked and died (laughs)
G:
(Lol)
Akita:
I grew up in the mountains when I was a child and thought, 'The mountain path is not painful.' I didn't think I couldn't walk this way. I ran out of breath halfway and got caught sideways. My friends seemed to think 'I'm going to die here.' It was a steep mountain with a shrine above it, and it took about an hour, but it was like climbing a cliff.
G:
In terms of mountain breeding,
in an interview published on Animate TV (currently Animate Times) in 2011, I
saw a story that it was a shortcut to go to school on a mountain path. He said on his return to sunset that it was too dark, saying, 'I have a strong experience at that time, and since then darkness has been inevitable and dragging.' Is it?
Akita:
It is deep in the mountains of Tokyo, where raccoon dogs and wild boars appear. The road in the story was split off from a paved road, and it was a mountain road from the middle, and it was a shortcut over the mountain. It was banned because it was not a school road, but I used it occasionally when I was a child.
G:
Is it about elementary school?
Akita:
It was dark when I was in junior high school. When I was in elementary school, I returned home before sunset, but when I became a junior high school student, club activities began, and when I returned home, the sun began to fall. I didn't know it, and I wanted to return early, so if I used the shortcut I used to use in the past, I would end up walking invisible. Immediately there is a cliff and if you fall you will die. But humans were so terrible that I used them a lot when I was a kid, so I learned how to fumble. 'If you walk this far, you should turn left.' When I arrived safely, I was moved by 'I am alive!'
G:
That was it.
Akita:
I was stupid if I died there, but I could have died (laughs). When I was a high school student, the place I went to changed to train, so I stopped using mountain paths.
◆ Pain at the time of writing
G:
In an interview with Mr. Akita and Mr. Sho Tajima, which was held in conjunction with the publication of Hunter Dark in 2011, he described the writing as `` When working in a room, I do not do much, so I did it at a coffee shop. Are you writing? 'Do you still write in this style?
Akita Yoshinobu / Tajima Shou Long interview, I heard plenty of the highlights of the amazing collaboration `` Hunter Dark '' and the surprising real faces of the two people-GIGAZINE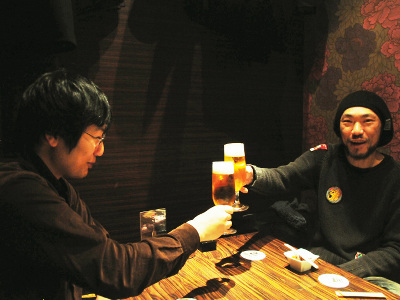 Akita:
I moved to a place without a coffee shop and am now at home. I don't know why, but it slowed down. It doesn't work. Is it because of the house? (Lol)

G:
Because of the house (laughs)

Akita:
I don't know what the blame is, but it doesn't.

G:
Doesn't 'blink' mean 'writing slowed down'? Or do you say that the brush doesn't advance even if I try to write it?

Akita:
It's slow ... what?

G:
Do you decide on a day's schedule, such as 'Eat breakfast when you get up, and then write?'

Akita:
I have not decided in detail. Kamisaka- san threatened to say, 'I can't write in my 40s' or 'I can't write more in my 50s.'

G:
Hie ... Is there something physical?

Akita:
Well it's aging. It is omnidirectional. This is a bit off work, but my eyes are out of focus when I look at my smartphone screen for about 10 minutes. Is 'smartphone presbyopia' a guy? I don't have much trouble with PCs, but if I get up in the morning and see some interesting topics on Twitter or something, my day could be lost. It's not because you keep watching your smartphone all day, but because you lose your vision for hours afterwards. That's why I try not to look at my smartphone too much, so I often leave Twitter alone.

G:
That's why there are times when tweets are spaced.

Akita:
I'm sorry that I didn't notice the reply I received for many days, and I was sorry.

G:
Regarding the time to finish the work, in an interview in 2011, 'Early is early, but things that do not end do not end even if it takes many years. I do not know why (it takes time) at all. . 'But did this pace fluctuate?

Akita:
It doesn't change. I still don't know the reason for not proceeding.

G:
When it doesn't go, is it pure white and nothing comes out? Or maybe you have too many ideas and get lost?

Akita:
It feels like it doesn't fit. Some words that are not tangy are lined up, and there is no splash. Rather than 'get stuck' or 'hit the wall,' it is 'get lost.' I do not know where to end. Even if you know the landing point, you do not know the way to it. 'Isn't the story connected?', And I have to go back and redraw, and when I start to get lost, it looks like spaghetti. There are, of course, things you can do quickly and quickly.

G:
Do you know if it fits or doesn't fit until you actually write it?

Akita:
I don't know.

G:
Is there any obvious cause when you look back later on?

Akita:
The fact that you wrote it is because you know the reason, so when you look back, you have no reason to worry. It's almost useless to be able to solve it (laughs). I don't know at all when writing.

G:
Is it suffering since debut?

Akita:
When I was young, it wasn't wide enough to worry ...

G:
'No width'?

Akita:
I wrote without knowing anything, so there was no need to worry. I just filled in the characters.

G:
I just buried it (laughs)

Akita:
That's it (laughs). This isn't really a good idea. Looks like it 's beautifying. There are many reasons to worry, so once you start searching, you're done. But I can say irresponsibly to people, but I do not know when I become a party ... I think it is difficult.

G:
Did that happen when you wrote 'The Magician Orphen'?

Akita:
Of course, there were a lot. I sometimes wrote while crying.

G:
While crying !?

Akita:
There was a mysterious phenomenon that could not be written at all. 'It's weird, I can't write at all, how long? Why?' Even so, if I managed to write it down and send it to the editor, he said, 'There are twice as many copies as planned.' I had the wrong number of pages. I couldn't write it.

G:
It was physically too far (laugh)

Akita:
It can not be helped.

◆ Writing with 'Hidemaru Editor' using ALIENWARE heavyweight machine
G:
I think that the manuscript is written on a PC. What kind of editor do you use?

Akita:
It is ' Hidemaru '. I have used only Hidemaru as a text editor. I think it was NIFTY-Serve when I first remitted. There are logs, too.

G:
That's really old. Why did you decide to go to 'Hidemaru'?

Akita:
I was recommended to others. At first I used a word processor, and when I turned it into a PC, I was trying to use Ichitaro . At that time, I felt like I had to write vertically, but since I was an operator of computer typesetting at work, I noticed that there was no resistance even in a horizontal writing editor. Since then, it has been written horizontally.

G:
Oh, that was how it happened.

Akita:
I can't remember when I was saying 'You have to write vertically!' That's why I hate people who send me in Word files without any doubt. 'Send it in a text file!'

G:
(Lol)

Akita:
'Text data is supreme!' Is like the troublesome computer photosetting era (laughs). Old print shop people say that they get angry at people who send them other than text data. But in today's era, what would you feel like angry with a Word file?

G:
Indeed, it is completely so.

Akita:
In fact, I don't have Word installed on my PC, so I don't have a Word file. It is a story to give up and enter (laugh)

G:
Is it usually a notebook PC? Or desktop?

Akita:
Until a few years ago, I also used desktop PCs, and at home I used desktops and laptops outside. But I realized that there is no reason not to use a laptop at home.

G:
Certainly (laughs)

Akita:
'Why do I have to move and synchronize my data!'

G:
Why did you use them properly?

Akita:
I don't know (laughs)

G:
(Lol)

Akita:
I was not allowed to use anything other than the desktop at home. It was the same as my worries, and I stumbled on a meaningless place. If you notice, there is nothing to do, so I threw a desktop PC at the moment I noticed (laugh)

G:
(Lol)

Akita:
If you disassemble the desktop PC and disassemble the parts, you end up with only the case. I wasn't sure, 'Is this a PC?' Then, I was shocked, saying, 'Is this a PC !?'

G:
I can't use it as a PC. Did you make your own PC?

Akita:
At one point, I was preoccupied with saying, 'I made my own.' At a PC shop in Akihabara, I did not know anything about SATA, but people were selling and saying `` SATA is good '', but after that I settled down and bought `` I'm fine with a collective guy '' It is now Since the alien face is on, let's make it ALIENWARE , the last is appropriate (laugh)

(Please show me the ALIENWARE actually brought on this day)

G:
We have the same ALIENWARE red guy. Isn't it too heavy to carry around?

Akita:
It's an idiot. I bought it because it had an alien face, but I put a sticker so it was not noticeable (laughs). I put a lot of stickers on my belongings. It is stretched inside with the feeling of making it your own. There is also a sticker I bought at Mimine Shrine. Anyway, I put it without any gaps.

G:
The seal itself is tightly stuck so as not to overlap.

GIGAZINE's 'I'm an idiot' is like this. Alien's face is no longer noticeable ... pic.twitter.com/jnXgm0QUBa

— Yoshinobu Akita (@AkitaYoshinobu) January 10, 2020


Akita:
' Monster Energy ' has a sticker even though it has never been drunk. The main body is still lighter and the power supply is heavy. There are about 5kg when combined. The bag I was using was small and couldn't fit, so when I changed the bag to put in a PC, this time I had 1kg of the bag itself.

G:
It gets heavier (laughs)

Akita:
Everything is heavy.

TO:
Are there many opportunities to carry around?

Akita:
I used to go to a coffee shop with this. Nomad worker with alien glow.

G:
It's a heavyweight nomad worker (lol)

Akita:
There is an OL who uses an iPad at the table over there ... And what is moving with this is 'Hidemaru'.

G:
It's a high power machine (laughs)

Akita:
'Hidemaru' (laughs) with a high fever. 'Do it with Pomera '.

G:
Do you also have 'Pomera'?

Akita:
A little play is coming, but I still use it together. Once the coating melted and became sticky, I heard the story 'It falls off with Nivea '. Painting the machine with Nivea was a great sense of immorality.

G:
It is good to have. How do you use PC and Pomera properly?

Akita:
'I can't have ALIENWARE, I can't do it, I hate it today.' It's a story that says, 'Let's all make it a Pomera' (laughs), but it can't be opened if the file size is one book. It's a little inconvenient because you can't write and read back as it is, you need to cut and paste the data.

G:
Then you need both.

Akita:
Also, with ALIENWARE, Skyrim moves (laughs). At a coffee shop.

G:
(Lol)

◆ What shapes novelist Yoshinobu Akita
G:
In an interview I had received before, there was a story saying, 'Even textbooks are unlikely to draw poems. Also, it is unlikely that they will be able to write screenplays.' What makes it difficult to write a script that is unlikely to be written compared to the novel I usually write?

Akita:
In the script, you have to manage 'if there is a minute in this scene, how many seconds in this line', but it is a simple matter that there is no such ability. When you read the line, the breath timing is here. Surely you should learn.

G:
At the time of writing, does Akita-san feel that he does not hear his voice in the brain but treats letters as letters?

Akita:
I agree. This is my habit, but there is 'choose words that you can see', and it is noted that there are many idioms from old days. There are some words that make sense when read. So, I choose something that is easy to recognize in terms of language or form.

G:
Does that mean you have to decide on the face?

Akita:
That's right. In the case of a script, idioms are often avoided because they have a lot of homonyms. There is no one who listens to video and audio one by one, so in the first place, the way of choosing words should be completely different. And conversely, I think that the main scriptwriter sometimes writes weaker words. I think this is already a cultural difference, a skill difference.

G:
In a conversation with Giguru Akiguchi , Yutaka Kono of 'Sakurada Reset' mentioned Akita as a writer influenced by stylistics, 'Mr. Yoshinobu Akita is probably influenced by foreign novels I think that I am very emotionally applying it to Japanese writing. It is a very logical but also sentimental sentence. '

Akita:
In fact, I was influenced by mysteries and translated texts abroad when I was young, and it was a history of correcting them.

G:
Is it 'correction'?

Akita:
As it was hard, it was hard to understand, so I always tried to make it as Japanese as possible. Exactly as Mr. Kono said.

G:
What inspired you to be influenced by foreign novels?

Akita:
Simply, 'I just read overseas novels.' Of course, I did not read Japanese novels, but at home there was a kind of so-called 'complete literature', but I came to read overseas children's literature somehow. In particular, I remember reading 'Dr. Little' quite often. And as a result of being addicted to mystery abroad from middle and high school, there was no time to read carefully what was called "written by a Japanese writer". In addition, I began to read foreign literature that was difficult to understand when I was an adult. I asked Mr. Kono to describe it as 'emotional', but that was the effect of my preoccupation with reading poems. Even though I don't know anything, I'm nervous and say 'I have to read it in the original' (laughs). I was cheating to read in the original text what I read at the level of memorizing translated things (laugh)

G:
It's rather amazing (laughs). What was the reason you reached out to the original text?

Akita:
I was alive (laughs). There is an original book corner behind the bookstore, isn't it cool when you go there? With such wisdom, I picked it up with curiosity. That kind of weird bias made me feel like this. I didn't really hate Japanese literature, so I liked Shinichi Hoshi and read it all.

◆ 'Naro' and 'Light Novel'
G:
In an interview conducted in 2011, when asked for a message for future writers, he said, `` I am a young artist who is aiming to be a writer now, and when I was an adult, I was supposed to do my job now. It must be completely different from the job you are doing, maybe there will be such a change in the future, because otherwise it will only be destroyed. I want them to have that ambition, dream, and hope. '

Akita:
I'm alive ~

G:
Nine years have passed since that time, and in the meantime, many works that are elaborate on the world setting, such as those seen in 'Become a novelist', have come to the fore. There is a discourse that Orphen would have taken the lead in this direction ...



Akita:
Isn't Kono-san saying that?

G:
(Lol). What is the novelist Yoshinobu Akita's view of the current acceptance of the "Narurou system"?

Akita:
The way of doing things, the structure of the industry and the publishers have changed considerably. If you talk without a body, there is no bookstore. When I came home from school, for some reason I stopped by a bookstore to look at and buy books. I think it was natural to go to a bookstore every day. But there is no such person right now.

G:
I think it has definitely decreased.

Akita:
'Reading a book' is becoming less common. Some college students don't read a single book a year. In that case, I don't think the publishing industry will be viable with the old sense of scale. Publishers, of course, know that and are going digital. 'Narurou system' is one of the trends. It is more rational to speak to people who have already announced on the Internet than to nurture writers, so I think there is definitely a way to think about how it is, but if you think about yourself, 'When the light novel appeared,' it was 'a way to break one publishing industry convention,' aside from the content. Until then, it was natural that 'books' and 'literary arts' would be published as serialized books in magazines, and to be paperback books a few years later. At that time, it was criticized at the time for providing cheap and light contents as a newly written paperback book from the beginning. Being a library is essentially like entering the hall of fame in literary arts.

G:
Certainly, there is still a trend of paperback a few years after the publication of a book.

Akita:
It is written by a human like me and sold for just 400 yen. It was already criticized when the light novel began. That's exactly what 'Narurou-kei' is being said. I have a really great face now.

Before the new version was released, 'Magical Orphan' was published by Fujimi Fantasia Bunko. This is the second volume of the main story, 'Straying Trip', Volume 2, 'The Machine That Follows My Life .'



(Laughs)

Akita:
And because you had to reduce something to make room for the light novel, some people would have destroyed their work because of the light novel.

G:
When Light Novell was still being criticized, what was your feeling of being in the middle of that?

Akita:
Not everyone was using the net as it is now, so it didn't feel like they were being beaten hard. Isn't it even closer to being laughed at my nose?

TO:
I don't think the writer has ever received a critical voice directly. However, even though the fans were very excited and showed numbers, it seemed that they were not recognized at all from the general point of view. It was my first attempt to publish every month.

Akita:
The pace is fast because it is newly written. We published one book every three to four months.

Extra short story 'Reckless' Volume 1 ' Tempara, Return Money! '



TO:
In addition to the newly written work, I also wrote a series, and what Akita-san and his generation were doing has become a light novel format. The parties were writing incredible amounts.

G:
How did you write that amazing amount?

Akita:
Your head was crazy (laughs). When I first started writing, I worked at a company, so I went to work at 9 am, and when I was working overtime, I went home at 20:00 or 21:00, then went home, wrote the manuscript until morning, and went to work ...

G:
Right now, I didn't have time to sleep ...

Akita:
I was going to sleep every day for lunch.

G:
How tough.

Akita:
I think it was possible because I was young (laughs). Also, because it was a relatively loose company, I took about a week for paid vacations, like refreshing vacations. Separately from the Bon Holiday. I guess it was a good company, and the general affairs people worked systematically, interviewing all employees and deciding when to take them, and creating an atmosphere where everyone could take a long vacation. Well, I was the first to write one during that time.

G:
It is insane (laugh)

Akita:
I was doing a mess. About a year later, when I started the series, I was told, 'I can't do it.'

G:
That's a legend.

Akita:
When I left the company and stopped taking a crowded train, my family told me that my face changed. It was because I was entangled with drunks on a crowded train and it was sharp.

(Laughs)

Akita:
The story has been digressed, but I don't think it makes much sense to think about the surroundings when it comes to something new or destructive. Rather, you can't beat the change just because you think it's there, and it's no way to harass it and stop it. So at best, I'll do my best to adapt and do my job.

◆ I'm not good at hurting
G:
Including `` Magician Orphen '', Akita-san's light novel has a lot of violent depictions, and there are fans who say that he likes hunting and `` Ryona '', but that is Are you consciously writing?

Akita:
No, no, it's not good for a movie. I need to be prepared to see zombie stuff, and I am not good at seeing pain. For example, ' Zombie (Dawn of the Dead) ' has a scene where a zombie's head blows off with a helicopter rotor.



G:
It's a famous scene.

Akita:
It's a headgear that anyone can see, and it's about laughing, but it's scary. It is useless at all. Scary, no good.

G:
It's okay if you write, but.

Akita:
I think that it can be classified in me. It is useless for what I see, but it can be written because it is divisible by each person. I have never done a fight.

◆ Debut work "In the snow of one fire powder"
G:
Debut of Akita-san, in the order selected works of the 3rd Fantasia full-length novel grand prize, that it was submitted at the time 17-year-old ' one in the snow of sparks is'. At the time of reissue at Shincho Bunko nex, I saw a blog post that had quite a few corrections.



Akita:
Yes, I fixed it.

G:
Not only the proper nouns have been modified, but also the whole thing has been reworked. Why did you make such a major operation?

Akita:
This is a story I wrote for the first time in my life.

G:
Is it the first work you wrote until the end of your entry?

Akita:
That's right. I bought a word processor for the first time in the summer and wrote it as a word processor practice. Then it turned into a book, but the submission was really terrible. It's a nightmare with a mystery of mysterious sentences that I don't understand at all. In fact, when I reread it a year later, I didn't understand. At that point, about 2/3 of the total was corrected.

G:
Yeah (laughs)

Akita:
So I was a little bit decent, but after 20 years I decided to republish it and felt that I couldn't fix it again. Even the first fix was a teenage thing, so I took this opportunity to fix it. I'm a typesetting operator, so I rarely do a lot of rewriting. I know what kind of accident it leads to (laughs)

(Laughs)

Akita:
I thought, `` Basically, the fix is minimal, and I don't know anything to fix it so that it turns red, '' but at that time, `` I'm in the snow of one spark '' Hmm ... I ran each manuscript separately and broke my rule (laugh)

G:
That's amazing.

Akita:
That has to be fixed. ...... If I have to read it again, I think I will fix it again. It does not heal forever, it does not end. It's like a trauma in me.

G:
Trauma (laughs)

Akita:
I wrote it when I was young, so when I read it back, there were many parts that said, 'I don't know what purpose this sentence is.' I don't know why. I think this is probably just the author's feeling. For other people, you don't really understand the intention of the whole sentence and you don't care much about it. But as a person who wrote it, I can not stand it. I write while thinking a little now, but at the time it was because there was no such thing.

◆ Message to the first person to touch 'Ofen'
G:
Twenty-five years have passed since the publication of 'Magician Orphen,' and I think some people have come to know the existence of the original novel through this animation. I think some people will touch this animation first, so if you have any message you want to convey, please give me a message.

Akita:
Everything is written by a young me, so when I look back, there are a lot of strange things. I know that too. However, this time, I think I've seen such places. This time, 'The magician Orphen is a trip away' is for the people who see it, so I can't say anything so great because it's not something I want to do. However, the project was established with the help of proper staff, including the anime staff, so I hope you feel relieved. Thank you.

G:
Thank you for a long time today.

The first broadcast of the completely new anime 'Magic Orfen Hagure Tabi', the 25th anniversary project of the series, will begin on AT-X at 23:00 on Tuesday, January 7, 2020. From then on, BS Fuji will be broadcast from 24:30 on March 7, TOKYO MX from 22:00 on January 8 (Wednesday), and WOWOW from 24:00 on 8th.

As for distribution, U-NEXT starts exclusive advance distribution at 25 o'clock on the 7th. From January 14 d Anime Store, Abema Video, Amazon Prime Video, FOD, GYAO !, Bandai Channel, Hulu, J: COM On Demand, Video Pass, Mirplus, Hikari TV, Netflix, niconico (Nico Nico Live ), AbemaTV will also start distributing anime titles from January 15th. It will also be available in the video market.

`` Sorcerer Orphen is a broken trip '' animation PV 3rd-YouTube

© Yoshinobu Akita, Yuya Kusagawa, TO Books / Magician Oren Hagure Journey Production Committee

In addition, Akita's newly written feature film 'Commicrons Plan' has also been released for the first time in 4 years.

#A feature film written by Mr. Yoshinobu Akita for the first time in 4 years # Orphen
Commicrons Plan Released & Distribution Today! #The cover & illustrations drawn by Yuya Kusagawa are painful ...

At the end of the book is a comic drawn by Dr. Hiroshi Yagami of the comicalized reckless edition

Please enjoy the first day of the first volume revealed for the first time!

Merry Christmas! pic.twitter.com/NRmUSEQHyN

— Orphen PR (@OrphenPR) December 24, 2019