A tasting review of `` eating nut sauce '' over 700 kcal per bottle that upgrades the flavor of basil and nuts to everything rich in flavor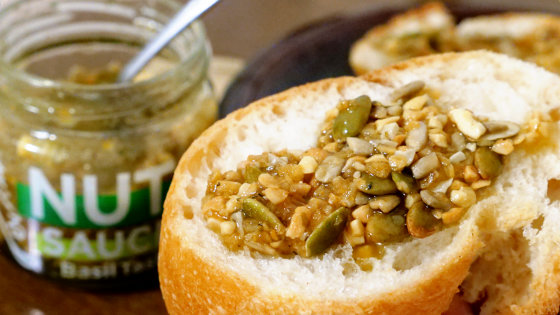 Some people may have missed the bread, saying that they are getting tired of the new year. The Italian-style all-purpose seasoning `` Eat Nuts Sauce (Basil Flavor) '' with basil-flavored peanuts and sunflower seeds with a crunchy texture from Cardi has appeared, and it is not only compatible with bread but also seasoning As it seemed to be usable for cooking, I actually purchased and used it.

Cardi Original Eating Nut Sauce (basil flavor) 110g [tax 8%] | Kardi Coffee Farm Official Online Shop

https://kaldi-online.com/item/4515996929250.html
This is the nut sauce to eat.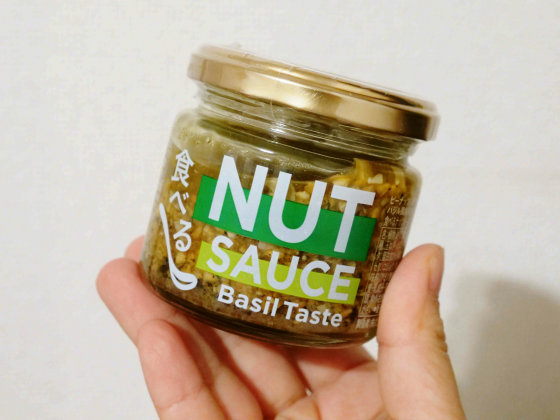 Looking at the raw materials, vegetable oil, peanuts, sunflower seeds, onion, pumpkin seeds, garlic, salt, meat extract, roasted rick, mustard, basil, red bell, rosemary, parsley, pepper, oregano, sage powder, There are plenty of nuts and herbs such as thyme and nutmeg powder.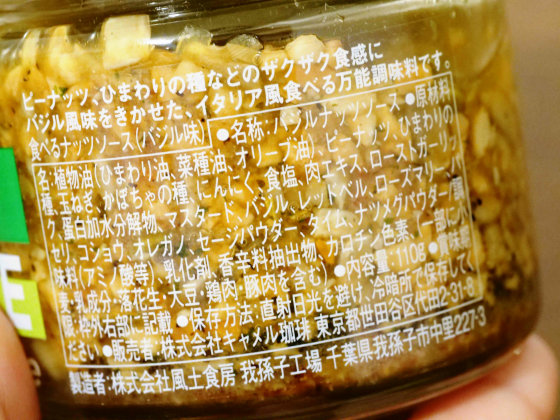 The calorie is 666kcal per 100g, and the content of one bottle is 110g, so it is about 733kcal.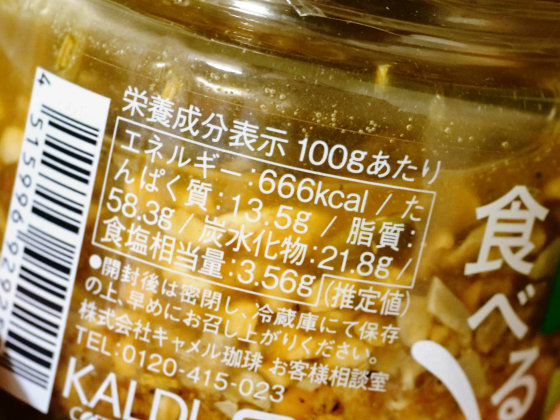 The size is about this compared to the 123.8mm long iPhone SE.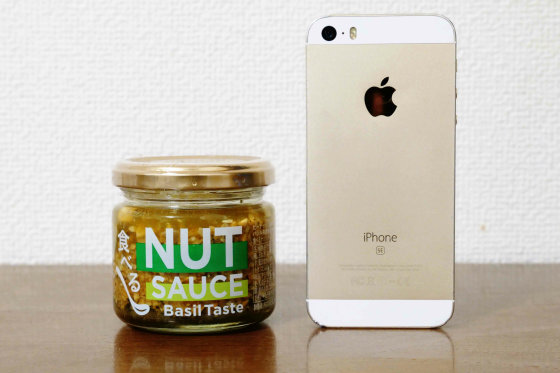 When you open the lid, the good fragrance of basil spreads out.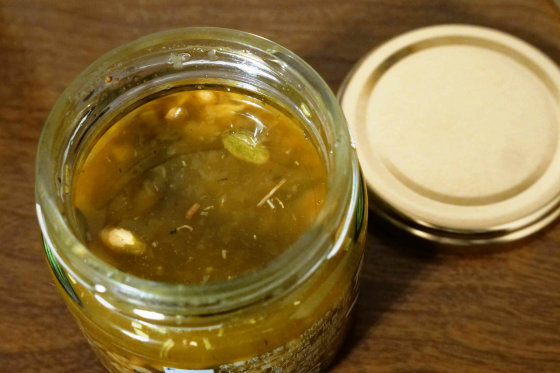 I immediately served it with baguettes ...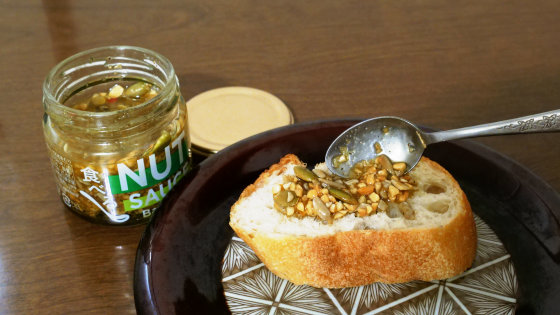 As soon as you put it in your mouth, the fragrance of basil gently passes through your nose, but it is not just a basil like basil paste, but you can also feel the presence of other herbs such as rosemary and oregano.
It
contains fried onions and fried garlic like
chili oil
to be
eaten
, so it has a crunchy texture in addition to the crispness of nuts, and when it is cooked, it gradually spreads its sweetness and aroma. It is like oil pickled, but the oil content is smooth and not persistent, and it is over 700 kcal per bottle, so it is a happy taste.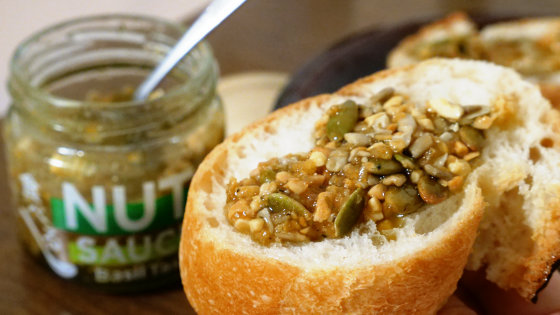 You can see plenty of peanuts and sunflower seeds.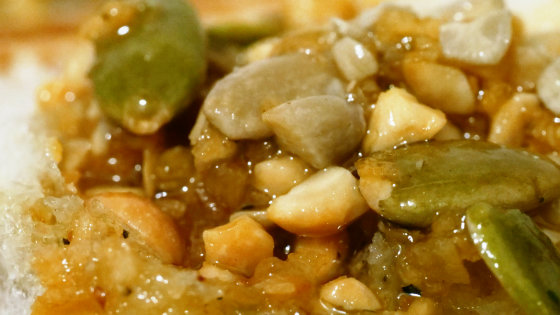 Apply a soy sauce-based Japanese dressing to a commercial salad ...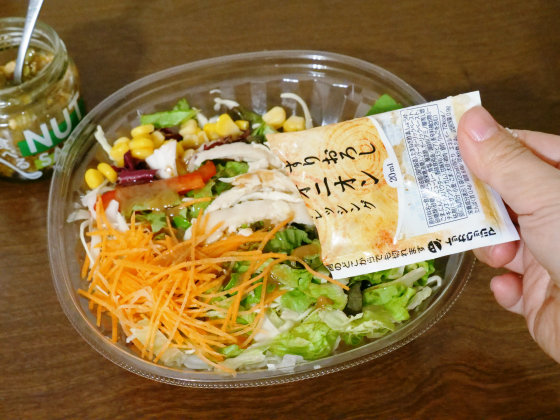 I tried it with a nut sauce and found that the soy sauce and basil nut sauce had the best compatibility. The flavor of basil and nuts makes the salad rich and adds an accent to the texture. The salad I bought at the supermarket looked like a salad in the basement of Depa.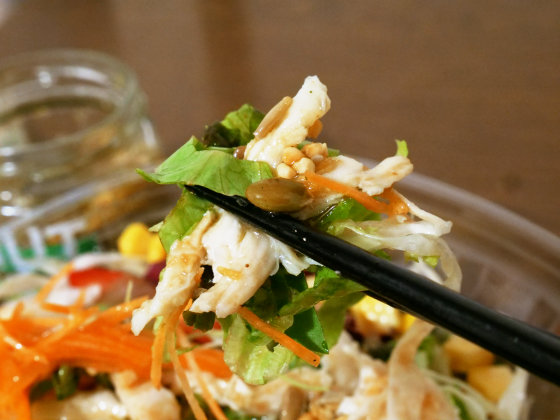 Because it is basil sauce, it is OK even if it is caprese.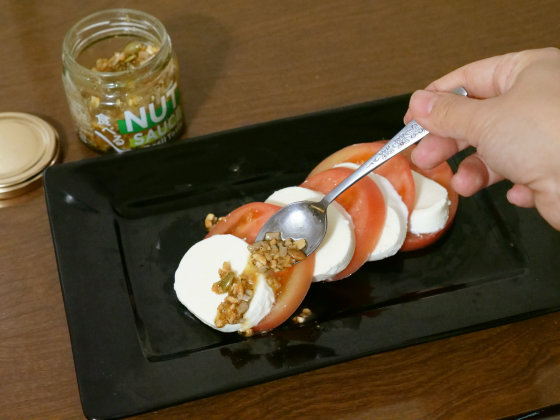 As you can see from the fact that it goes well with bread and salad, the nut sauce you eat goes well with simple ingredients and is perfect for caprese. Herbs and nuts are not too strong, so they complemented the flavor of tomatoes and cheese.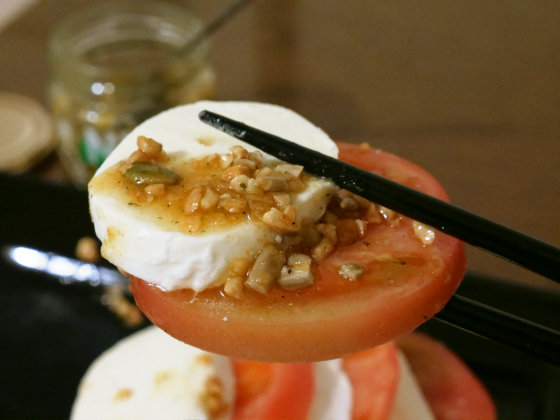 It is recommended to use as a sauce for fish dishes because the regular meuniere baked with salt and pepper will be upgraded.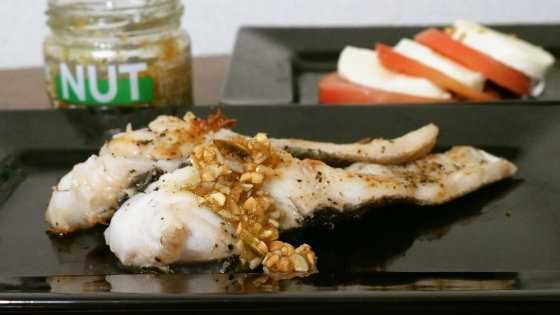 The nut sauce to eat is 498 yen including tax and can be purchased at Cardi stores or online stores nationwide.

Cardi Original Eating Nut Sauce (basil flavor) 110g [tax 8%] | Kardi Coffee Farm Official Online Shop
https://kaldi-online.com/item/4515996929250.html